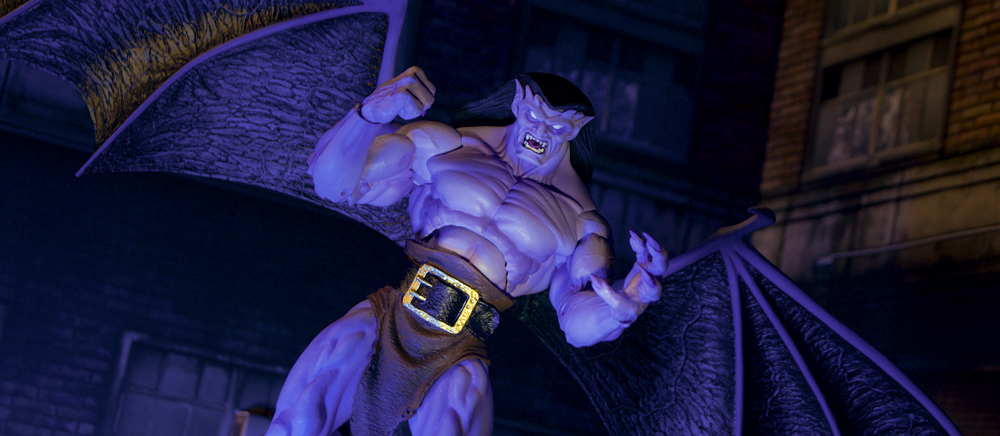 "Wow!" That is what I said when I first read that NECA would be bringing us a full line of action figures based on the fan-favorite Gargoyles cartoon from the 1990s. "Wow!" That is what I am saying now because the first offering, Goliath, is absolutely incredible.
While Gargoyles was a popular post-Disney Afternoon cartoon during its time, the show has really become a fan-favorite in recent years, and the quality of the show has helped with its impressive staying power. There has not been much in terms of cross-promotion or merchandising since the show went off air, but I have been getting reacquainted with the show on Disney+, and for the most part, it wolds up really well. Well, NECA is absolutely making up for lost time now, and Goliath leads an onslaught of releases that will soon include Demona and Thailog, and several more promised characters. My body is ready.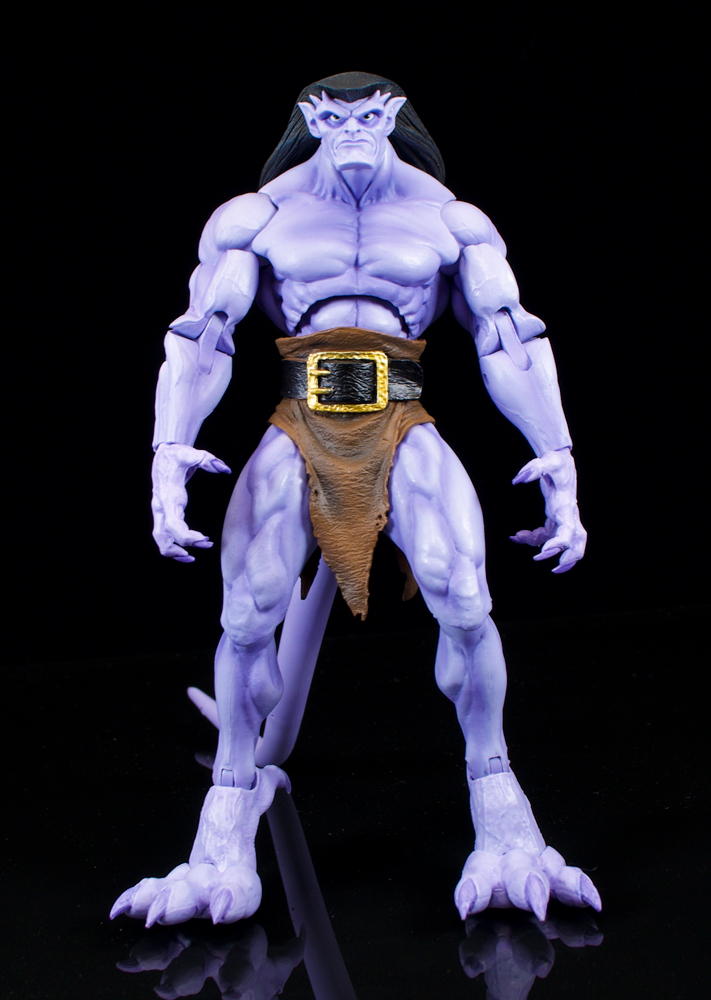 There is always a bit of anxiousness that comes with a first figure in a series, but NECA is throwing it down right out of the gate here. Seriously, not only is this figure wonderful, it might be the best NECA figure. Like, ever. I own a lot of their stuff and so much of it is great, but Goliath is on a whole other level as everything from his sculpt to the engineering, to the quality of materials hits on all cylinders to create a perfect storm of gothic goodness. The only question I have is where I am going to find the space to display all of these potential beauties, but that is a problem I will take all day long.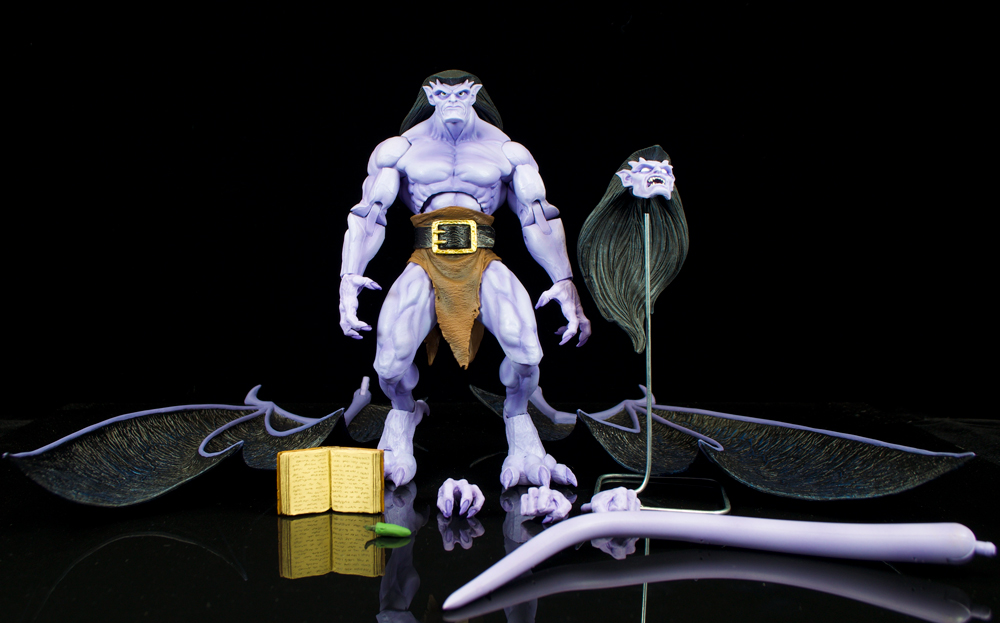 The Gargoyles figures will be released under NECA's "Ultimate" banner, and Goliath exemplified that moniker in spades. The figures has two heads, five different hands, a bendy tail, his book and the jalapeño pepper. Fists, open, and one grip make up the hands, and the latter can hold both the book and the pepper. You get a standard/docile head with pupils, as well as an angry/ferocious head with fully-white eyes. Oh, and did I mention the wings? Good lord, the wings. I will get to those more in just a second. The point here is that the large packaging is full of accessories, so you really do feel like you are getting a lot here in addition to the massive figure itself.
I was seriously not using hyperbole when I said this is probably the best figure NECA has ever done, and it starts with the impressive sculpting work by Djordje Djokovic (who is handling those duties on the Defenders of the Earth line as well). Yes, NECA figures generally have amazing sculpts, and Goliath maintains that reputation with lots of purple ferocity. These figures are not based directly on the animated look/style of the cartoon, but are a more realistic take on them. So, Goliath can actually fit pretty seamlessly with the rest of your NECA collection, just so long as those figures don't mind being towered over.
Goliath is, well, a GOLIATH. If you stand him up straight he is almost as tall as Super Shredder from the TMNT movie line. Of course, you will want to stand him more naturally with a bit of a hunch and bent knees, but even at a full bend, he still stands just as tall as most other 1:10 scale figures. Goliath is a giant purple-winged dude who sports naught but a belted loincloth, but here is a ton of muscle and physiological detail throughout. The is most apparent in the hands, and of course, the portraits, but for being a mostly naked purple guy, there is a lot of detail to love, with clean paint to match. I really dig both of the portraits, and it will be hard for me to choose which one to keep on regular display. It is very nice to have the option, though.
Okay, I want to talk about these wings for a minute because they are impressive both in form and presence. They are in correct proportion with the figure which means they are pretty friggin' huge. Fully extended, they are about 22" from tip to tip. This is not a joke. If this figure was to come to life suddenly (like ALL toys do at night), these wings would actually be able to support him in-flight. They are positively bananas in the best way. They peg to the back via ball joints that are quite strong with built-in detents. The wings themselves are made of a very light, but strong-feeling ABS plastic. This light weight helps pose them easily and keep them in the desired spot. The plastic does not feel like it will bend or warp, either, so that is a nice material choice for an important trait.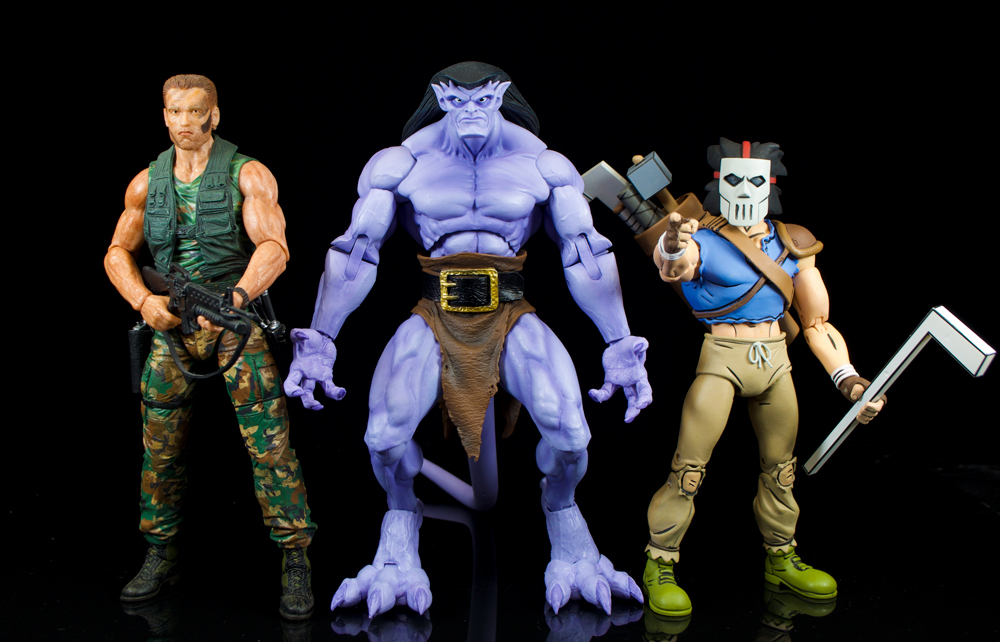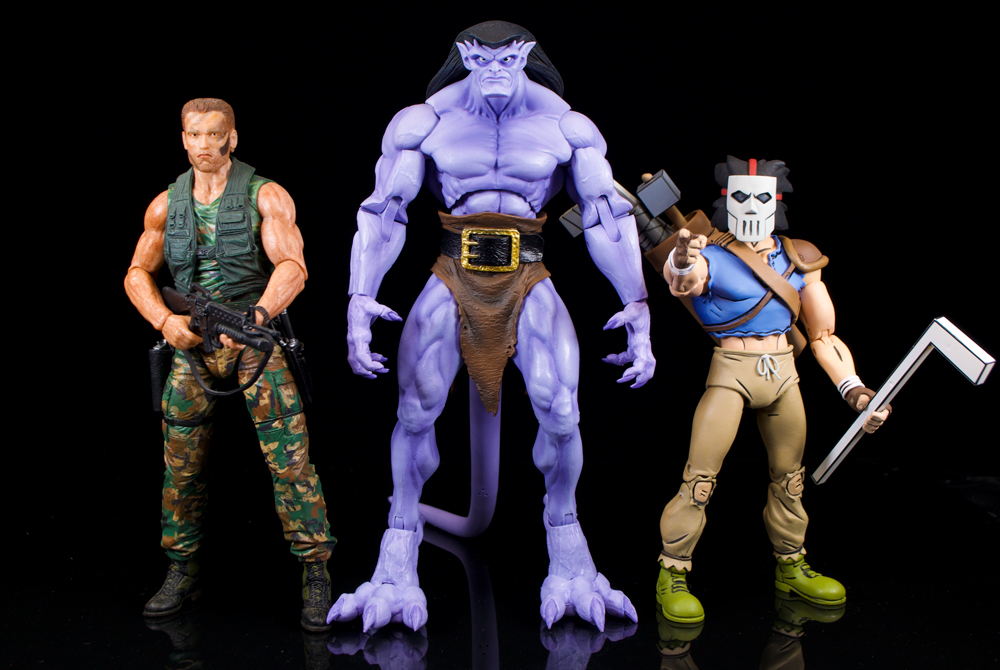 The wings are static in that they are always fully-extended. You can place them up, out, and down for a variety of different posing options, but they are not articulated past the base at the back, and there is no bendy quality to them. The sculpted detail makes them look almost like real leather on the front side, and they have some really nice, but subtle, iridescent paint highlights, too. I hope at some point NECA will find a way to get us the "cloak" pose wings as well, but I am glad they went in this direction overall because the need to hang this guy from the ceiling in mid-flight is really strong right now. So, just know that this figure is going to need quite a bit of space to be displayed, and if you are going all-in on this line, start planning accordingly in terms of your set up – you're gonna need a bigger boat.
Now, where this figure really impresses me (or somehow even more so than the form) is in the function. Goliath is LOADED with articulation, and the range of movement and joint quality is some of the best work NECA has ever done. The neck is a bit limited when the wings are one, but other than that, everything moves smoothly and remains strong. This is especially important in the knee, ankle, and toe joints because those spots bear a LOT of weight under this massive form. This dude has rocker ankles AND toes, so you can get his feet set remarkably well to hold down your poses. The torso doesn't move quite as much, but that is okay because getting those iconic positions is no problem for the movement they provide. Oh, and the hips are new new NECA style of "cup and ball" joints, so that is very welcome here. The bendy tail is nice (if a bit plain), and it adds some good stability but it is 100% NOT required for the figure to stand. Goliath can support his wings and balance just fine without any help from the tail.
Another important note past the range of movement of the joints is the quality. They are STRONG, but still allow for smooth movement. There are zero — ZERO — painted joints or pegs on this figure, so that is a colossal win, and a standard I hope to see for all NECA figures moving forward. Spots like the hips and knees have detents, so that helps with the joints staying in place after they are positioned. You can move them between the detents, though, so they are not like ratchets with a limited number of achievable positions. 
This figure is absolutely bananas and I have no significant nits to pick with Goliath. He is 100% in the running for "Figure of the Year" for me, and there has been a lot of great stuff already since January. Everything hits on all cylinders, and the joints and articulation working so well makes me very, very happy. NECA has a monster hit on their hands with Goliath and if he is harbinger of what is to come for Demona, Thailog, and the rest, this line is going to absolutely OWN. Even if you are not a Gargoyles fan, do not skip this figure. It is just too good, and I cannot wait to see people's reactions to him once he is in-hand. That should be very soon, so don't wait, get your order locked in NOW.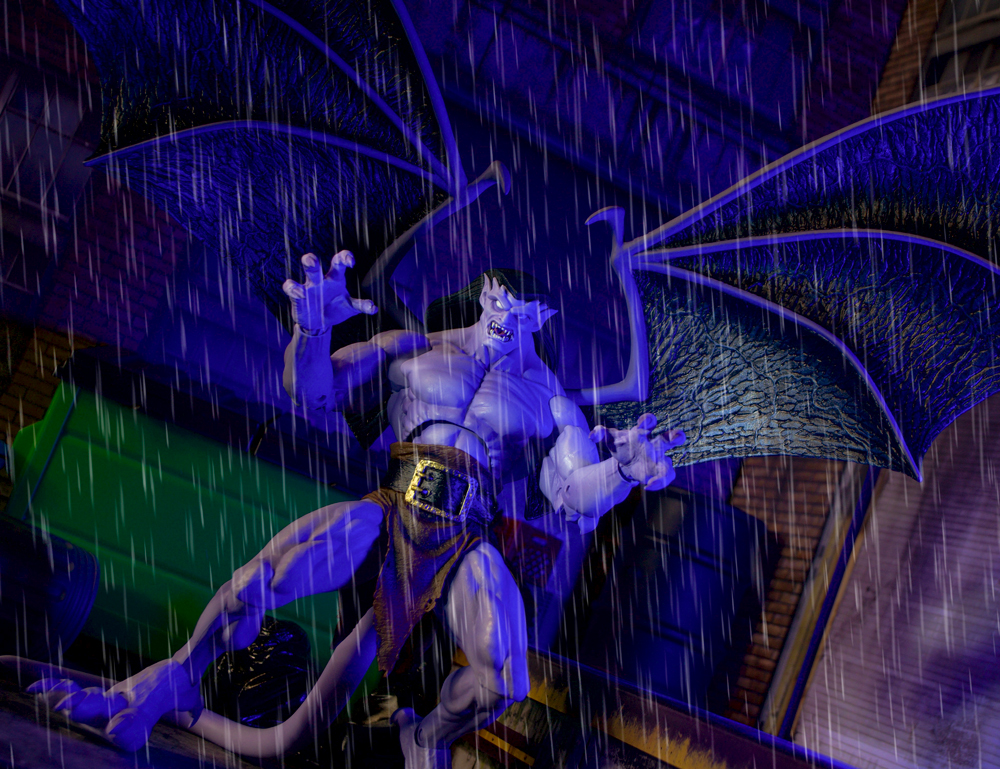 *Thanks to the crew at NECA for sending Goliath along for an early preview!