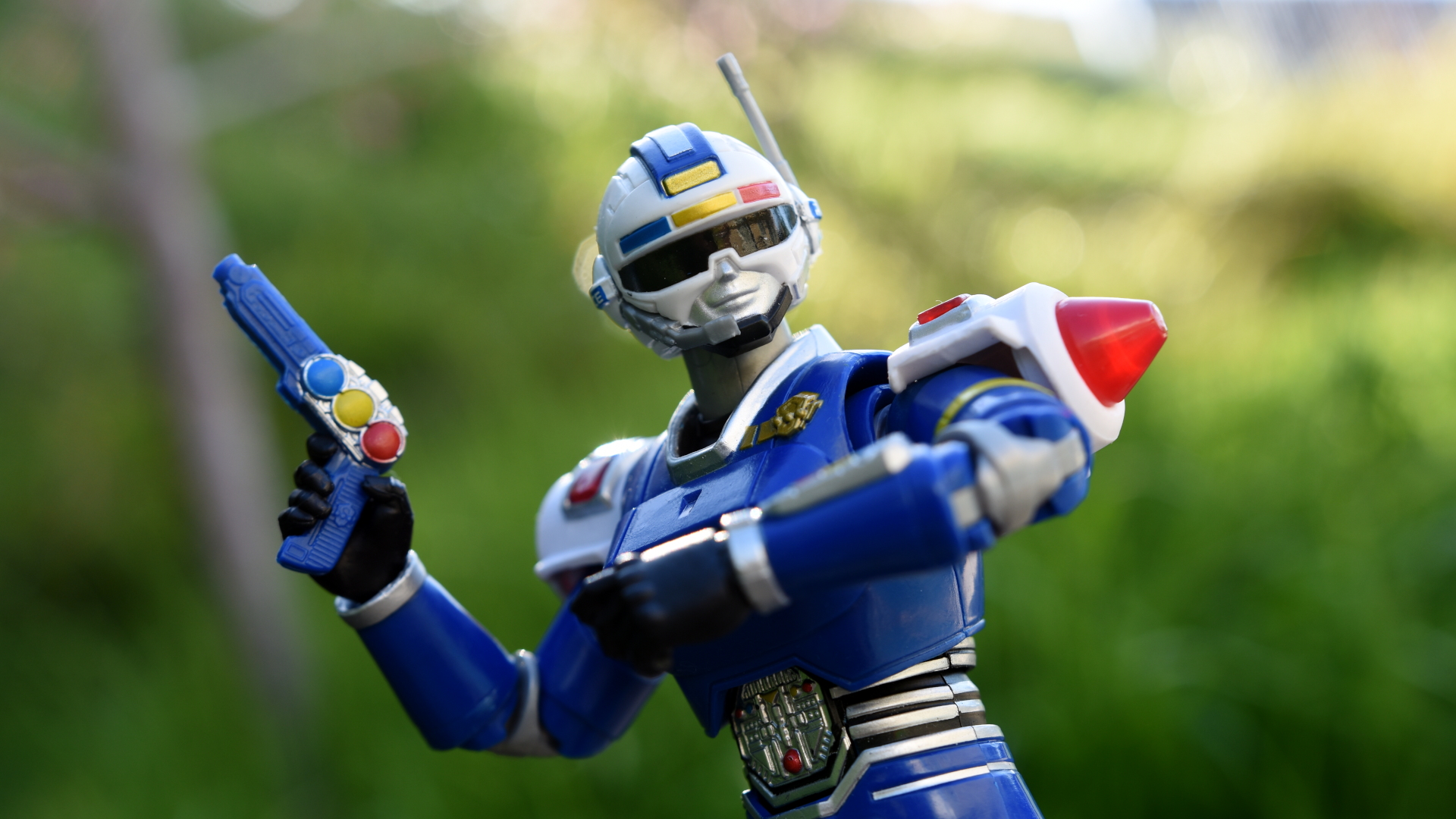 Blue Senturion is a new deluxe figure in the Power Rangers Lightning collection line of six inch scaled, super-articulated action figures and one of the few figures so far from the Power Rangers Turbo show in the line so far. His design struck me as some sort of Public Service Announcement character created to teach kids about traffic signals, so it wasn't surprising to learn that he was named Signalman in the original Japanese show Gekisou Sentai Carranger that Turbo was based upon. He's a robot space cop from the future, so let's take a look at Blue Senturion!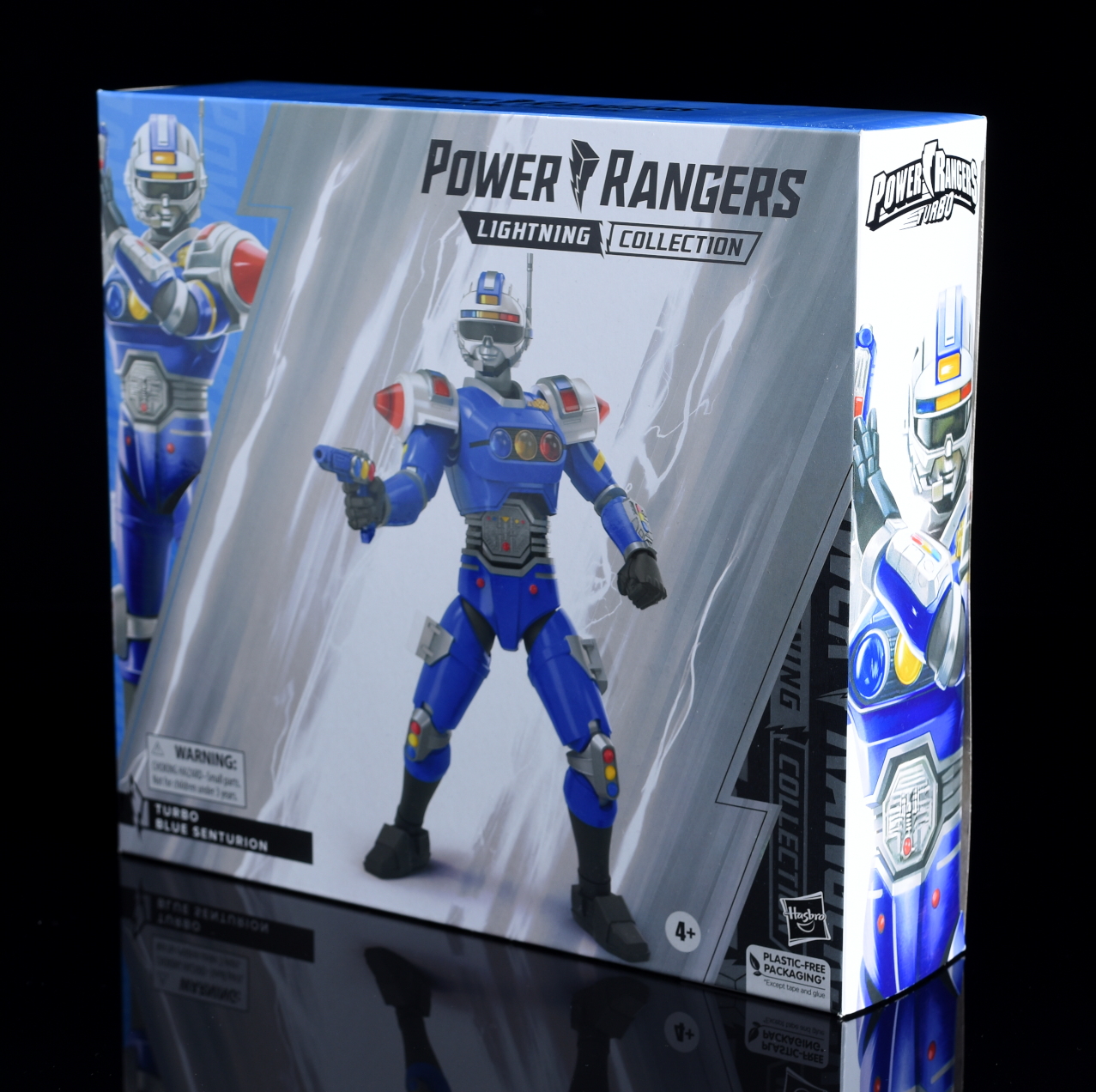 Blue comes in a plastic free box and features renders and a nice painting of the character. I like the character renders, but I feel like they are wasting some of the box real estate by not featuring the painting a little more prominently. There's a lot of blank space around Blue Senturion in the front. I also think it would be good if they added a height measurement to the back for the uninitiated.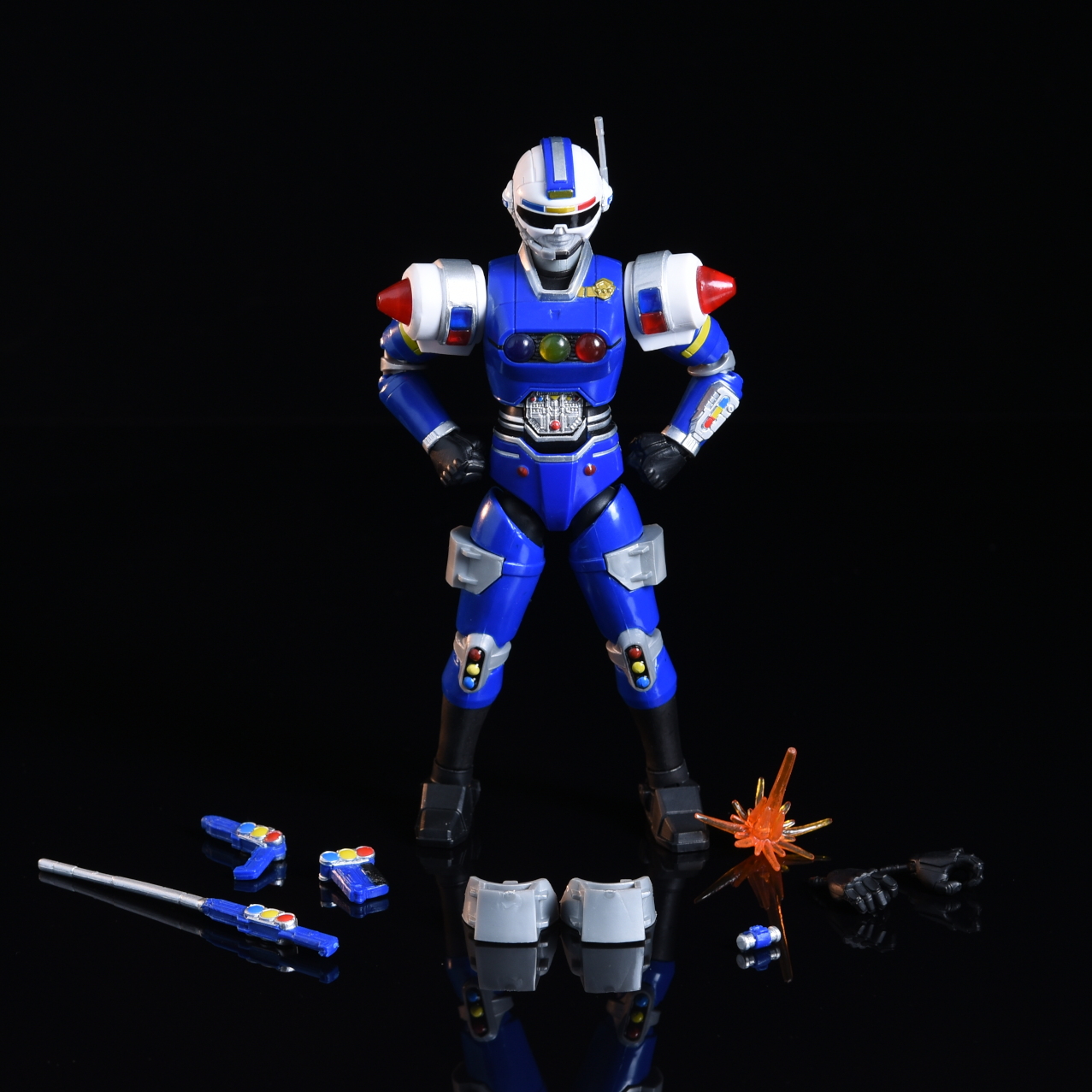 Blue Senturion comes with a baton, a blaster, a pad, two holster pieces, a blast effect, a whistle and four hands (two fists, and two grip). The holster pieces are silvery gray plastic that can be swapped with the gray pieces on his thighs. There is one for each leg and they are labeled so you can put them on the correct limb.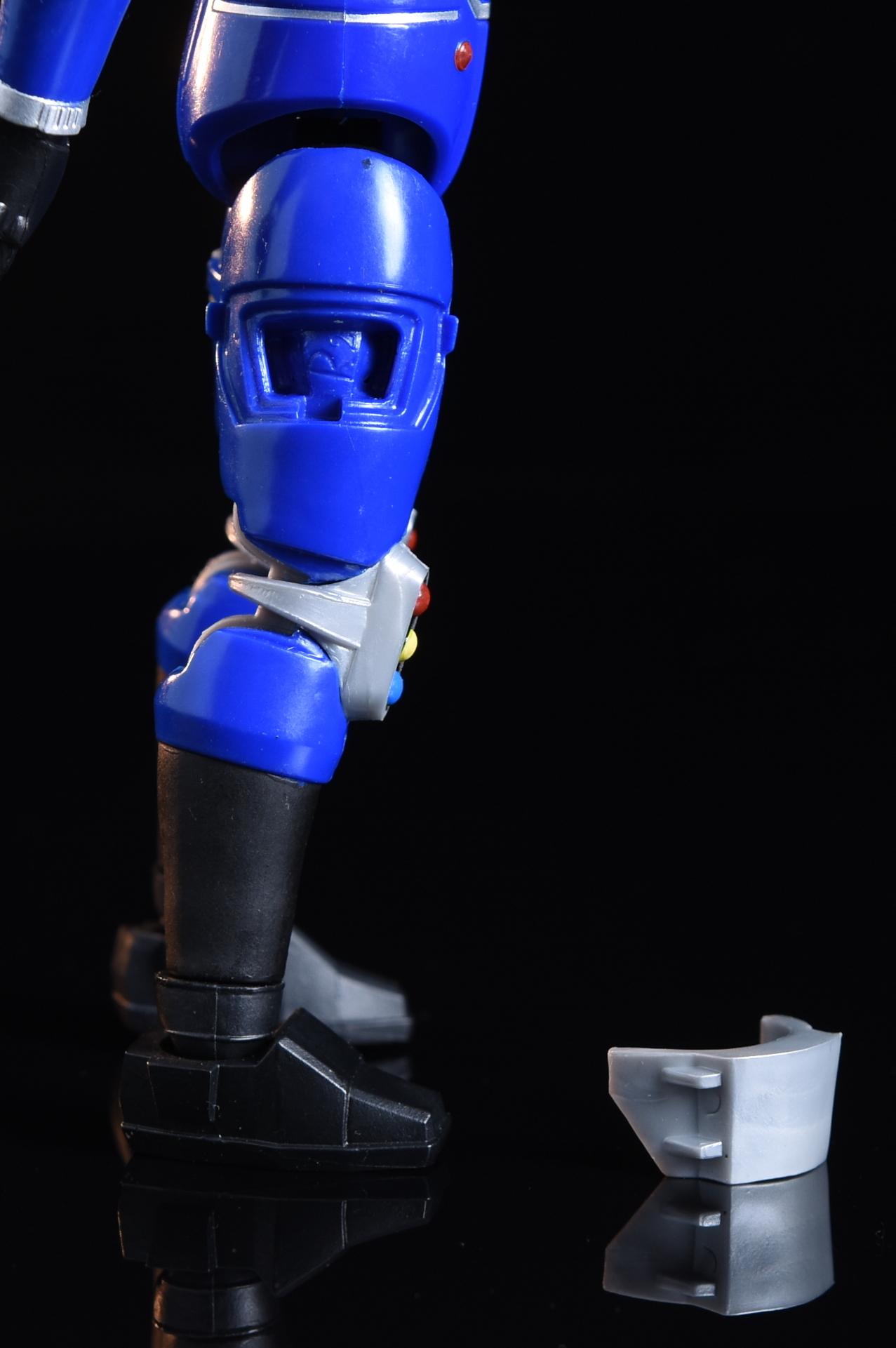 The holster fits the little data pad looking accessory securely.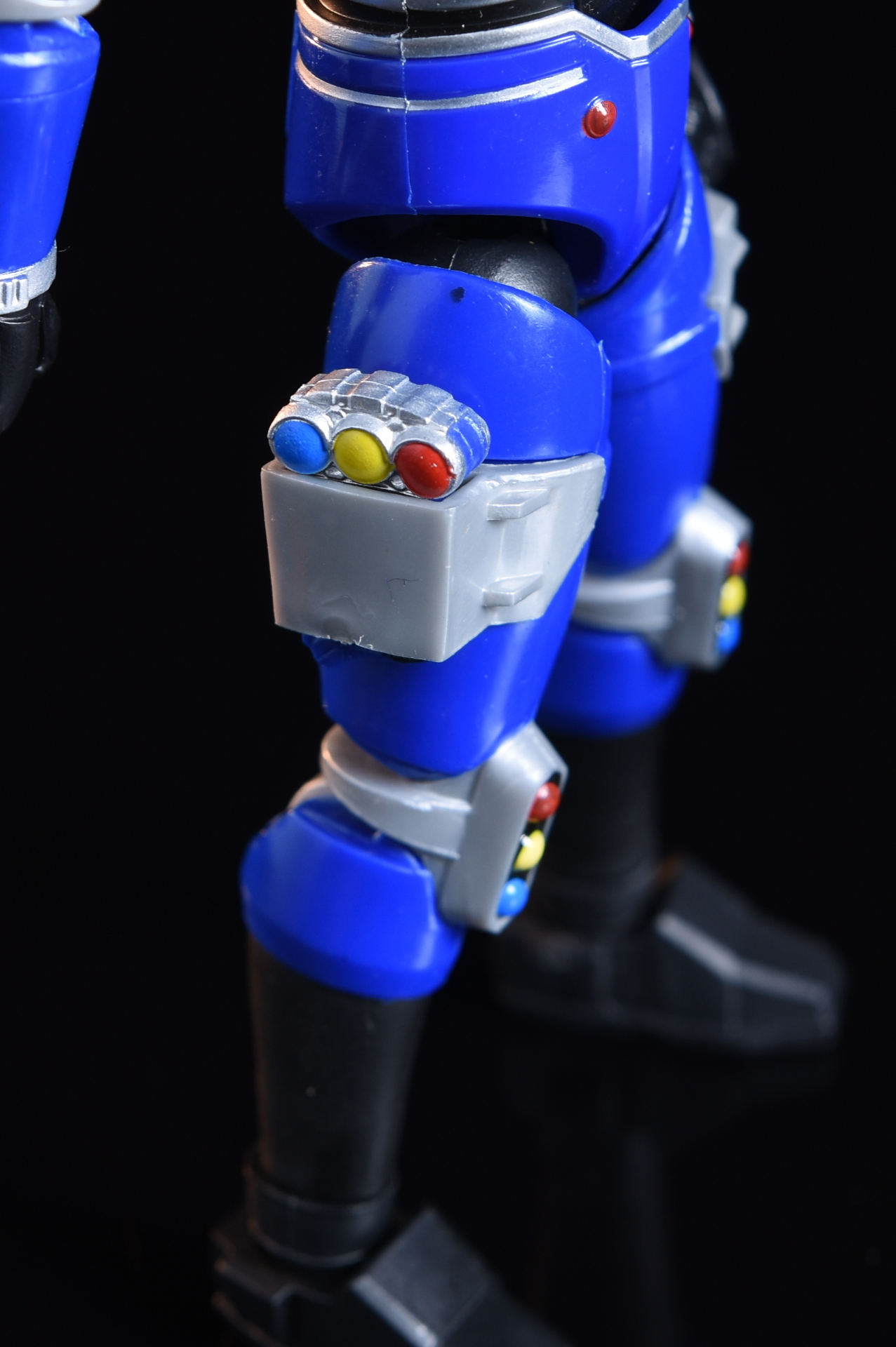 The three accessories with the red, yellow, and blue circles are meant to represent the three different modes of his weapon. The pad mode has black paint on the handle which was skipped on the two weapon modes, but they have the silver light details.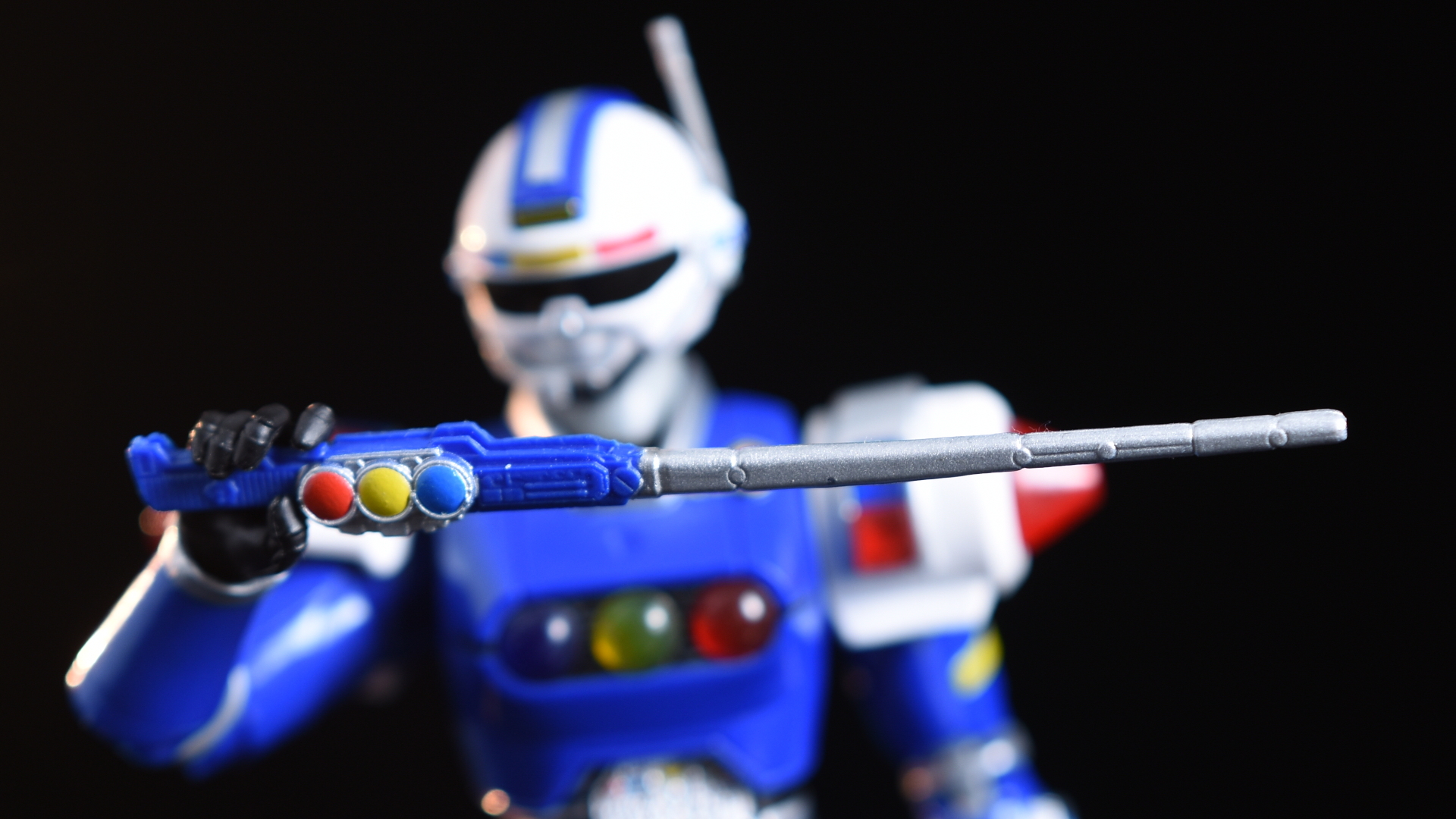 The blaster mode also has a blast effect that attaches to the barrel securely.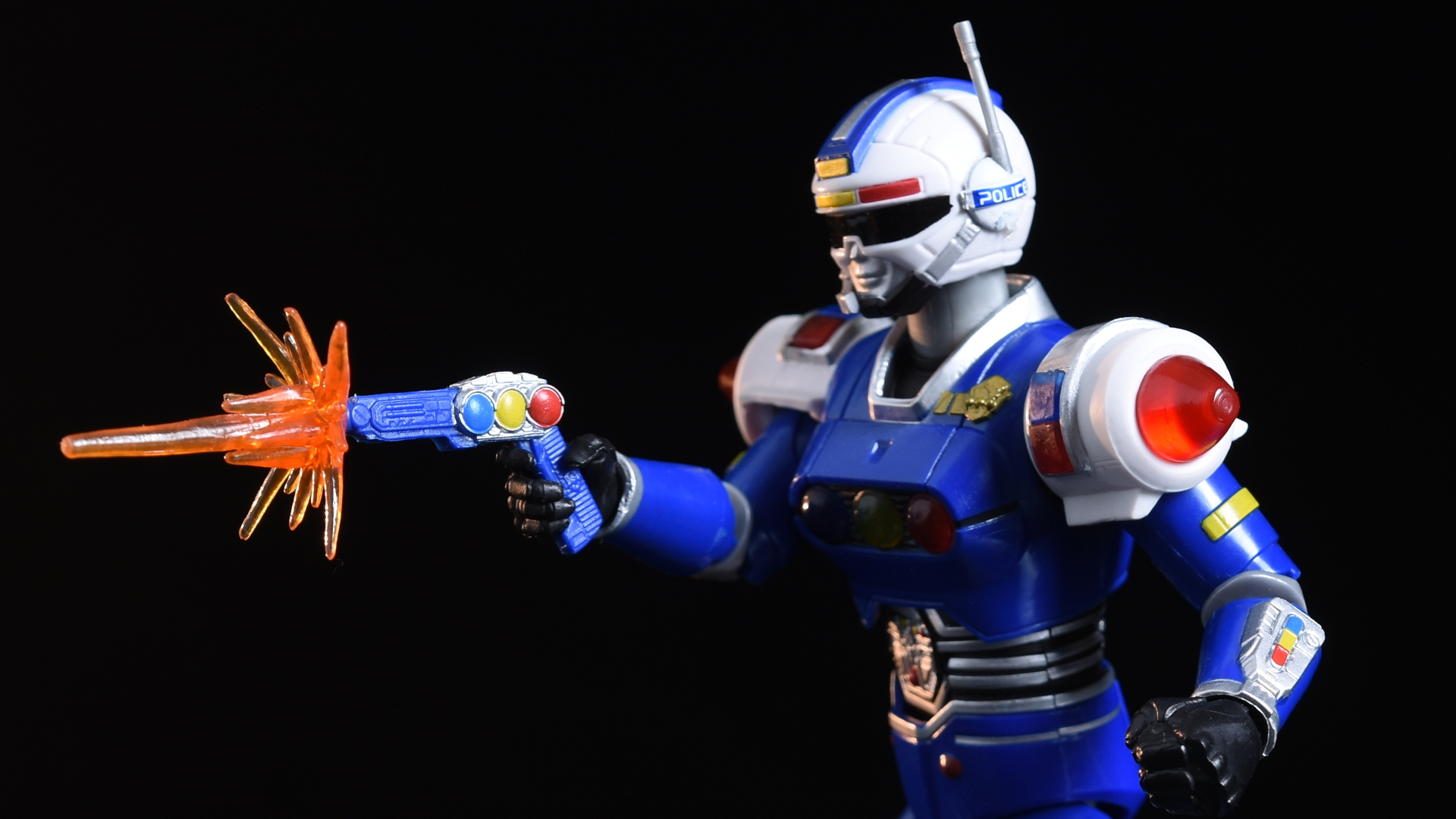 Finally he comes with an extremely tiny, destined to be eaten by the carpet monster, whistle. The Whistle is used on the show to call his vehicles and from what I can see, usually had a small chain. The accessory has no chain and is to tiny for him to grip. I wish they has sculpted a hanging piece of chain to give this thing a bit more heft and make it easier to hold.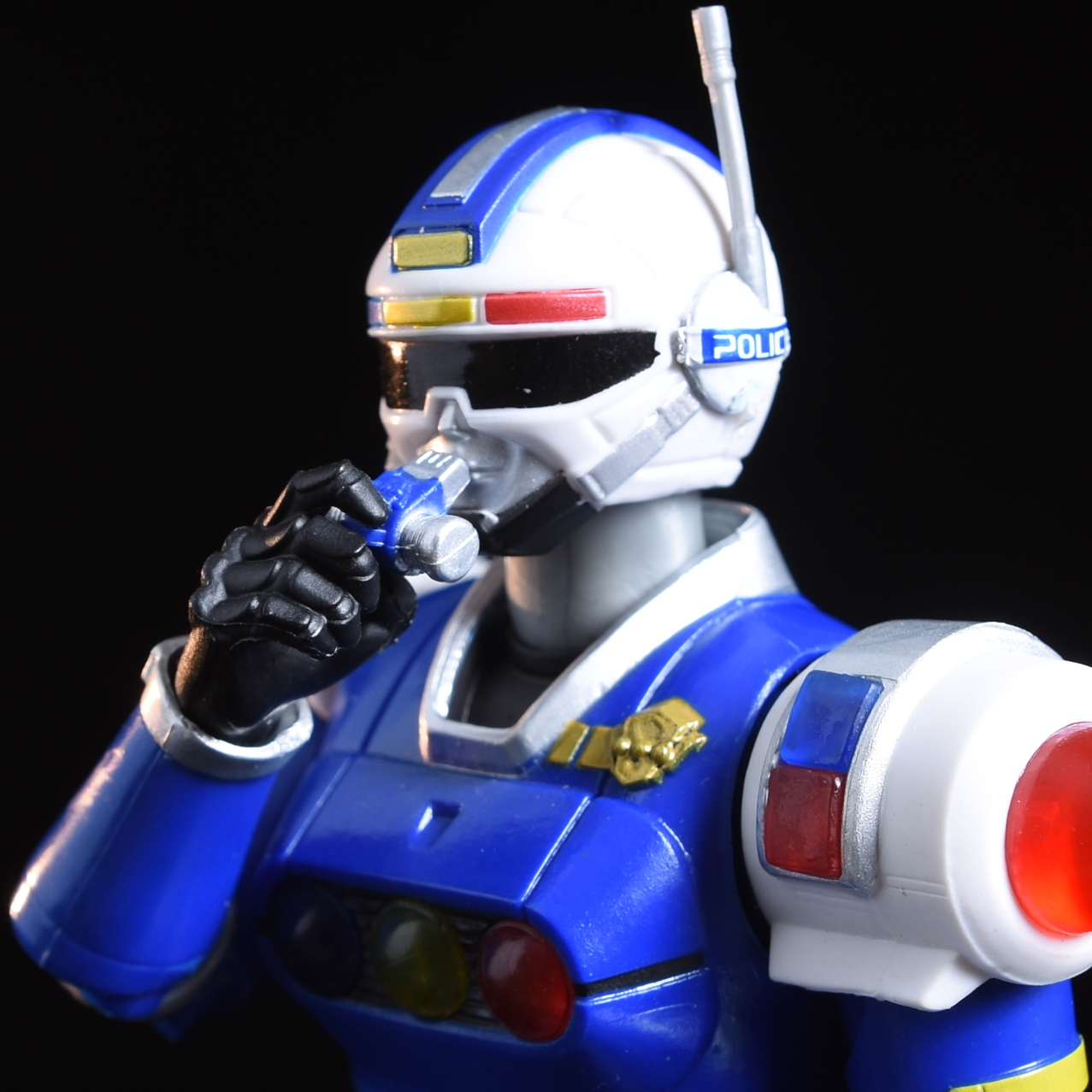 The grip and fists are functional, though I do wish he had an extra set of hands, either open or in a specific martial arts pose. For a deluxe figure, he doesn't feel all that packed with accessories. He also has a pretty neat motorcycle that would have been cool in figure form.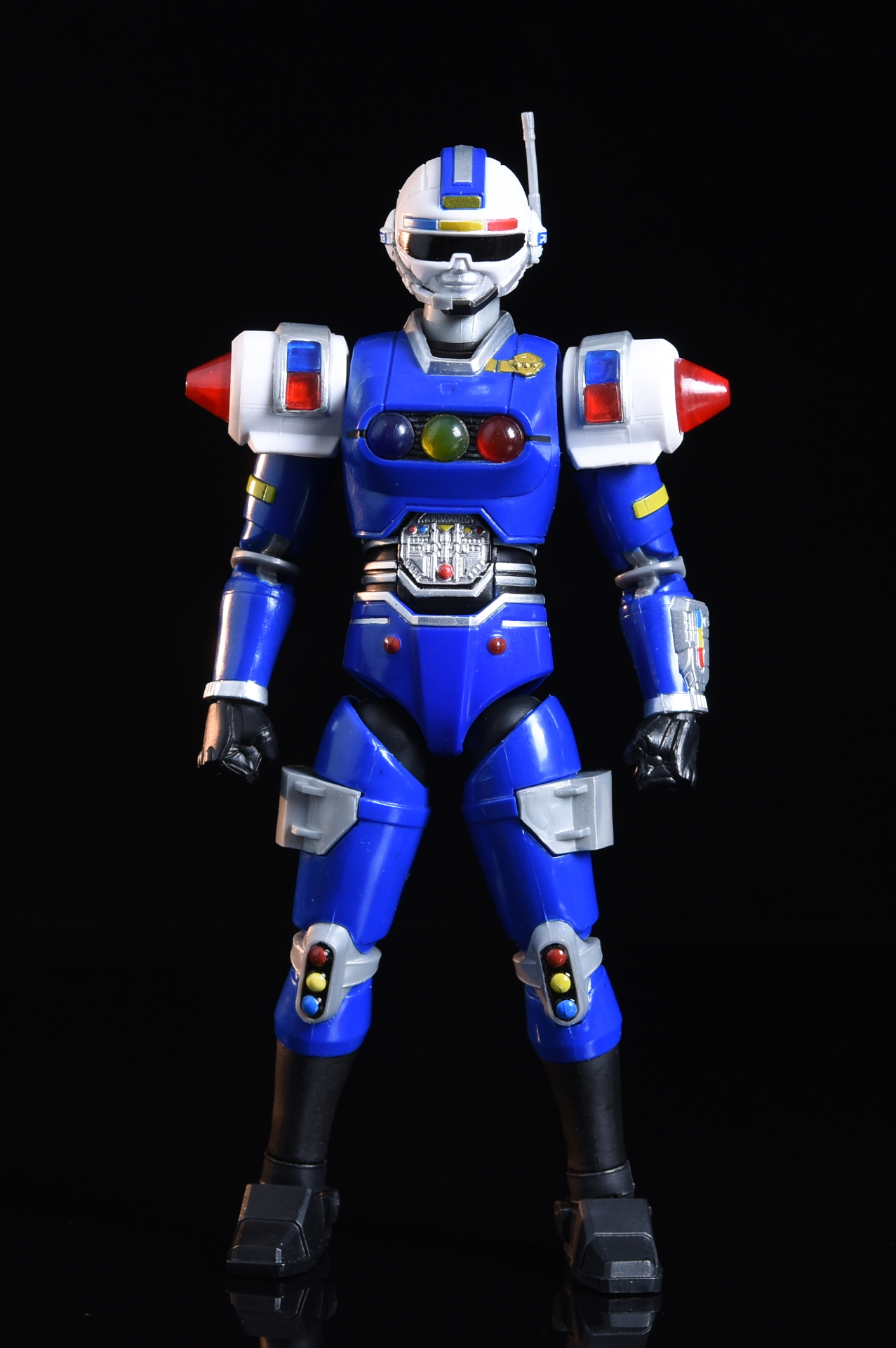 The sculpting is really nice and captures the details of the character well, especially the slight bulkiness of a performer in a robot suit. The hard surface details have lots of little panel lines and techno-greeblies and I like that they used translucent plastic for some of the more prominent signals. I do wish there was some light piping or reflective backing to get a little bit more of a glow effect on the front three chest lights.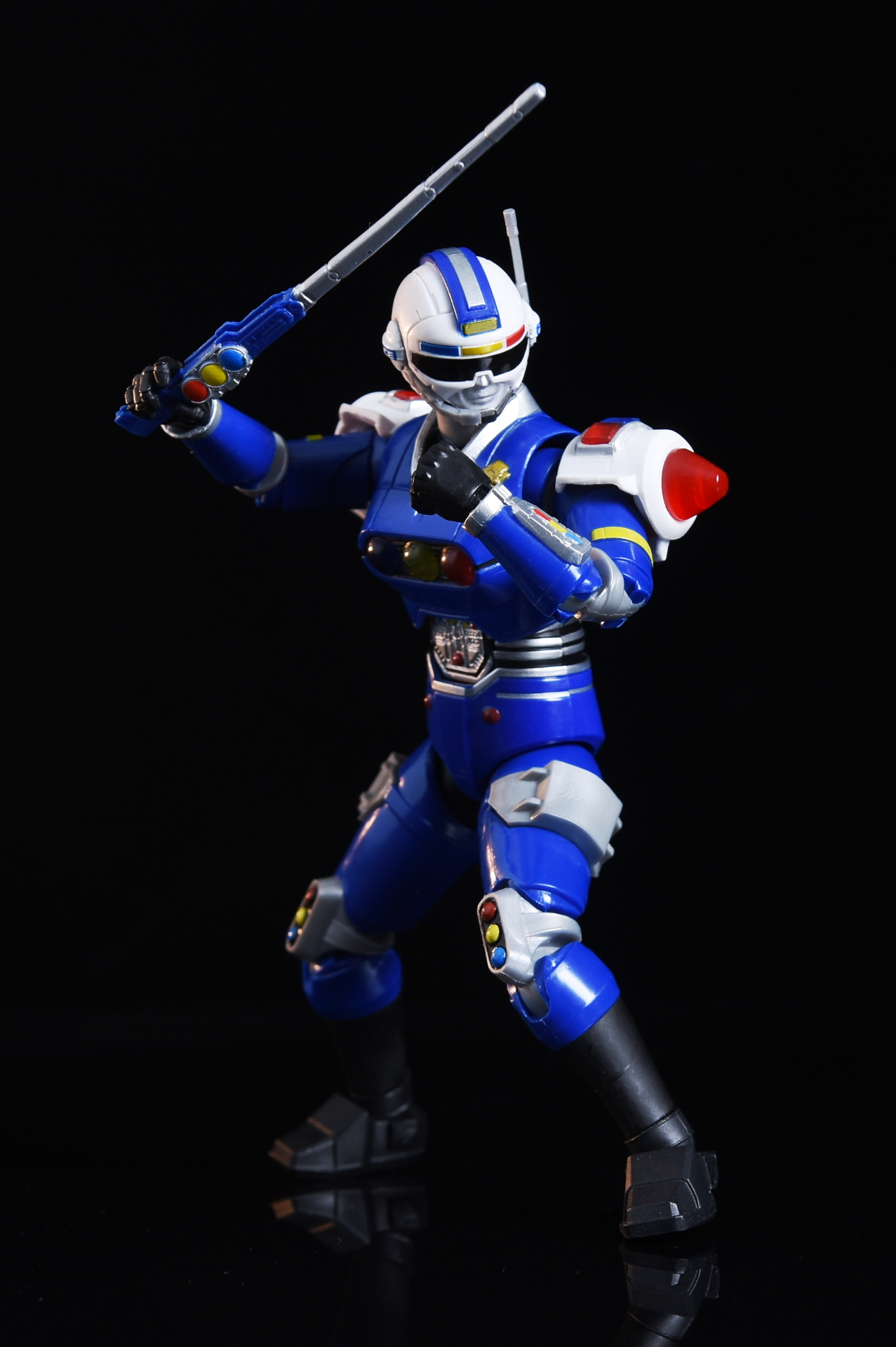 Paint is fairly solid other than the missing weapon detail with some clean work on the non translucent plastic lights and silver costume details. I also really like the super tiny "police" tampo on the sides of the head. The yellow arm stripes don't quite cover the blue plastic.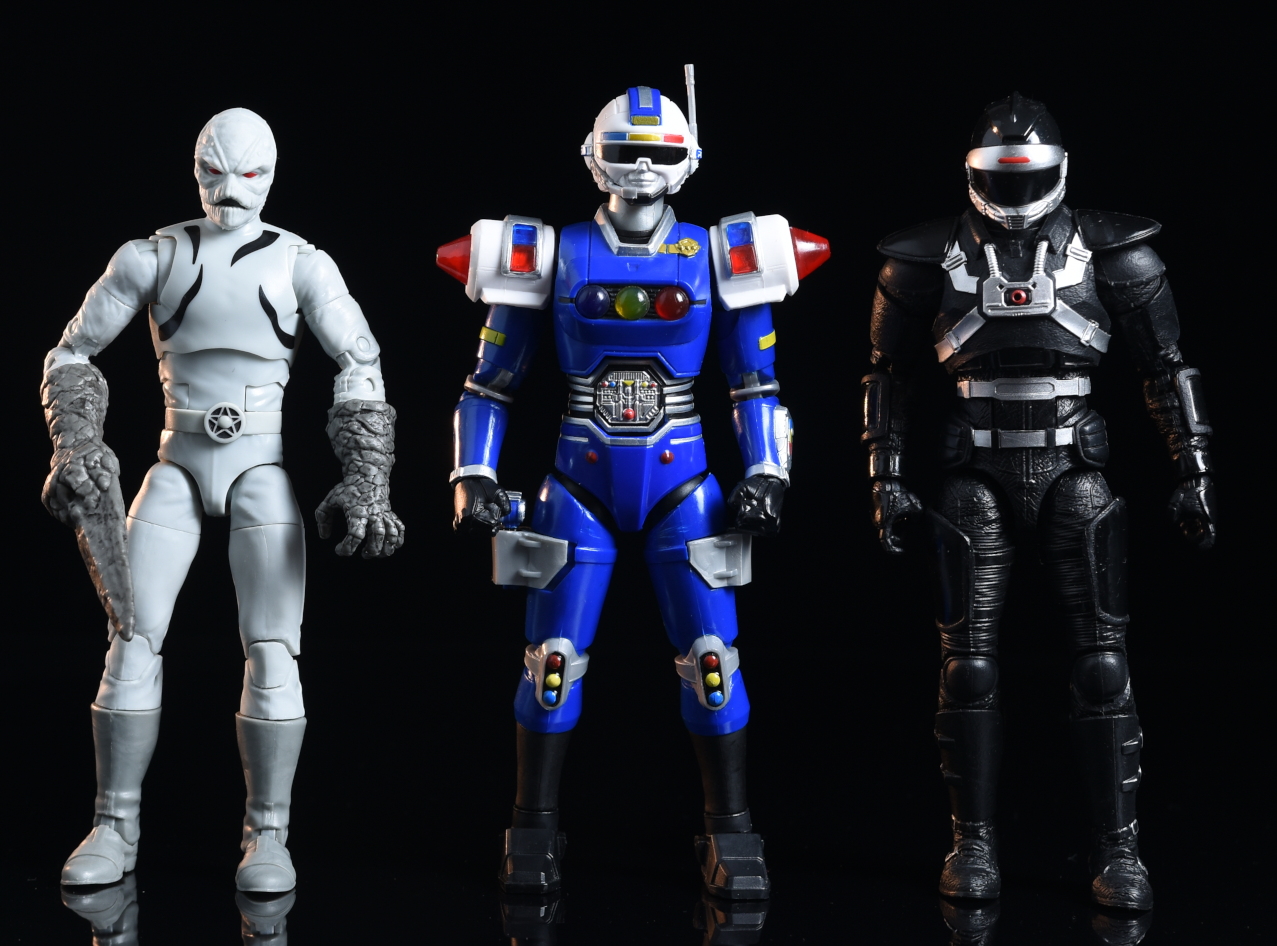 Articulation follows the newer Lightning Collection format with:
Swivel/hinge shoulders, wrists, hips, and ankles
Double hinged elbows and knees
Swivel biceps, thighs, shoulder pads, and ankles
Ball and socket head, pecs, and mid-torso
Hinged lower torso
Dropdown hips
The articulation moves pretty well except the ankles are a little gummy, so I found balancing slightly more of an issue than usual. I like that they gave him ball joints in the pecs so you can raise and lower the shoulders a bit as well as move them forward or back. The shoulder pads are also separate pieces attached to tab that swivels with the shoulder, so they get out of the way for arm movement.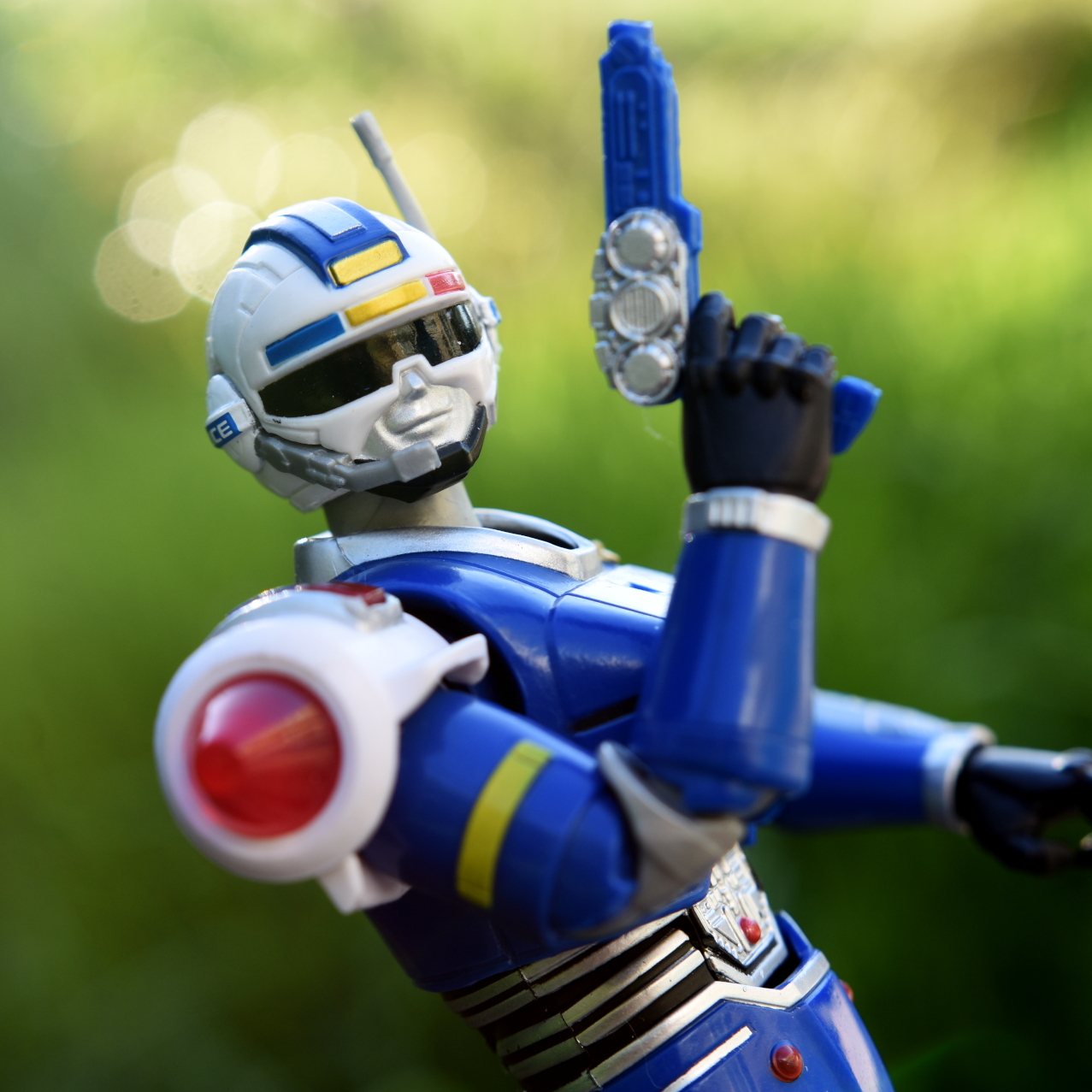 Overall this is a really nice, fun, poseable figure of an interesting robot cop design. It did make me look up and watch a couple Carranger episodes on Tubi and there he's a kind of off-kilter character that I ended up liking a lot. They do that thing where they gave him a robot wife and kid that are of similar design and that just kills me. I do feel like it's a little light on accessories for the higher price point and I wonder if they would have felt okay charging more if it was on a regular window box. There was a lot of empty space in that box.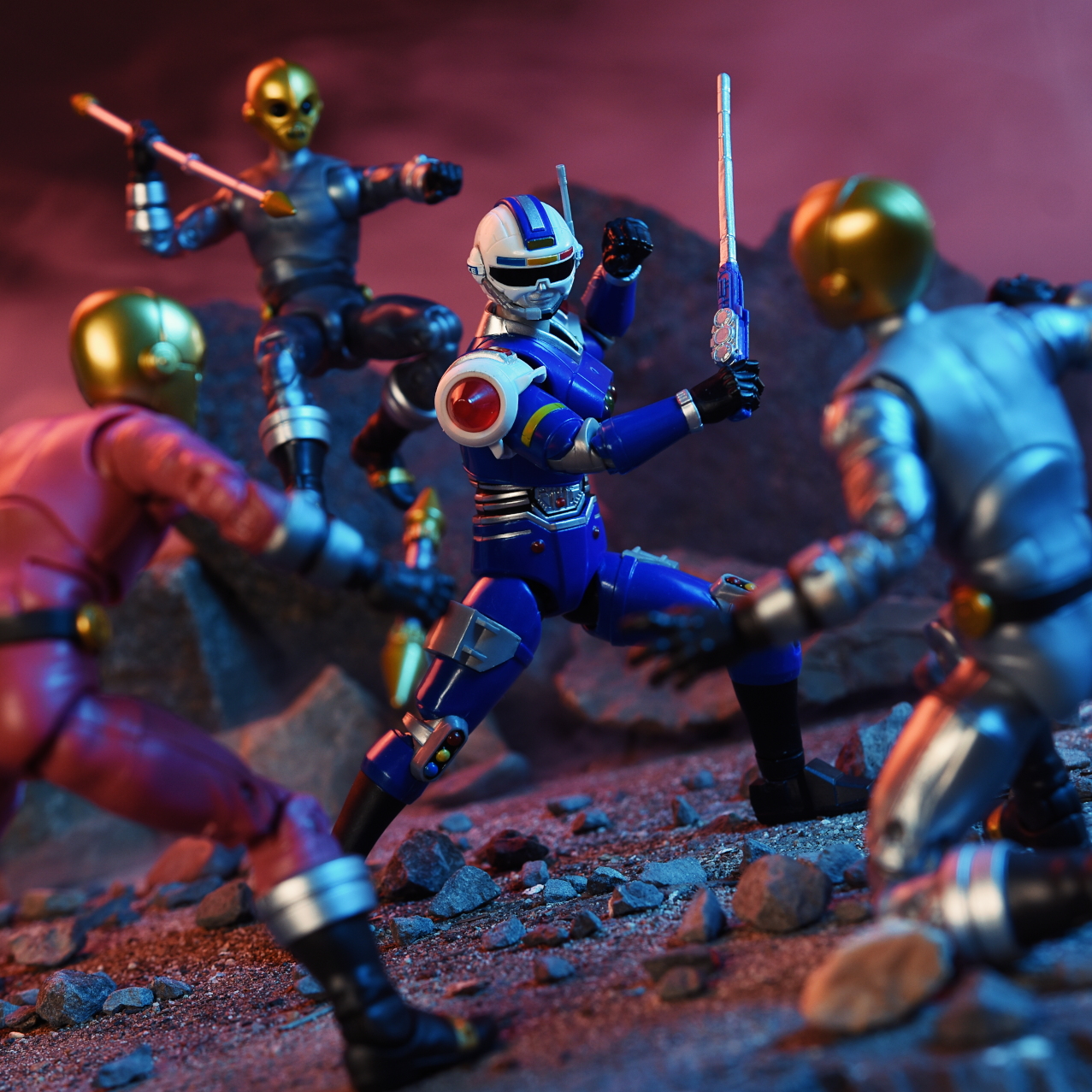 About Post Author