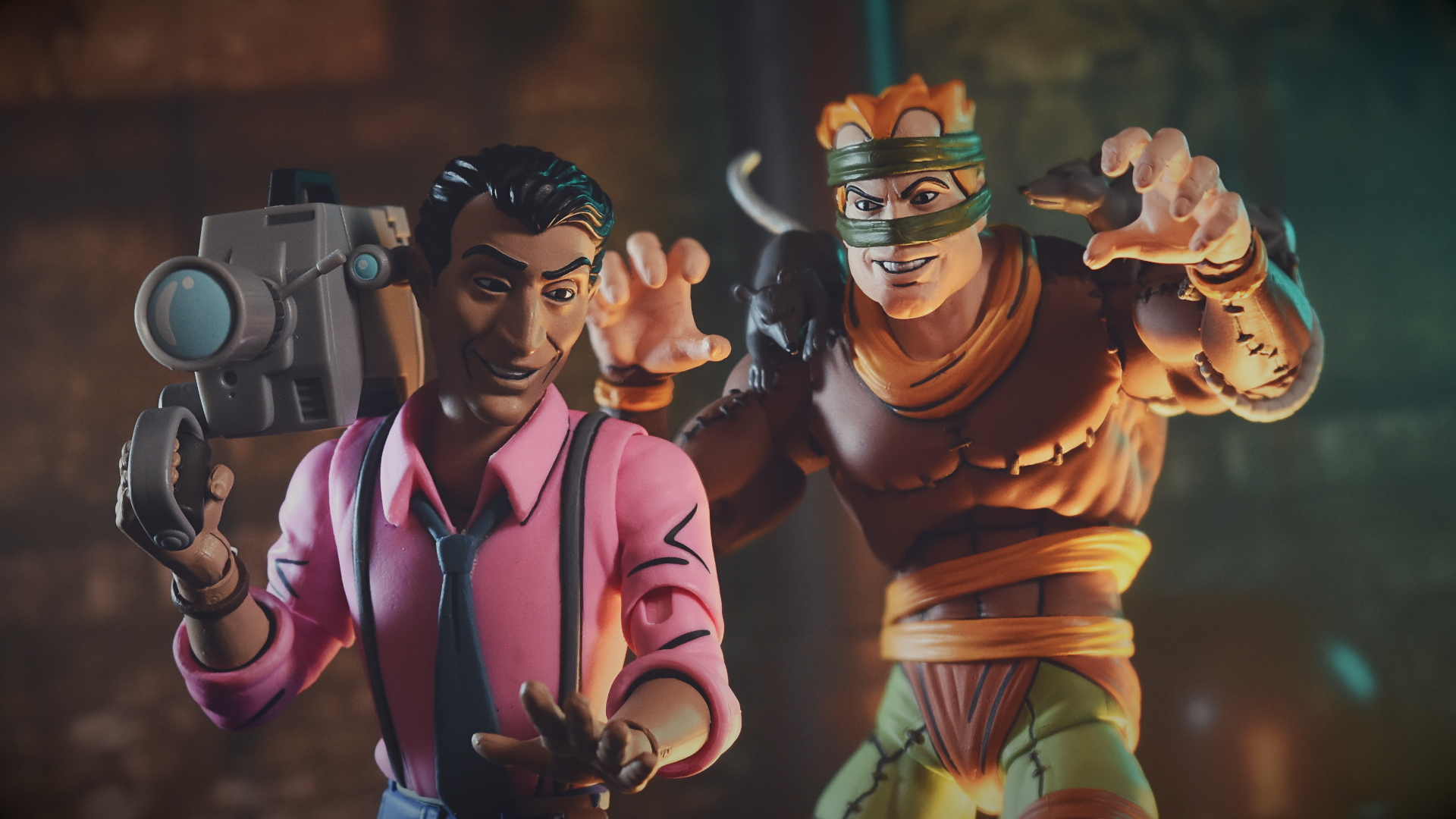 Hey, we couldn't wait for #TurtleTuesday for this one, so we are off and running on #MutantMonday!
Cowabunga! I know 2021 is already off to a rocket start for a lot of new and continuing action figure lines, and I for one am elated. 2020 was tough in just about every aspect, but it was a pretty banner year in terms of new toys, that is for sure. This year is exploding out of the blocks to try to outdo the year that was, and one of the best ways to get me hyped is to get me more TMNT. Right on cue, NECA is ready to release their latest Target-exclusive two-pack, so look out – Vernon and the Rat King are ready to make their cartoon series debut!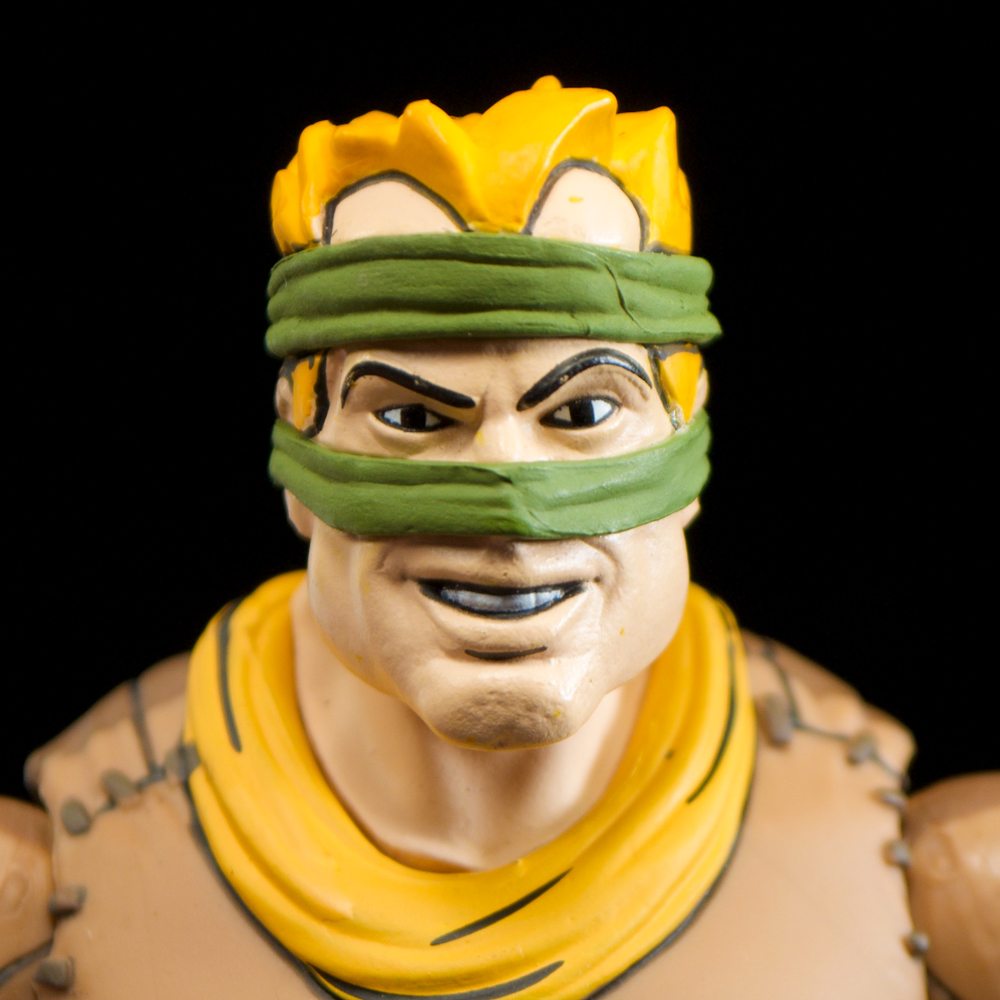 I named this line my best of 2020 with the full expectation that this year would beat out what has come before. Never to a group to rest of their laurels, Randy, Trevor, and the entire team from NECA are kicking off this year way ahead of the game, and just as planned, the first cartoon pack is hitting in the first month. Don't get me wrong, I still cannot believe all of the things we got in '20, but if you think about it, the releases didn't even start until July due to the effects of the global pandemic, so the idea that we are going to get a FULL year of releases this time around has me thinking about the likely 40+ additions to the line we might see. Seriously, if you love TMNT, this is gonna be a blast.
But you cannot build the future without having a strong history, and frankly, things were a bit of a ride last year. After the figures themselves, the distribution and availability were hot topics of conversation, but the Splinter vs Baxter and Deluxe Krang both proved to be much more available, so I am hoping this is more of a pattern of what we see going forward. Refreshes (as promised) of previous releases are hitting now as well, much to the relief of many a collector. This is a REALLY popular line, so I am glad the fanbase has taken to it, because the more we have the more we will GET – woo!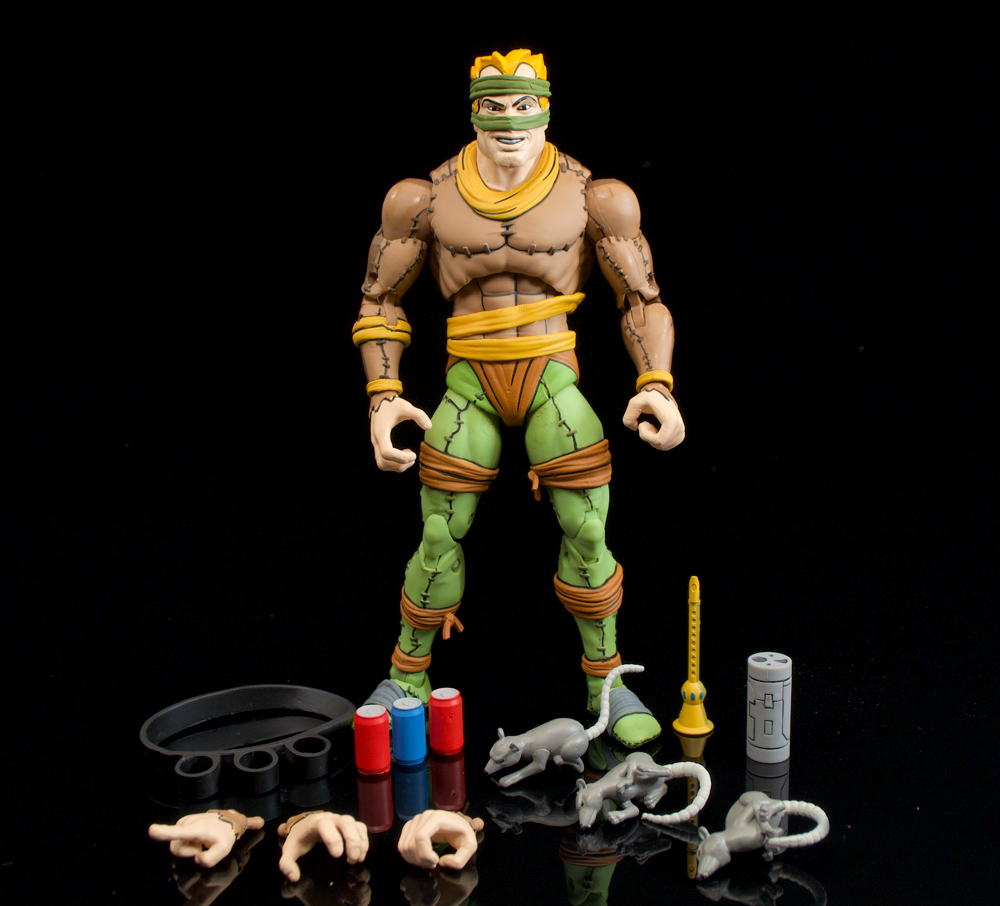 That "more" starts right now with a duo of essential characters – stalwart villain, the Rat King, as well as the sniveling Channel 6 reporter/cameraman/producer Vernon Fenwick. What a crazy and awesome pairing this is, and it shows how much love and attention to the animated series this line has from all of the people involved. I would call this set an "episode specific" release in that the dynamics between the characters, and much of what makes up the parts and accessories can be traced to the season four episode, "Ware-Rats from Channel 6." In those 22 minutes, our boy Vernon, and fellow new station employee Irma, are transformed into humanoid mutant rats by the Rat King after he finds some unstable mutagen. Unlike most mutants, Vernon and Irma turn back-and-forth between their original and ware-rat forms, and Rat King's trusty flute is to blame. And all of this in the name of stealing cheese so his rat kingdom could continue to grow!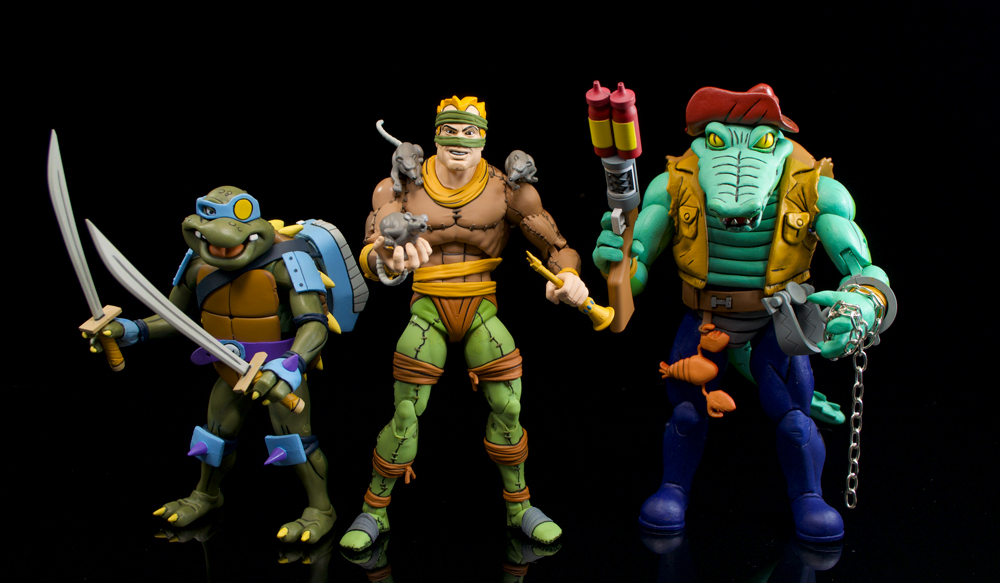 Like many of the characters featured on the show, I am much more a fan of Vernon from his season one characterization than how he developed later in the series. Admittedly, I was never a fan of how much time was given to the Channel 6 crew in the series when countless cooler characters were relegated to one-shot appearances. But, Vernon is a memorable and essential part of the cartoon lore, so if he would not have been included in this line at some point (yes, Irma and Burne are required as well), I would have been disappointed. Plus, the fact of the matter is, he has been treated so well here, it is really hard not love this figure. Gone are vintage days when he had a disheveled tie and camera PERMANENTLY affixed to his hand, no, this spineless brown-noser has come a long way, baby.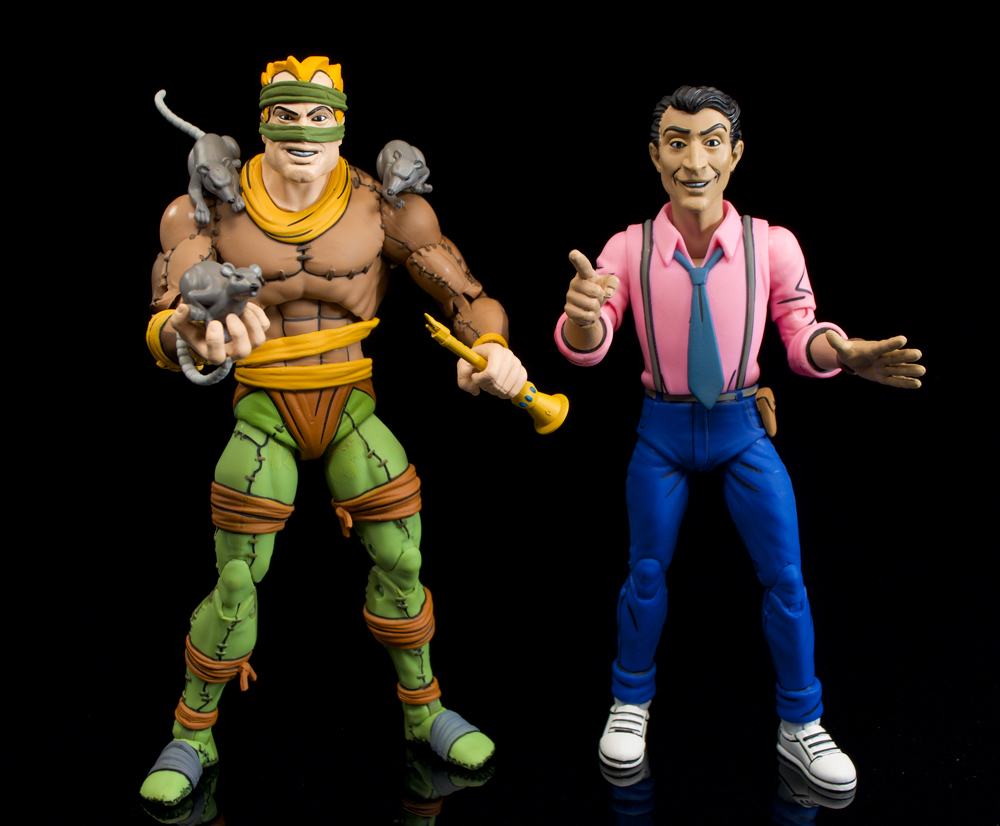 Vernon is an all-new sculpt, and even though his DNA looks to be in the upcoming Ace Duck figure, that is a lot of new tooling for a "civilian" figure, strong presence or not. This new slim body is really well configured, and you can see a lot of the updating to various joints coming through here, which puts him ahead of some past figures. His "shirt" is an overlay to a nondescript torso (thus giving Ace Duck his base), and the configuration makes so that you get articulation at the base of the neck, as well as at the head.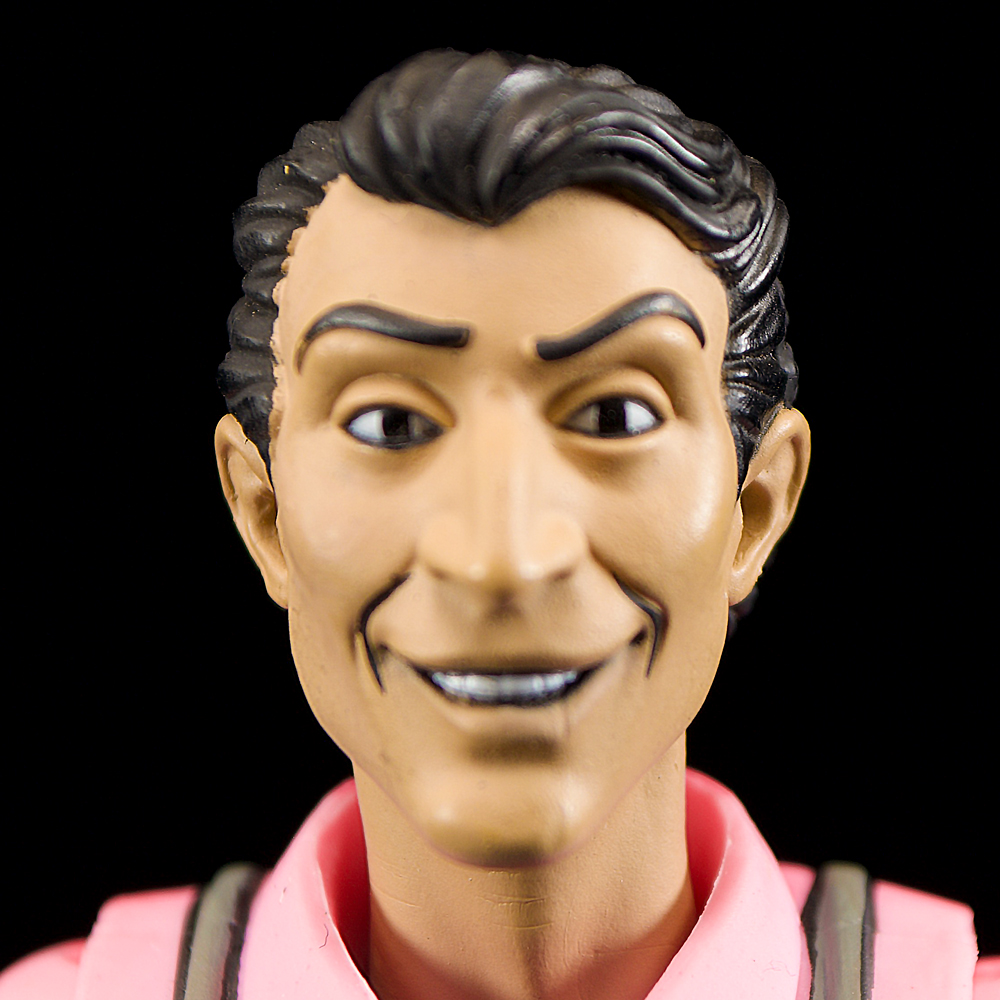 Past engineering, Vernon is one of, if not THE, most expressive figures in the line so far. As I mentioned, he moved from being a smarmy second-fiddle to April in the early years to a spineless conniver later in the series, but somehow the NECA gang gave him an expression that is appropriate for both of those characterizations. I love the overall aesthetic of the figure, and I am glad I can make him the cameraman/producer from the season one. His look is cocky and self-assured, and while he will run the tape for April, you know he feels he is second in command to Mr. Thompson. His pink shirt stands out even in a colorful collection like this, and his open hands really speak to me for some reason. Sure, he needs the various grips for various accessories, but man, those open hands just work with the figure so well, and they make it even more expressive.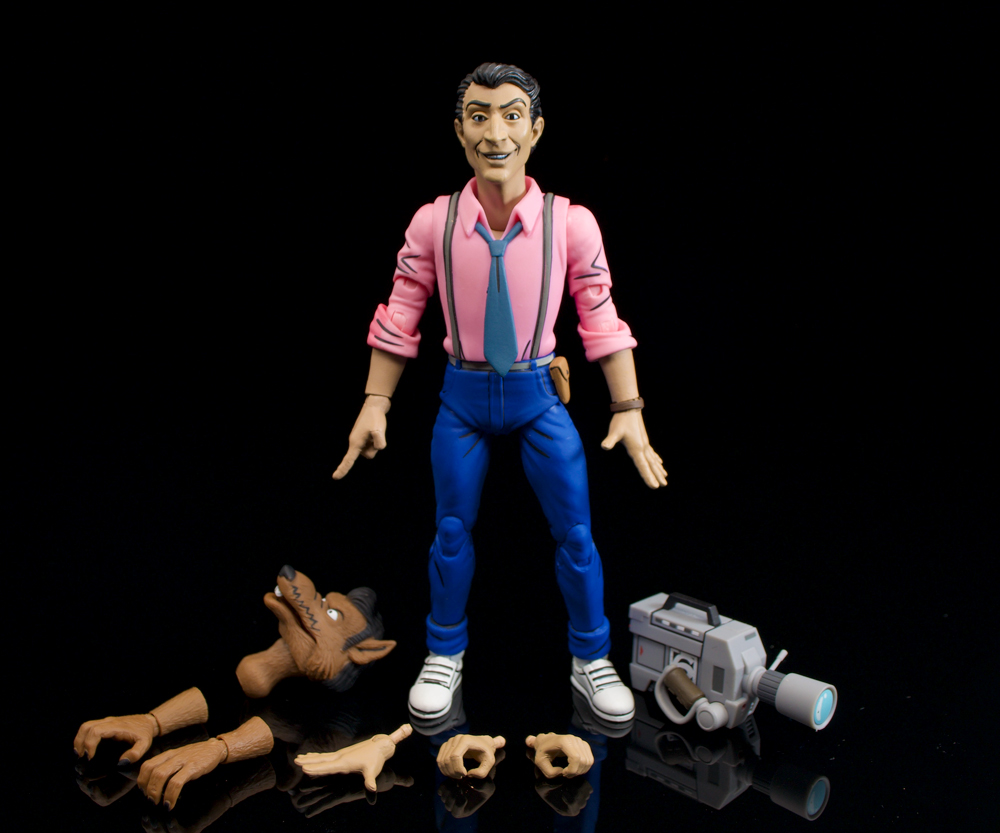 Now, the big catch with Vernon is that the set contains all of the parts to make his ware-rat form, and NECA got me thinking about getting to of these sets just so I can display BOTH versions. The change over is pretty straightforward, just swap the head and both arms at the elbows and you have got it, but the instant you do, it is like you have a completely different figure. The pegs are pretty solid, so you might heat up the parts before switching them out for the first time. There are traces in the head shape from Splinter, so you can see the continuity, and like the venerable old ninja master, rat Vernon also features and articulated jaw. He looks sinister and ready to take on the Turtles to steal that highbrow cheese from an airplane cargo hold, so don't think this figure won't be useful for action scenes.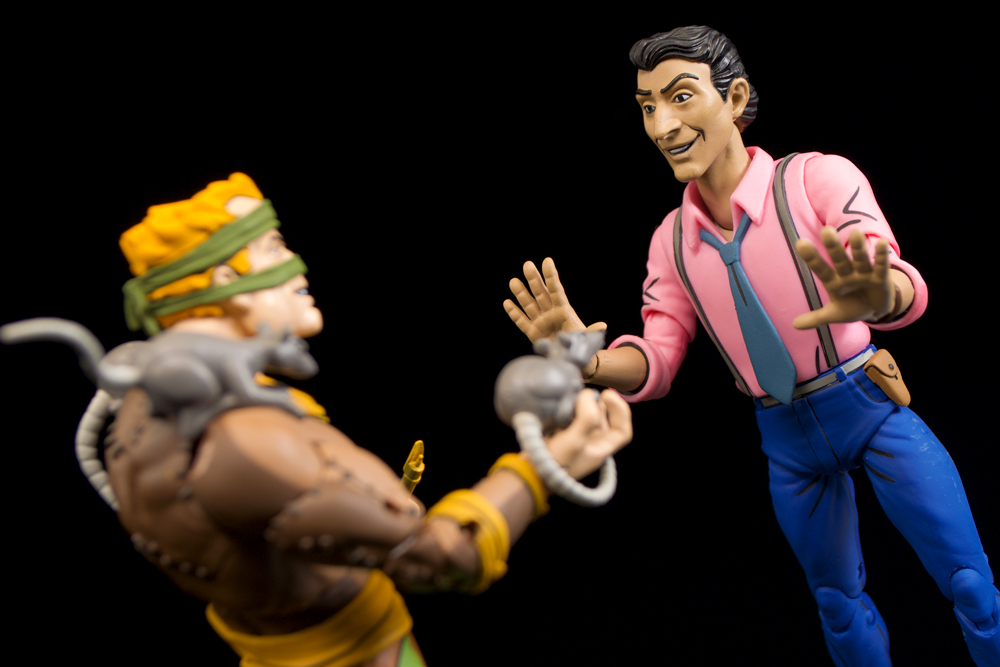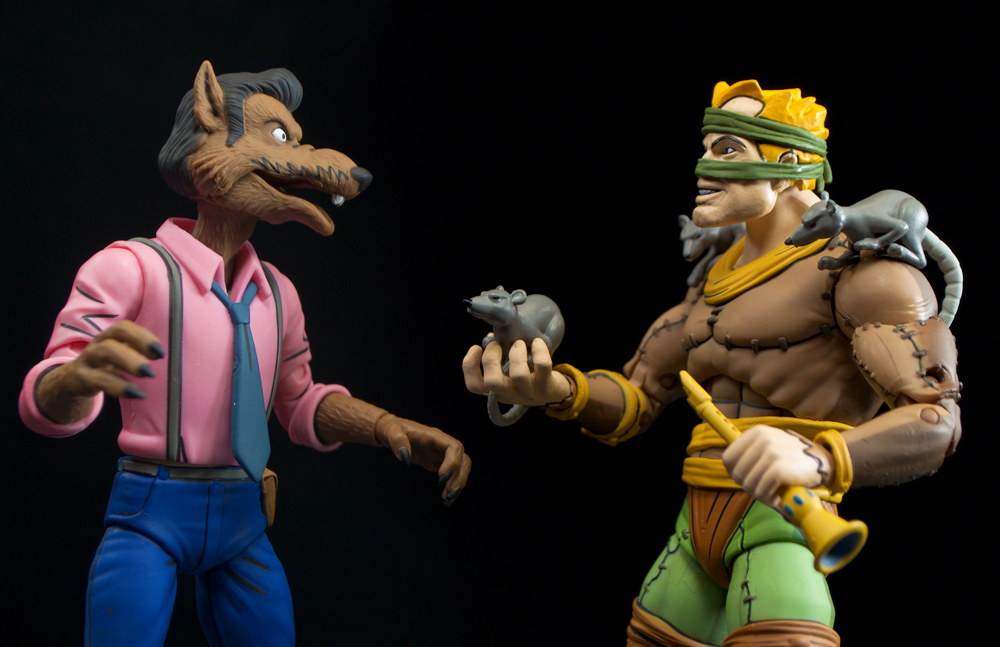 Adding this transformation ability to Vernon is pretty ingenious, and I think the option goes a long way in making Vernon a bankable character to include in this line, at least this early. Let's face it, despite his ubiquitous presence in the cartoon, the vintage line didn't get around to making Vernon until almost the end of the line. I get it, this is a collector line, so the audience is different, but these rat parts make this figure twice as interesting, and more likely to find its way into a display. I will be interested to see if NECA goes this way with the eventual Irma figure, it almost feels like they have to now.
Which would be good because it would give the other figure in this set another minion to boss around. Whether it be in the original cartoon or toy line, the Rat King has always been one of the weirdest TMNT baddies, and that says a lot when matched against crazy mutants and monsters. I mean here is a guy who leads a kingdom of rats, and even though he is very clearly a (demented) human, he believes he is a rat himself. Often times cartoon and comic book villains are case studies for afflictions and disorders, so I am sure there could be stacks on stacks written about the Rat King.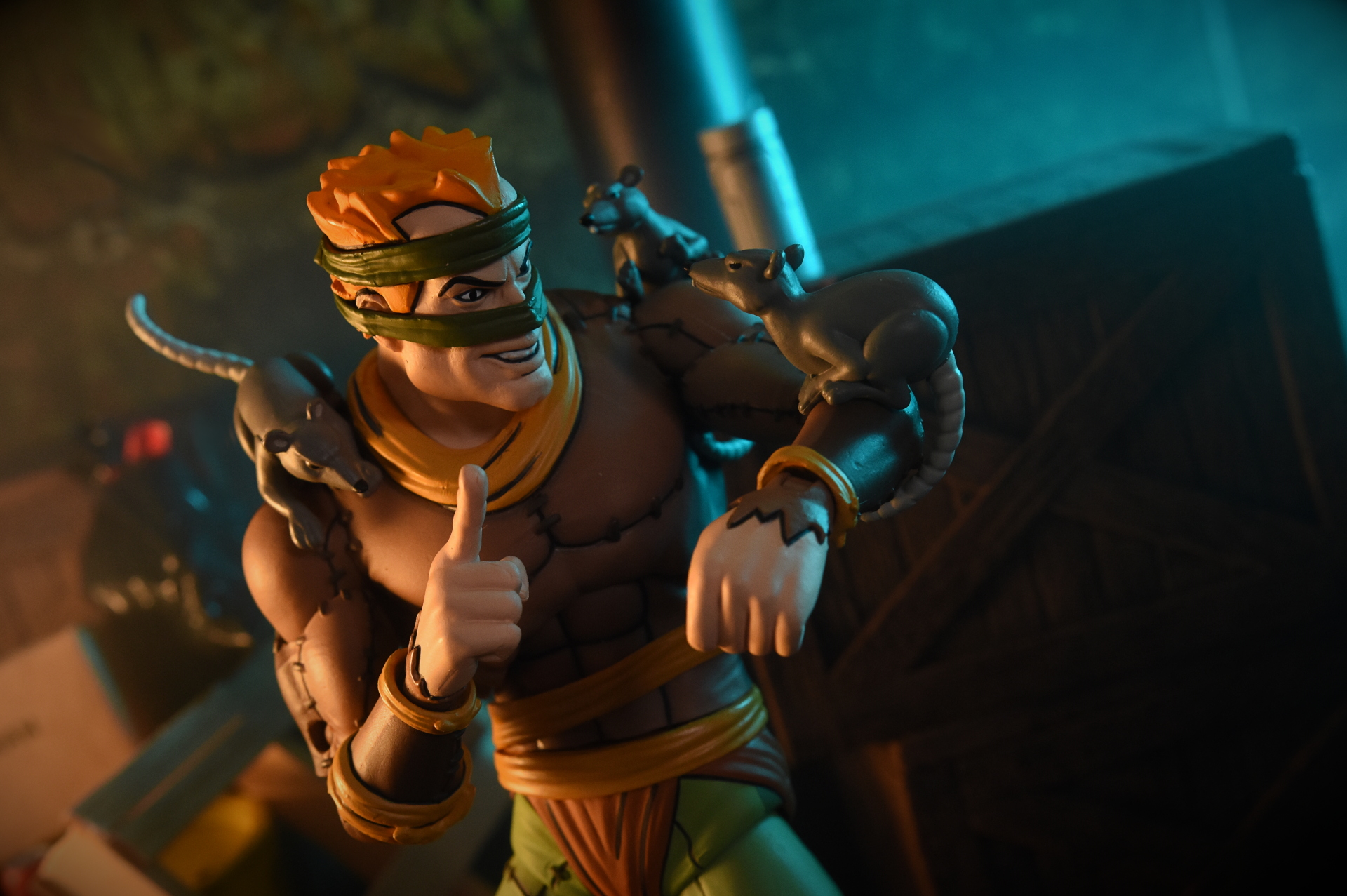 So here is a red-headed guy, seemingly clothed as though he is a rat fur mummy, sporting a magic flute, and talking like he is constant need of a Ricola who is gonna periodically rumble with the Turtles for sewer superiority. I mean, he is essentially the rat version of Buffalo Bill (from Silence of the Lambs) but with a regal slant. Got it. Let's roll with it. Man, how could you NOT love TMNT? The Rat King has been a part of Turtle-dom since its earliest days, and for me, is cartoon appearances were always memorable. As I kid, I found his vintage figure to be a bit disturbing, so I always gravitated to the more streamlined cartoon design. I am glad to add him to my cartoon shelf, so he will be ready to take on Turtles, Channel 6, or even grapple with ol' Leatherhead, as he has been known to do.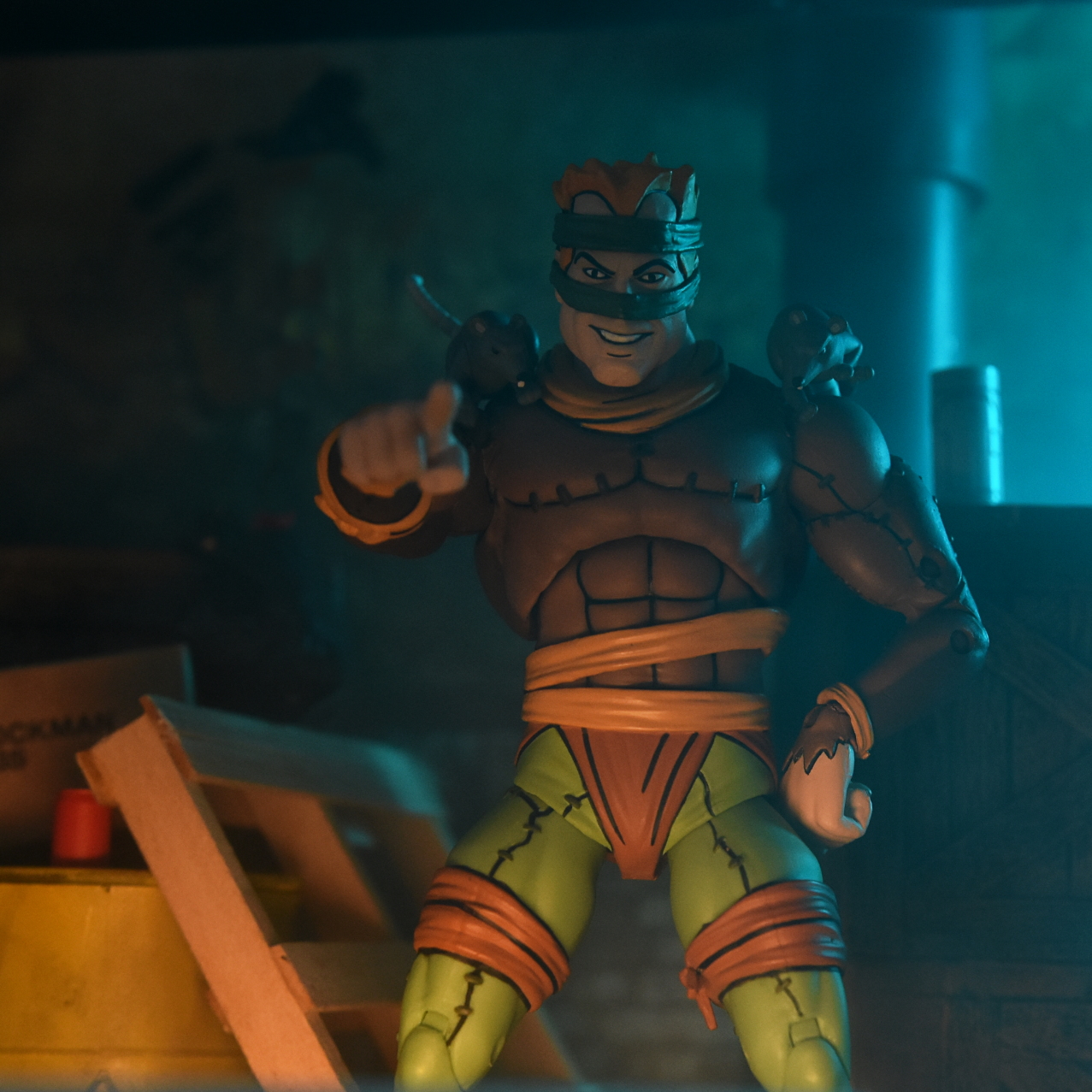 Technically Rat King is a human, so that actually makes him more of a rarity in this line amongst the color cadre of mutants and brain creatures. But his bonkers design means he won't get lost amongst the rest of the crazies in the display. As you would expect, NECA rendered the cel accuracy pretty perfectly, and from his shot of ginger hair to his sickly green pants, the Rat King is reborn in plastic. The stitching in the self-made costume is a highlight, but the best part is the Rat King's expression, I mean, I can pretty much hear this figure talk. Like the other recent figures, the joint construction is really nice, so RK is one of the most posable figures in the line.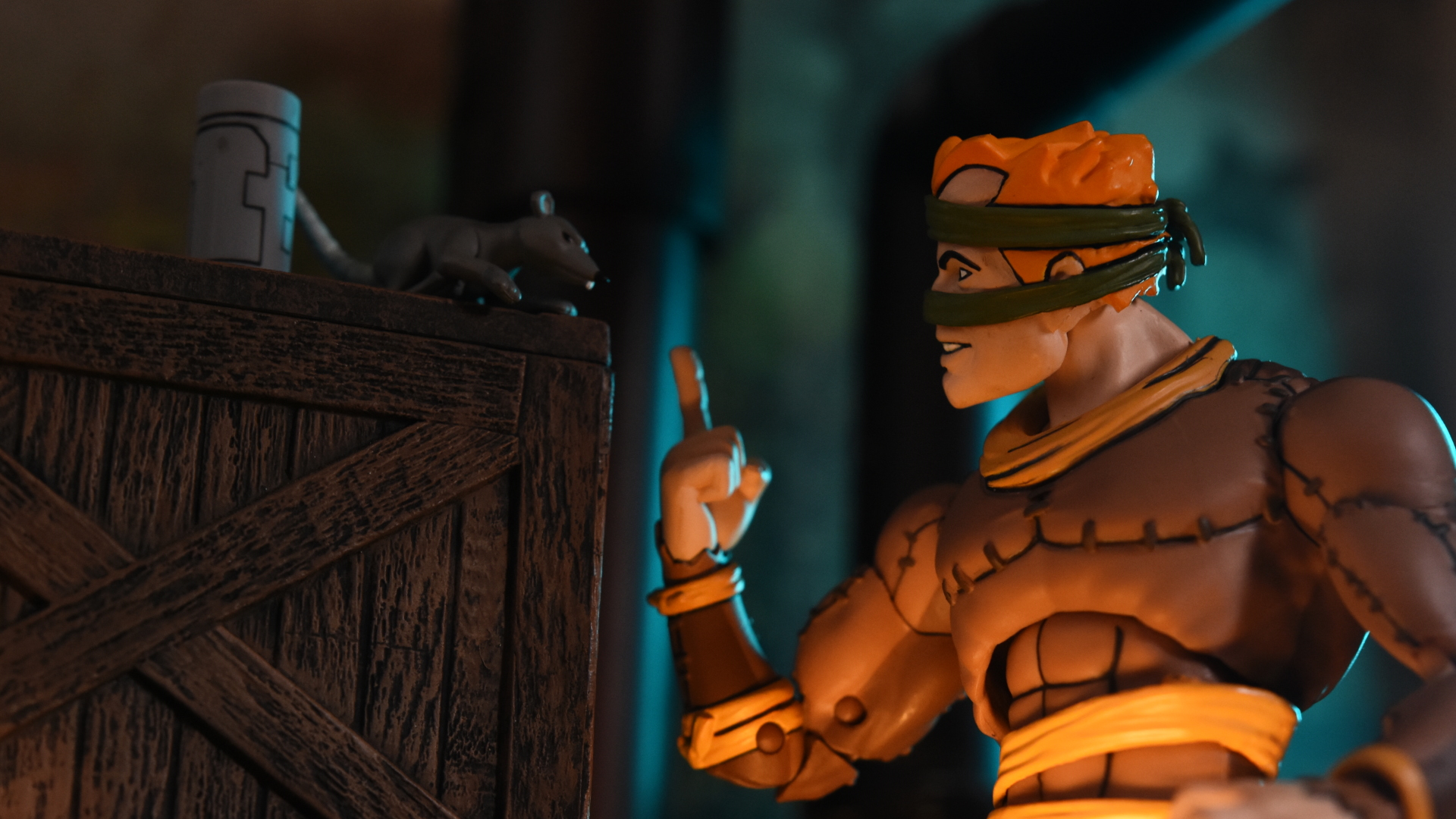 It goes without saying that the Rat Kings comes with a rabble of rats to boss around, and all three in this set are uniquely sculpted. They also are posed so that you can have them crawling and hanging off their majesty, just like they do in the cartoon. When not presiding over office rat duties of state, the King spends his time apparently making soda pop bombs (two red and one blue), and he has them here as well, complete with a bandolier to keep them snug until he is ready to chuck them at some toitles. He also gets the mutagen canister that held the unstable goo he used to transform Vernon. This could have been an easy repack of the canister we have seen before in the line, but NECA has given us a broken version to add some variety to the accessories; it's a nice touch.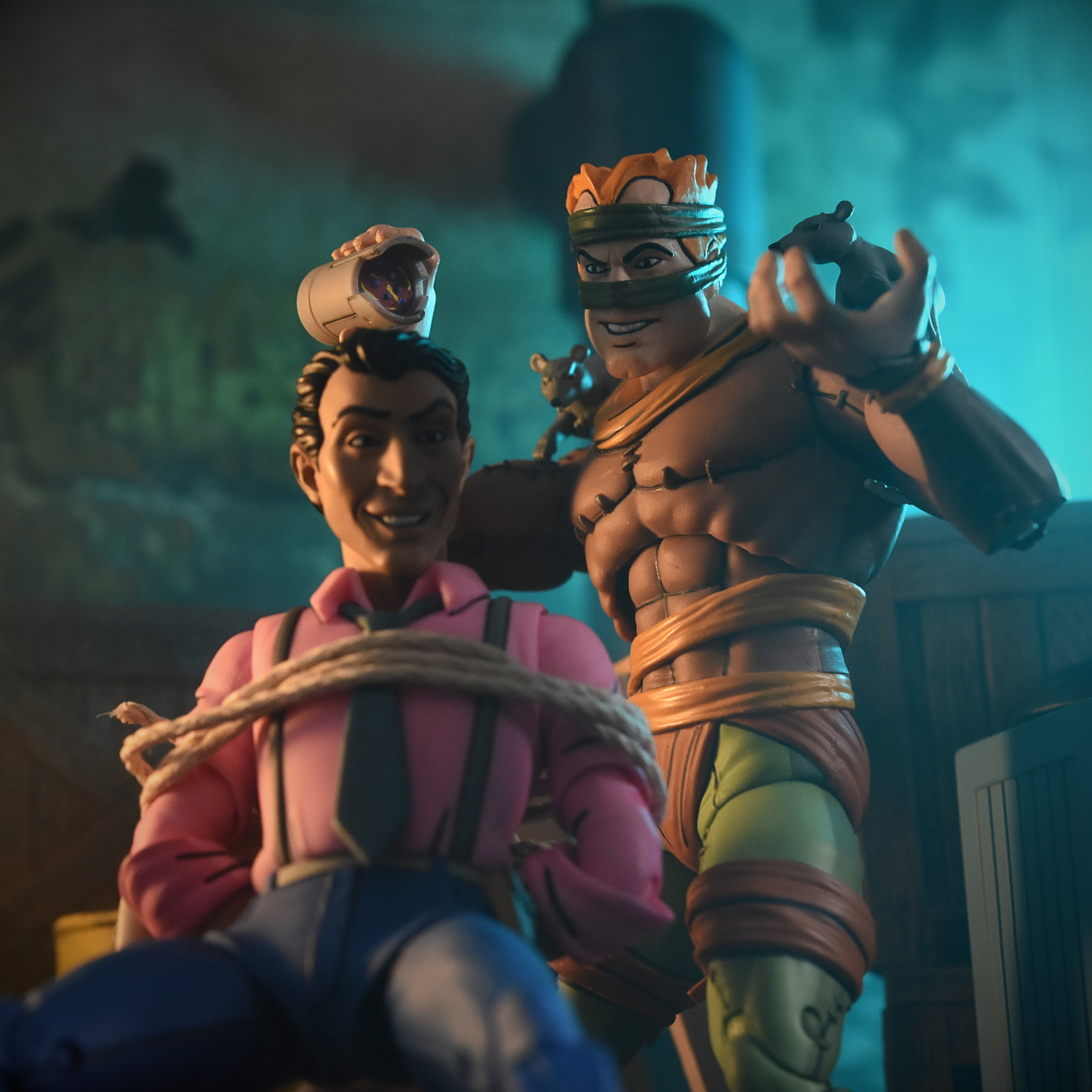 Woo! The TMNT collection continues to expand, and Rat King and Vernon add some unique variety to the display. These are starting to hit Target stores now, so be vigilant if you want to add them to your hoard, and I know you do. Now, since the Lunar/Chinese New Year shutdown is getting ready to happen, I would wager this is the last set we will see before everything is up and going again, so there might be a bit of a break in release for the first time in awhile. That's okay though, I have a feeling that after that, the foot will be to the floor and our TMNT displays will require a lot more room before the end of the year.
*Thanks as always to NECA for sending this set along for a feature, we really appreciate it!