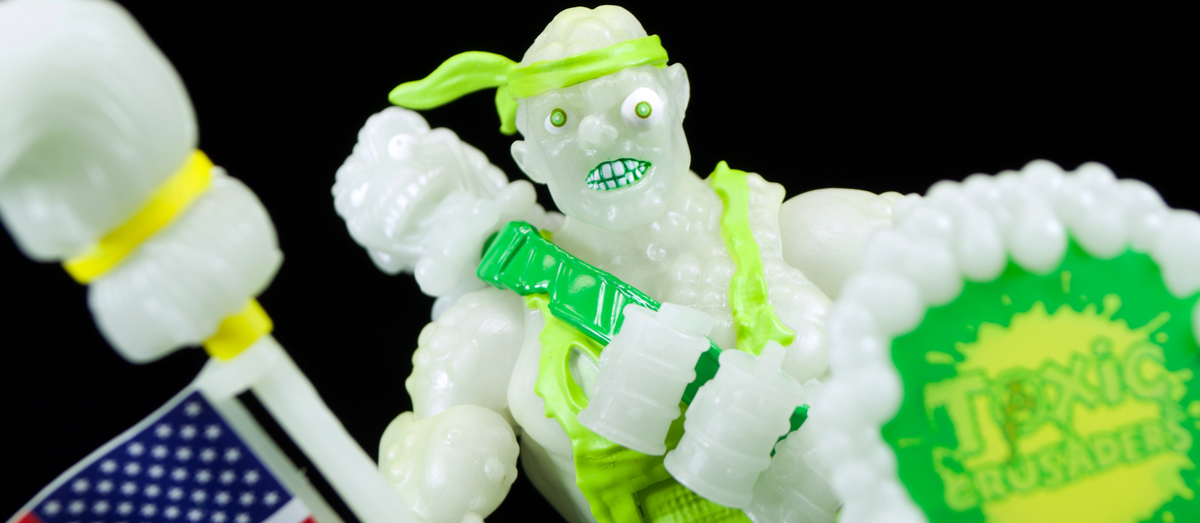 Honestly, you really cannot ever have enough Toxic Crusaders, and when I opened my Toxie from Super 7 last week, I already knew I would be needing more. Fortunately, I had already put my order in for this slick glow-in-the-dark version, and man, what fun there is to be here with these.
I will admit, I am riding pretty high on the Super 7 ULTIMATES! releases right now. Having recently added Conan the Barbarian, getting these two Toxies, and finding out that the first series of TMNT is on the water has been such an amazing pressure release of waiting on new stuff for quite a bit. It is getting almost cliche of me to say at this point, but the stride S7 has hit with their releases and quality in the ULTIMATES! is pretty damned impressive. I really love these figures, I am impatiently waiting for more to release, and I cannot wait to see which characters and properties they will unveil next. While I keep fingers, toes, and eyes crossed that the rest of the Toxic Crusaders crew will be a part of that landscape, imma gonna really enjoy these Toxie figures.
While the "standard" Toxie was a regular release via pre-order at Super 7 and some of their partnering sites, this glow-in-the-dark version is exclusive to Entertainment Earth. That said, some of their partners had this guy up for pre-order as well, and I was able to get mine in through our pals at Megalopolis Toys. I am really glad I did because this guys sold our REALLY fast, at least much faster than I expected, and having this in-hand, it is easy to see why that is most certainly justified. So, I would link you to a spot where you can get one, but as far as I know, it is sold out everywhere at this point. It remains to be seen if it will be going back into production at some point, but I am just going to count myself as fortunate at this time.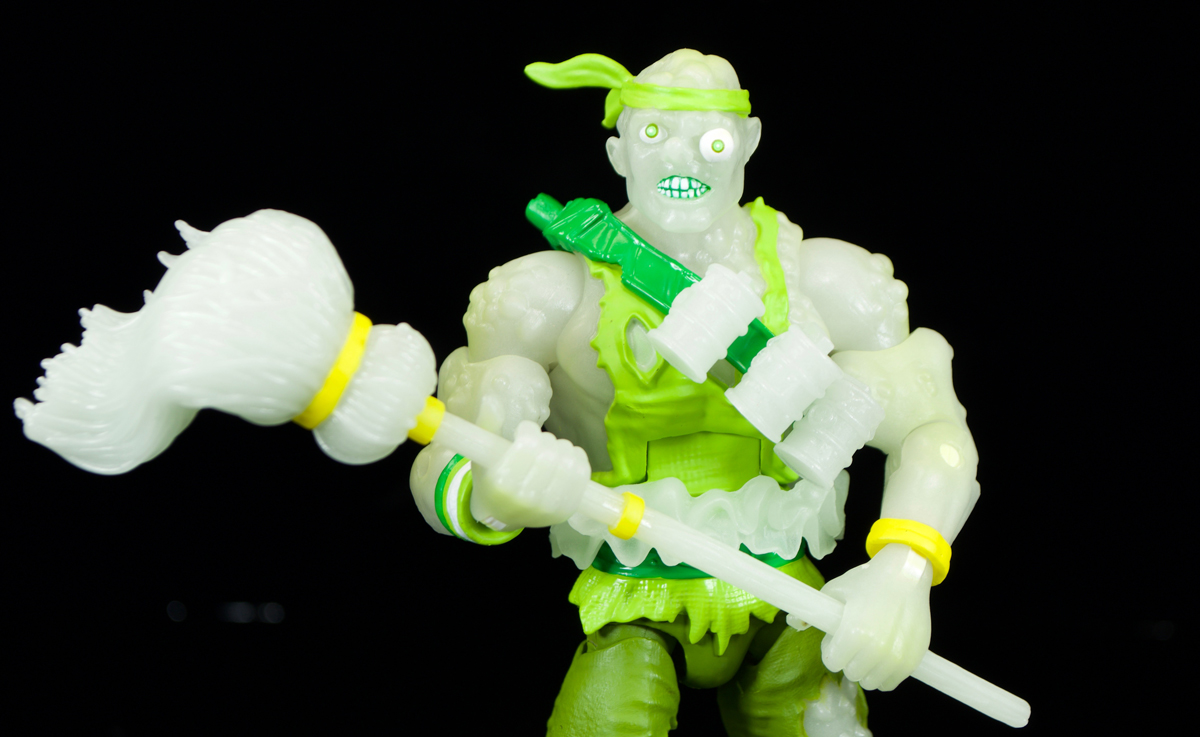 Yes, this is essentially a "repaint" of the regular figure, so I get into the nitty gritty details of the articulation and sculpting and all of that in my previous feature, so you can read about that stuff there. I do want to comment on the fact that the quality, construction, and engineering in this version is every bit as strong as the regular, so you need not have any qualms or reservations about that. All of the accessories and materials are the same as well, so you get all of the weaponry (and Blobbie!), just recast and painted in different colors. So, I will focus the rest of this on what is different here.
OBVIOUSLY, the main difference is the color scheme and the fact that this figure is gloriously glow-in-the-dark. Now, I am a big fan of GitD where it makes, but it doesn't carry a ton of weight with me to apply it willy-nilly just for the sake of it. I am glad to say that I find the alternate glow deco 100% on-point with Toxie, and all of the swaps look just as great as the original. Plus, and this is without hyperbole, I find the GitD feature/plastic used for this figure to be the best glow of any figure I own with the same feature. It is BRIGHT and the green color it emits is, again, perfect for Toxie. If you are not even a big fan of the character, but of the glow feature, you are going to love this. It really is impressive. Plus the paint that it used here, and colors actually compliment the feature, even in the dark.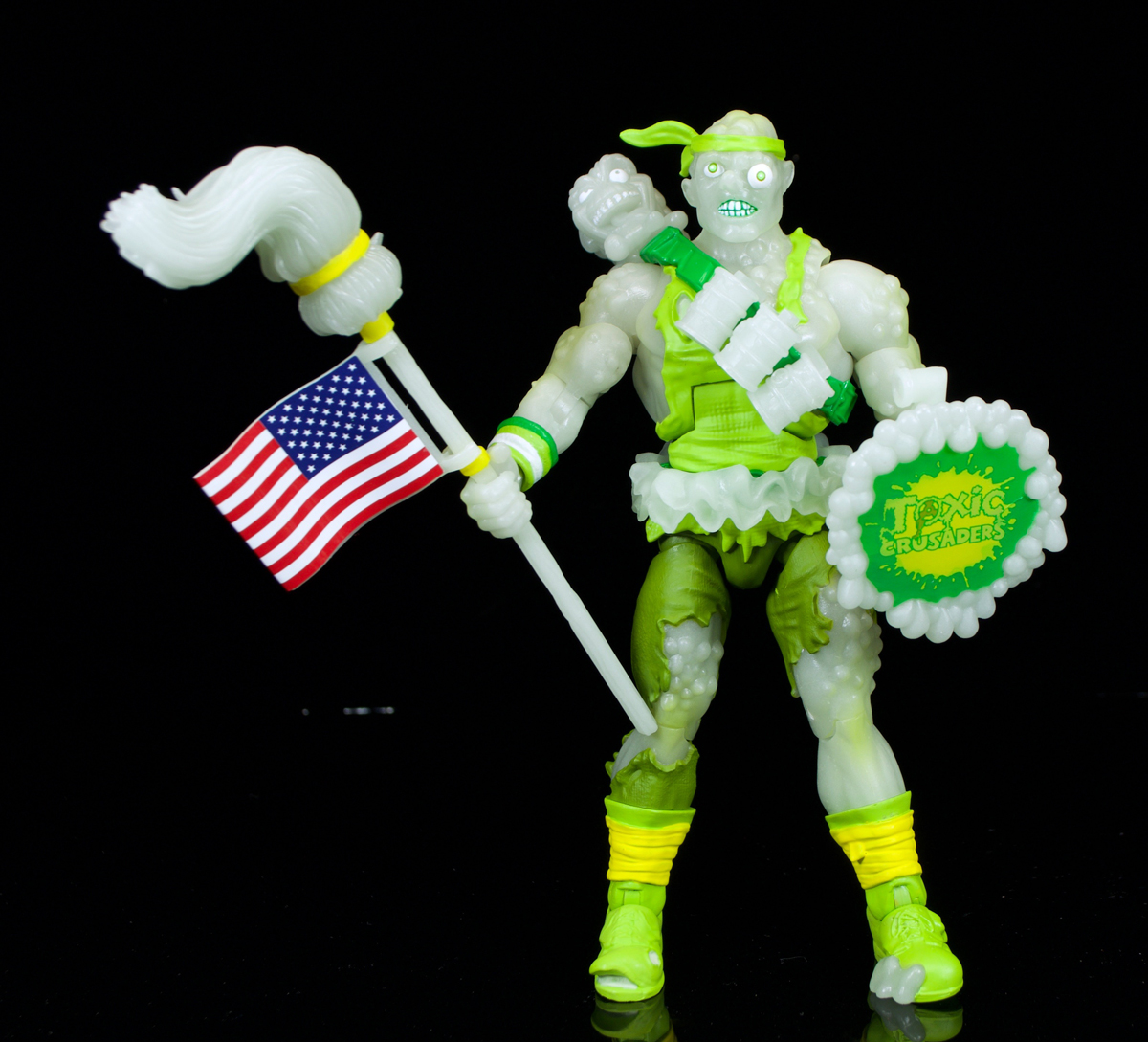 Speaking of the paint, yes, the red-orange and blues have been switched for yellows and greens here, but it doesn't end with that. The glowing plastic is not just left to stand all alone here, and Toxie actually has some nice, yet subtle, airbrushing on his arms and other places to help heighten the details. This is something that S7 could have easily skipped, but the fact that did it speaks to their commitment to these figures, and it really does make a nice visual difference. Plus, the Blobbie that comes with this figure is actually closer in deco to the vintage version (to me) so I might swap those out from figure to figure because this one looks just as good with the standard clear version, too.
The packaging is basically the same as before, and just as beautiful, but again, in a new deco that fits this figure perfectly. The green on the slip cover is much more vivid and bright, and I like the purple and orange on the actual card piece – it really helps offset the colors of the figure. Damn you, Super 7! You are making me struggle with discarding the packaging because it is all so beautiful, so I am thinking of how I incorporate it into my display. It's a good problem to have, friends.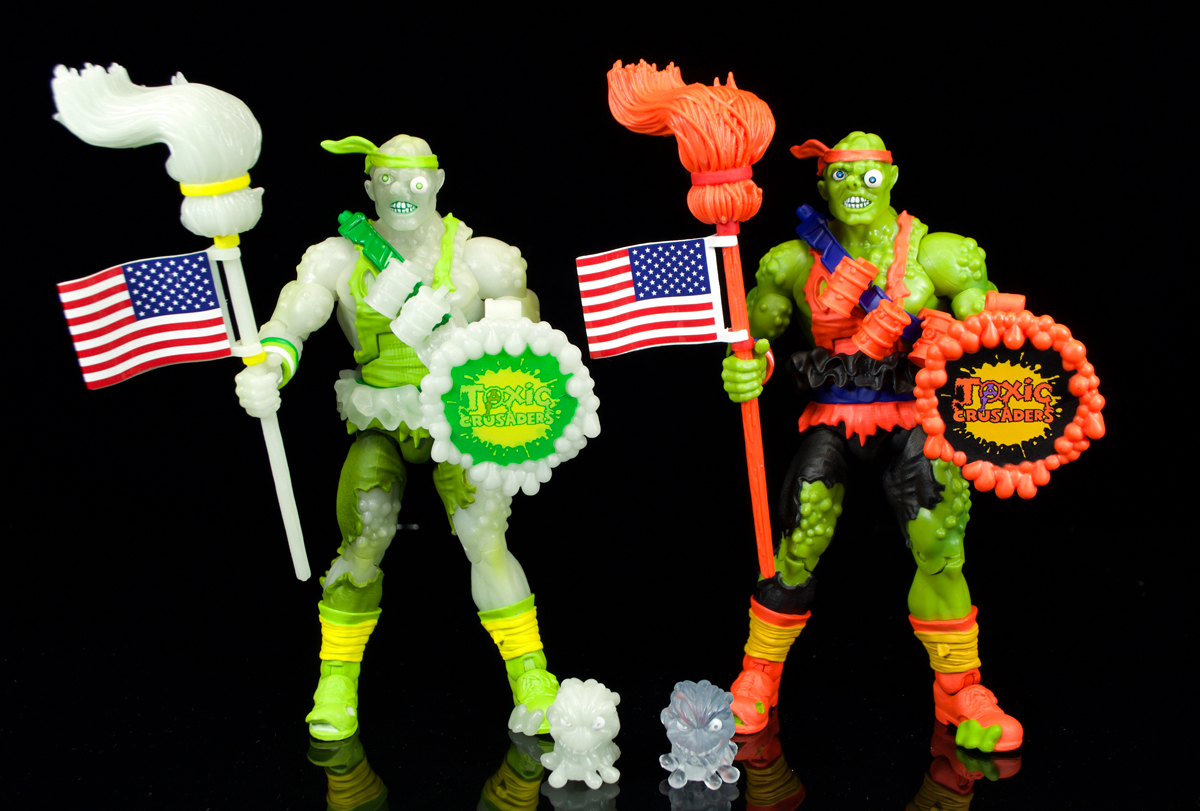 Man, this is a lot of fun, and I am getting to be all-in with the ULTIMATES! line. These figures are so good, and this new glow-in-dark Toxie is right up there with the best of them. These figures are so good, you guys, and I cannot wait for Turtles and ThunderCats and all the rest. But please, Super 7, don't forget about the rest of the Toxic Crusaders – we NEED them!