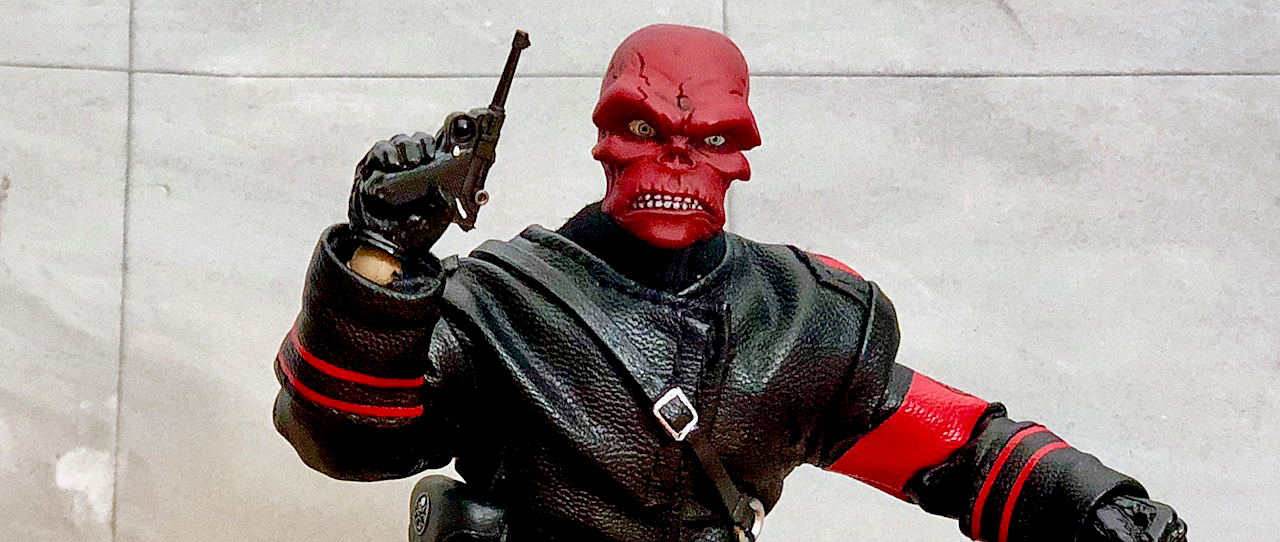 Since the "age of the 6-inch action figure" was kicked off nearly two decades ago (yeah, I know), Captain America's chief antagonist, the Red Skull, has seen just a few very shaky offerings from both ToyBiz and Hasbro. It wasn't until 2017 that Mezco finally gave us two different, yet iconic, versions of the infamous Kirby/Simon creation that we were finally able to add a 6-inch Red Skull to our collections that didn't feel like a cheap afterthought. Today we'll be looking at the standard, non-exclusive One:12 Collective offering from Mezco, so let's see if this Red Skull lives up to the character's legacy!The packaging is the now-familiar, formidable One:12 Collective display box. What was new (at least to me) this time was the absence of that magnetic box flap that used to be housed beneath the slip cover. This was a welcome change because I always felt that flap was redundant and unnecessary since it served the same purpose as the slipcover, so I'm all for this change. The boxes are still too nice to toss out, so they all sit on my shelf as though they were very, very thick books.
The figure itself is, to put it mildly, beautiful. This Red Skull looks simply fantastic. He is decked-out in his "Hugo Boss" best, as many officers in his particular "Reich" were back then. The material Mezco used successfully resembles a textured black leather, and it actually fits him well. I'm sure the form-fitting quality of the coat was no small feat to achieve, and I have to say the results are stunning. THIS is the Red Skull I've been waiting years and years for. The nice fit of the coat does not come without its drawbacks, however. In what appears to be a sacrifice of function over appearance, he cannot effectively raise his arms at the shoulder, not even to a solid 90-degree angle. Some clever posing can fix this to a degree, but not enough.
For accessories, the Red Skull comes with a satisfying array. There's a more Kirby-esque swappable head, a Walther P-38 pistol, the Cosmic Cube, and two additional sets of swappable hands (including one designed to grip the Cosmic Cube and one with a trigger finger for the pistol).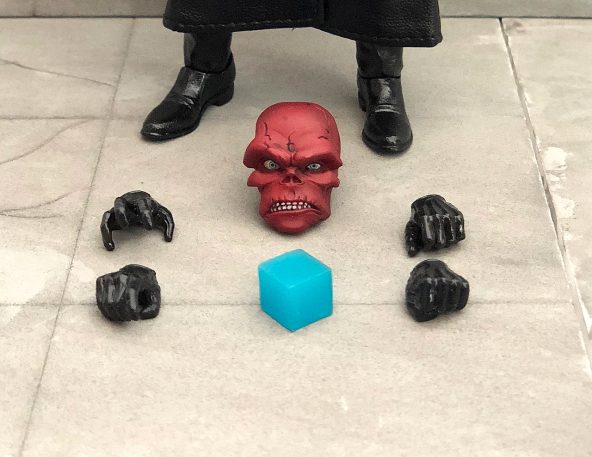 Both head sculpts are awesome. The standard looks downright evil and menacing. It's such a cold stare that suggests he has no qualms about whatever evil it is that he's about to commit. The other has a pure Kirby frenzied, "berzerk" look, as though he's about to bring down a hail of punches on ol' Cap. Both are completely awesome and I do regret not springing for the green jumpsuit variant so I could have both heads displayed on my shelves at the same time.
The Cosmic Cube looks cool — the plastic its cast in almost "glows," so it's doing a fine job of looking "cosmic," for lack of a better term. The hand he uses to hold it is perfectly molded to its shape, so he actually can hold it well without anything having to be added to keep it in place. It will still pop out if the figure falls over, etc., but it will stay in place well enough if the figure is effectively and sturdily posed.
The pistol and his holster work together perfectly as well. He can hold it aptly with the appropriate hand, and it stores nicely in his holster, which snaps shut with the strap on the side.
The stand has the Hydra logo stamped on it in a bold black, which is clearly a better idea than … the "other symbol" the Red Skull is often associated with. He also comes with the usual stand stabilizer to help keep him in place, but I find the peg for his boot does a good-enough job for my purposes.
Now, in terms of posing, the jacket does limit his arm movement, as I mentioned above. From the waist on down, he has no problem striking a pose, but his shoulders are crippled by the trench coat. I know it's removable, but I haven't felt brave enough to try to unfasten the harness in order to remove the coat. With the coat off, it looks like he's just in a plain black jumpsuit, like the con-exclusive release. But the coat really is the main attraction here for me, so on it stays.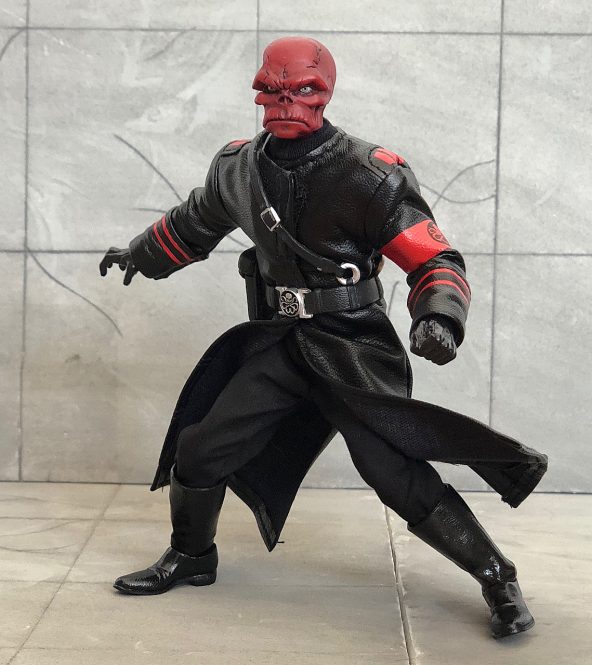 It feels awesome to finally have a great-looking Red Skull to display with my Captain America figures. He displays great with either Mezco or Hasbro offerings (or even ToyBiz, I'd wager). Both of the standard Cap and Skull figures kinda look like their Marvel Cinematic Universe counterparts, so that's kind of how I'm integrating them into my collection. They look awesome together.
And since he can't really raise his arms with the coat on, your Cap can sock his lights out day and night. I do wholeheartedly recommend picking him up for yourself, so swing by Mezco and place an order before he sells out forever! (Disclaimer: looks like it's a waitlist now.)