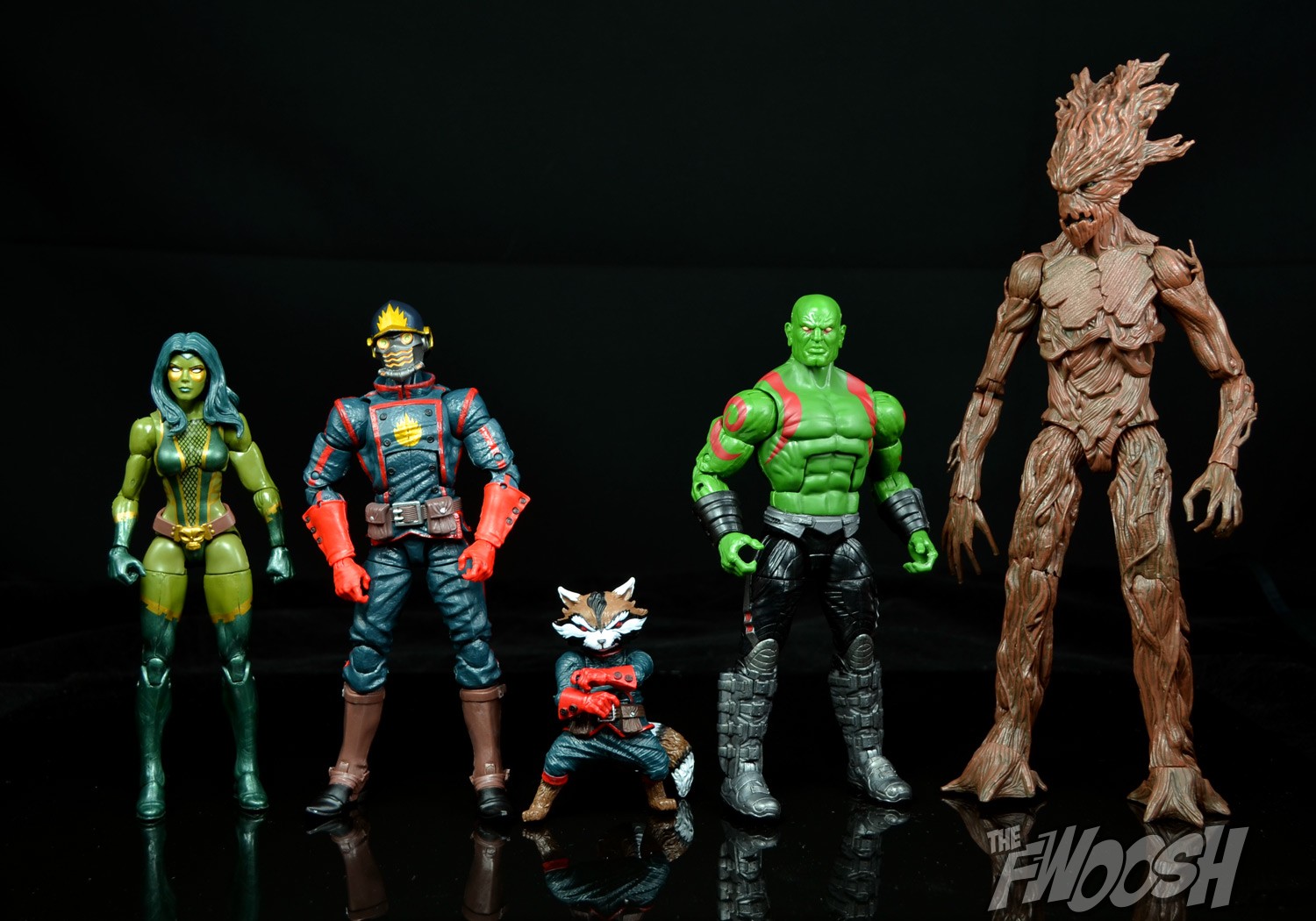 What a bunch of a-holes!
Yes, the a-holes have arrived thanks to the guys at Entertainment Earth, and your Marvel Legends display just got a little weirder and a lot cooler. Man, who would have thought a few years ago that it would be 2015 and we would be talking about the Guardians of the Galaxy with the frequency and esteem that is usually only reserved for comics' upper echelon? Let's face it, James Gunn's 2014 feature film has been the surprise darling of the Marvel Cinematic Universe for over a year now, and the characters, lines, and actors from the film have permeated pop culture at large with a vengeance.
However, last spring, it was still a bit of a gamble for a company like Hasbro to go all-in for merchandise support for the feature film. To the slight surprise of some collectors, Hasbro came out with a full Marvel Legends wave in support of the Guardians movie and, thanks to the movie's success, the line hit it pretty big. I mean, Groot was a runaway star of the show, and you could only get him as the Build-a-Figure component, so people were not going to go without. The film and toy line were so successful that Hasbro actually debuted the plans for this box set at SDCC last year to help strike again while the iron was hot.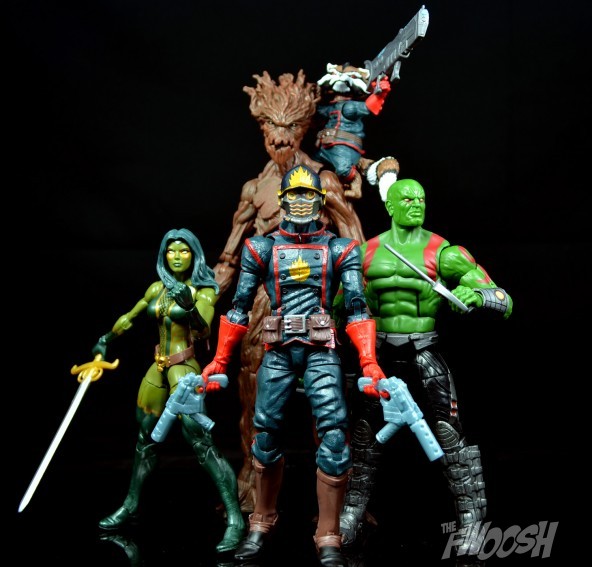 Sitting in that panel last year and seeing the plans for this set pretty much put me over the moon. I LOVE the Guardians flick, but I am not really a "movie figure guy" when it comes to comic characters, so this set offered the perfect solution for me to have the character representation in the comic style I prefer. The only problem at the time was that Hasbro did not reveal how or when the set would come out, but I did not think much of it at the time. It was only when I was at the Hasbro presentation this past February and this set was noticeably absent that I started to get concerned, but, fortunately, that would not last for long.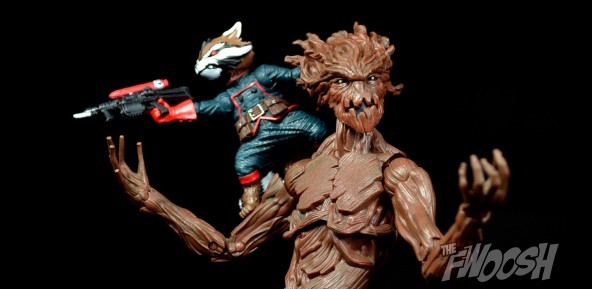 Since this is on not a movie year for Guardians (see you again in 2017), that made balancing this release a bit of a challenge for Hasbro since their Marvel Legends pattern follows the current movie slate (plus Spider-Man), but they were able to find an exclusive partner in Entertainment Earth, and these sets are starting to ship to antsy collectors all over the map. To me, it still seems like Guardians of the Galaxy is fresh is in everyone's mind, so I am anticipating this being a big hit for Entertainment Earth; plus, while some of the characters are new versions of comic iterations we have gotten in the past, some members are making their Marvel Legends comic figure debuts in this set, and this is likely the only crack you are going to get at them, at least for the foreseeable future.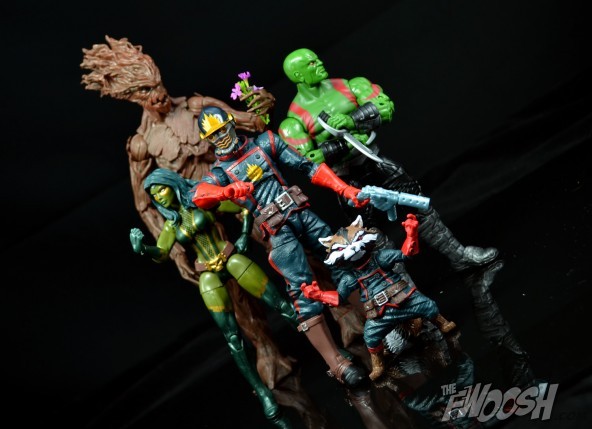 So the lineup for this set should not be at all surprising, and the good part is that you get the entire movie team – Star-Lord, Rocket, Drax, Gamora, and Groot. Now, the former three have had comic figures from Hasbro before, but Gamora and Groot are making their Legends debut for their comic looks. Now, as is often the case with box sets, you get a collection of figures with very little in terms of accessories or weapons; however, with this set, I am really pleased with the amount of extras you do get, and I will get into those in a moment, but even though it is a carryover from the Marvel Universe line, I am so pleased to have a potted baby Groot in my collection.
So let's take a look at all of the components of this set first, and then consider that, as is always the hope with box sets, the sum is even better than the parts.
STAR-LORD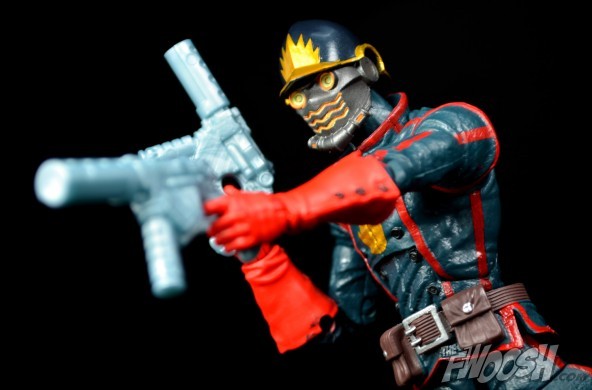 Who? Star-Lord, man! Sorry, but that is never going to get old for me. Chris Pratt took a great character and made it his own in the movie, so I have no problem with admitting that, while not exactly like the comic characterization, the GotG movie made me love this character a lot more than I had prior. There was a time when I would have winced at such a notion, but the MCU movies have gotten so good that I find myself hoping for that kind of traction. I have the same admiration for Tom Hiddleston's Loki, so that puts Pratt in good company.
While we got the movie version of the Star-Lord in the movie series last spring, last year's SDCC also brought us our first pass at the comic version of this character. Since that Thanos Imperative set was exclusive to a show, a lot of people missed out on getting it, so I know there is much rejoicing for the reintroduction of the character. If you liked the previous Star-Lord figure, you will be good with this one as well, as the biggest difference from one to the other is color of the boot covers and belt. Last year's model was black while this one comes with brown, so he is still keeping it fashion sensible but different enough so that people know he doesn't wear the same suit to work every day. The blue in his costume is slightly different as well, as is the color of the guns, but the difference is pretty negligible.
The figure is built on the AIM Soldier frame and since Star-Lord's costume isn't a bunch of spandex, the added details in the fabric are much appreciated. I think the build works well for him and the sculpt overall is still very nice and quite fitting to the source material. Knowing that Chris Pratt plays him in the film, I *kind of* wish he had an alternate unmasked head, but since this is the comic version, that would be a little ridiculous. He comes with the same twin guns from the last release, but this time he also gets a repurposed Cosmic Cube from the previous Red Skull. He looks great leading the team, but he also makes for a fine standalone figure.
DRAX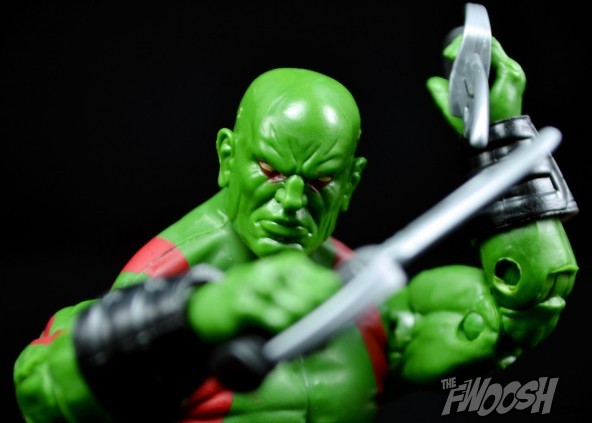 The resident "Destroyer" gets a pretty significant upgrade from his previous release in this set, but some will probably argue that it is still not perfect. I get that, in the comics, Drax is a pretty big guy, so this figure doesn't quite have the height that it should, but Hasbro used the best base they had available without giving him a unique sculpt, which was not going to happen in this set. I think that the build is right, though, so I am very happy to add this figure to the shelf.
Drax's previous figure, much like my original feelings for the character, was not, well, good. He was a relatively early Hasbro model and they have come a LONG way since those days, so I am all about getting upgrades, especially of characters that I like, which, I really do like Drax now, thanks to Mr. Dave Bautista. What a great turn he put in for the film, and he made the unassuming character a quote machine at that.
Drax gets a good deal in terms of accessories in this set too: two sets of knives and two sets of hands. I like the more modern knives even though the handles are a touch too wide, but I prefer his trusty old green hands for the figure. The good news is that you can have it your way, baby – so go nuts, even in your choice to display him with the gauntlets.
ROCKET RACCOON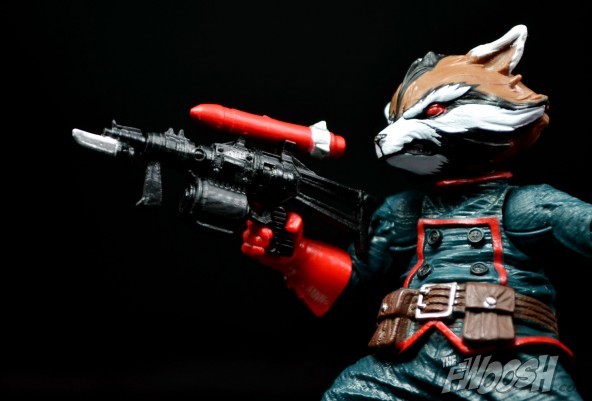 Okay, so maybe I should not have called him "raccoon," but here we are. Like Mr. Quill, Rocket is built mostly on a previously released figure, but also like Peter, his availability was made somewhat limited by the virtue of his being a Build-a-Figure. If you can believe it, I never completed the previous version, but I DID get the head of the BAF, and, as you can see, that makes up the most significant difference between the two figures.
If this is going to be your only Rocket figure, you should be pretty happy with what you are getting. He is an articulated figure, he comes with THREE guns, and a potted baby Groot (YES!). One of the guns and the Groot are carry-overs, but that doesn't matter one bit. If you are not a fan of the guns, I am positive you have others that you could use because no gun, blaster, laser, whatever, looks out of place in the hands of Rocket.
Now, if you do have the previous figure, you are likely going to be torn over which one you prefer. The previous release had a movable jaw for dynamic expressions, but I think that this figure's head matches the source design of the comics a bit better. I don't know, it seems like a tough call for me over which one I like better, but that is what is nice about having the pieces to make both: options. Frankly, I am not sure if you can even have enough Rocket Raccoon figures, so if you have one on your shelf at home, take this one to the office to show people you really mean business. Oh, and just try to get that movie voice out of your head…
GROOT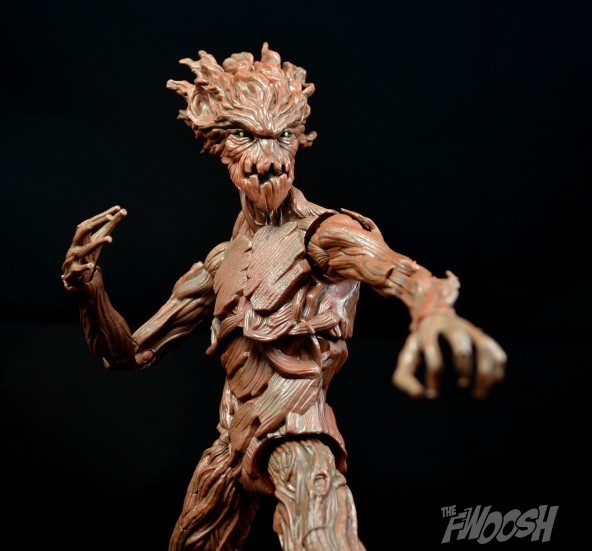 I AM GROOT. I AM GROOT. I AM GROOT. I AM GROOT. I AM GROOT. I AM GROOT. I AM GROOT. I AM GROOT. I AM GROOT. I AM GROOT. I AM GROOT. I AM GROOT. I AM GROOT. I AM GROOT. I AM GROOT. I AM GROOT. I AM GROOT. I AM GROOT. I AM GROOT. I AM GROOT. I AM GROOT. I AM GROOT. I AM GROOT. I AM GROOT. I AM GROOT. I AM GROOT. I AM GROOT. I AM GROOT. I AM GROOT. I AM GROOT. I AM GROOT. I AM GROOT. I AM GROOT. I AM GROOT. I AM GROOT. I AM GROOT. I AM GROOT. I AM GROOT. I AM GROOT.
I think I expressed my feelings about this figure perfectly while channeling the character, no? Okay, okay, have a sense of humor. This is the first comic figure we have ever gotten of Groot in Marvel Legends and this is the first time ever he has not been a Build-a-Figure. I am absolutely ticked to have him in my collection, and even though this figure is mostly built on the BAF body, the new head sells it as a pretty perfect comic figure. So if you have the movie version, you know what you are pretty much getting in terms of build with this version, but the overall look is dynamically different.
The head sculpt is really detailed and I love the fact that Rocket can stand on his shoulders in attack mode. Since I don't have the movie figure, this is my first Groot figure and for a modern interpretation, I could not ask for much more. Groot is a movie star. Groot has found his way into pop culture at large. That is so awesome, but I am a little ashamed it took me this long to get a Groot figure. Now, I am Groot!
GAMORA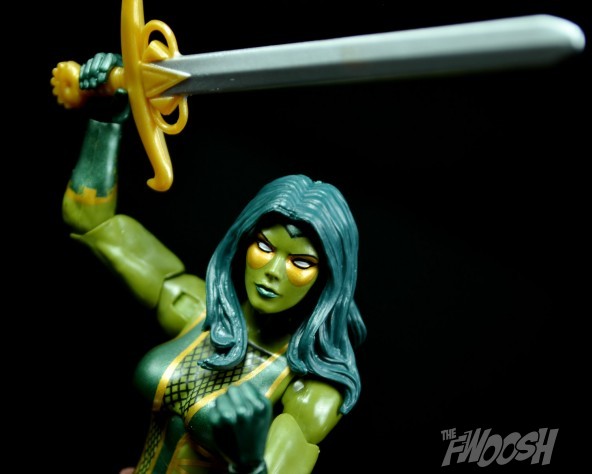 The lone female Guardian in this set, Gamora is another character that has not had a comic figure in the Legends line before. Sure, a lot of you have little Zoe Saldanas on your shelves, but this new version comes right out of the funny books. I know I am starting to sound like a broken record, but the characterization of Gamora in the movie was so great, and the aforementioned Ms. Saldana did a wonderful job in her portrayal. Likewise, Hasbro has carted out their (arguably) best female base body for this figure.
Gamora is built on the Moonstone base and even uses the same head for the unhooded version. I can see the argument that Hasbro is sure getting a lot of mileage out of this body, but if it fits, that is the logical choice. This is the more curvaceous base that has more muscle tone and mass than the other female foundations, and that is appropriate. I really dig the fact that Gamora has two different heads, and the hooded version is most certainly my favorite. It obviously looks best with the included cape, so I give credit to Hasbro for affording Gamora several extras. Her sword is pretty large, and it looks okay, but I would have gone for something else in this instance. She also has a soft goods cloak, which I find brings absolutely NOTHING to the figure, so that is promptly going into the bin. I suppose it might have been included for display in the package due to Gamora's slightly risqué costume, but otherwise, she doesn't need it.
Speaking of the costume, Gamora has a great paint job with a lot small details like the fishnet patterns in her top. The paints used on the costume has a light sheen to it, so it looks alien and slightly futuristic, its a nice touch. While she is predominantly green, the golds and blues complement each other nicely and there are not any other Marvel characters you have on you shelf with this palette.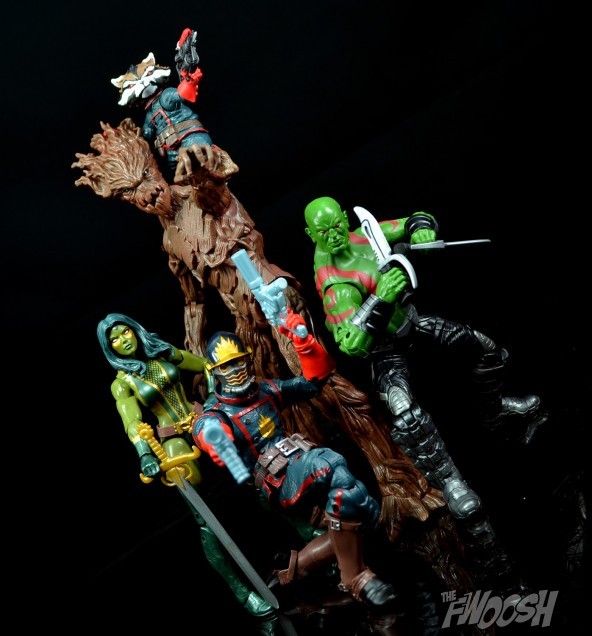 Yes! The A-Holes have arrived and I find this set to be one of the best Marvel Legends box sets Hasbro has ever put together. With it, you get an entire popular team to add to your comic shelf and the world will be a better place for this mass infusion of Rockets and Groots. Now you can only get this set at Entertainment Earth, so head on over there now to pick it up. You will NOT regret it! Ooh-ooh, child, things will get brighter! 
*Thanks for reading and thanks to our friends at Entertainment Earth for sending this set along for a First Look, we really appreciate it!
Additional Links