No doubt many of you are familiar with the old Chinese saying "May you live in interesting times."
Well, here's the part you didn't know — it's not really just an old saying. It's actually a curse.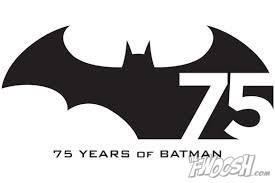 We are certainly living through a transitional time, as we enter Batman's 75th year of catching criminals and dominating the merchandise world.  If you are a comic book fan, the torch has officially been passed now to DC Collectibles, who has delivered one of their best sculpted and articulated Batman figures yet in the Capullo Series.
But Batman is nothing if not multifaceted. I'm going to do a little rundown of the other three corners of the franchise: live action, animation, and video games, and I will give you the probabilities of seeing some solid, "adult collector" 1/10- to 1/12-scale figures.
Before we leave comics as confirmed, with good odds of more versions and variants from DCC, there is one Batman facing some long odds: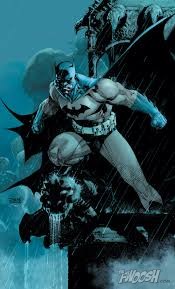 Sadly, DCC has all but forgotten the last 70 years of Batman comics in terms of new action figures.  There are a couple nice multipacks coming, featuring some re-releases, but things look dismal for a newly sculpted and articulated one.
DCC has certainly not forgotten the Animated Series, though. In a genuine surprise reveal, the highly acclaimed Bruce Timm series has been given the collector treatment it's long deserved. This is truly one that has defied the odds and delivered from an area that was almost exclusively in the grubby hands of the mass-market toymakers since its inception. And it couldn't have come at a better time, as the mass-market Batman figure lines die a slow, painful death, where a new line based on a 20-year-old show isn't just unlikely, it's impossible.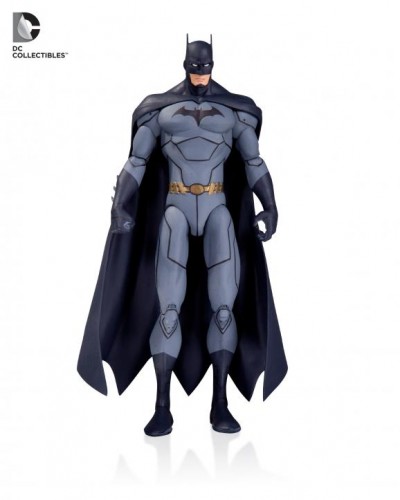 DCC is also putting out figures for the Son of Batman movie, and I would say there's good odds of some Arkham film-related ones as well.
One area where mass-retail generally carries the day is in the Hollywood live action arena: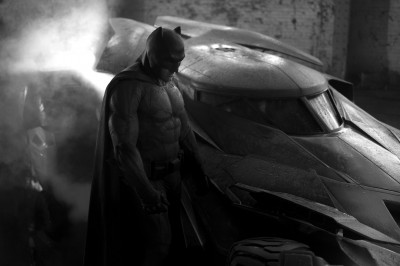 Now that we have a rough idea of what Affleck will be looking like (and driving) in the next film, it makes sense to start placing some bets on what we'll get.
Obviously, there will be product from Mattel.  I think there are solid odds on some smaller-scale movie figures and vehicles, and even better odds of some strange gimmick-fueled subset. But for collector figures?  I put very poor chances on Movie Masters this time around. Maybe a token Batman and Superman, but after the dismal failures of both Green Lantern and Man of Steel, I suspect Mattel will again have self-fulfilled their prophecy of there not being enough market for collector stuff and will leave us cold.
Luckily, we're no longer at their mercy.  I put very good odds on Medicom's MAFEX line delivering some figures, as well as Play Arts, albeit in a bigger scale. There's a really good chance of other import lines like Revoltech getting in on the action too. There's even slight odds of a Hot Toys 1/12 scale Batmobile, like the Bat from the previous film.
The newest and most formidable of these four tentposts has to be the video game franchises. And of them all, this seems to be where the collector lines are still very much big business.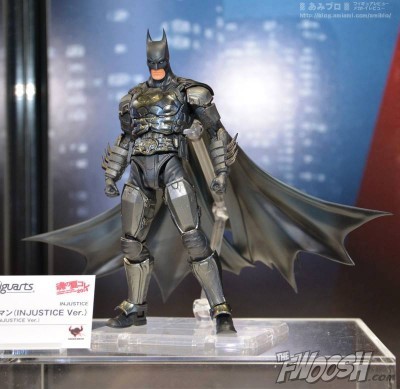 For starters, Injustice has pushed past diminishing odds and is getting some truly collector-oriented 1/12 figures from import juggernaut Figuarts. With a sequel confirmed for 2015, there are very good odds we've not seen the last of this series. While not exactly what we're talking about here, I would also bet on DCC continuing their 1/18-scale two packs.
Arkham Knight is going to be the one to watch for the rest of 2014, though.  DC Collectibles is practically a lock to continue their expansive game-based toy lines, and I think a Batmobile is looking very possible. I'm hoping that DCC's progress on making each line subsequently better will continue unabated.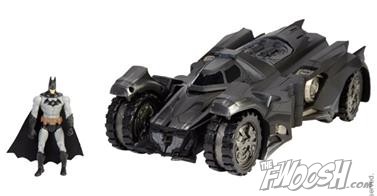 Mattel has shown a somewhat unusual SDCC exclusive in a 1/18 Batmobile, complete with recycled Multiverse Batman this week. While this is being taken by some as a sign that there will be some retail offerings to coincide with the game's release, I see poor odds of this offering much.  Never one to pass up an easy buck, I suspect the same Batmobile will see some kind of mass-release, and there may be a new figure or two to join it. But as far as 6-inch scale or collector figures?  I wouldn't bet on it.  In fact, I put much better odds on seeing something more in that vein from the import market.
That's going to do it for this particular rundown, so place your bets, fellow Bat-fans. The only thing for sure is that it's going to be… interesting.