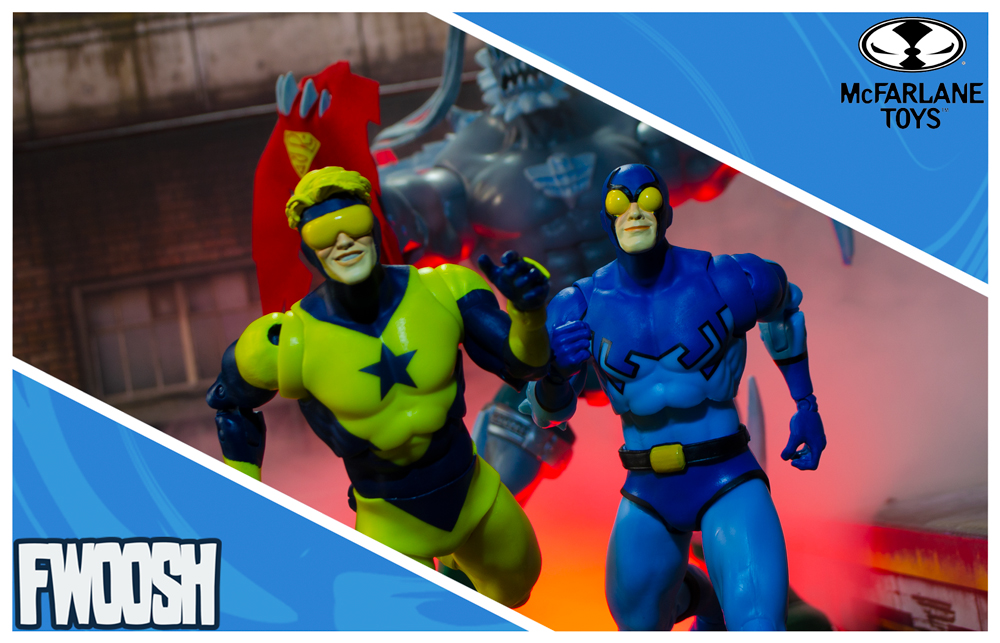 I still can't really believe it. After not being in the McFarlane DC action figure game at all, they went and got me BIG TIME. After opining for just getting an occasional character in a classic look here and there, they went and gave my all-time favorite DC Comics character, the Blue Beetle and his pal Booster Gold. All in one set. Looking all classic and cool. What a bwa-hahaha-hamazing time to be alive.
I know the McFarlane DC Multiverse has been a pretty big overall hit, but even as a long-time DC fan, I just wasn't into it. When it comes to DC characters, iconic, clean, and classic looks are so important to me, and that is just an aesthetic that has not really been a point of focus of their offerings so far. Even with the most of their times happening before me, the Silver and Bronze ages are what DC really is to me, and with exception of a few hints here and there, Todd has been keeping things pretty modern for the most part.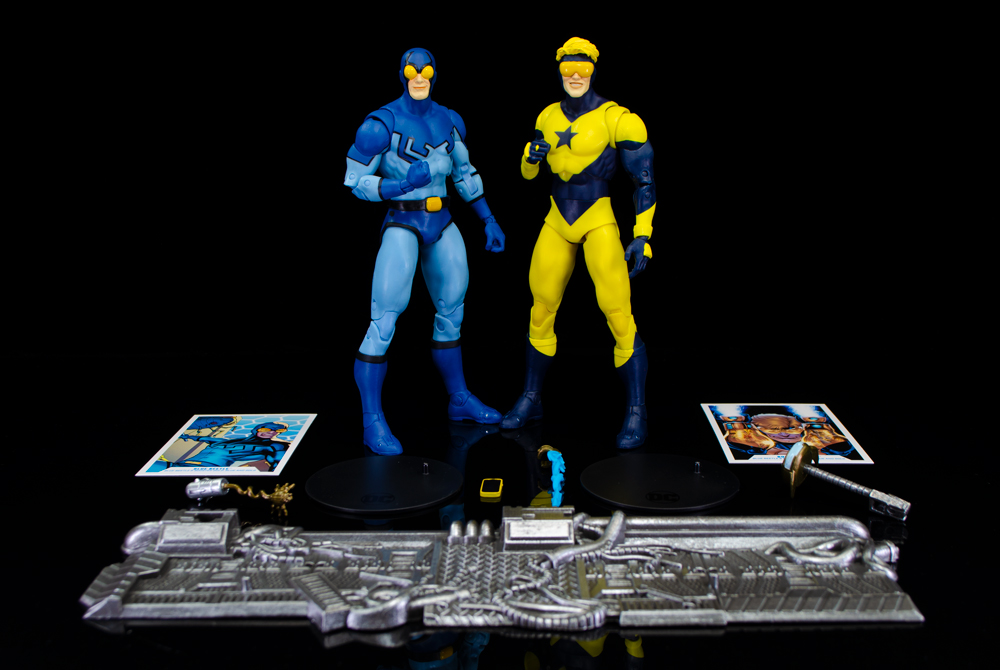 That is perfectly fine, there is obviously and audience for it, and I know not all things are made expressly for me, but I have been missing having new DC toys in my life. Sure, I still adore my DC Universe Classics collection, and it will likely continue to be my definitive DC collection for years to come, but getting new stuff is always exciting. Never would I have expected this set to actually be thing that got released under the current DC Multiverse model, but here we are.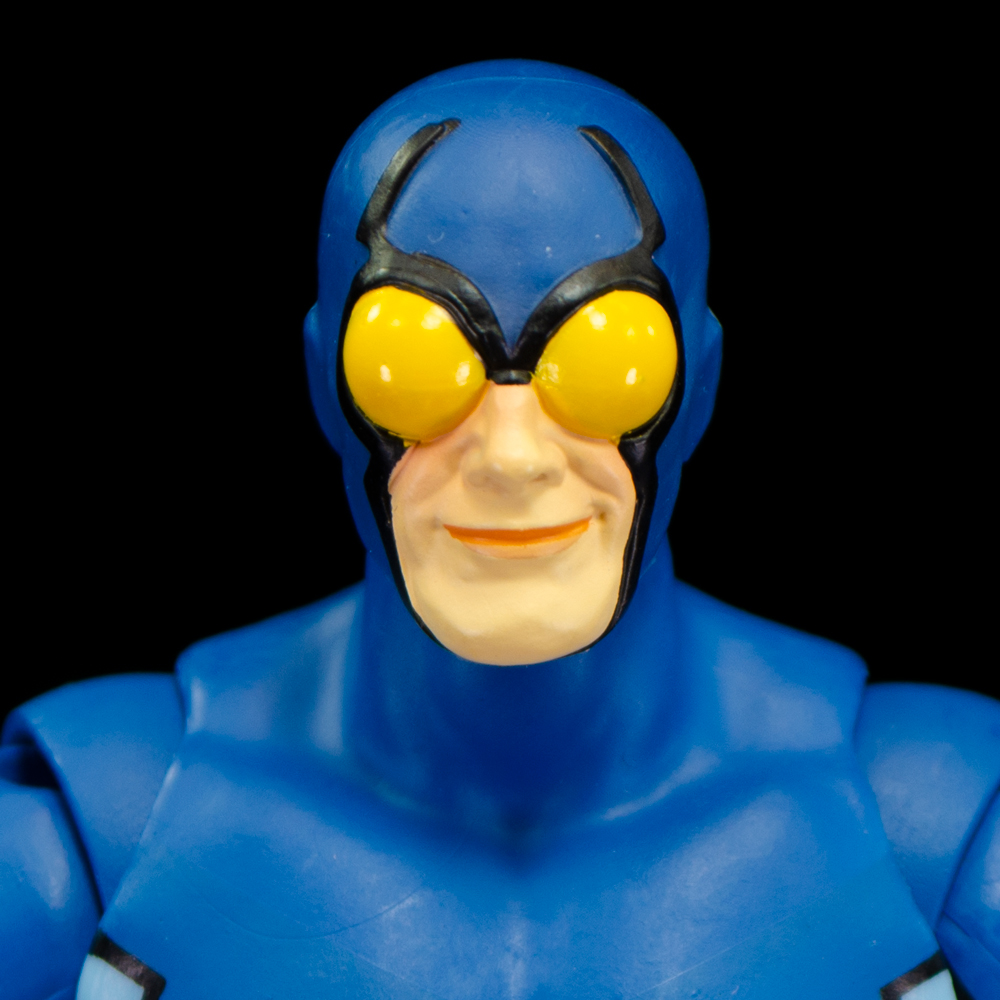 It's funny, I was at SDCC when this set leaked via a Target computer screenshot, and I remember telling Robo that it was likely just universe toying with me. However, even with an original expected shipping date of October, Ted and Michael are here already and overall, I am really pleased. I have been trying to keep my gobsmacked glee that this just exists in-check and really consider these figures for what they actually are and how they have been executed. Aside from a few things here and there, I gotta say – Blue and Gold turned out quite nicely, and it makes me want to see more!
Starting with the good, Blue Beetle and Booster Gold are represented in their classics stylings, and the costumes and details are pulled off pretty well. Ted is slightly more successful due to Booster using the same boots and having an inaccurate cuff sculpt below the knee. It's really too bad as that is about the only major quibble I have when it comes to the costumes, and I cannot imagine there weren't compatible shin pieces somewhere in the old parts library. All of the pattern lines are very clean though, and that is especially apparent in Ted's beetle patterning – it looks great.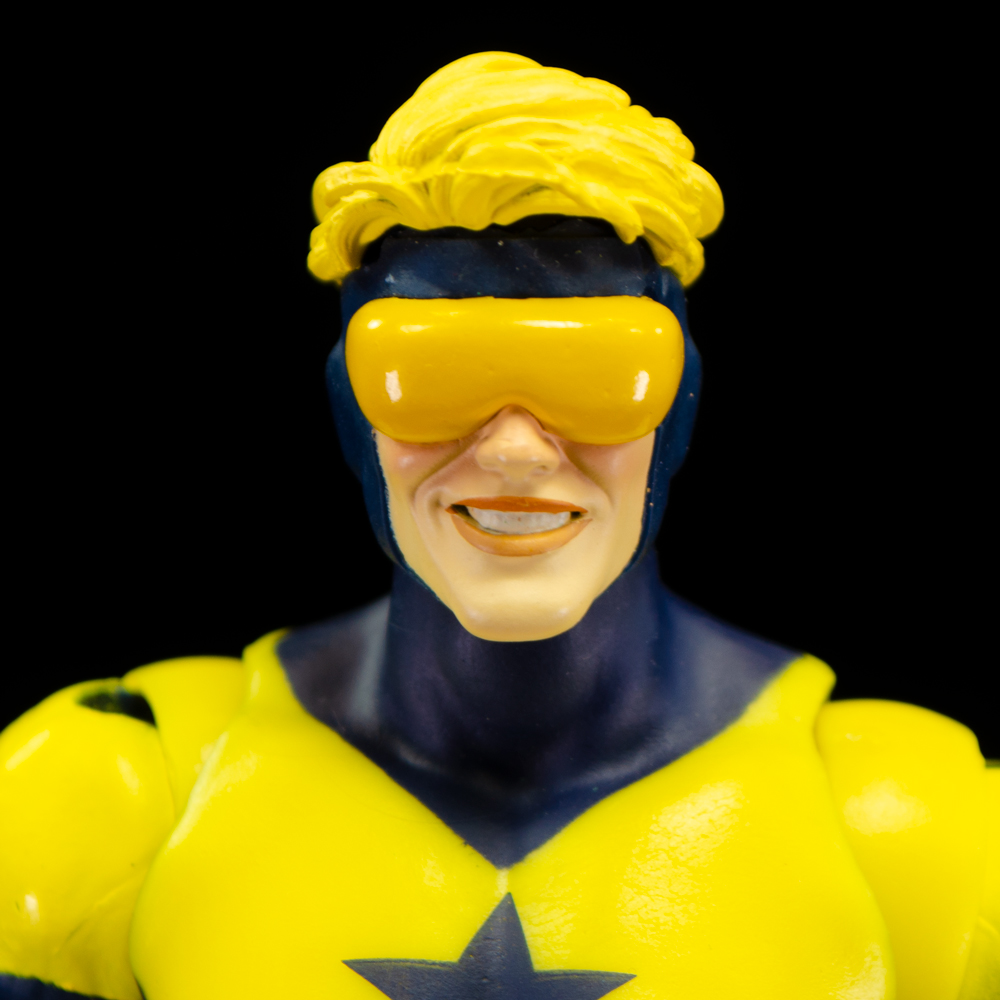 Ted's holster comes and goes in his costume, so I am not fussed about that, but I do with their goggles/visor were translucent. Yes, I know the plastic costs more, requires more parts and more paint, but that just elevates these looks so much when done properly. As it stands, it doesn't look bad, and there have been a couple of instances in the past when Ted's googles have been opaque, but most of the collector figures are clear, so it seems like that should have been the case here, too. I will say that I really like both of their portraits/expressions and they are very true to the personalities.
There are also a few proportion issues that seem to be pretty common with a lot of figures in this line. Both of these guys are very gangly, and I think that is more of an articulation issue more than an original proposition issue. McFarlane has some odd joints, and a lot of them seem like they have been cut in after the original sculpting work is completed. So, the long arms and long legs feel like a product of joints being added and increasing length here and there, especially in the wrists and ankles.
Both of these guys are all legs, and while not as egregious as some of the other Multiverse figures I have seen, it is still noticeable. So much so that I am saddened by their heights because I bought a Gold Label Martian Manhunter to go with them as he is *mostly* classic, but J'onn is shorter than both of these guys, and that just isn't correct. I know in the old days McFarlane was the opposite of super-articulated figures, but by now I wish things were just put together a little better.
That said, these have the most articulation of any Blue Beetle or Booster Gold figure ever, and for the most part, it functions well. The double knees, elbows, butterfly shoulders, and neck joints are highlights for sure, but the hips, waist, and rocker ankles get really good range, too. The partial ball wrists and ankles, as well as the the torso joints are still weirdly constructed to me, and I find toe articulation to be superfluous for most characters, but none of those are terrible. At any rate, I like that you can get a good running pose out of both of these figures. Some swappable hands would have been nice for variety, but at least they got it right with Ted being left-handed.
Finally, the accessories are pretty solid, even playing within the current mandated restrictions. Ted's strobe gun has been repurposed to a grapnel (which does have some precedence) with a permanently affixed beetle-shaped hook. I look at this as McFarlane doing the best they can with the weapons restrictions, so I am good with this. Booster gets a cell phone (for selfies!), an energy blast, as well as Skeets. Skeets is a modern take, but he looks good, I just wish there was a way to plug him into Boosters back to he can "fly" next to him. As it stands, there is an attachment to plug Skeets into the display stand, which on its own is nicely sculpted, but I am not sure I will ever use it. You also get two cards and two plain display stands.
Seriously, is this real life? Do I actually have a classic Blue Beetle and Booster Gold from the DC Multiverse line? I do, and overall, I am pretty happy with them. They look good and pose really well for the most part, and they have actually continued to grow on my the longer I have had them. Yep – I am a fan. So much so that if Todd decided to make more characters properly scaled to them and in their iconic looks, I would most certainly pick them up.
If you are a Blue and Gold fan (and you should be!), you can still pre-order this set at Amazon.
About Post Author