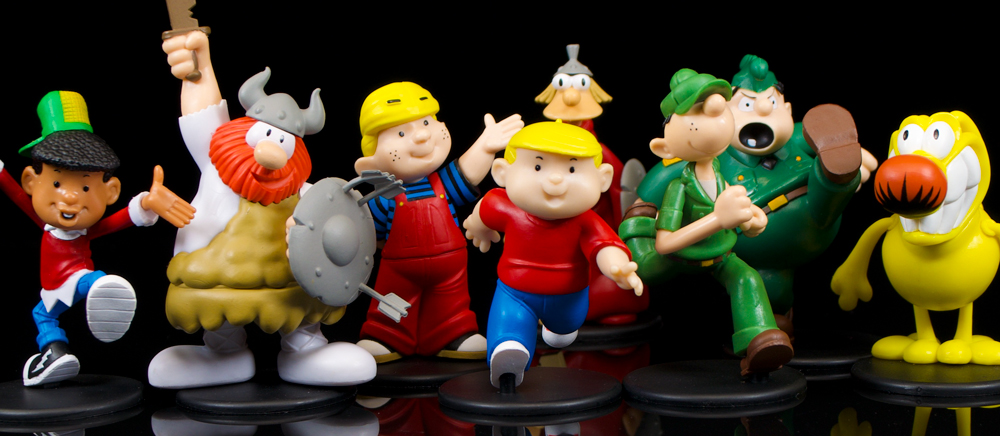 The gang at Boss Fight Studio have shown time and again that they can do wonders with a diverse catalog of properties and executions. They have now ventured back to the time when getting color newspaper strip comics went exceptionally well with reading the back of cereal boxes at breakfast. Their new figurine selection brings some of the most well-know stalwarts back into the spotlight.
Boss Fight's Vitruvian H.A.C.K.S. remain at the top of the game when it comes to 1:18 figures with near-infinite swapping and customizing possibilities, but their exciting work via properties like Bucky O'Hare and Legends of Lucha Libre bring in well-known properties under a variety of different styles. Now, the new Sunday Morning Comics! figures offer up highly-detailed figurines released via blind-box for a unique collecting experience for those staples of the newspaper strips. I remember reading many of these comics as a kid, but looking back, so much of the sharp and referential humor has been installed that as an adult, I have an all-new appreciation for these characters.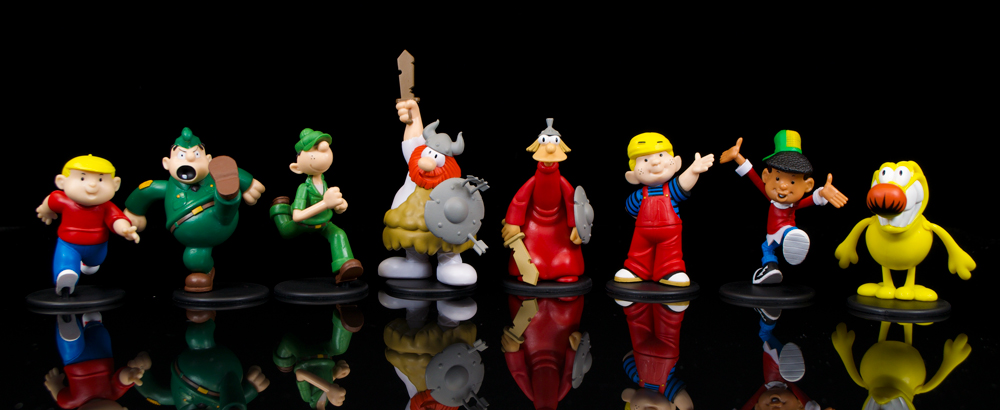 This first series offers takes on some of the most memorable members of comic strip history, including Beetle Bailey, Dennis the Menace, Hagar the Horrible, and Billy (Family Circus). The figures stands between 2″-3″ and is pre-posed to recreate iconic looks for each. Out of the entire set, I think I am most partial to Beetle Bailey and Sarge as the are dynamically posed and work well together on your shelf or desk – you can almost hear Sarge. The full line-up includes:
DENNIS THE MENACE
Created by Hank Ketchan, Dennis has been causing mischief for Mr. Wilson since 1951. Probably the best-known character in this first series, Dennis has had several multi-media offerings beyond strip comics, including TV shows and movies. I really love how he is posed with is signature slingshot (removable) hidden behind his back.
CURTIS
Curtis debuted in the 1980s, and while the story and character do often keep to humor like most of his comics cohorts, over the years, Ray Billingsly has not been afraid to tackle more serious topics like bullying and drug addiction. I am glad to see more recent characters join this line right from the get-go and Curtis has one of the nicest sculpts in series 1.
BEETLE BAILEY
Mort Walker's Beetle Bailey sits with Dennis the Menace as the most recognized character in series one. A former college student who decides to join the military in 1950, Bailey's antics have become well known to several generations of comics readers. Beetle's goofy quality comes through very well in this figure, and you know he is on his way to make Sarge miserable again. Speaking of…
SARGE
The foil of the feckless antics of Beetle Bailey, Sarge has been after the namesake character from the beginning. This foul-mouthed foodie has the best pose of the entire series as he has just whiffed kicking Beetle right in backside, ensuring he will end up on his.
HAGAR THE HORRIBLE
Joining the comic strip ranks in the 1970s, Dik Browne's Hagar the Horrible is a fierce viking with a family in tow. Known for his poor hygiene, Hagar is often outsmarted by his family in straightforward "gag a day" format. Hagar is the one character from series one that requires simple assembly (attaching his sword arm), and his arrow-filled shield is a highlight.
LUCKY EDDIE
Lucky Eddie is Hagar's right hand man (er, viking), and is a party to all of the antics that come with a typical viking raid. Ironically called "Lucky" he sports a funnel for a helmet and doesn't exactly have the physique of a typical viking raider. I find the doofish expression of the figure hilarious, and the eyes are perfectly misaligned for his character.
BILLY
Ah, Family Circus, if there is any way for this strip to be more wholesome, I not sure the world would be ready. Created by Bil Keane, this single shot comic is one of the most highly-distributed comics in the world. Billy is the most prominent of the children in the family, and his adventures and misunderstandings often come with dusting of Christian themes, something comic has been known for since its inception. Billy is in his iconic running pose, and you know the little scamp is off to once again provide fodder for the many Family Circus parodies.
GRIMMY
It's funny, I actually know Grimmy more from his cartoon Mothergoose and Grimm, but he has been gracing Sunday morning comic panels since the early 80s. Creator Mike Peters fills the stories with winking to popular culture and other famous happenings of these modern times, all through the lens of our favorite yellow bull terrier. I love the expression and the colors used here – Grimmy really pops against the rest of the line-up in this series.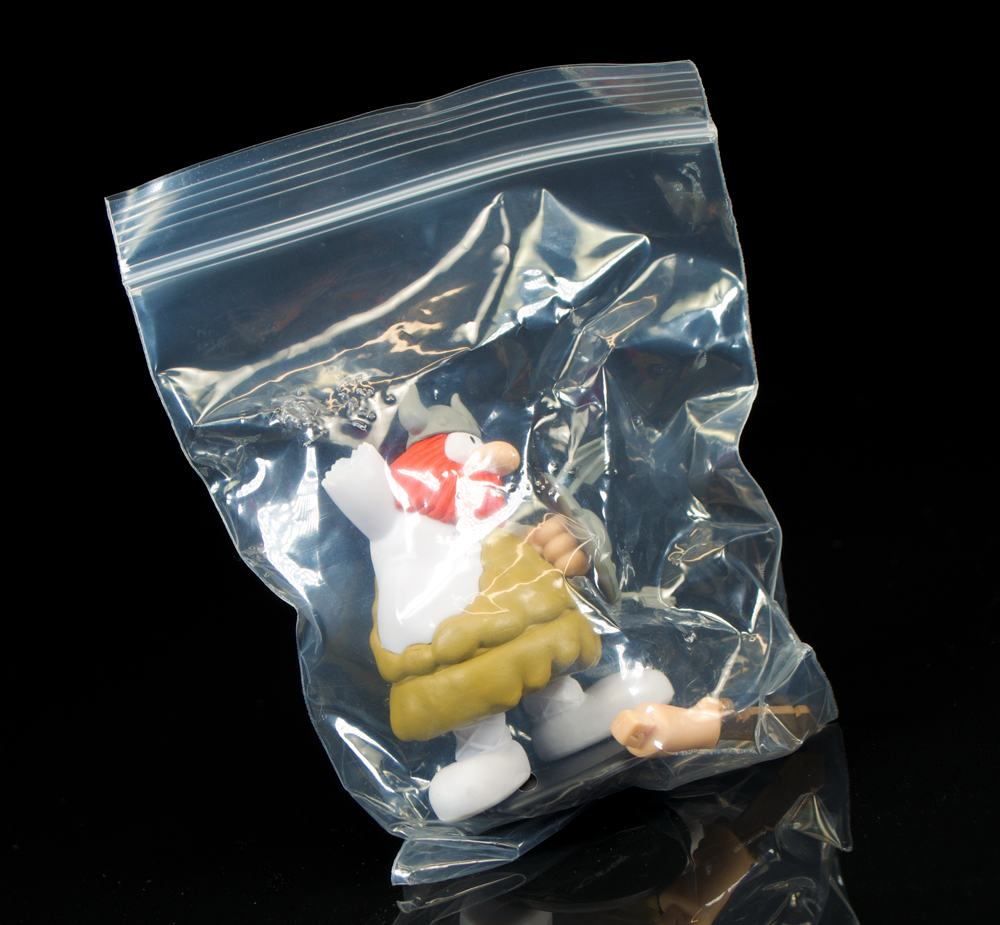 As mentioned, these are packaged as blind-boxes, and the master case I have doubled with Curtis, Dennis, Billy, and Grimmy, but I did get a full set of series one. I like the graphics and art used on the boxes and case, and while the styles are true to the characters, the bright colors have them a fully modern feel.
If you are fan of Sunday comics, or just mini-figures in general – you will really love these figures. All of the characters are recreated with great care, and each comes with a black stand so everyone stands up with no issues. If you are interested in picking them up, you can do so right at the source from Boss Fight, or add them to your Pile of Loot at BBTS.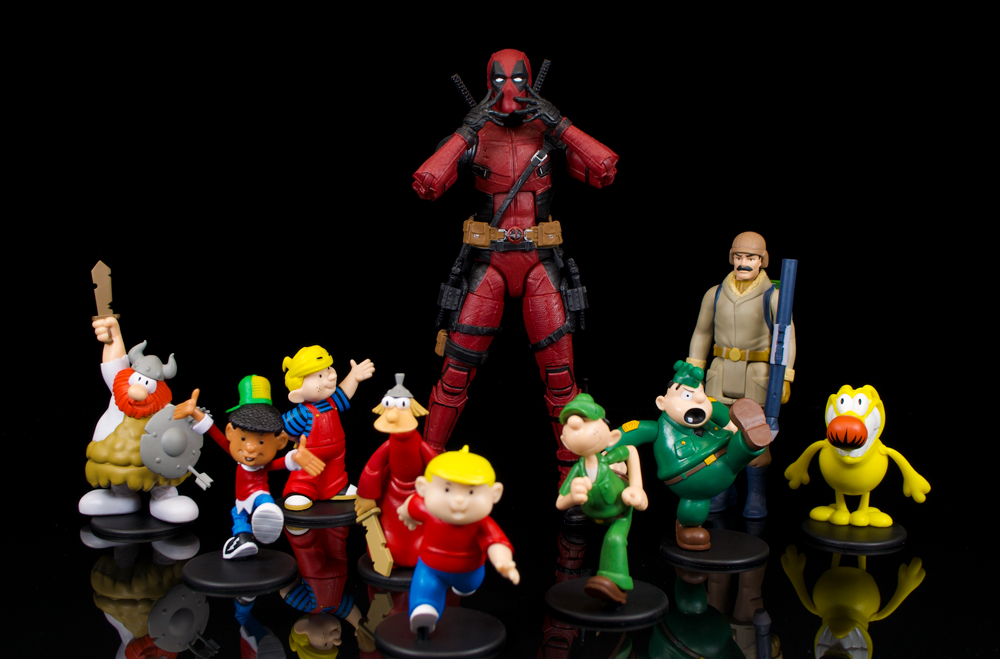 *Thanks to Boss Fight Studio for sending these figures along for a feature.