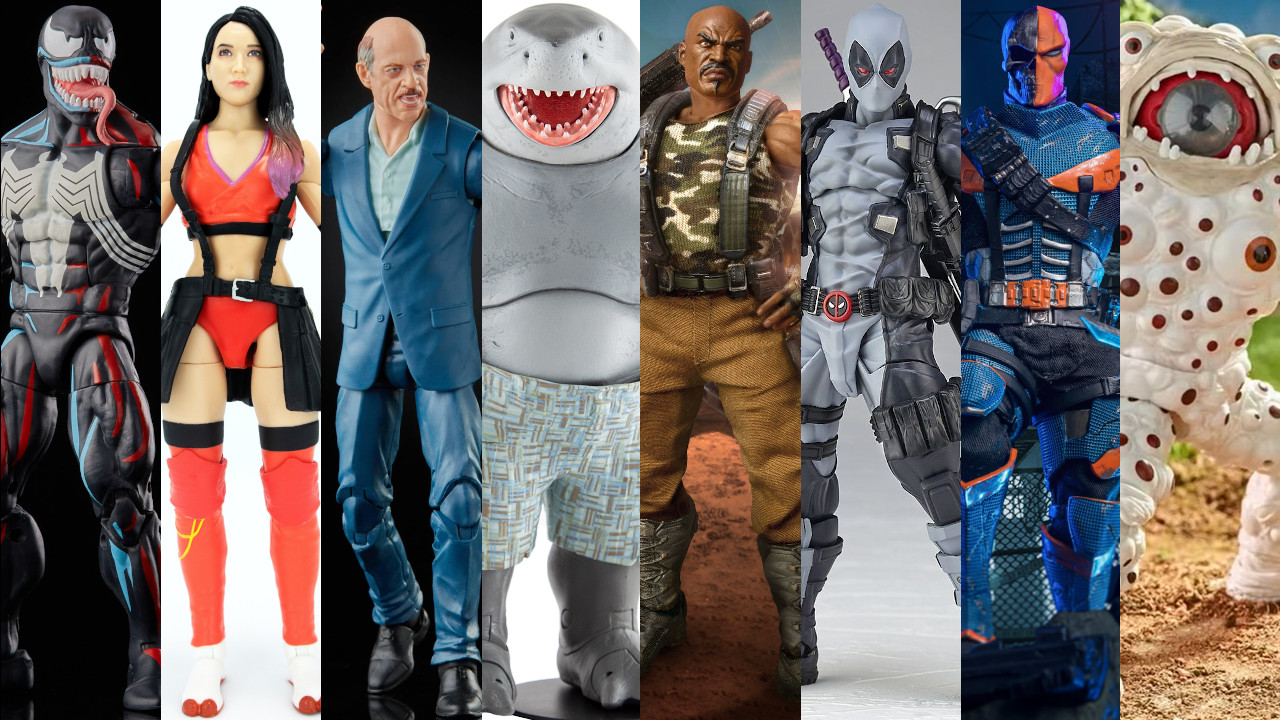 Whoa, we've been getting closer and closer, but the Weekly has hit 30 minutes. TOY COMPANIES! WE NEED TO BREATHE! Saying that, let's talk G.I.Joe, Marvel Legends (and a lot of Marvel for several different companies), Transformers, Power Rangers, Teenage Mutant Ninja Turtles, Fortnite, DC, Golden Axe, Popeye, and more!
Boss Fight Studio Popeye Classics Olive Oyl Reveal
Jazwares AEW Unrivaled Series 6
Storm Collectibles Golden Axe Gilius Thunderhead and Chickenleg Promo
Mix Max Studio 1:12 Stab of Hades Deathslayer
McFarlane Toys DC Multiverse Suicide Squad
McFarlane Toys DC Multiverse The Suicide Squad Walmart Megafig King Shark
McFarlane Toys DC Multiverse SDCC Justice League Armored Darkseid and Mortal Kombat Bloody Kabal
McFarlane Toys DC Multiverse Target Exclusive Batman Beyond Batwoman
McFarlane Toys Fortnite Peely Bone
Jazwares Fortnite Legendary Series Vendetta Preternia Twitter
Super7 Power Rangers ULTIMATES!
NECA Loot Crate Teenage Mutant Ninja Turtles Video Game Armaggon and Cartoon Chrome Dome and SDCC Tease
Bandai Tamashii Nations S.H. Figuarts Black Widow Movie White Suit Magazine Ad
Medicom MAFEX Marvel Spider-Man Far From Home Stealth Suit Upgrade Addition
Kaiyodo Amazing Yamaguchi Marvel Deadpool Ver 2 X-Force and Translucent Carnage
Hasbro Marvel Legends PulseCon Exclusive Retro Carded Venom and M.O.D.O.K. World Domination Tour PulseCon Exclusive Set
Hasbro Marvel Legends Spider-Man No Way Home
Hasbro Power Rangers Lightning Collection Livestream Reveals: Dino Charge Green Ranger, Zeo Yellow Ranger, In Space Pink Ranger, and Phantom Ranger, Mighty Morphin Eye Guy
Hasbro Transformers Collaborative Jurassic Park MashUp Tyrannocon Rex and Autobot JP93