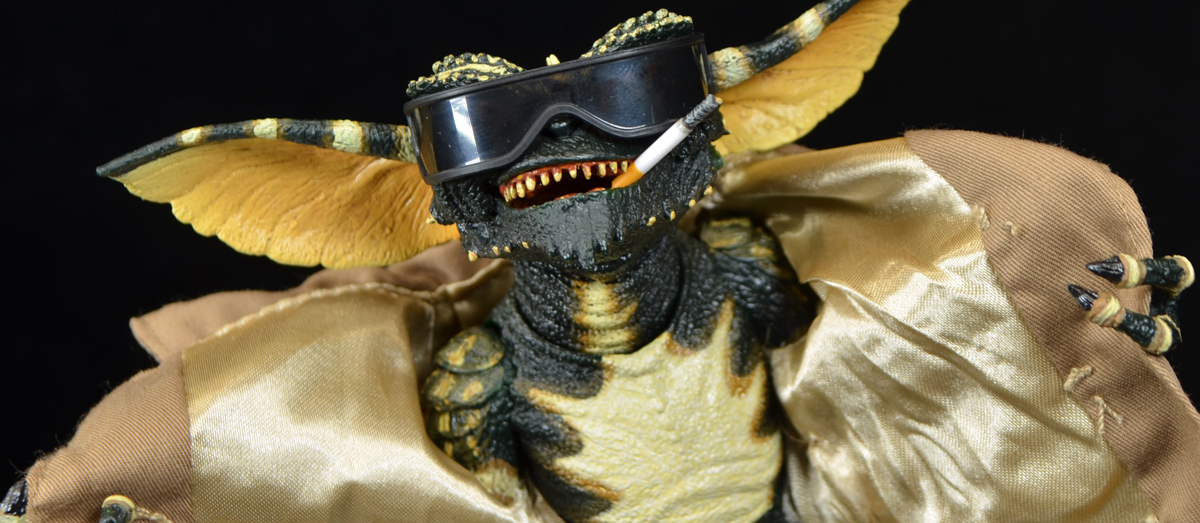 As I am sure you know, NECA's TMNT offerings have been getting a lot of attention as of late, and deservedly so – there has been a string a really impressive figures released over the past couple of months. The good news is that that trend looks to be continuing for the foreseeable future. However, my longest-standing love affair with one of NECA's action figure lines does not come in the form of Turtles; nay, dear friends, I have been collecting their Gremlins since the early oughts, and I am beyond thrilled that I am still able to do so today.
The original Gremlins ranks is one of my all-time favorite movies. I find that it is pretty much a perfect film, and I delight in watching it just as much now as when I did as a kid who was probably a little too young when I started. The entire concept, the character designs, and the story appeal to me at just about every level, and those things, along with the Gizmo plush and bendable Stripe I still have from my youth, do more than just about anything to make me nostalgic for the 1980s. I mean, the movie still gets regularly quoted around my house (Mrs. Peltzer's, "Get out my kitchen!" is a favorite when the kiddos and dog invade the prep space at dinner time), and thanks to NECA, I have a very substantial shelf in my collection space devoted to these "little green men." I am also pretty sure that my first exposure to Peter Gabriel was via the film, so this latest action figure offering really rings true.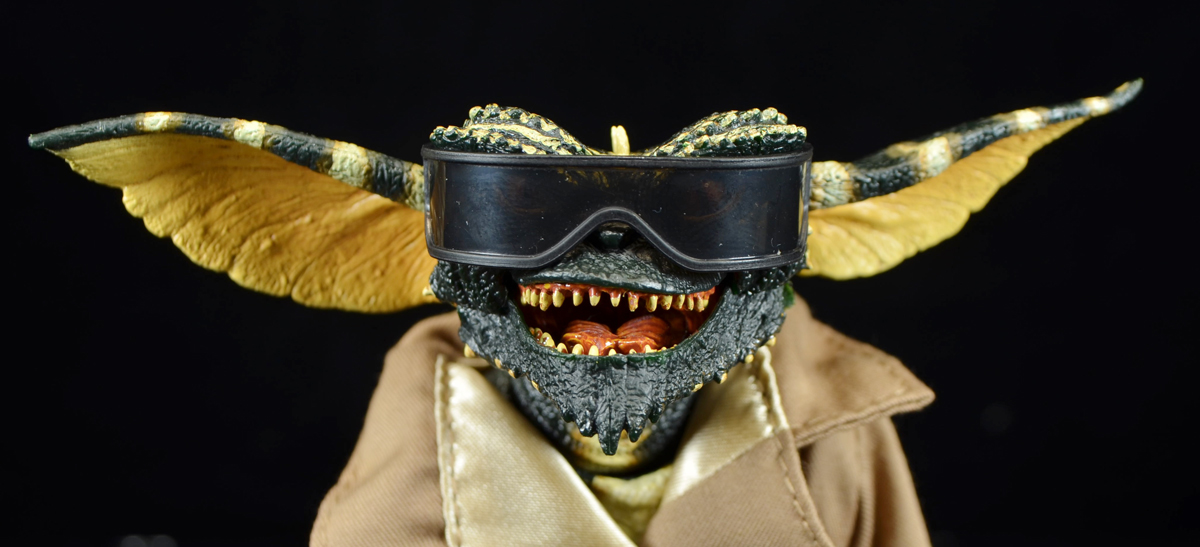 The fact is, NECA has remained so dedicated to this property that I am getting down to the last few "essential" character Gremlins I have been dreaming about from both movies. Now, don't mistake me – I am in for everything they throw at us, and some of the upcoming releases are really cool and pleasant surprises, but now that this Ultimate Flasher has arrived, the "Bandit" and "Breakdancer" are the big outstanding holes in my collection for G1, and when Greta gets here, Veggie is at the top of my list for G2. It really is a remarkable body of plastic work, and even if I did not own multiple "army builders" for generic background Gremlins, my collection would still be very impressive.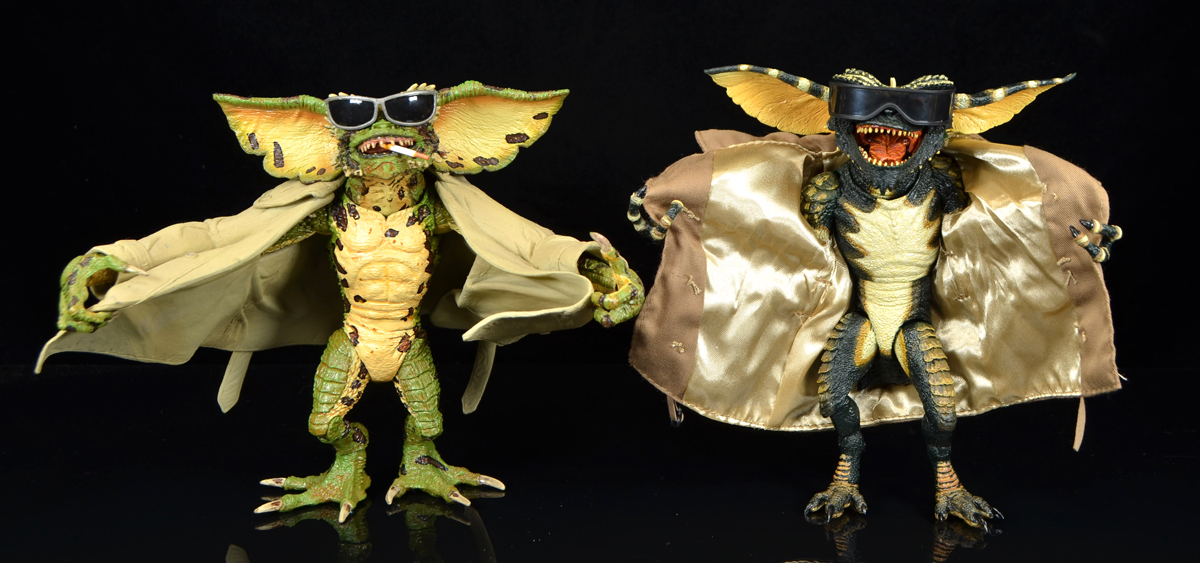 Let's face it, to kids and adults alike, the Flasher Gremlin gag is one of the most memorable from the first (and second!) movie. Poor Kate was already having a time of it as barkeep, but then to be flashed by a crude little dude is more than enough to push anyone over the edge. So, I understand why, from a marketing perspective, NECA decided to brand this figure as the Ultimate Flasher. However, I believe that is actually being a bit too modest because within this release you actually get props and pieces enough to recreate several of the highlighted character Gremlins from the bar scene. Sure, "Ultimate Dory's Tavern Gremlin" does not have the same ring to it, but in all honesty, that is really what you are getting.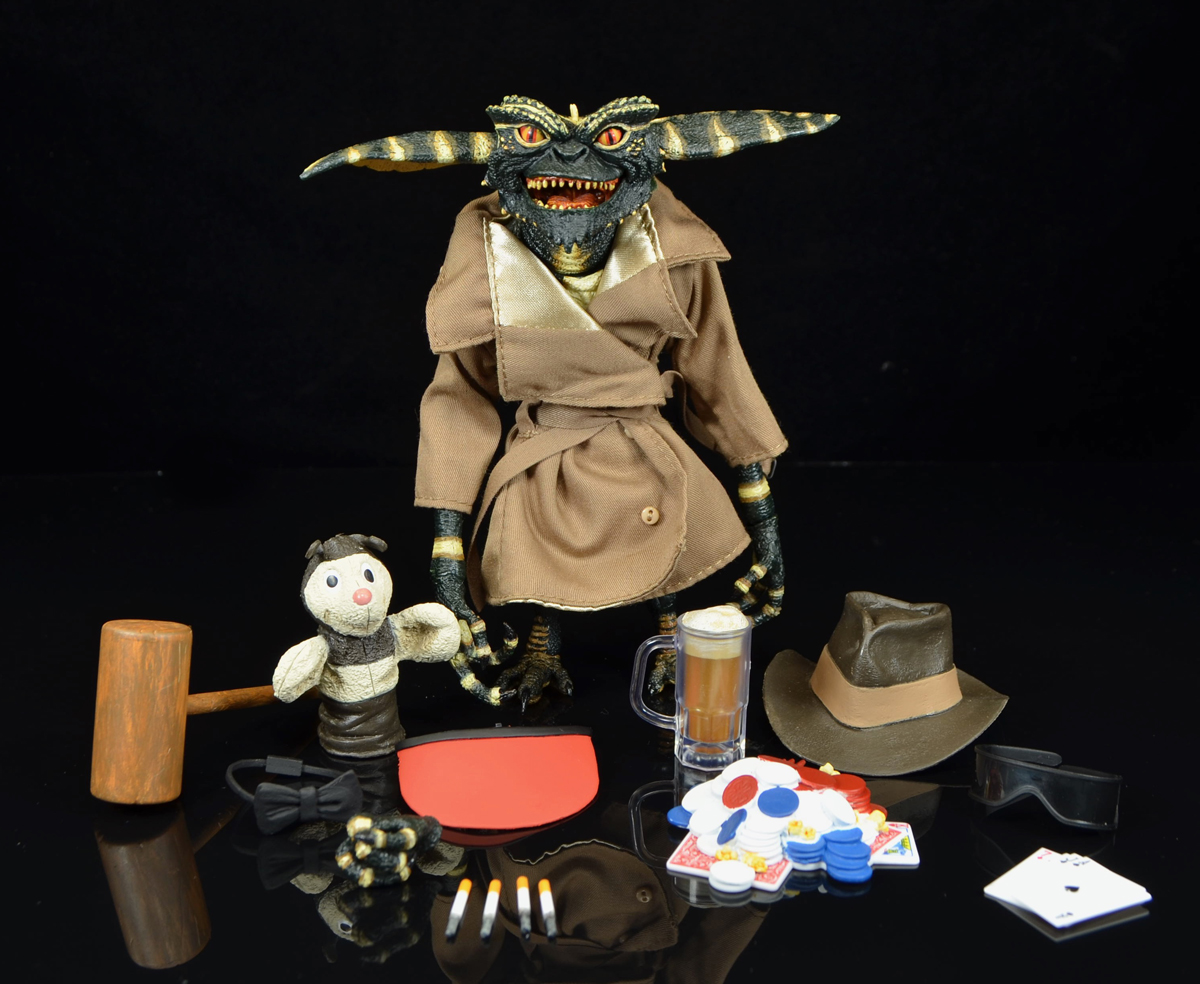 If you have any of the recent Ultimate Gremlins releases you know that NECA has a great thing going with their current G1 Gremlin base. As all of the little guys share the same build and "base" in the movie, it makes sense that it is carried over in the toys, so as you might guess, this figure is mostly the Ultimate Gremlin that we have had for a bit now. I am perfectly fine with that because, as I said, it is a good base figure, and the Gremlins diversify themselves via the situations and mischief they get themselves into, and this set goes a long way in creating those memorable moments from Dory's. The Flasher is, of course, the centerpiece, but right out of the package, this set goes a lot deeper than that.
I am going to focus more on the accessories here because you can read about multiple previous releases that share the same base body HERE. I will start with the sunglasses, cigarette, and soft goods trench coat because, well, those are the requirements to build the namesake Flasher. NECA released the G2 Flasher a few years ago, and that figure featured a plastic coat in a set pose. It was very nice, but I am actually glad to say, and I do so as someone who generally does not like cloth, the soft goods work so much better here. The coat is tailored nicely and it can be manipulated to convincingly recreate the iconic pose. Add the glasses and the only thing we are missing is a Kate figure to be completely appalled by the whole business. Needless to say, this guy will now take center stage right at the front of my Gremlins shelf.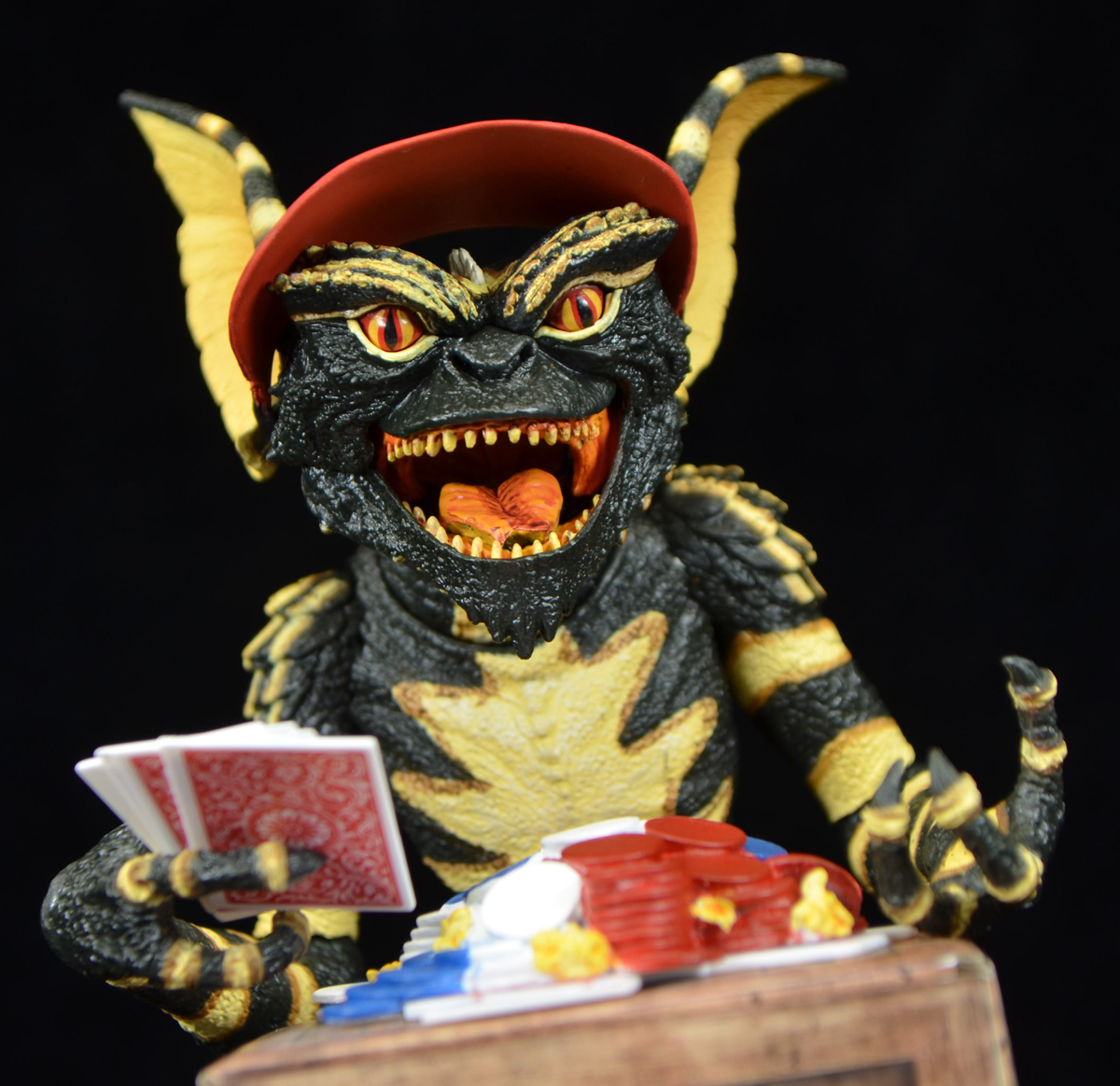 Past that make-up, you can go nuts with the other included accessories. YES, I will be getting multiples of this guy so I can recreate all of the available personalities included (pretty sneaky, NECA). The Poker Player has finally returned to the line after being one of the very first NECA Gremlins ever via the visor and bowtie and now I need a little table to display the pile of chips, cards, and popcorn. I think some of the best inclusions though are the props that recreate the "Noir" radio scene with the Gremlin in the fedora who subsequently bashes the puppet Gremlin with the giant gavel. This part has always cracked me up with the cartoon sound effects and I have a soft spot for the "dee-boo-boo-boo" (as I have always called it) puppet, so getting to recreate that part is an absolute joy.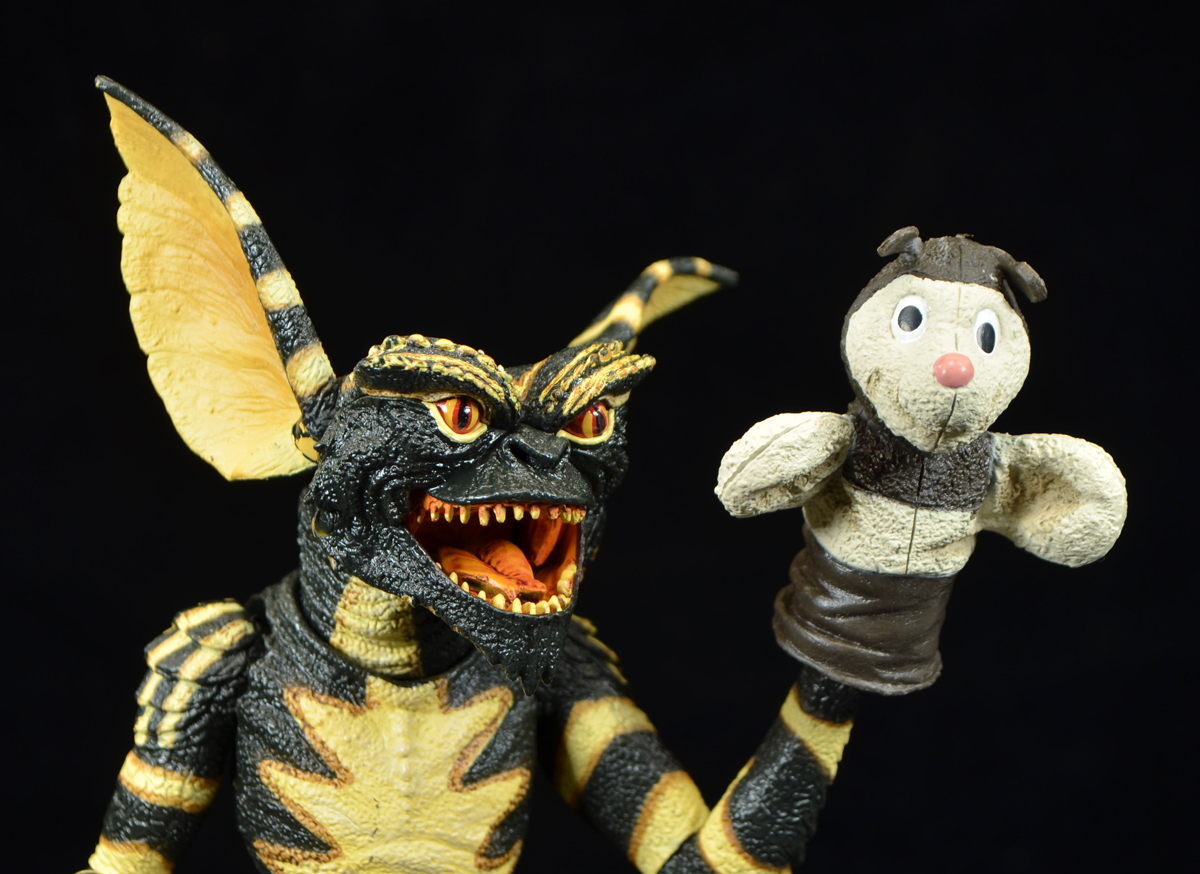 However, as is often the case with releases like this, my favorite part of this set is what comes totally unlooked for. Sure, the Flasher, Gambler, Noir, and Puppet Gremlins are all likely more memorable, but my absolute favorite Gremlin from Dory's Tavern (after the Bandit Gremlin, of course), is the barfly smoking FOUR cigarettes at once. I don't know, something about his look, expression, and situation always made me crack up as a kid, and now we have the beer mug and cigarettes to make it happen. I am actually happily surprised that NECA is able to include cigarettes as accessories with this (or any) release. Ah, the 80s were a different time for better or for worse, and this dude can take the "smoke 'em if you got 'em" mantra to the next level, and all the while actually still inside the bar itself. It's pretty glorious.
This release is an absolute riot, and nothing but pure fun. It might be my new favorite Ultimate Gremlins release simply because of all of the options to recreate characters from one of, if not THE, best scenes in the original movie. This guy is starting to hit retailers now, and you can still get your order in via Dorkside or BBTS, so don't miss out on securing a few of them. You will absolutely need multiples to be able to display all of the fun accessories. Now, bring me that Bandit and Breakdancer, my Dory's Tavern demands it!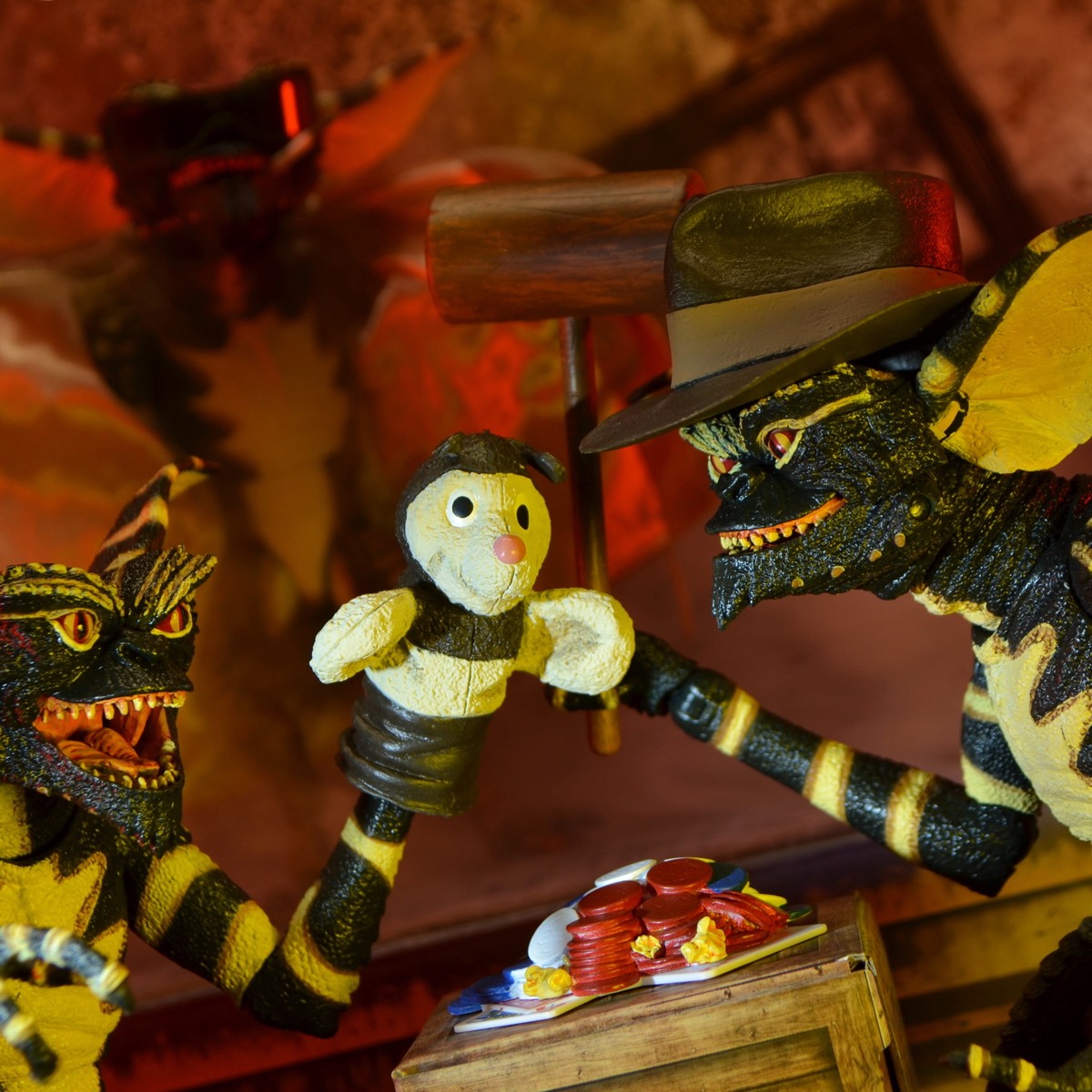 *Thanks again to our friends at NECA for sending along this sample for feature.