"That's Stripe, he's the leader." Well, we are certainly glad that NECA quickly followed up on the release of their Ultimate Gremlin with this new Stripe, because frankly, having them without their leader was just chaos. Well, now, it is just chaos with a particularly mean and white coiffed instigator, but boy, I sure am glad to add this trouble to my collection.
Since you are reading this, I am positive that you know that lead gremlin Stripe is just as important as the adorable Gizmo when it comes to Gremlins iconography. I mean, let's face it, the movie is called GREMLINS, not Mogwai, and old Mr. Futterman's rage against those "goddamned foreign cars" is because of the green mischief makers, not the little fuzz balls. Personally, I have always been more a fan of the gremlins anyway, and that includes the second movie as well, so my NECA Gremlins collection is something I love dearly, and getting a Stripe figure that is on-par with the quality and articulation of the new Ultimate Gremlin, and all of those from The New Batch, is some beautiful thing for me.
I made it pretty clear in my Ultimate Gremlin review that NECA's offerings for this property are some of the best things they have ever done. Sure, I still want more and more and more and more, but I have amassed a pretty stellar collection to this point, and getting a Stripe that is technically an upgrade still feels like getting an all-new character again. It is hard to believe that it has been like, 16(!!!) YEARS since the original Stripe was released, so span of time and overall engineering and aesthetic improvements to the line make this new release absolutely necessary. Don't get me wrong, I still have a soft spot for those original figures and they will continue to stand in my collection, but speaking frankly here, there is no comparing that Stripe to this new one.
It should not come as a surprise, but this figure is essentially the same as the Ultimate Gremlin when it comes to most of its construction. It should also not be a surprise that it is 100% appropriate to do so since the G1 gremlins are pretty much all the same, and things that make Stripe uniquely Striper are present and accounted for. I am a big fan of this base body, and I am happy to report that I did not have to loosen any of the joints on this figure as I did with the standard gremlin, so that is an improvement already. This is certainly the best gremlin figure that NECA has ever done, and I personally want to see it used several more times to get more of the unique featured gremlins to us after the GameStop exclusive Gamer Gremlin hits this spring. My point is though, if you have the Ultimate Gremlin, or you checked out our feature from last week, you should know what you are getting here, and it is all good.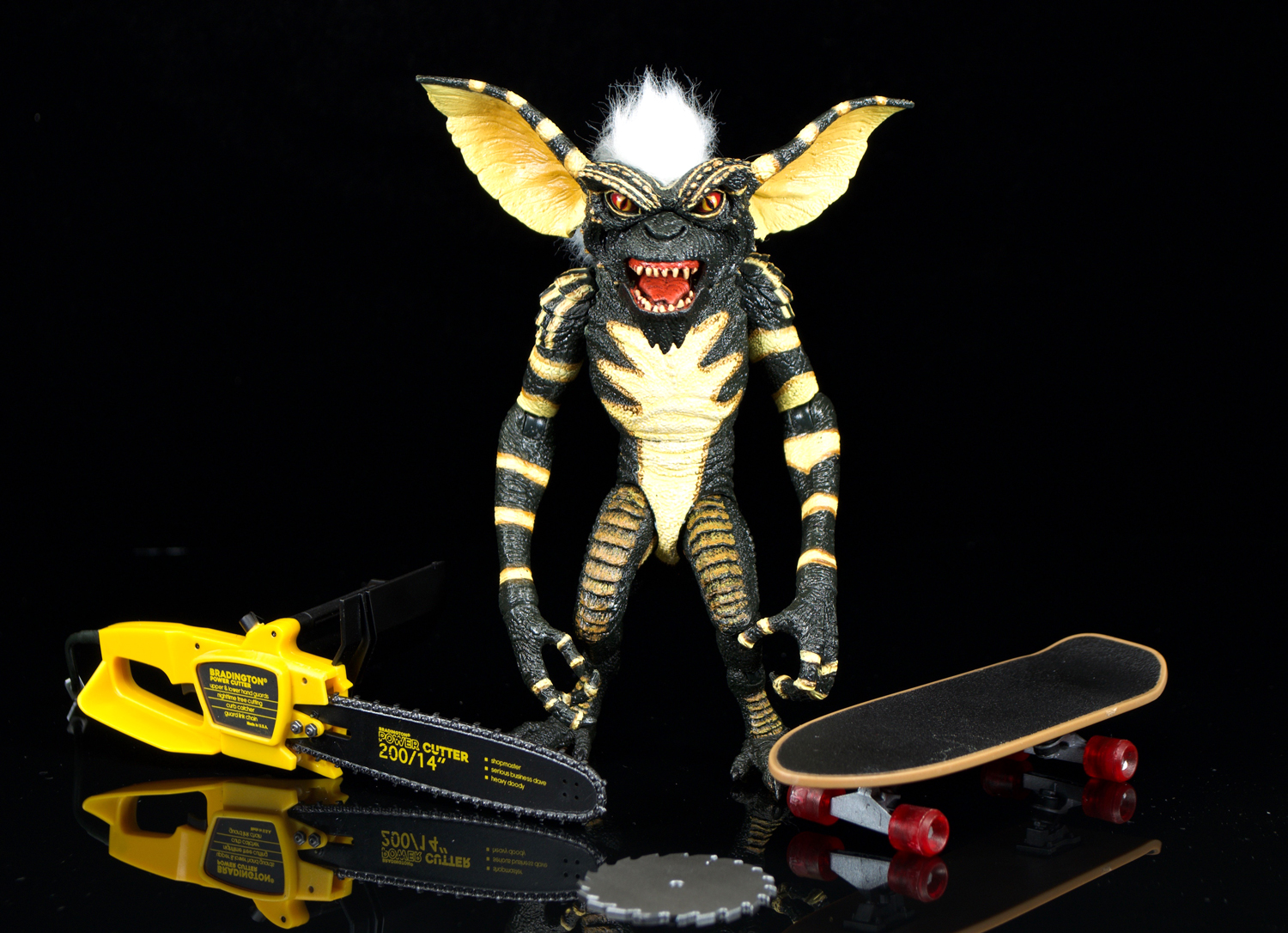 However, what is new here is what really seals the deal, and if you find the regular gremlin to be wonderfully expressive (as I do), Stripe will continue that perfectly. At first I was not sure if this figure would get a unique head sculpt from the standard version, and the differences would be accomplished with the faux hair (which is perfect and can be "styled") and paint, but… Stripe's head sculpt IS unique, and completely his own in terms of personality. The eyes are more vertical giving them an eviler look, and the jaw is articulated in the front rather than along the sides so the mouth holds different positions.
Let's face it, most of the gremlins from the first movie are mischievous and revel in the fun of the havoc that they create, but that first batch from the five new mogwai were also scarier, and seemed like they were more evil than raucous. Stripe is, of course, in that group and really the meanest gremlin of them all, so his more ferocious face works nicely here. I want to give proper credit for the paint here, especially in the eyes, because that does a great job for furthering the more evil personality. There is more red used than on the other figure for sure, but at the same time, Stripe looks just as convincing wielding the included chainsaw as he does pigging out on candy. I mentioned the hair above, but I am glad NECA caught the detail that the hair actually extends down the back of Stripe's head and even down on to his neck, and doesn't just sit on the top. The Mohawk is, of course, Stripe's defining physical trait and it gives him more edge over the rest of the gremlins pack.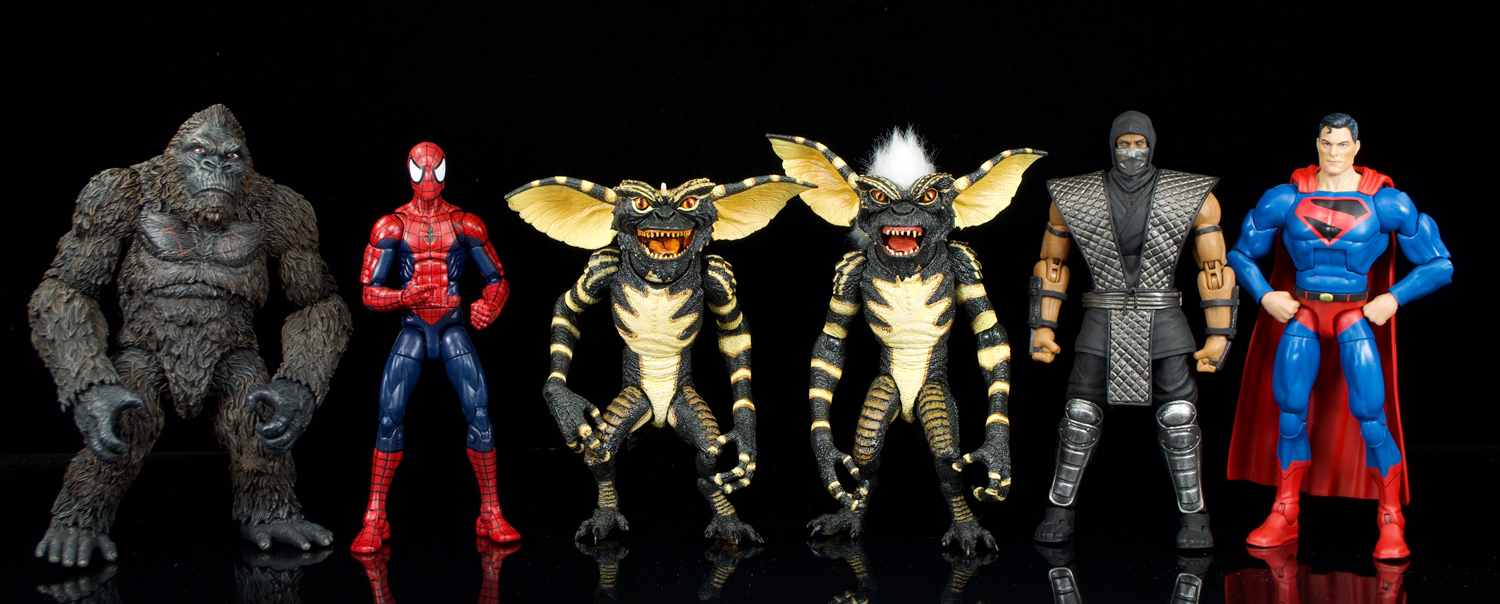 Finally, Stripe comes three accessories, and not only are they very character specific, they are also specific to the climax of the movie. Also, they are really detailed, and I can see myself getting a lot of use out of them for pictures and things across several lines. First is the saw blade, and while it is certainly the most basic of the accessories, it is very much needed, and I remember when I was a kid how dangerous it would be to have a saw blade chucked at my head. The chainsaw is meticulously sculpted with no details left out. Stripe can hold it pretty well, thought he left hand struggles to get a good grip, and "Brad" is showing up again on this, much like the "BradBites" candy from before. Last but not least is the fully functioning skateboard (with trucks that can allow side to side movement!) that Stripe rides through the department store while chanting "yumyumyumyumyumyumyum!" I am getting spoiled here as I have acquired two figures in the last few weeks that included skateboard accessories, and I could not be happier about that. I DO wish the crossbow and/or gun could have been included, but I hear that Amblin actually nixed that, so c'est la vie.
BRING ME MORE GREMLINS! This Stripe upgrade makes for an amazing action figure, and as I sit back and take stock of how amazing my Gremlins collection is, I am very thankful for what NECA has given us. That said, I will likely still nab more of the Ultimate Gremlin to bolster my ranks, and the Gamer Gremlin will help with that too, but I still need more. This Stripe needs to be a the head of a massive group of green destruction, so bring me the ski mask gremlin, the carolers from Mrs. Deagle's house and ALL of them from the Dory's Tavern. DO NOT sleep on this figure. You can head to BBTS or Dorkside and get this ferocious leader all locked up.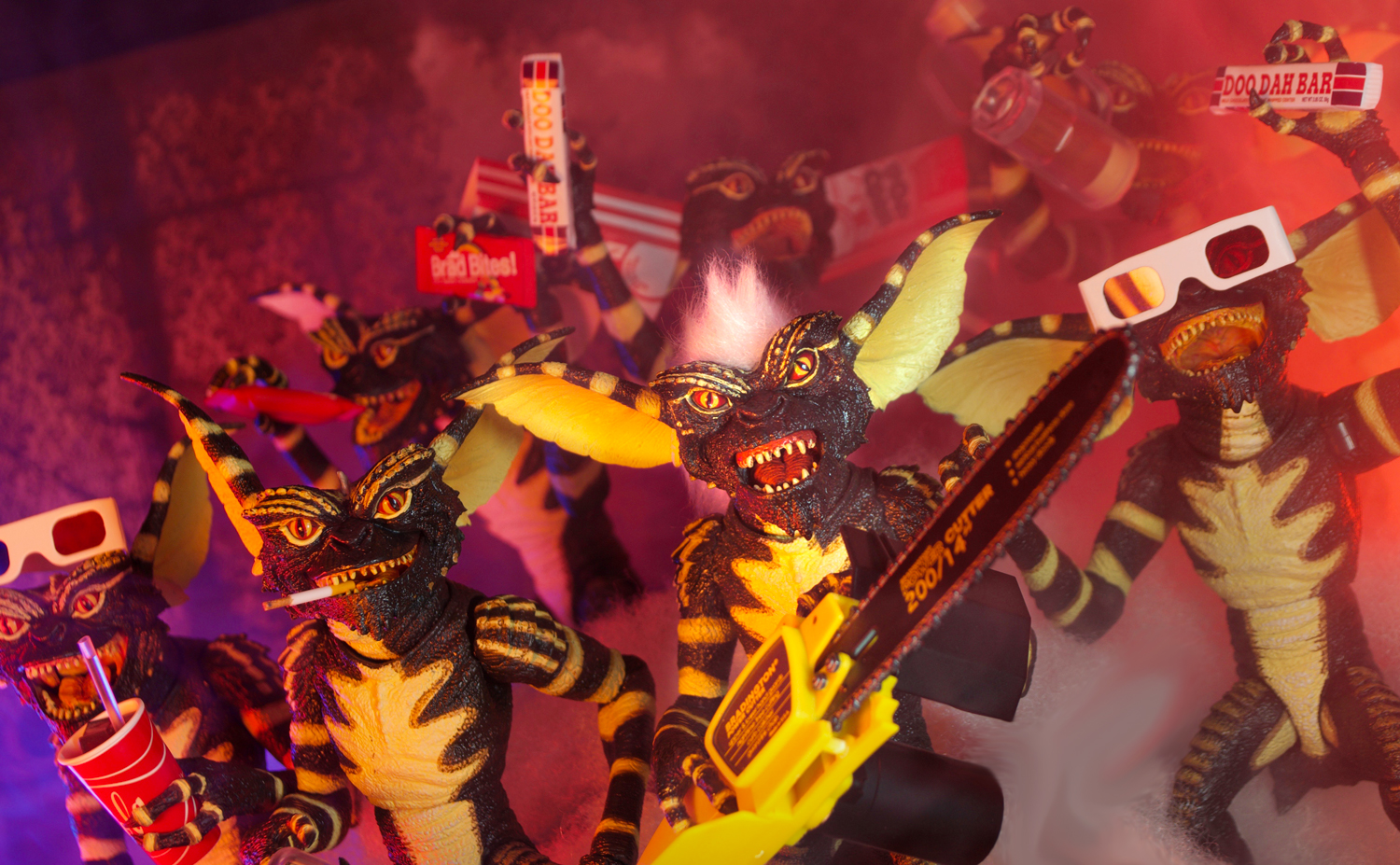 *Thanks to our friends at NECA for sending this figure along for feature!