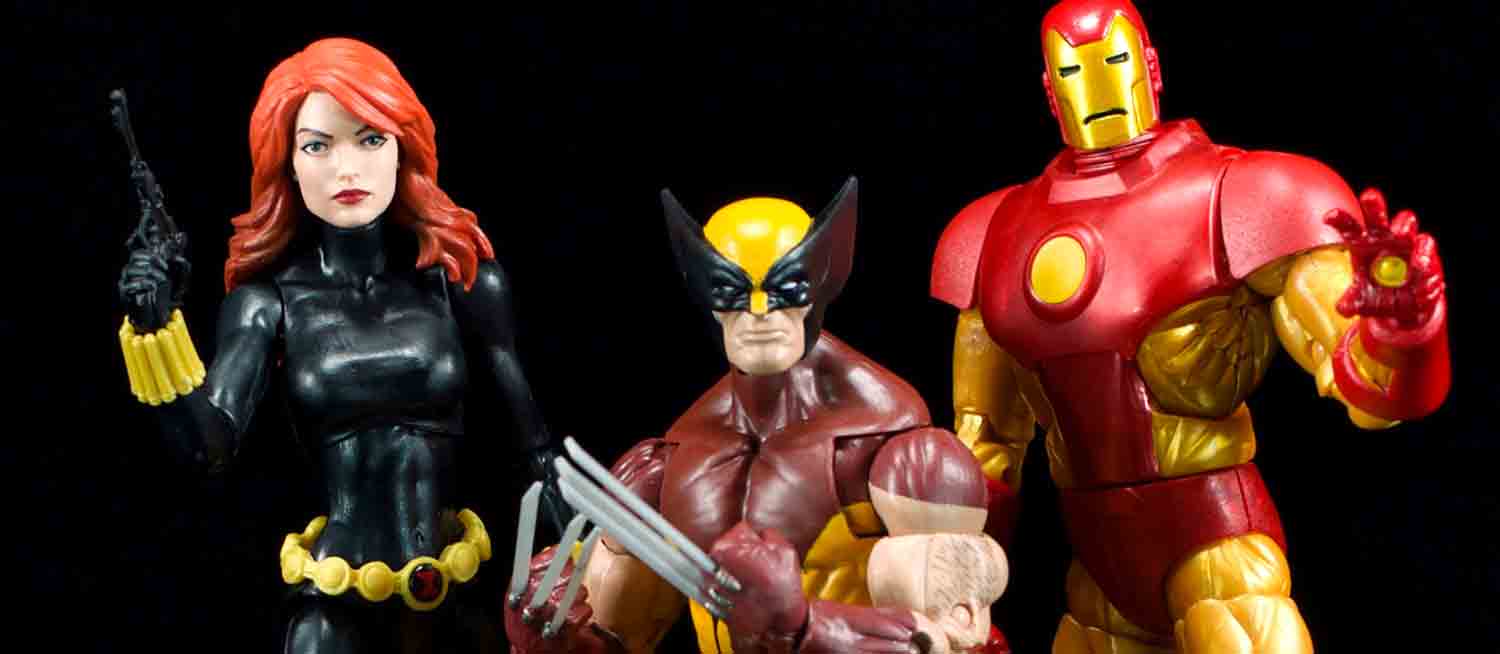 I am not afraid to admit that there are three primary questions I consider when collecting action figures. First, is it a well-made/designed toy? Is it a figure of a property that I love? Does it scratch that nostalgia itch that can be so prevalent? Generally, I am an easy mark and will get something it is just meets one of the criteria, but I am generally the most pleased when I can get two out of three. However, every once in a while, a new figure or line will bag all of these important requirements, and when it does, it is worth noting. Yeah, Hasbro's new "Vintage" Marvel Legends assortment is definitely worth noting.
Now, that is not to say that this line is absolutely perfect in every way (I will get to that in the individual figure comments), but when I saw these figures for the first time at SDCC, I was genuinely surprised and honestly very pleased with the concept. While all of the figures were essentially repainted re-releases or amalgamations of parts that already existed, most of the choices were smart, and they were presenting the more classic/iconic versions of important characters on cards that plucked those nostalgia strings ever so perfectly. So, when I was able to locate half of the series, that is Iron Man, Black Widow, and Wolverine, at Walgreens, there was no way I was passing them up.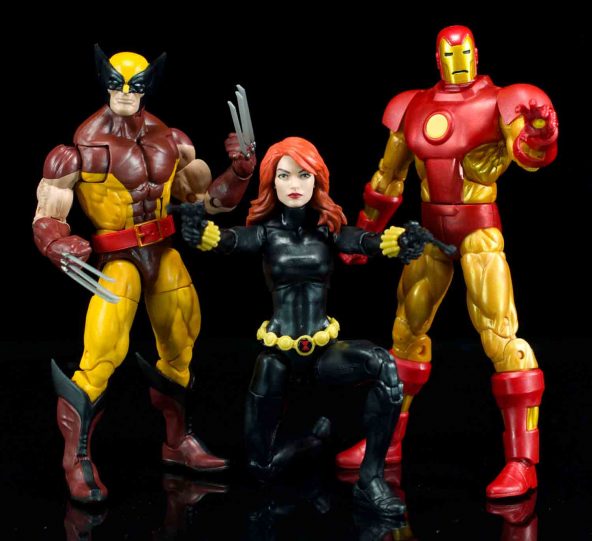 As I get into the individual figures, I do want to note that, even though they might have varying degrees of success, I believe the concept of this line is completely solid, and I want this to be something that Hasbro runs with, rather than treating it as a one-off (as was done for the 40th anniversary of Star Wars in the Black Series line). I mean, I don't even know what this assortment is officially called ("Vintage" is the most concrete thing I have heard), but there is so much opportunity here, my brain has been running through the future possibilities a lot since SDCC. I mean, I get the theme of the old ToyBiz cards, and those are beautiful, but I would love to see Hasbro and Marvel take this beyond the character space limited to that callback, and give us all kinds of new chances at "vintage," classic," or "iconic" looks for characters that might not make it into a proper Legends assortment. You are on to something here, Hasbro, so I am already asking that you keep it going.
Only being able to speak for half of the assortment thus far, I find that these three figure represent a different spot on the spectrum of success in their overall execution. One is an instant upgrade of an already great figure right out of the package, another is a long-overdue figure of a popular character who has needed a modern Legends upgrade for a while and is pretty successful, and the other is fairly straight up reissue with a slightly new color scheme that contains all of the strengths, and all of the weaknesses, of the previous release.
Oh, and dig these throwback cards, it was tough to open these babies, but there is work to do:
IRON MAN
I have to admit something: this Iron Man figure is completely new to me. The original was released back before I was back to being a completist with ML, and since this armor is not the upgrade to the ToyBiz ML series 1 armor I have been clamoring for for years, I skipped it. However, I have read all of the criticisms about the original, and as they were enough to keep me away from the original, and are still valid here, but I actually kind of like this figure. It is NOT the armor I really want, it is almost kind of out of scale with the rest of ML on the whole, and a lot of the articulation is outdated, but it is kind of appropriate for this type of release seeing as no new tooling was used, and it fits the era.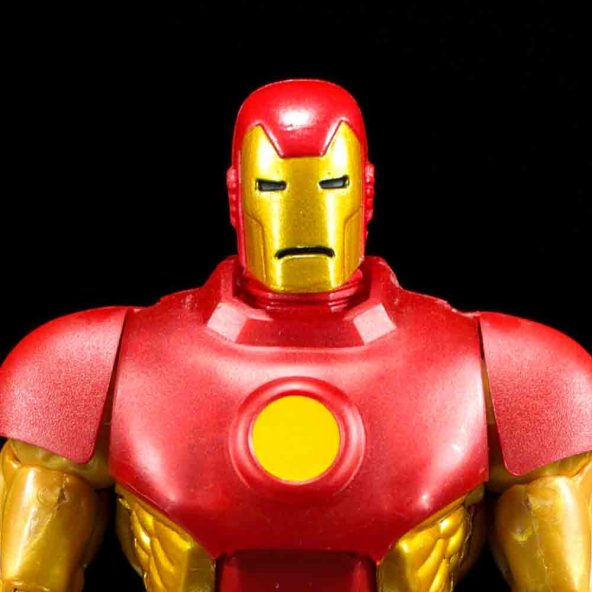 Yeah, the head/helmet is little, and the figure itself stands shorter than the Black Widow released beside it, but, well, maybe the nostalgia pull is stronger than I thought because those things aren't bugging me nearly as much as I thought they would. Oh, and he has those rotating ball joint hips and old Hasbro ML non-rocker ankles working against him, so that should be two more points to make me agitated, but surprisingly, again, I am not even mad. I don't know, since this still isn't the Iron Man armor I really want, and I understand the parameters of this line, maybe I am just able to take this figure for what it is and welcome it into my collection as another piece, even if it doesn't really add much past the nostalgia.
To me, if any of these three was worth keeping on the slick card, it would be Iron Man. He looks great in package, and like I said, I don't think he is going to be the favorite of anyone in this series, but he works. For me, though, I really don't have a Hasbro Iron Man that fits the classic feel appropriately right now because this is better than those two-pack figures from several years ago. So, by default, I suppose this is going to be my Iron Man on the shelf for a while, warts and all. Still, if anything peg warms in this assortment, I am putting odds on this one.
BLACK WIDOW
Okay, now here we go. I have been waiting for an updated classic Black Widow from Hasbro ever since the Legends relaunch when the figures got really good, and now this one is filling that need. It is funny, we have been without a comic Black Widow release for several years (again, she was in those two-packs), and now we have this one and a more modern take on Widow with a motorcycle scheduled to  be released in a few months, so when It rains, it pours. As I am sure you are probably aware, I gravitate to the more classic, iconic, and enduring looks for most characters, so this figure gets me most of the way there, and what I need to get the rest of the way might be right under my nose.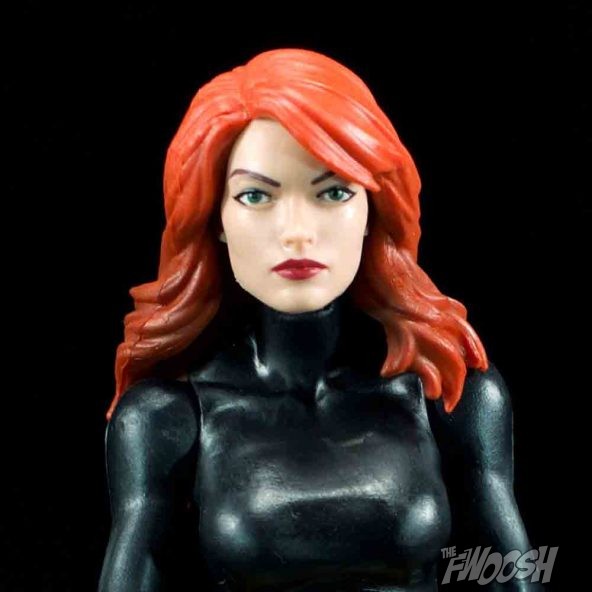 Unlike her series-mates, Natasha is an all-new figure for the character, and she is built on the thinner standard ML female base (the same on as say, Invisible Woman). This works just fine for her. I suppose I always envisioned her on the thicker Moonstone base, but I have no complaints about this one. The body is cast from neck to toe in black plastic with no additional paint details, which is appropriate. This Widow figure is sans high heels (yay!), and she borrows her belt and wrist pieces from the old two-pack Widow.
Now, the old Widow figure might have been gangly with way-too-thin legs, but my biggest beef with that figure has always been the head sculpt. Well, not so much that as the hair sculpt, and since I prefer my Widow with long hair, that long hair look was just a disaster and I have never been happy with it. Now, there is no denying that this figure has a much better noggin overall, but since this is the same exact head used on the recent Mary Jane Watson figure, it is a bit distracting. The thing is, I find this head more appropriate for Natasha than MJ, but it is still not perfect. So, for now, I am using the "neutral" hair down head from the Dark Phoenix set on this, but since the Black Widow figure coming with the motorcycle will have two heads, HOPEFULLY one will resemble a more classic Widow with bangs and a bump on top.
Either way, any of these heads work well, so I am just thrilled to have an upgraded classic Black Widow, and this figure instantly takes the new spot on my main ML shelf.
WOLVERINE
This figure is the easiest to talk about because, well, even though the X-Men Infinite series Wolverine released last year was pretty damned perfect, this one finds multiple ways to improve upon it. While it looks very similar at first glance, a couple of things stand out on this figure over the previous release. First, and this might sound funny to the uninitiated, but this Wolvie has arm hair. Yes, ARM HAIR is important for Wolverine, and while the first release overlooked it, this figure makes up for it, so a nice check-off there. Also, while this figure in terms of construction is identical to the last one, the brown in the costume used here is much better and closer to what I would consider the oft-used comic shade for this costume. It is lighter and if you are looking to recreate that X-Men #1 cover by Jim Lee, this guy is your Weapon X.
This figure is also augmented by the inclusion of two pieces from that Jubilee wave Wolvie in the form of an alternate unmasked head, and the "down" mask itself. The inclusion of the latter is a great throwback to the ToyBiz series this line pays tribute to, and if you tell me you don't open this figure and put that mask on like a ring, you are a liar. The unmasked head is fine, if not a little nondescript, but since this series is built around parts that are already in the ML library, it is a perfectly suitable choice here.
As a partial aside here, this figure fills a lot roles when it comes to what it can do for your X-Men display, but Legends is somehow finding a way to get me to want that damned Jim Lee lineup, even though it doesn't get my nostalgia going like other iterations of the team. It is so strange, but between the recent Cyclops, the upcoming Psylocke, and this Wolvie who matches that iconic cover so well, I just have to have that lineup. So, bring me a more classic Colossus, a blue Beast, Storm, and all the rest, because these Legends figures can make that lineup look so good. But do not forget my Giant Size team, too.
Okay, so I am completely sold on the premise of this line, and I REALLY hope Hasbro decides to continue it, even if it was just a once a year release schedule. In fact, I might make a wishlist article for this concept and the future. Now, the individual figure execution changes from character to character, but I think Wolverine is just about perfect, with Widow close behind, and Iron Man not as bad as I thought he would be. I REALLY want to find Captain America, Punisher, and Spider-Man because their new decos are much more in line with what I want for those characters. So my hunt continues, and Hasbro — onward with more waves!