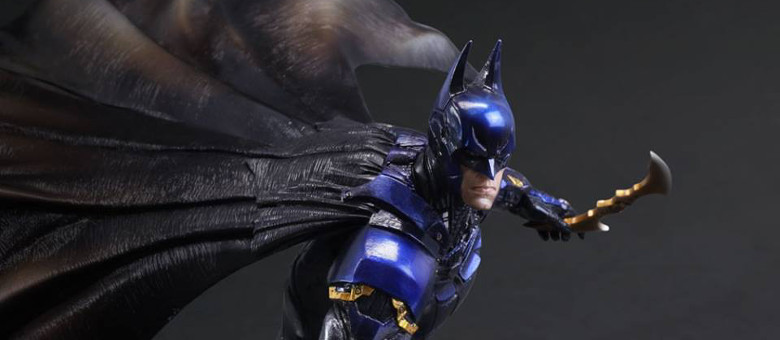 Y'know, I'm not going to lie. I actually dig the blue and gold inserted into the Arkham Knight suit design for this figure. I kind of even wish the cape was blue too.
I just realized that it may be because it throws a comic Azrael vibe with the additional colors. That is not a bad thing at all in my book.
To match the beautiful and highly detailed game graphics, we placed heavy emphasis on bringing out the fine details and mechanical look when creating the sculpt, resulting in a finish that gives the realistic impression of a human being, BRUCE WAYNE, wearing the suit. Similarly with the paintwork, we adorned the suit with a metallic sheen, as well as scuffs and weathering that show the scars of his battles. In this San Diego Comic-Con 2015 Exclusive limited color version, we have highlighted the fine details with metallic paintwork in bright blue and gold.
A cape that more realistically replicates the movement of cloth, and interchangeable hands with different textures both add to the dynamic expression achieved when posing; add weapon pieces to the mix, and the collector can enjoy BATMAN™ action poses at their best.
Figure includes display stand.
[PLEASE NOTE]
SDCC exclusive preordered at the SQUARE ENIX Online Store will be shipped to your provided address, and are not available for onsite pick-up at SDCC 2015.
Products will not be shipped until August 31st 2015.
Maximum Order Quantity: 3
Figure Size: Approx. W9" x D5" x H11"
Packaging Size:  W9.1" x D3.9" x H11.8"