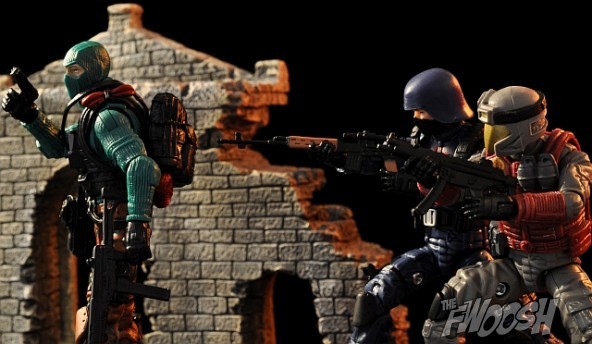 In continuing our look at Hasbro's 50th anniversary of G.I. Joe, we will be checking out the Viper's Pit 3-pack,  which includes Beachhead, a Cobra Viper Officer, and a Cobra Trooper. This set, much like the other multi-packs released under the 50th anniversary banner, incorporates reuse and repaints in order to give consumers some of the more popular figures at a reasonable point. It's great for people who want to test the waters with the property, and the changes are enough that it should make some seasoned fans happy.
Beachhead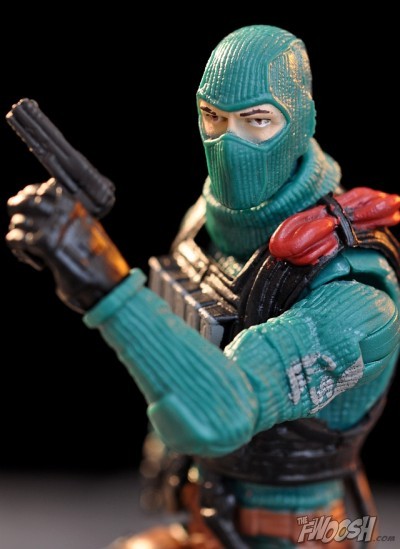 Beachhead was my favorite Joe as a kid. Tougher than Gung Ho and cooler than Snake Eyes, to my 10-year-old-self, he was the Joe to beat. He was also the sole reason for my buying this set.
This new Beachhead is pretty much the Pursuit of Cobra (POC) Snake Eyes with the POC Steel Brigade Trooper's head and collar overlay (also the head from the POC Beachhead). With this base body and his vintage-style paint apps, he's pretty much perfect in my eyes and I can't see myself needing another version. The articulation is standard (no pivot ankles on this base body) and all the joints are tight with no gumminess in the plastic. One thing to mention is that these 50th anniversary figures have either a gold star or Cobra insignia somewhere on the uniform.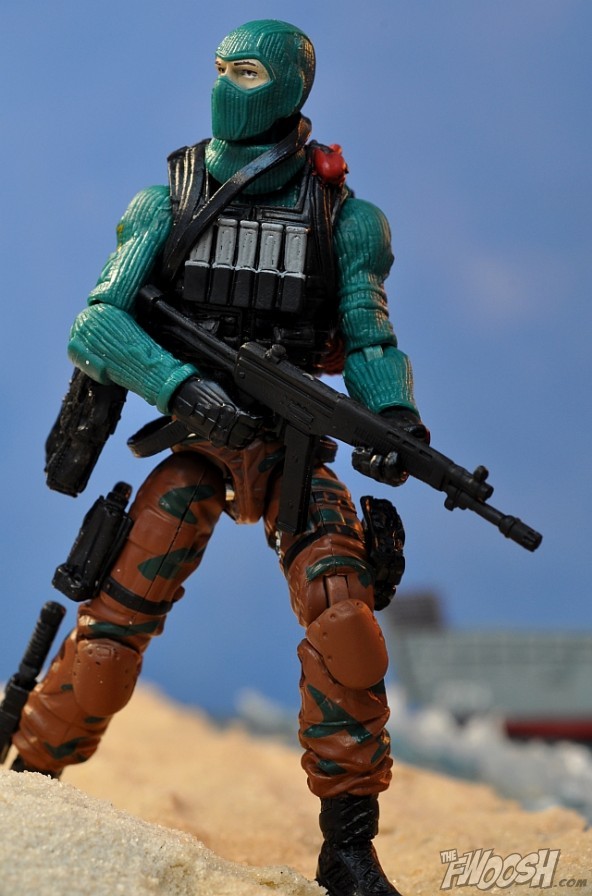 Multi-packs often tend to skimp on the accessories, but that's not the case with these 50th Anniversary Joe sets. Beachhead comes equipped with a backpack, webgear, crossbow, rifle, ammo pouch, sidearm, and knife. My crossbow tends to come apart due to the tiny little peg, but I really have no desire for Beachhead to be running around shooting arrows. This isn't the Walking Dead.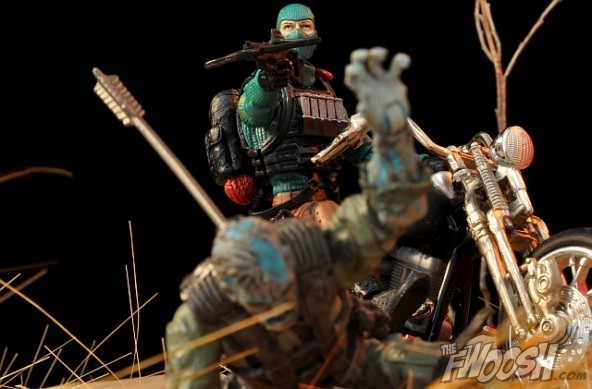 Cobra Trooper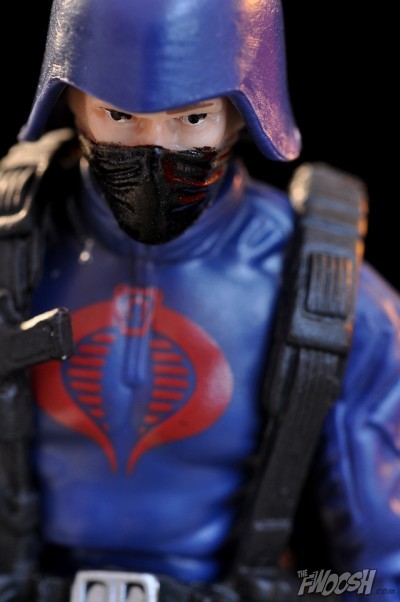 Cobra Trooper is the same that we've seen a number of times. Normally fans tend to hate when figures are released time and time again, but when it's both an army builder AND a completely awesome toy, there isn't much to hate. There's just not a whole lot to talk about. This is essentially the same figure as the POC Cobra Trooper, right down to the accessories — which is fine by me as it's as good a Cobra Trooper as you could ask for. It's completely vintage-inspired with all the extra touches that brings it into the modern era. There are a few minor paint differences, such as the gold Cobra emblem on his shoulder and the slightly bigger chest insignia, but not enough to take too much notice of. His helmet is also one color inside and out — as opposed to the two-tone helmet in the POC line.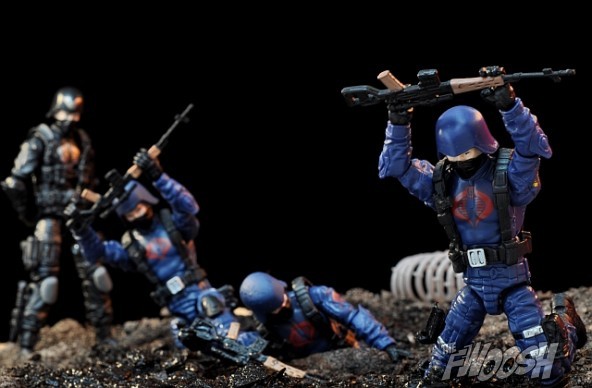 If you're unfamiliar with the POC Cobra Trooper, he comes with a removable helmet, webgear, barbed wire, rifle, rocket launcher, knife, and two pistols with removable silencers.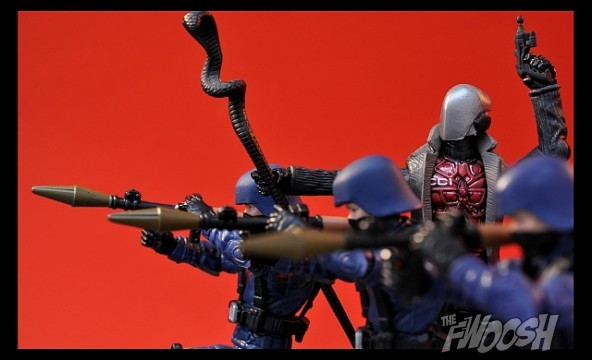 Cobra Viper Officer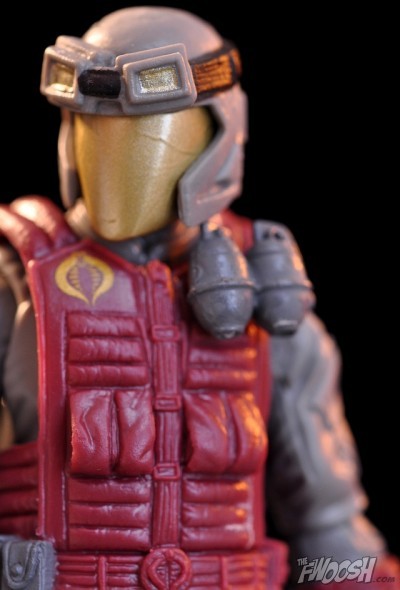 The Cobra Viper from the POC line was one of the standouts of the series for me. With the intricate paintwork and vac metal faceplate, he was a great update to the vintage figure. The Viper Officer is the same great sculpt, but unfortunately it lacks the same level of detail that made the POC Viper so cool. I love the gold faceplate despite its not being vac metal, but the colors used are just muted and bland. There are no painted details at all on the vest or underlying uniform and it, in no way, leads you to believe that it's an officer. If it weren't for the level of articulation (which is fantastic), he almost looks like one of the generic drivers that are included with vehicles. It was a nice idea to have a Viper Officer, but I honestly would have preferred a straight re-release of the POC Viper.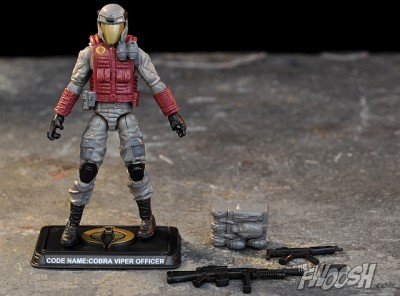 The Viper Officer isn't quite as well equipped as the other two figures in this set, but it's enough for me. He comes with his removable vest, two machine guns, sidearm, and backpack.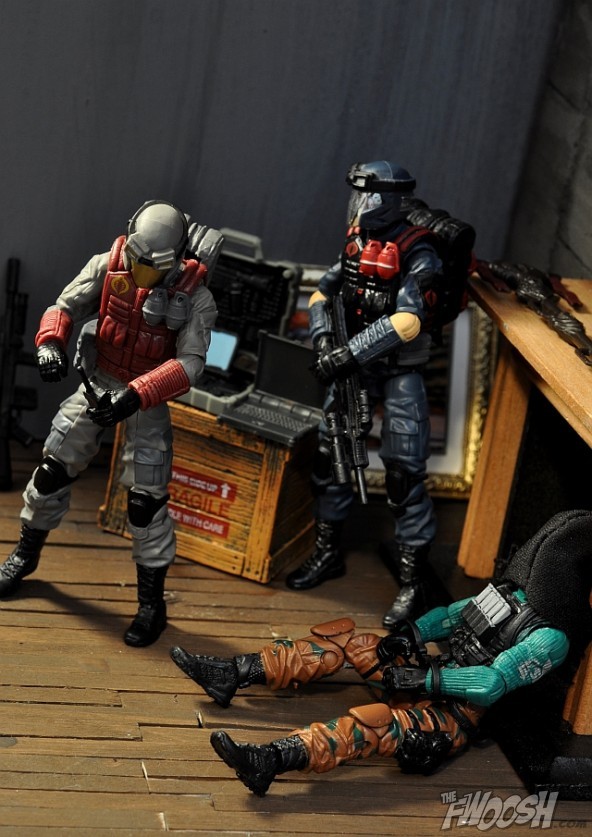 When multi-packs are comprised of re-releases, repaints, and swapped parts such as this, we're all going to have our own definition of value. The original retail for this set was $19.99, but as of this writing, Toys R Us has increased it to $24.99. As Beachhead was my only wanted figure, I initially intended on passing. Coupons make us all weak, though. It's G.I. Joe, so you know the toys are good. Whether or not a set consisting of needed updates, popular re-releases, and a slightly missed opportunities is actually worth the price is what's going to have most collectors on the fence.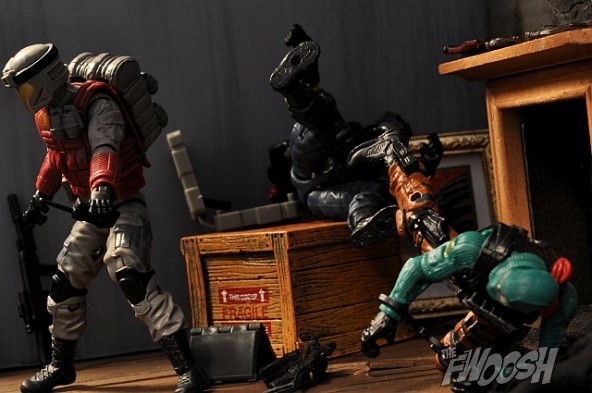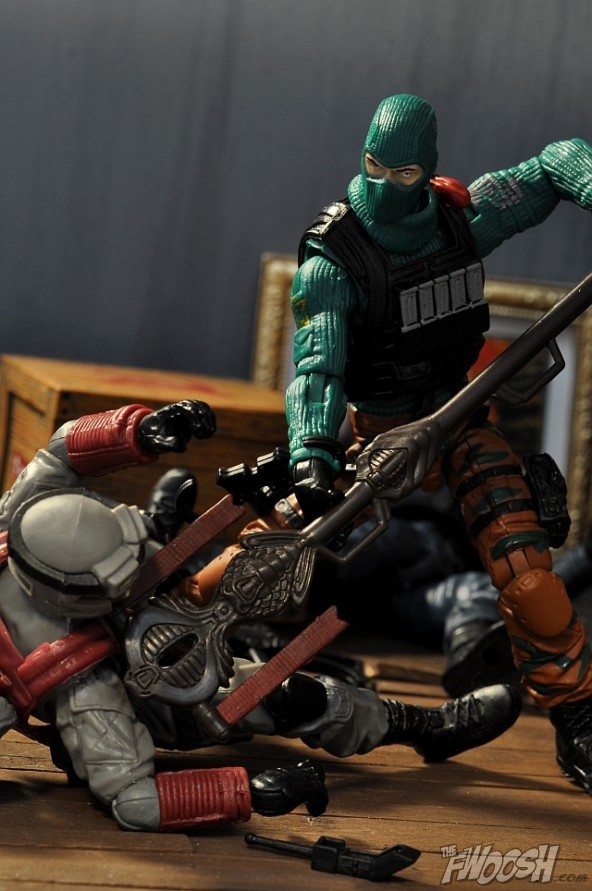 Thanks for reading!