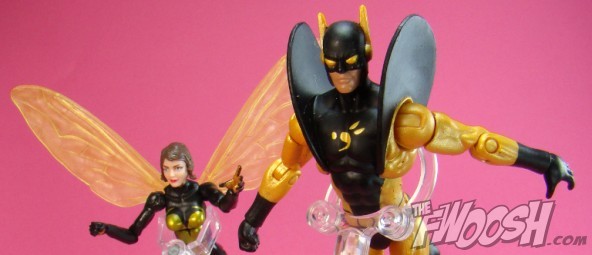 Yellowjacket was part of Series 11 of Hasbro's Marvel Universe 3 3/4-inch action figure line. For those who forget, Marvel Universe was Hasbro's entrant into their popular line of 4-inch action figures, like Star Wars and G.I. Joe. Marvel Universe brought the ire of many a Marvel Legends collector as it was a drastic change in scale from the beloved 6-inch action figure line. On the other hand, a whole new market of action figure collectors were made happy as they finally had Marvel action figures that fit into their collections!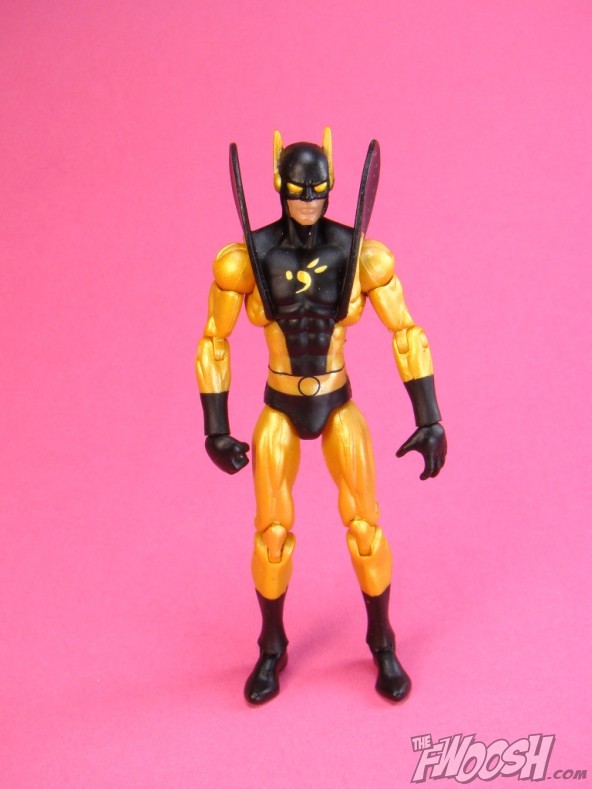 I reviewed the Marvel Legends Yellowjacket some moons ago. This was another on-the-fence figure as it featured the retooled Bullseye buck and really came out… badly. In addition, he sports the clown feet and stubby shins that give this figure a strange look. Yellowjacket was part of Hasbro's Blob Series.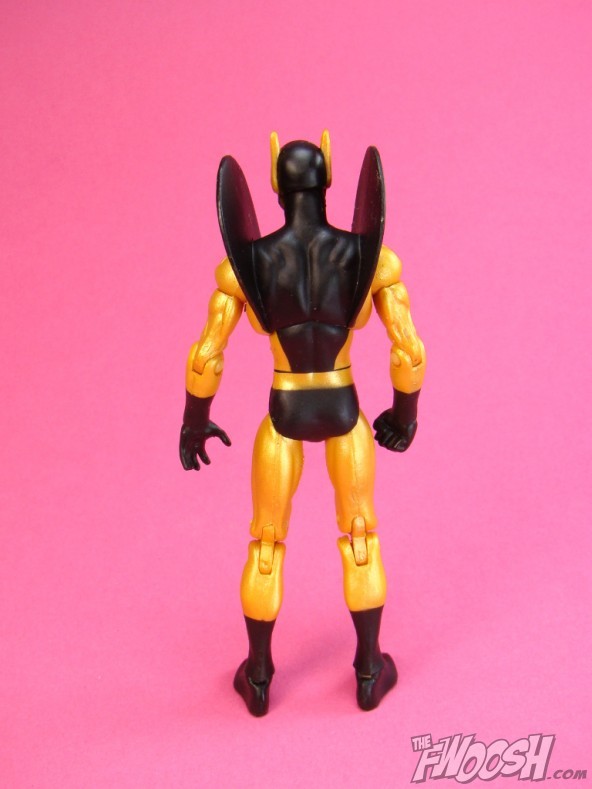 themanintheanthill covered Ant-Man not too long ago in one of his character examinations. I can't add much more other than to say when I started reading comics back in the late '70s and early '80s, Hank Pym was wearing the Yellowjacket costume and became a favorite of mine. Granted, Hank was a bit loopy back then.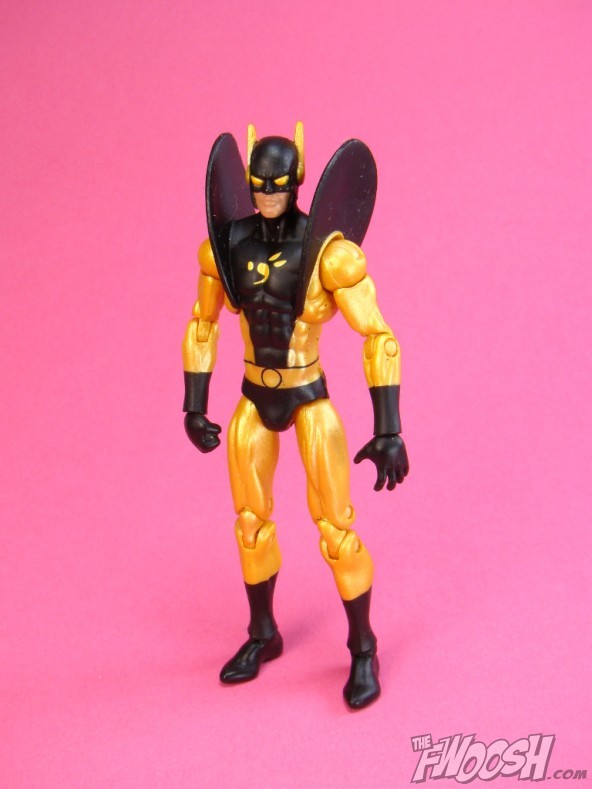 The Marvel Universe figure is an OK figure. It's sporting an earlier buck and has some limited articulation compared to an updated version of this buck. The later buck has a slightly sharper buck, sported more articulation, and looked better overall. But the size is perfect for Yellowjacket. All the elements are there.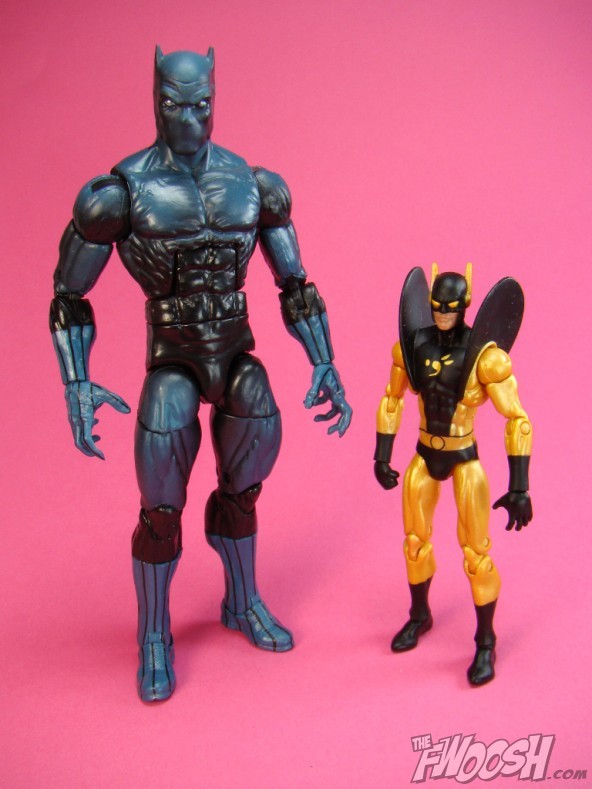 The articulation is what bothers me the most with this figure, mostly the lack of thigh swivels and ankle rockers. I'm addicted to ankle rockers, and they've become such a key part of my action figure desires that I'm tempted to collect only action figures with ankle rockers. The range of poses and even the stability of the figure holding the poses increases dramatically! The other joint that I really need is the thigh swivel; it's just an all-around critical joint for me. Like the ankle rocker, the thigh swivel gives the legs a bit more stability and dramatics in poses.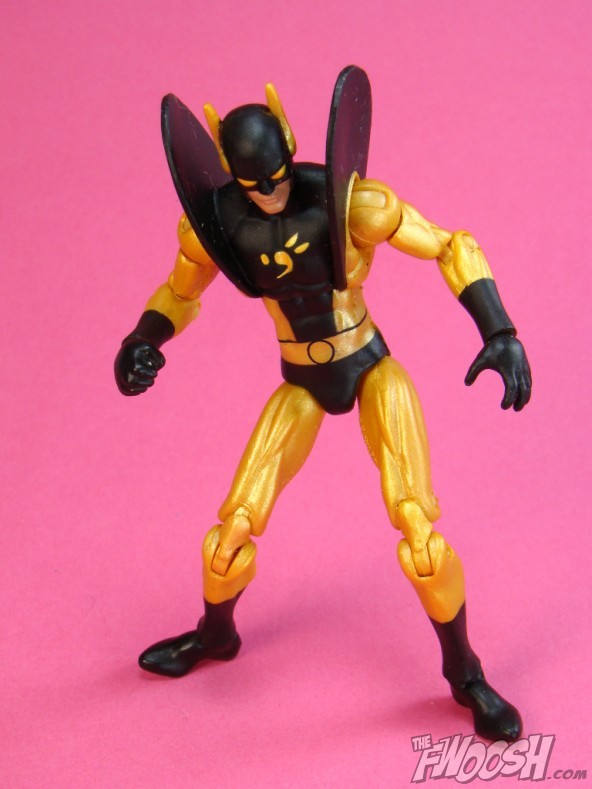 While I'm critical of the leg articulation, I love this figure! I love that it exists! Marvel Universe/Infinite figures are a great way of supplementing your Marvel Legends line with smaller figures like the Ant-Men, Wasps, and Yellowjackets. As you can see, he looks great if you want to create a "shrinking" display for Yellowjacket, throw in the add-on accessory from ToyBiz's Marvel Legends Wonder Man and you've got a cool display. Now we just need a 12- to 14-inch version!
You can still pick up Yellow Jacket at