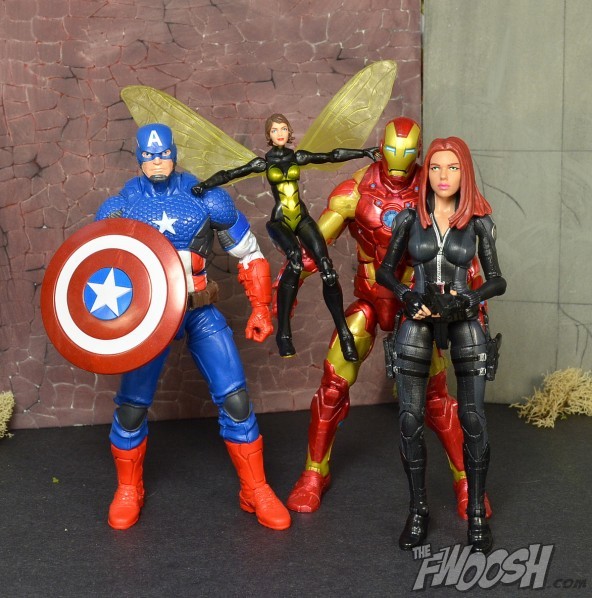 The past month has been rough on Marvel fans, particularly those who would like to add a certain female Avenger to their collections. Hours have been spent stalking Amazon listings, retail aisles, and online forums where complete incredulity is expressed as the events of fruitless hunt after fruitless hunt are detailed. The Marvel Legends Black Widow has certainly been a one-per-case headache, but now joining her, and perhaps to an even more unfavorable degree, is Marvel's Wasp, part of Hasbro's new Marvel Infinite Series, which is more or less a rebranding of the 3.75-inch Marvel Universe line.
Wasp is a much sought-after figure because, due to the character's abilities, she can fit in both Marvel Legends and Marvel Universe collections, so there are quite a few collectors hunting for her. However, like the Marvel Legends Black Widow, Wasp is also packed one-per-case, but in her case it's an assortment of 12, so she may prove to be an even more difficult figure to find in the wild.
Is she worth the bother, though? Absolutely.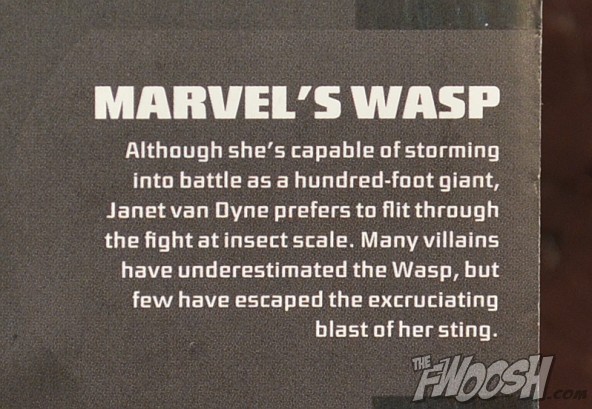 The new packaging is a markedly clear departure from the Marvel Universe line. Gone are the character-specific graphics, and in their place we get something much more generic and much less eye-catching. However, at the risk of sounding hypocritical, I will say this for the new look — as I made my way down the action figure aisle at my local Fred Meyer, that large red "Marvel" banner at the top of the card caught my eye from halfway down the aisle, and seeing as I didn't know these had hit actual retail yet, it was pretty exciting to see. While I do prefer the old character-specific design of the Marvel Universe cards, there is an effectiveness to the simplicity of this design. Plus, once the figure is opened, it's much easier to toss this packaging in the trash without an ounce of hesitation or remorse.
She's a solid representation of the character and she looks great. Her paint apps are nice and clean (albeit there aren't many), and the newly sculpted parts here (head, wings, hands?) work well in the context of the character. She is a Marvel Universe figure, though, so all the shortcomings of that line are consistent here. Gummy knees, difficulties in posing and standing, and a rather soft sculpt — these issues have plagued the 3.75-inch female figures since the beginning, and they're still here. Even so, if you can forgive those hiccups, she's a decent figure.
Her head sculpt is a bit on the soft side, but given the scale, it's still one of the better female head sculpts I've seen in this scale in recent years. She looks kind of adorable, particularly in profile, and from straight-on she looks to have this devilish smirk that oozes personality.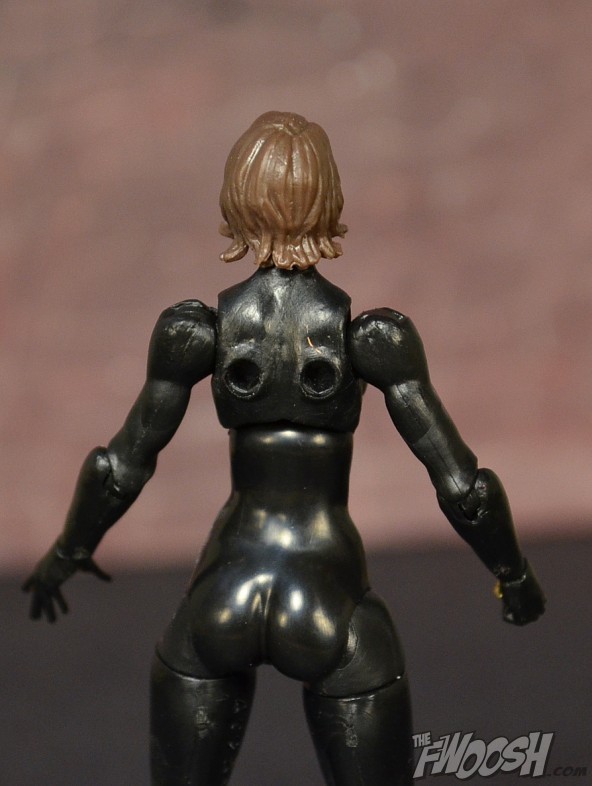 Her articulation scheme is the standard Marvel Universe fare, but her wings are also articulated and removable. There's a hinge where they attach to her back that allow you to recreate a "flapping" effect. They're ratcheted joints, however, so you're not going to get easy, fluid wing movement out of them. It works for more dynamic posing options, though.
Because this is Wasp, she works well with both Marvel Universe and Marvel Legends collections. I'm not a Marvel Universe collector and only pick up figures in that scale very selectively, so I definitely bought her for my Marvel Legends Avengers display, and I'm pleased with how well she works. I mean, it's kind of a random size for her to be in comparison to Cap and Iron Man, so you do need to approach it with a certain degree of leniency, but I like it.
Her only accessory (if you don't count her wings as accessories) is a smaller version of herself. It's only about an inch tall and is not articulated at all, but it's still a pretty cool pack-in. I'm stunned they were able to replicate her costume details accurately, but I wish they had at least attempted to give her a face, at least a pair of eyes. It looks ridiculous here since the pics are a bit of an extreme close-up, but in hand it isn't that noticeable, but it's still noticeable. Many people who see it have had the same reaction: "Her face is just a blob!" or something to that effect.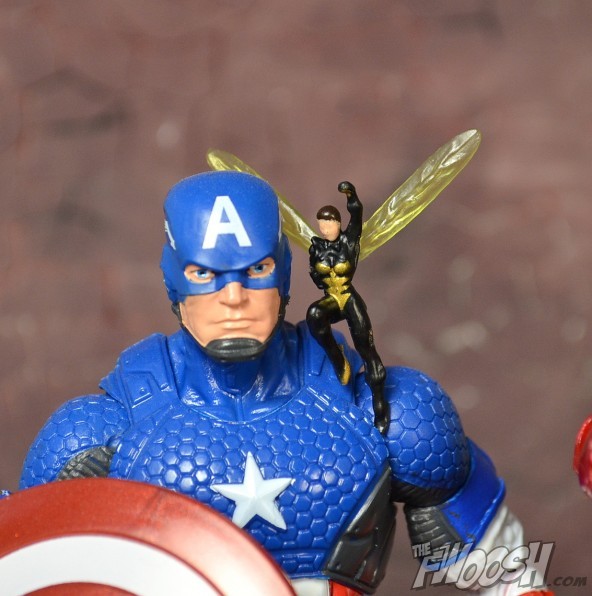 The mini-Wasp works great with Marvel Legends figures, so it's almost worth getting just for that. But I plan to take a very fine pen to that face the first chance I get to actually give her a face, though.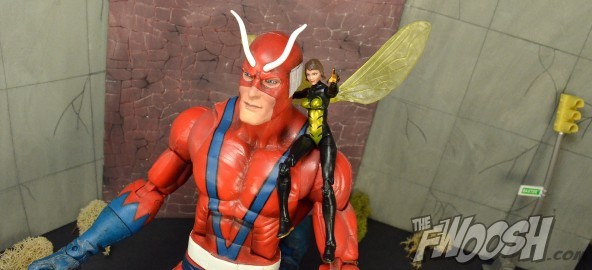 I bought her for the above pic more than anything — that's how she's going to be displayed in my collection, right on Giant Man's shoulder. It works well for my purposes. I love it.
As mentioned earlier, Wasp is a difficult figure to track down. At just 1 in a case of 12, Hasbro seems to be clinging to this idea that female figures don't sell (well). The Star Wars Black Series Slave Leia seems to support this hypothesis, but those of us who have spent more time than is reasonable hunting down Black Widow — and now Wasp — would love to see figures like this get equal space in the case assortments. Maybe Hasbro will get the message this time.
In the meantime, you can try your luck in catching her on Amazon, but Big Bad Toy Store does have her available in full-case assortments, so at least that's a plan b if you need it.
Buy from Big Bad Toy Store (case)