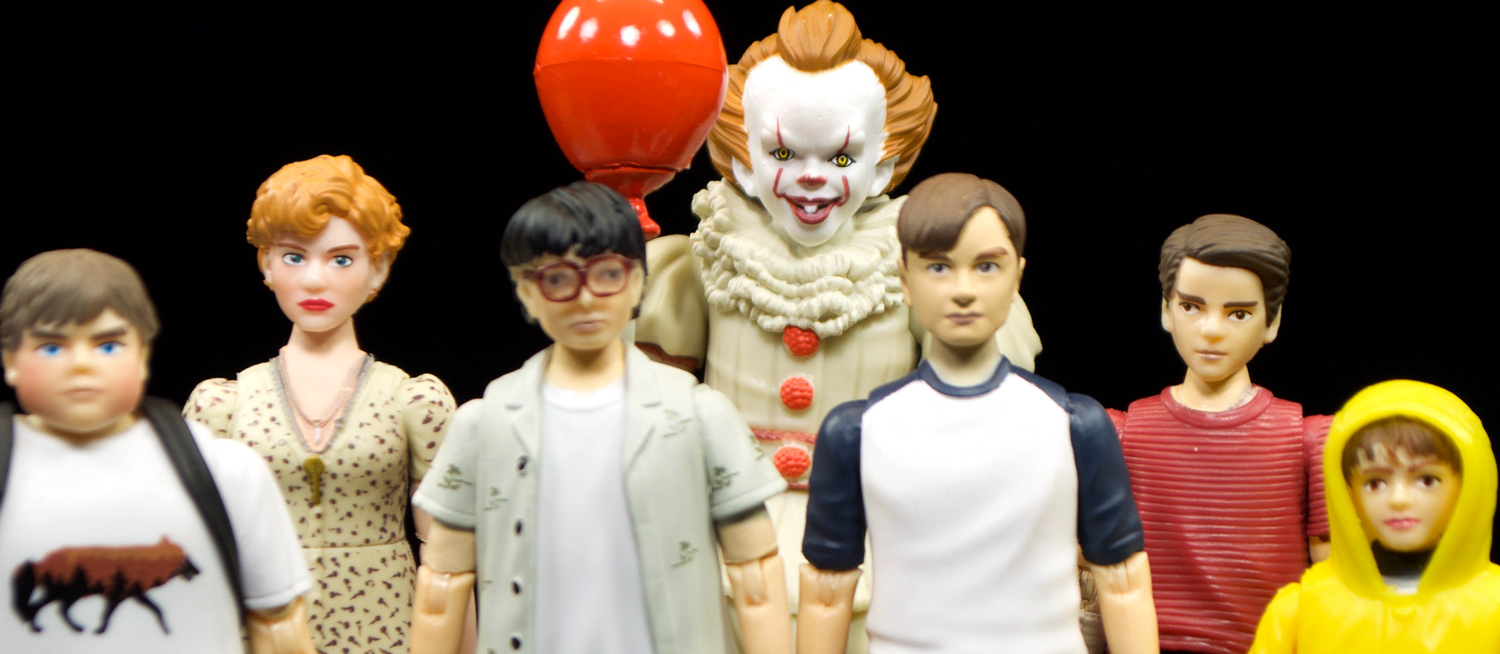 Beep, beep Richie!
The original It miniseries that played on network television in the early 1990s is still one of the most memorable things I ever watched as a kid. Sure, it freaked me the eff out, but I remember, even as a child, being so taken by the performance of Pennywise (and thus, Tim Curry), I could hardly believe that a person could take on a role and become a character so convincingly. Sure, the original Stephen King book is scary as hell, but it was that miniseries that inspired a whole generation to be desperately afraid of clowns, and shower drains.
So, when it was announced that a new version of It would be coming to cinemas a few year ago, I was obviously a little skeptical. I mean, sure, the first was a miniseries and not a theatrical movie, but how could ANYONE imagine trying to take that on after Curry's tour de force? Well, now that the first installment has come and gone, I am so glad they made this movie because I really do love it. It doesn't try to be the miniseries, and really, everything about it, save for perhaps Pennywise himself, is a vast improvement over the TV version, and especially the kids. Each child actor is perfectly cast and they all play their parts so well. Now, I am not down on the new Pennywise by any stretch, in fact, it might be more true to the source material than the Curry version, but that psychological terror Curry brought was so real to me. Bill Skarsgard is really great as this Pennywise, too, and for different reasons. So, I consider myself lucky that I really do like and appreciate both renditions, and I cannot wait for the second installment coming next year.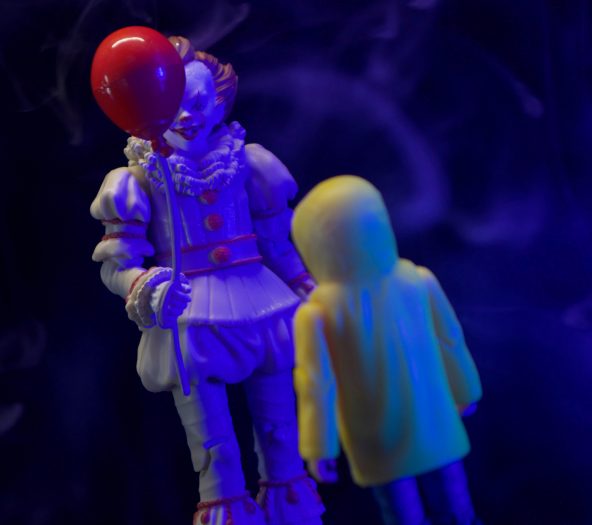 Being the action figure collector that I am, of course I wanted toys from this (and the original It) as soon as it was back in fashion. Sure, NECA has me covered for the highly detailed and highly articulated version of both Pennywises (sic?), but these new figures from Funko are pretty much the only way we were going to get the Losers Club as well, and man, they sure are a lot of fun. These fit with the recent releases in Funko's 9 points of articulation line, so there are somewhat simplified and play a bit with nostalgia due to the sculpting style and articulation. Now, this is generally not my scale, but there was no way I was going to be able to pass up these sets, and overall, I am very happy with them. There are four different sets (we have three of them here), and if you collect 'em all, you get all of the Losers, four distinct and important versions of Pennywise, and one of the saddest little plot devices of all time, Georgie.
Let's have a look at each of the sets.
SET 1: BEVERLY, BEN, and PENNYWISE with ARM
The lone female of the Losers Club and her secret admirer are packaged with the taunting and malicious Pennywise captured when he is snacking on an (Georgie's?) arm. Funko has done a pretty good job including accessories with most of the figures, and while Pennywise (with mean face) gets the aforementioned arm, Bev has the iron spike she puts through the clown's head, and Ben get… his backpack. Yeah, you cannot win them all, but that rather boring carryover accessory (Bill has the same pack, so a burned up Easter Egg would have been cool to get) and the fact that the likeness is probably the weakest makes Ben come up short (wokka wokka), and he is probably my least favorite figure of the whole set. He isn't terrible or anything, but Funko did a nice job with Beverly, and, as you would expect, the Pennywise figures are the winners in all the packs for sure.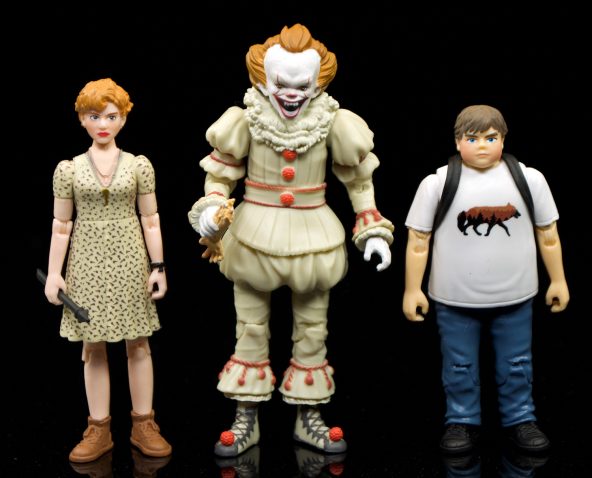 SET 2: BILL, GEORGIE, and PENNYWISE with BALLOON
Overall, this is one set to have out of the four if you are only going to get one. The "standard" version of Pennywise and that iconic red balloon are included here, as is the main protagonist Bill Denbrough, and his poor little brother Georgie. The death/disappearance of Georgie is what drives the whole movie, and that yellow raincoat and paper boat (it even says S.S. Georgie on it!) are so memorable, they help put this set over the top. Sure, a flashlight isn't going to keep a killer clown beast a bay, but I think that Bill's likeness is the best of all of the human characters in this assortment. Like I said, this is definitely the set to get, and it even looks great carded, so if you decide to skip the rest (even though you should NOT), do not pass this one up, it is awesome.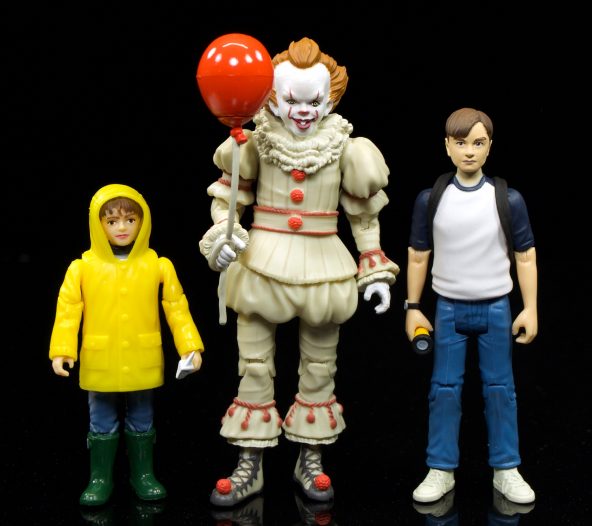 SET 4: RICHIE, EDDIE, and PENNYWISE with CRAB ARMS
No, set four is not a typo, that is the actual listing, so we are missing set three with Mike, Stanley, and the Pennywise with wig, for now. While Set 2 is definitely the overall winner in the group, this set holds a soft spot in my heart as I found Richie to be the runaway best character in the new movie, and Finn Wolfhard played the character so perfectly that Bill Hader has some big/little shoes to fill. Eddie, and his portrayal by Jack Dylan Grazer was also just awesome, so they make a great combo for this set. It doesn't rate as high as the other due to my Eddie figure having a derpy eye, but I LOVE the inclusion of the baseball bat (pivotal for Richie give the best line of the whole movie), and the LOSVER writing on Eddie's cast is a great detail as well.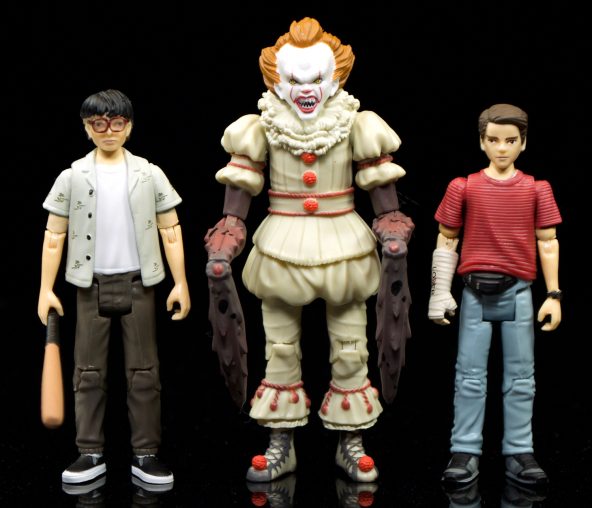 Overall, I am very happy to have these figures, and most all of them are very well done, especially all the version of Pennywise. You can get in on pre-orders at BBTS right now, so I encourage you to do so. For some reason, set three with Mike and Stanley is not up yet, or out there anywhere, but it will be REQUIRED purchasing for me as soon as it is, I must complete the Loser's Club for sure.
About Post Author