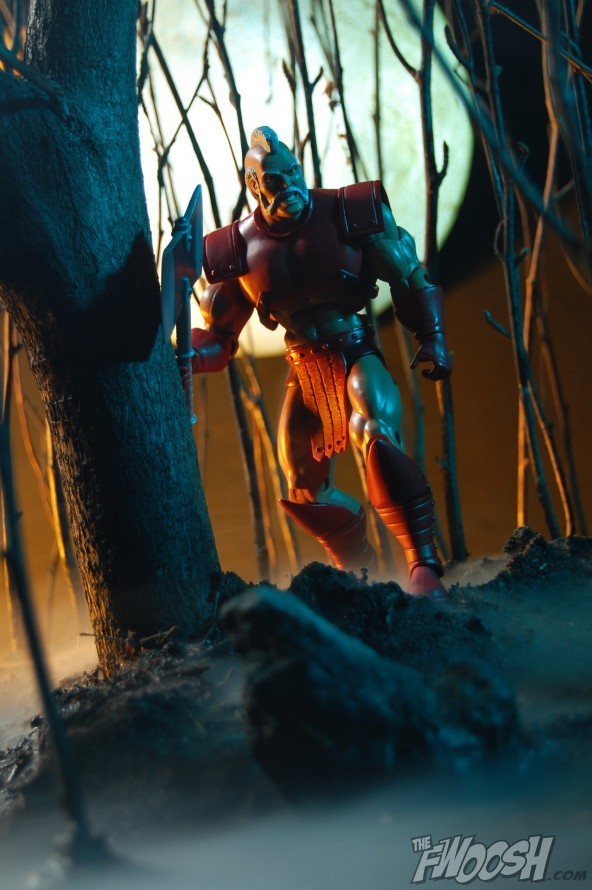 Geldor is the November 2013 Masters of the Universe Classics Club Eternia Subscription figure and winner of last year's "Fan's Choice" poll.  The funny thing about that win to me is that almost all the fan chatter I'm seeing about him now is negative.  I suppose that could be due to the tendency people have to post more often about when they are dissatisfied than when they are happy, but it does make me wonder if anyone is happy about Geldor's arrival.  I personally voted for one of the Masks of Power demons, but I was not opposed to Geldor.  He's a decent one-off villain that is pretty obscure, and my collecting philosophy, in general, supports the production of obscure character figures.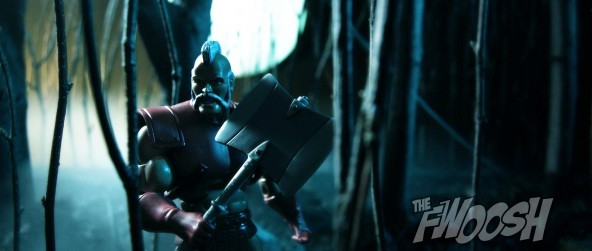 Geldor™ Bio
Real Name: Geldor™ III
The ruler of Foodar in the Dark Hemisphere, Geldor™ became obsessed with finding a way to extend his life after his wife was killed by a dragon attack. He began laying siege to other kingdoms in his ongoing search. One such attack led Geldor™ to kidnap Torgul, Grand Vizier of Vaderia in order to locate the mythical Secret Liquid of Life. Vaderia's heroic Prince Dakon sought the help of He-Man® and the Masters of the Universe®. Together, they confronted Geldor™ in a stronghold in Ogre Mountain. During the battle, the liquid was spilled and a great Life Tree rose up, apparently swallowing Geldor™ in the process. Months later, Geldor™ returned, merged with the magic of the tree and now more powerful than ever. Geldor™ brings terror to all who get in the way of his quest for eternal life!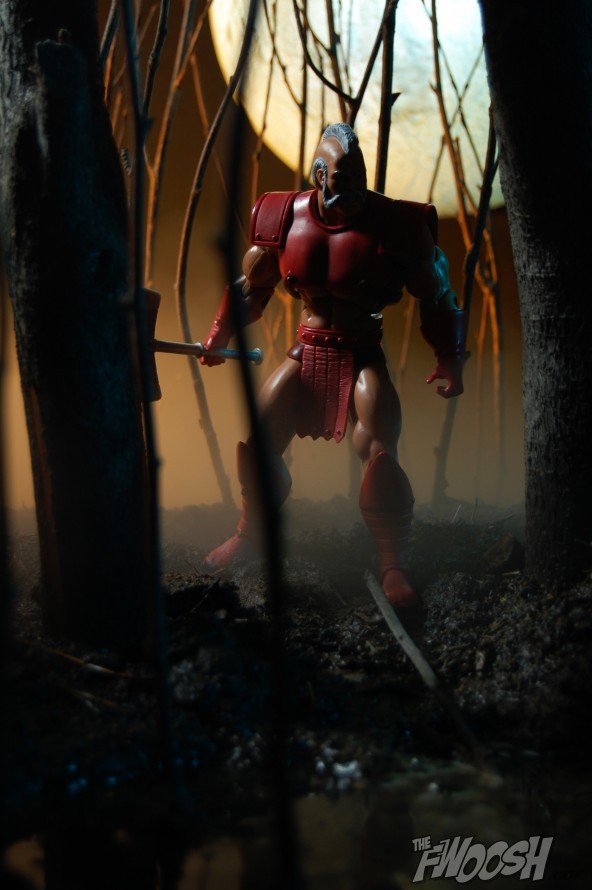 I like this bio.  It's a decent description of his mini-comic, while adding a bit more character motivation and background details. I also like how much it makes the universe feel large by mentioning locations like Foodar, Vaderia, and Ogre Mountain.  It makes sense that Geldor has his own kingdom of sorts since in the mini-comic he has his own castle and dungeon, a pet wizard, and several different creatures serving him.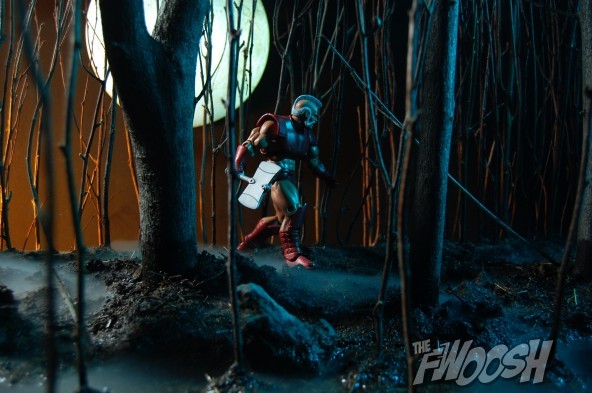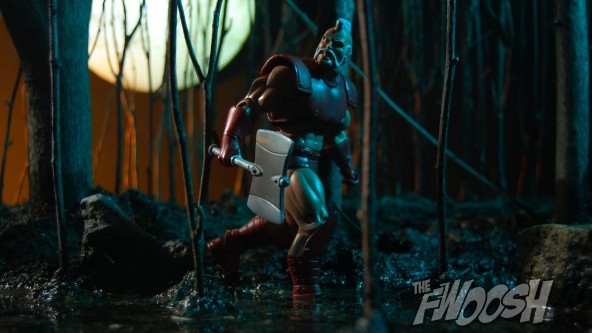 Since he looks like a standard barbarian character, I like to imagine him as a warrior-king who took his kingdom by force, though the real name Geldor III hints at a hereditary title and lands.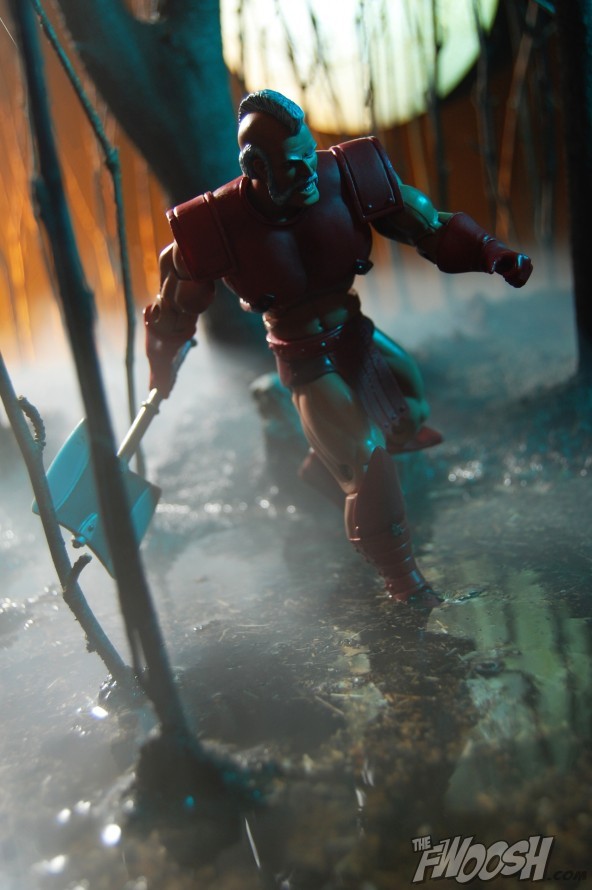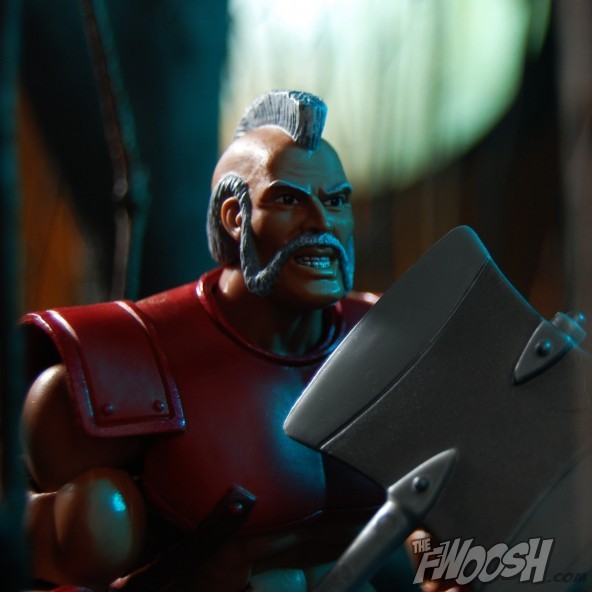 Another great thing about the bio is that it states that Geldor actually survived his defeat at the end of "The Secret Liquid of Life" and lived to fight on.  I like how that keeps him in play as an antagonist for the heroic warriors in the future.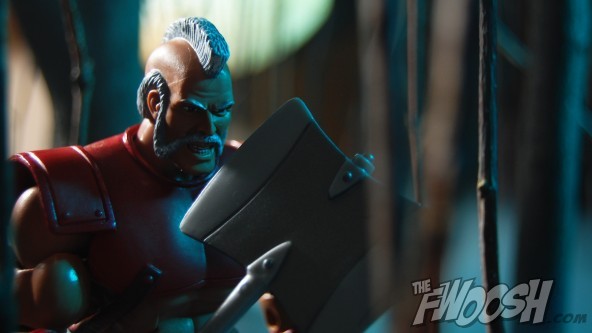 Accessories
Geldor comes with a removable armor, an axe, and a vial of the secret liquid of life.  The axe is made of a stiff plastic that holds it's shape well, and the sculpt matches up with the weapon Geldor wields on the cover of "The Secret Liquid of Life."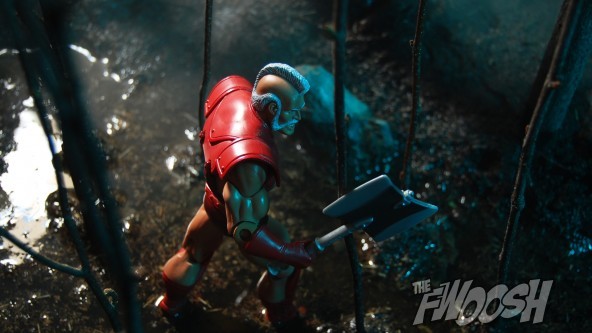 It is a bit of an odd design, often referred to as a pizza flipper online, and I actually prefer to have him wield the silver Laser-Lot weapons that came in the latest weapons pack.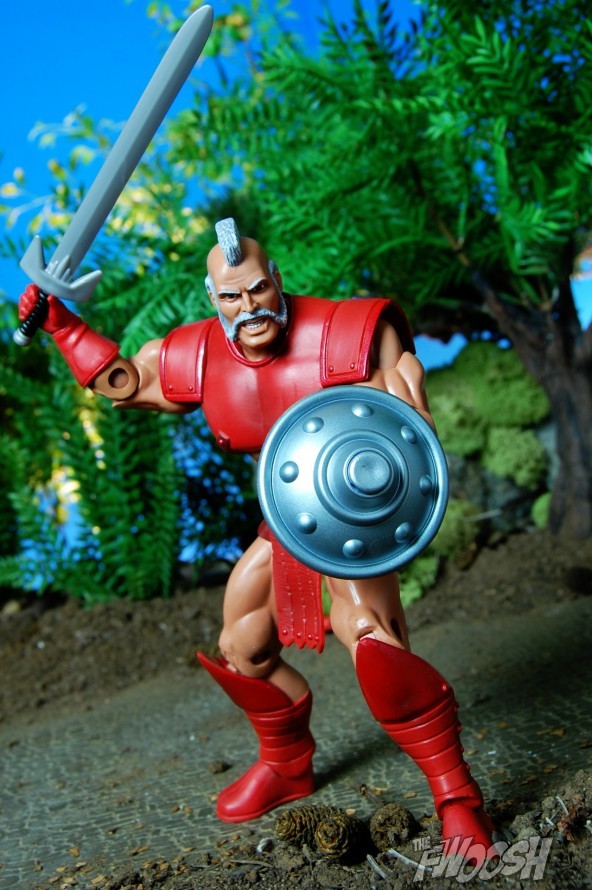 The sword actually matches pretty well with a sword Geldor brandishes in one panel of his mini-comic. I do wish he came with his shield from the mini-comic cover, though.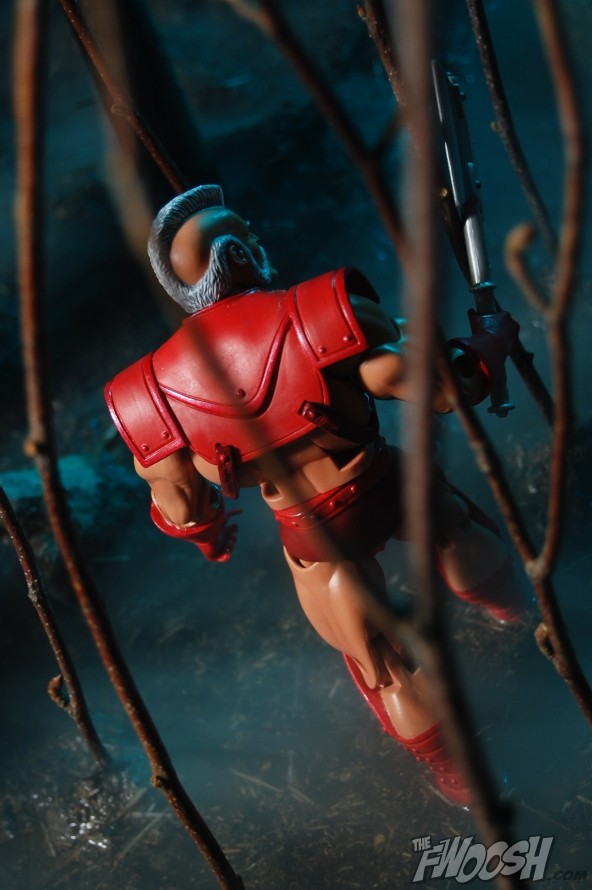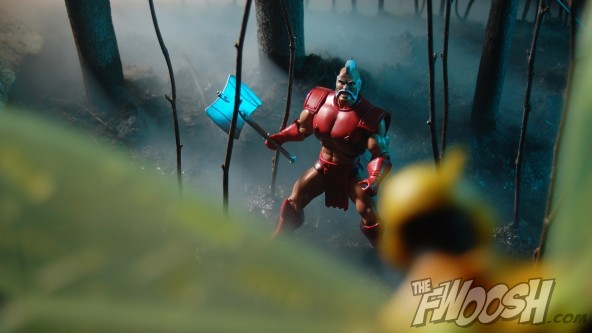 The vial of liquid is a neat little item that serves as the typical magical macguffin of the comic storyline, so it's cool they included it.  I like the way it is sculpted to look like it's full of liquid, even though it's just one piece.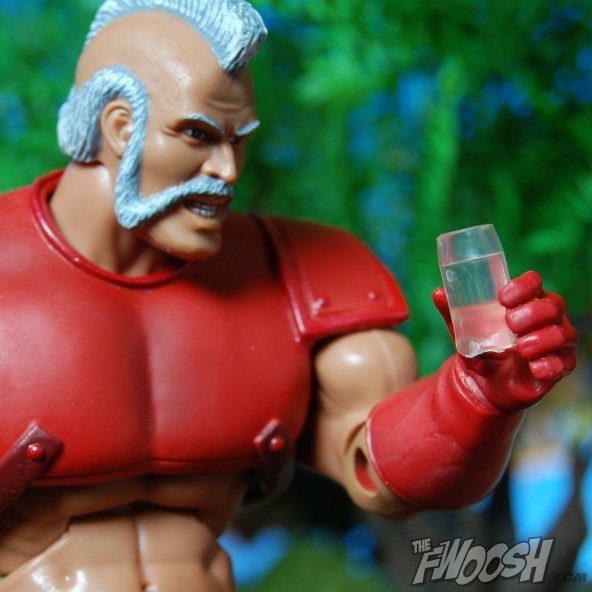 My vial was a little bent up in the packaging due to its being a very soft plastic.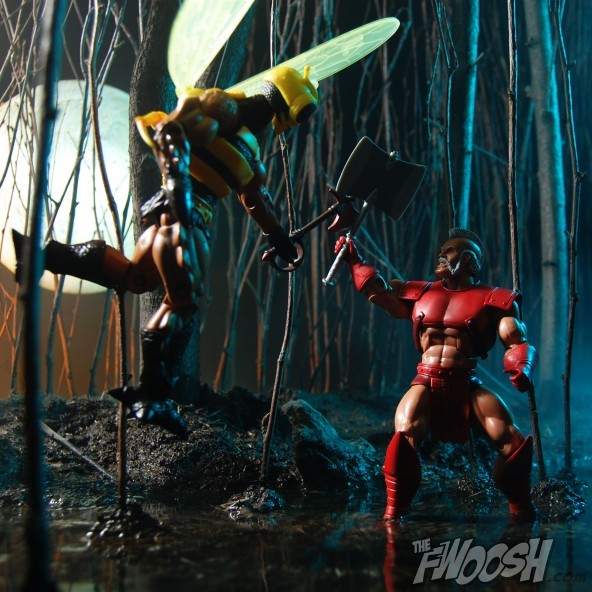 Finally, the removable armor is made of a very soft plastic and matches Geldor's comic design well with some embellishments like rivets and panel lines you would expect to see in the Masters of the Universe Classics line.  The only issue I have with it is that it's a little tough to put back on if you remove it.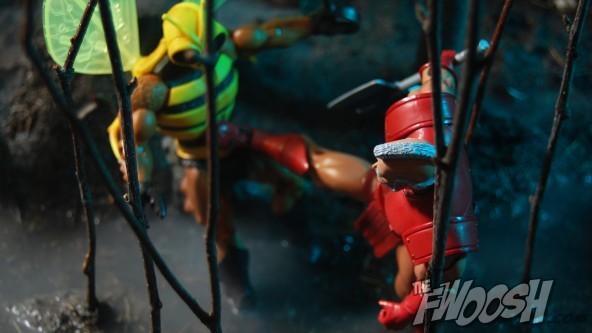 The little tabs on the straps are such soft plastic that they kind of squish rather than plug into the holes on the back.  It took a little fuss to get them back in there.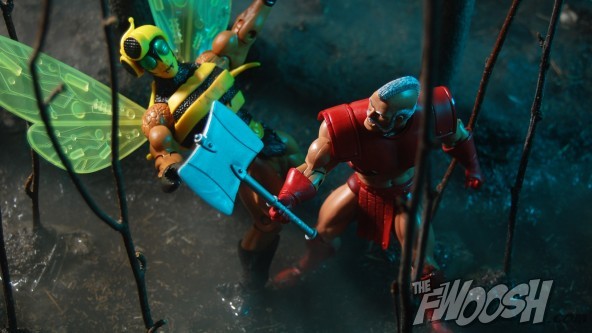 Sculpt
Geldor reuses the basic MOTUC body with some new lower legs, skirt, armor, and head.  The boots have some cool armor banding and rivets that add some nice detail to the somewhat plain design.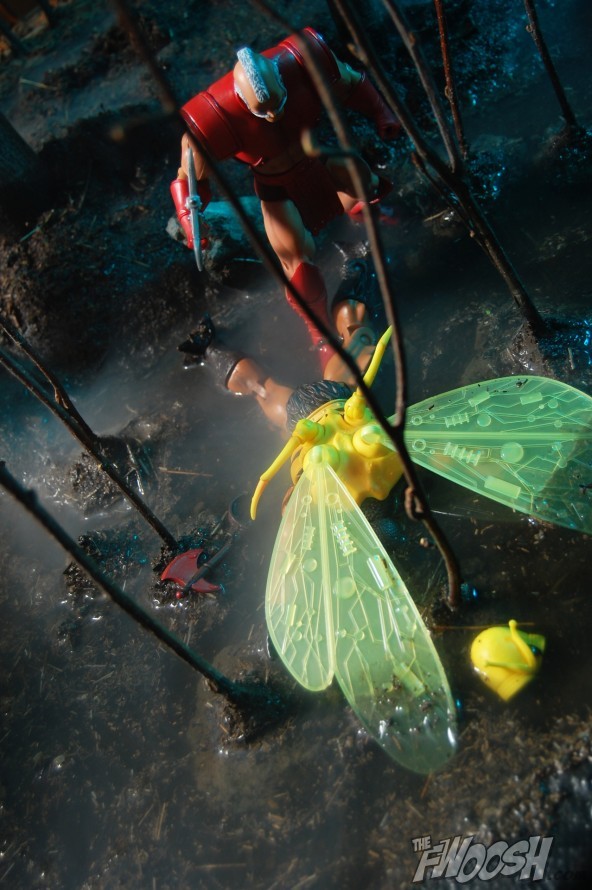 The skirt is interesting because it is so similar to Skeletor's. I thought they would probably just reuse that piece from him, but instead they sculpted an all new skirt, which is nice.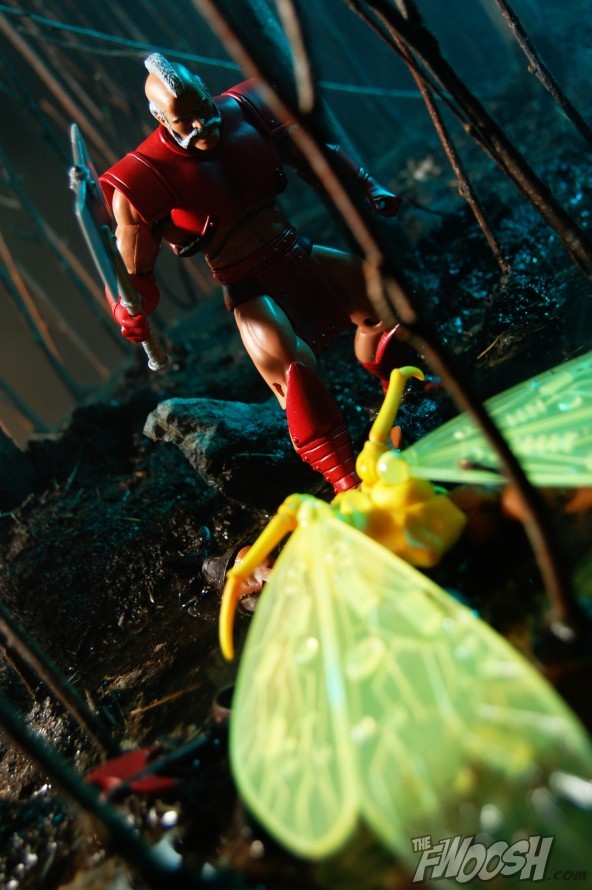 The additional rivets and detail lines on the armor help spice up that design a bit.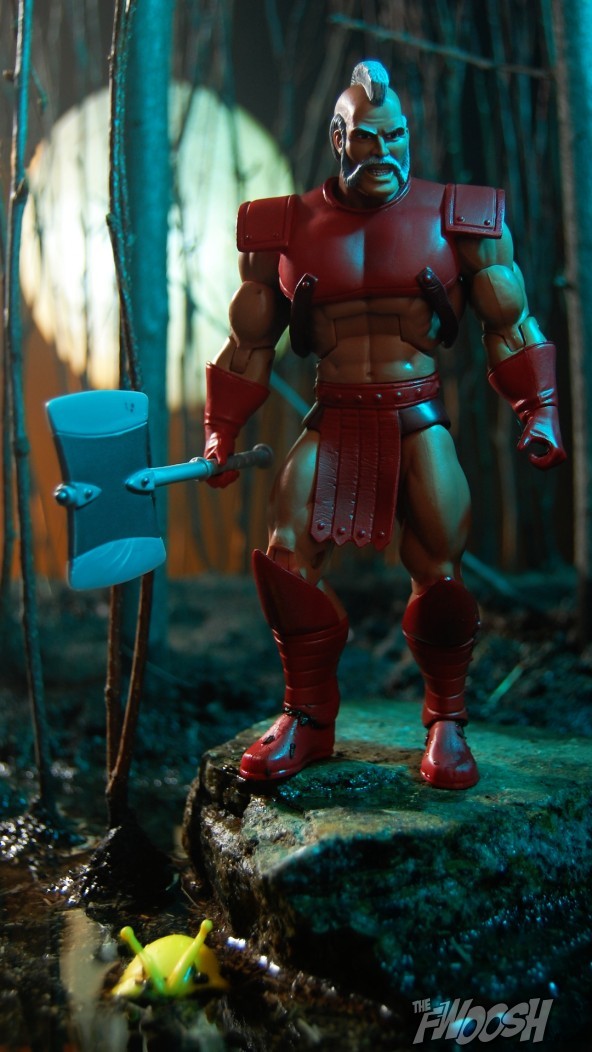 Geldor's head sculpt is great and matches the cover art perfectly with his angry expression and '80s Mohawk.  I like the gritted teeth on the head sculpt; from some angles he looks like he's got his war face on, and from other angles he looks a little unhinged, like he's a smiling psycho.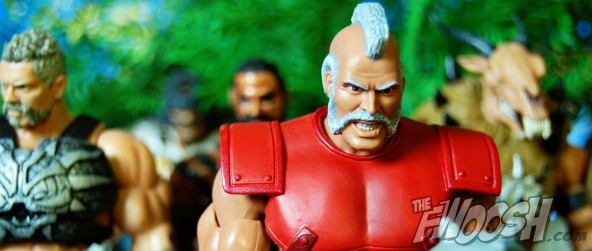 Articulation
Geldor features the standard MOTUC articulation, and his armor and skirt do not hinder movement at all.  His ankles feel a little stiffer than most, and it feels like there is less forward-and-backward movement than most MOTUC figures.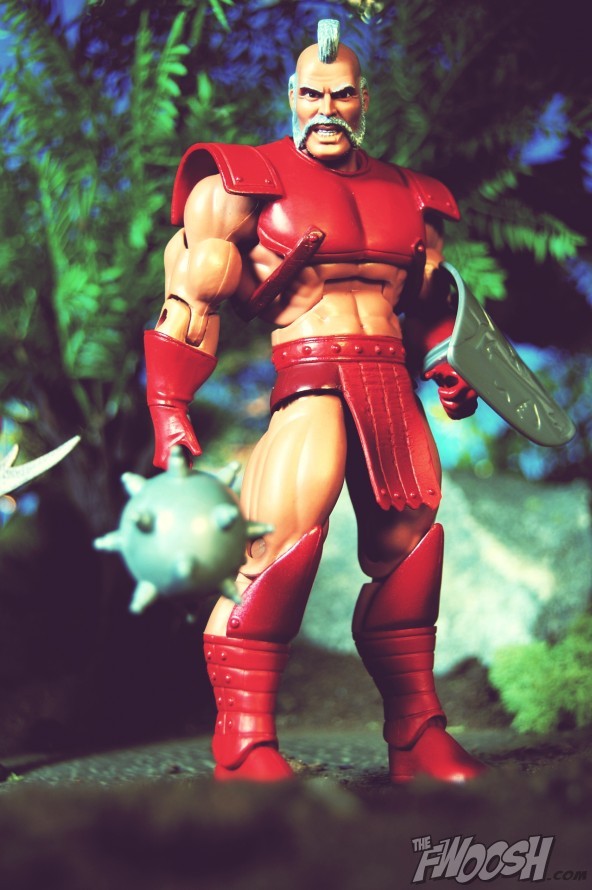 Paint
Geldor has nice paint with three different shades of red (including metallic!) on his armor and skirt.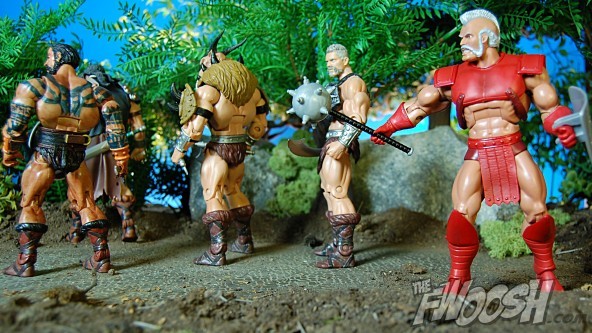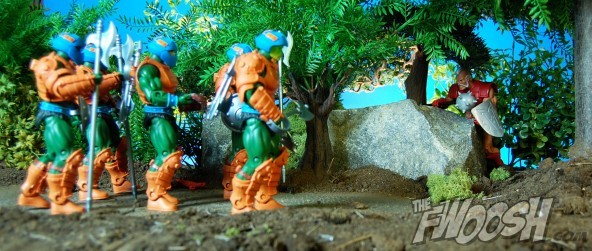 I do wonder if Geldor could have been improved with the addition of another contrasting color.  His all-red color scheme is a bit samey, but that's the design, so I'm not sure how much tinkering they should do with these translations.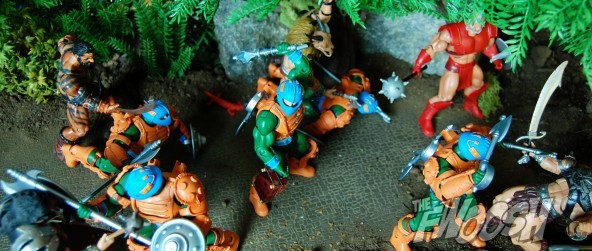 Overall
Overall, Geldor turned out really cool for a character I was not all that excited about.  He's a fun figure to play with and it's good to get more mini-comics character reprsented in Classics.  The funny thing about that is he almost has a Filmation-design vibe to me.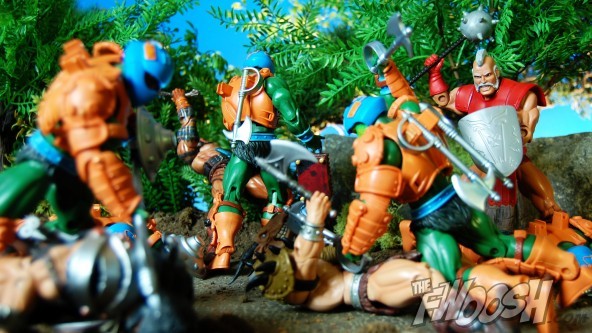 The armor design is a bit plain, but I like the standard nature of it.  It's a nice, basic warrior design that screams '80s fantasy, especially with the Mohawk/beard combo.  I also like that they are building up the universe and adding lots of these oddball independent villains.  It just serves to make Eternia seem like that much more of a dangerous place.
Previous Features: