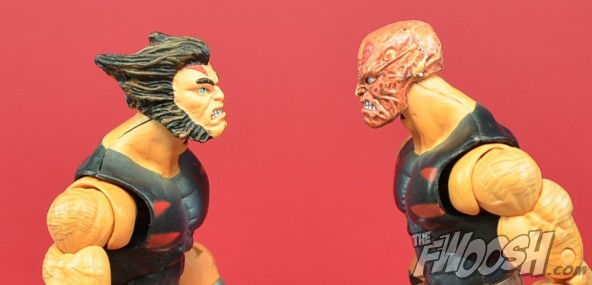 Whew, we have made our way through a TON of Wolverine figures this week, haven't we? There just was not enough time to get to them all, but we will eventually get around to filling out the rest, just after the new Wolverine movie hits. Since the Age of Apocalypse storyline was set in the future, I thought this figure would be a good one to end the week, even though it has been awhile since I actually played around with it. While the AoA storyline is certainly not my favorite, Wolverine had an interesting look for the story and that has translated into a pretty interesting action figure as well
Toy Biz was never shy about making Wolverine figures (he certainly had the most representation in the line while they were producing it) but they were good about giving us varied looks across diverse storylines. So, when the Giant Man series came to Wal-Mart exclusively, we actually got  TWO versions of Wolverine from the AoA storyline: regular and "extra crispy." Let's take a quick look at both.
Even though I am not a huge fan of the AoA story line, I know when a figure is a good representation of the source material, and the AoA Wolvies certainly qualify as such. In fact, I actually really like the head sculpt on the standard figure as I think that it captures Wolverine's personality very well. He is, of course, gnashing his teeth, but the paint details really bring out a lot in the sculpt and are, for the most part, very clean. The alternate "burned" head is just as detailed, but kind of gross. I realize that it was seminal moment from the story, but I am not quite sure if a variant was really needed for this figure, but there is no real use crying over milk that spilled a long time ago.
The body is pretty basic, but fitting for Wolverine, especially in stature. It is much shorter than most Marvel Legends sculpts, but it retains all of the basic articulation of a Toy Biz figure. The sculpt itself is pretty smooth with all of the rather sparse costume details represented in paint rather than sculpt. This costume doesn't really rank in the realm of exciting Wolverine outfits, but that is not the fault of the figure. Sometimes it is nice to have a basic figure that can just pose well, and you can certainly get that from this figure. That is, if all of the joints have not gone floppy.
One of the unique aspects of AoA Wolverine is that he is actually missing a hand so on the standard figure, you get a stump on the left side. The variant has claw protrusions, so if you want the regular amount of berserker rage,  you will have to sacrifice Logan's good looks. I tried to straighten out the claws on both figures for this photo shoot, but as I am sure you are aware, they are pretty floppy.
Yeah, there are better Wolverine figures out there, but the Age of Apocalypse version is certainly serviceable and it does boast a couple of well-sculpted and detailed heads. I had to dig these out of a bin as they have not been displayed in a long time, but it was fun getting reacquainted with them.
Additional Links