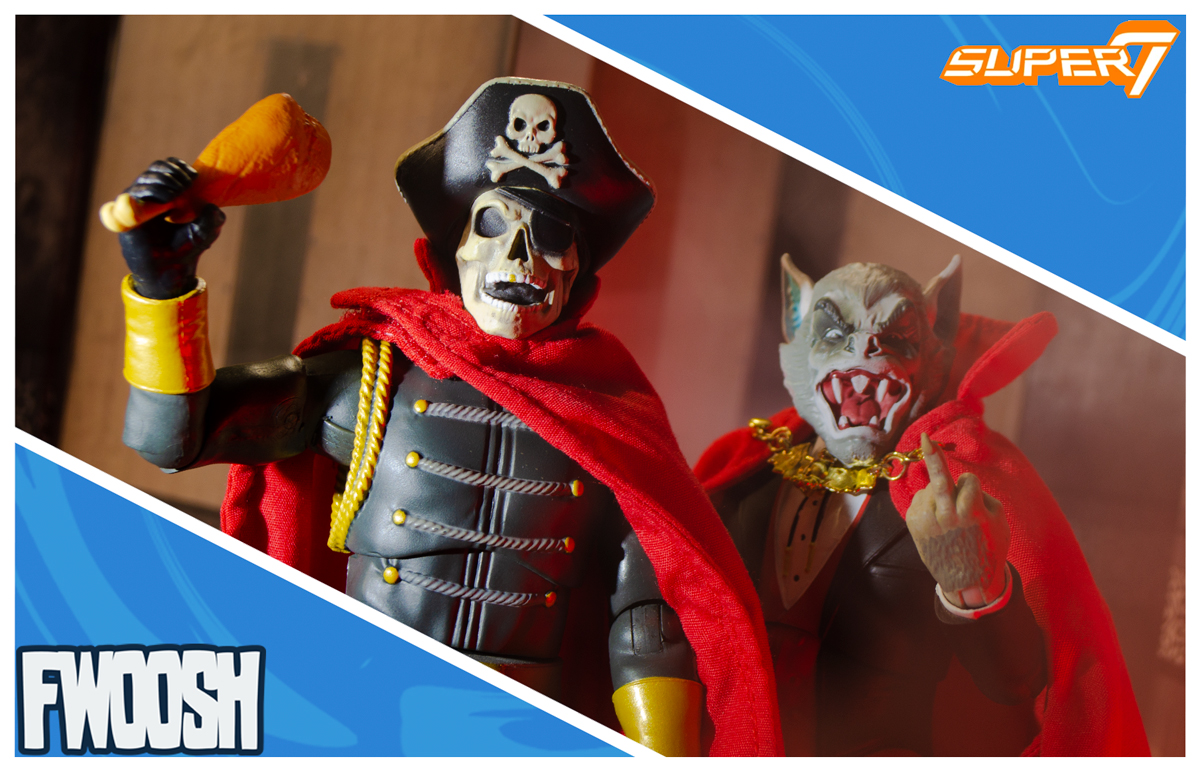 Halloween might be just a memory now, but we are keeping the spookiness going. The first series of Super7's own property is getting ready to ship, and these there are good guys, bad guys, and some are well, just… The Worst!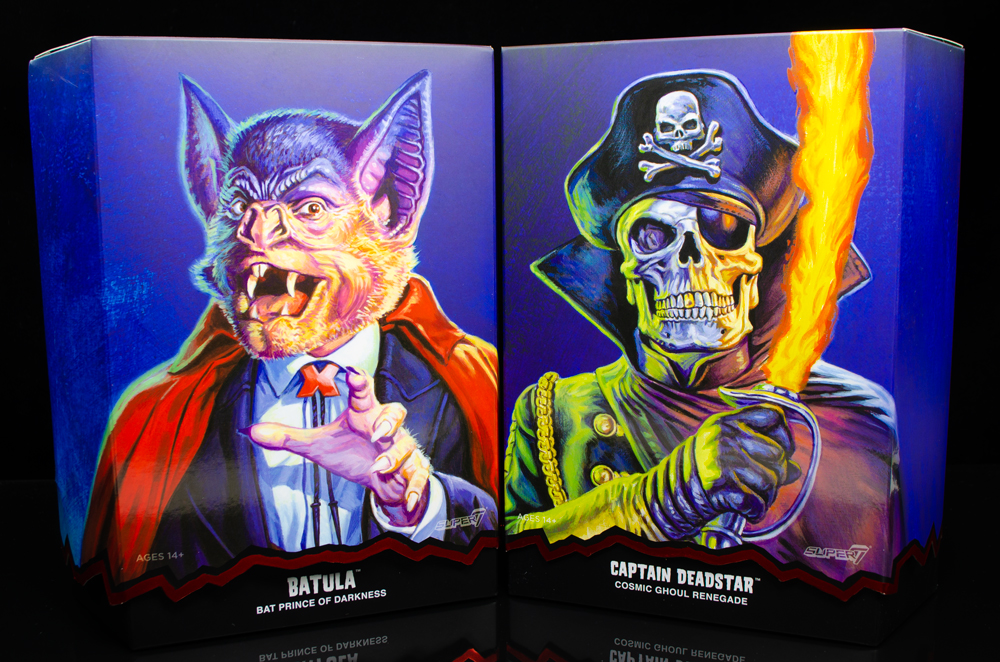 Super7 originally unveiled their cadre of ne'er-do-wells a few years ago via the ReAction line, but now Captain Deadstar and Batula lead the pack into ULTIMATES! Don't get me wrong, the ReAction figures are a lot of fun, and many of the colorful characters have gotten several color ways and glow-in-the-dark releases, but the ULTIMATES! format was really going to be the way to get a lot of the details, personality, and accessories out there in a modern format.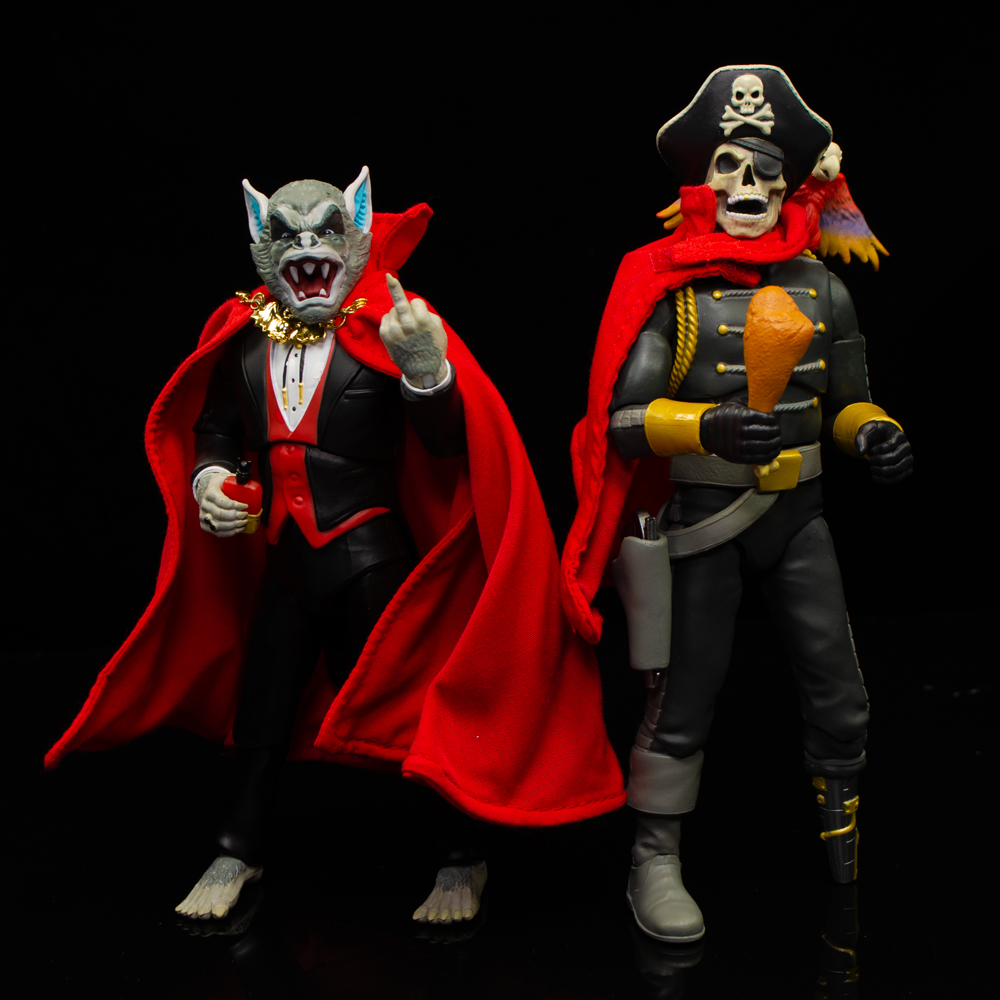 I have been excited about this line kicking off because I think the characters and designs are great, and with this format being my bread and butter, it is fun to have these exist alongside lines like TMNT, Toxic Crusaders, and ThunderCats. I have had a few instances to talk to Brian and the team at Super7 about the stories and mythos of The Worst, and the combination of classic horror iconography with humor and several other elements sprinkled in, it makes for a fun world. The designs are diverse for sure, so as we move along into more ULTIMATES! assortments, it shows there is probably something for everyone.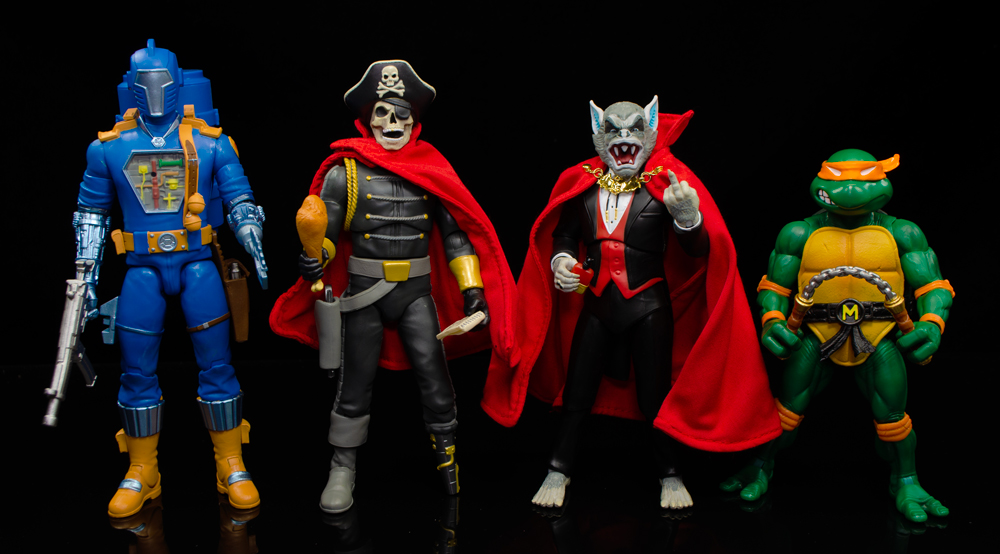 Batula and Captain Deadstar both bring elements that feel familiar, but presented and combined in a fun new way. Don't get me wrong, I love my nostalgia lines, but this is a new property that is fun, so it can do a lot in this ULTIMATES! format. So far, the characters seem to be popular in the collector community, so hopefully that means we will get a robust line for U!, as some of my favorites are still outstanding. This first series brings a lot of the strengths of ULTIMATES! to these characters, but there are some nits to pick as well.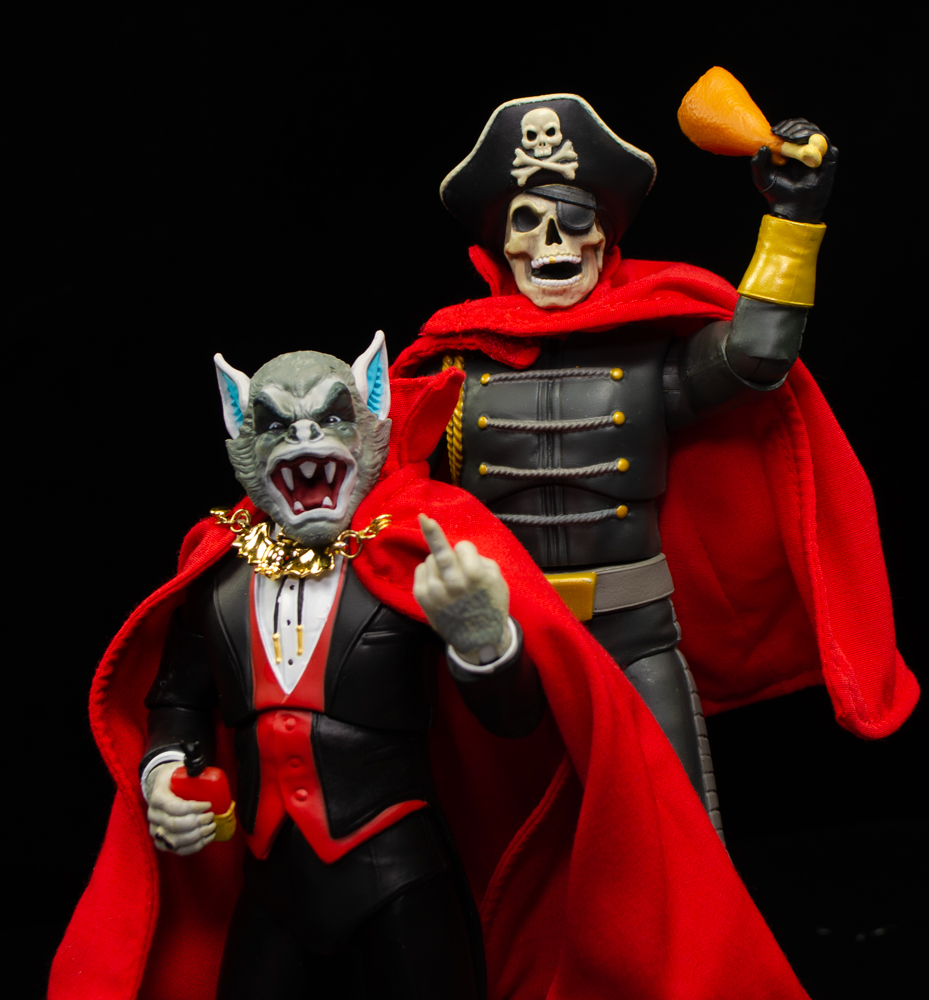 Of these first two characters, I think the concept of Batula appeals to me more/makes me laugh, but it is a close call. In figure form, Captain Deadstar is my favorite for sure though, and his design really enjoys the added detail and accessories that ULTIMATES! brings. Batula carries a lot winks to the foibles of vampires, but Deadstar has skeletons, pirates, outer space elements all rolled into one. Let's take a look.
CAPTAIN DEADSTAR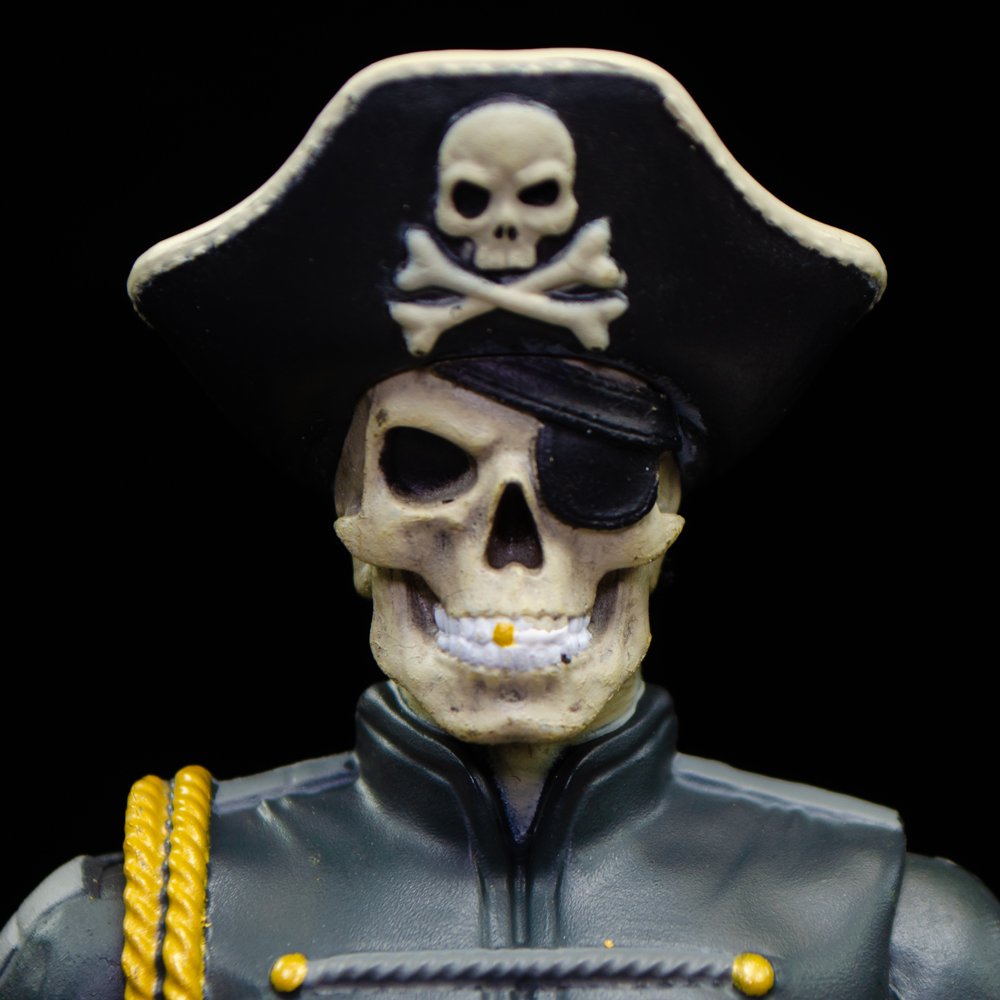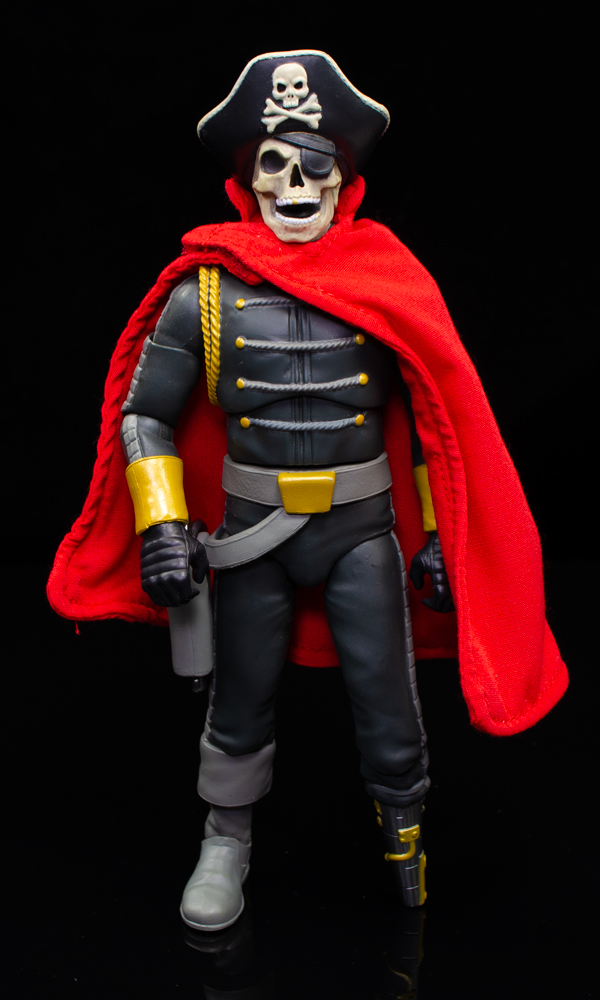 The skeleton pirate with an undead parrot should tell you a lot about what The Worst is. A captain with proper regalia (and a very nice wired cloth cape), there is a lot going on with this figure. It starts with three interchangeable heads: the standard skull with eyepatch, the "yelling" skull with eyepatch, then a head sans eyepatch that reveals that it has been hiding a function and robotic eye the whole time. That is the tongue-in-cheek storytelling that is present throughout these figures.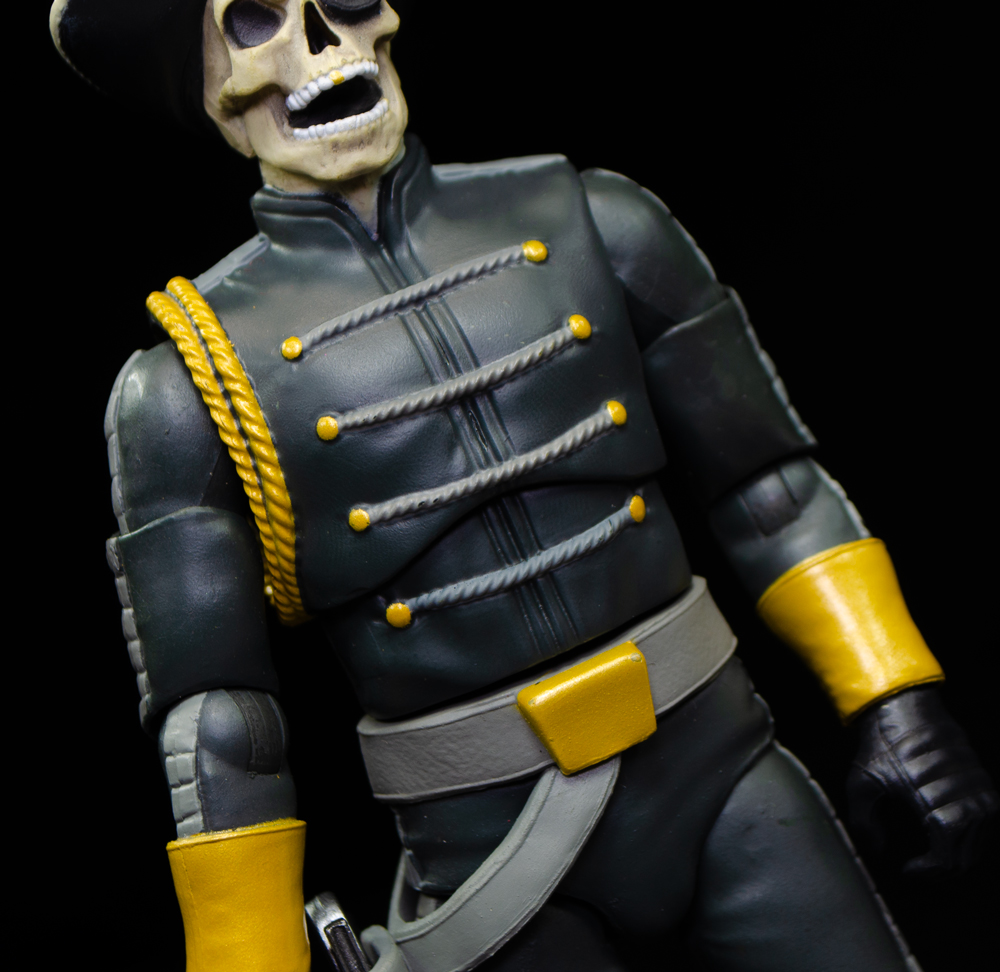 His costume is actually pretty straightforward in terms of having elements of classic military regalia, but again, that is turned on its ear with the cybernetic peg leg. I think that is a good call, because it lets all the other elements stand out. The red softgoods cape adds a pop of color, and I like it a lot, but it makes it pretty difficult to mount the parrot on the shoulder while he is wearing it.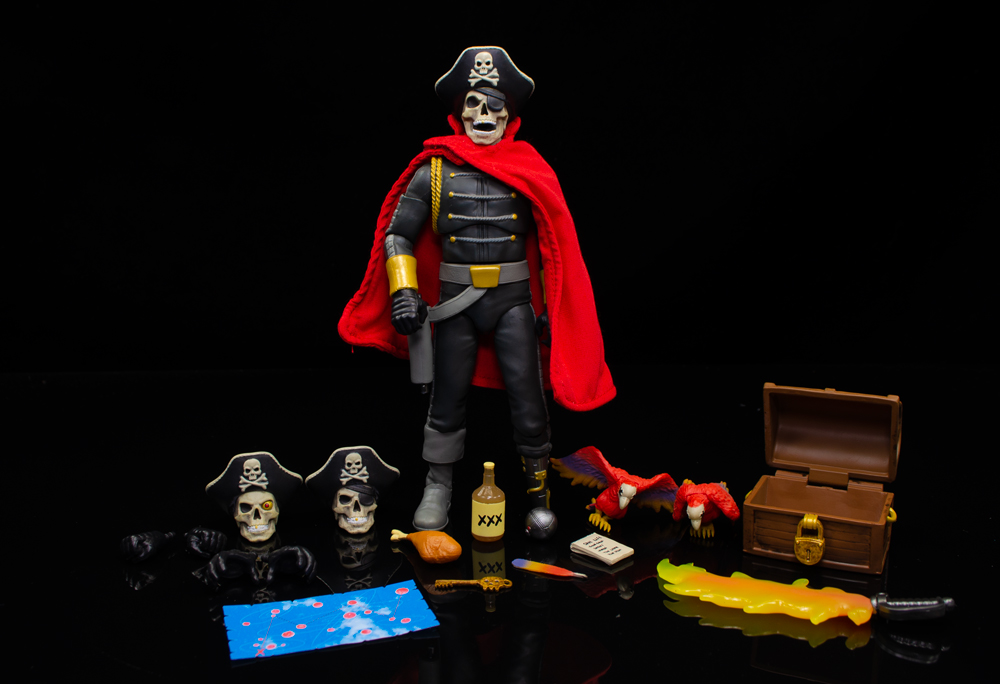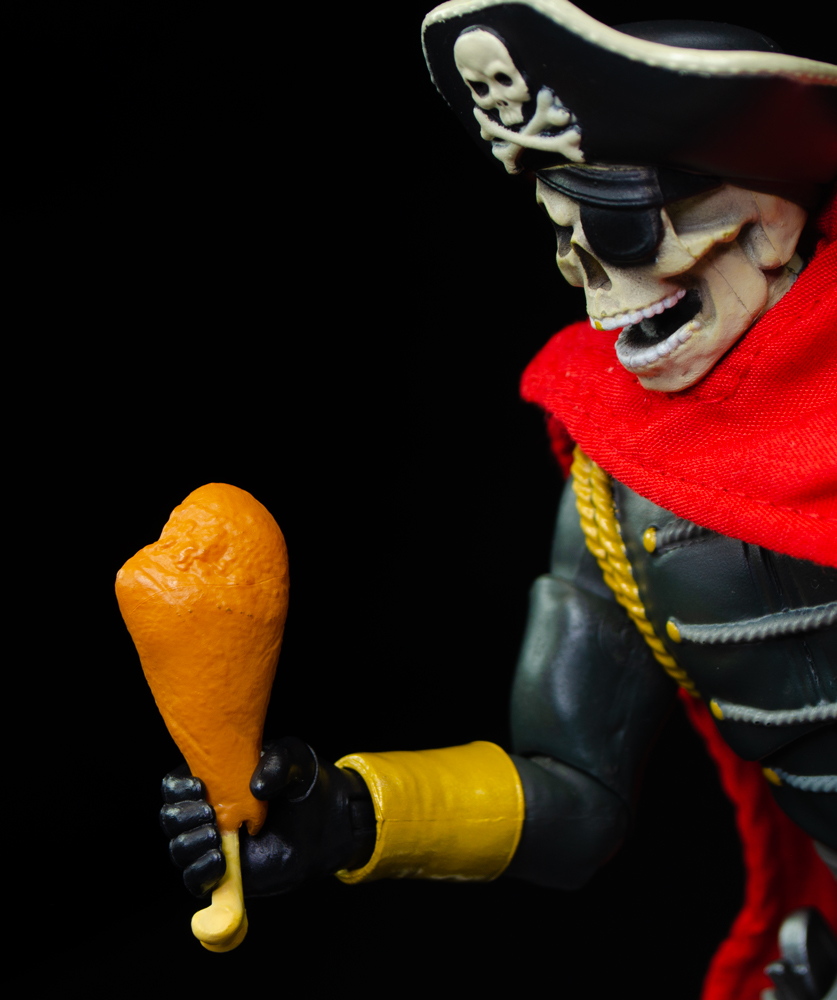 Speaking of the zombie parrot, there are two version included in this release: one casually perched, and one with extended wings. Both sit on the shoulder just fine (via a peg), but it gets crowded with the cape. Also included are an intergalactic map (made of paper), and treasure chest with key, a pistol, flaming sword, a bottle of booze, a bomb (totally NOT a thermal detonator), turkey leg, a quill, and "shit list" that is populated by names that are really in for it.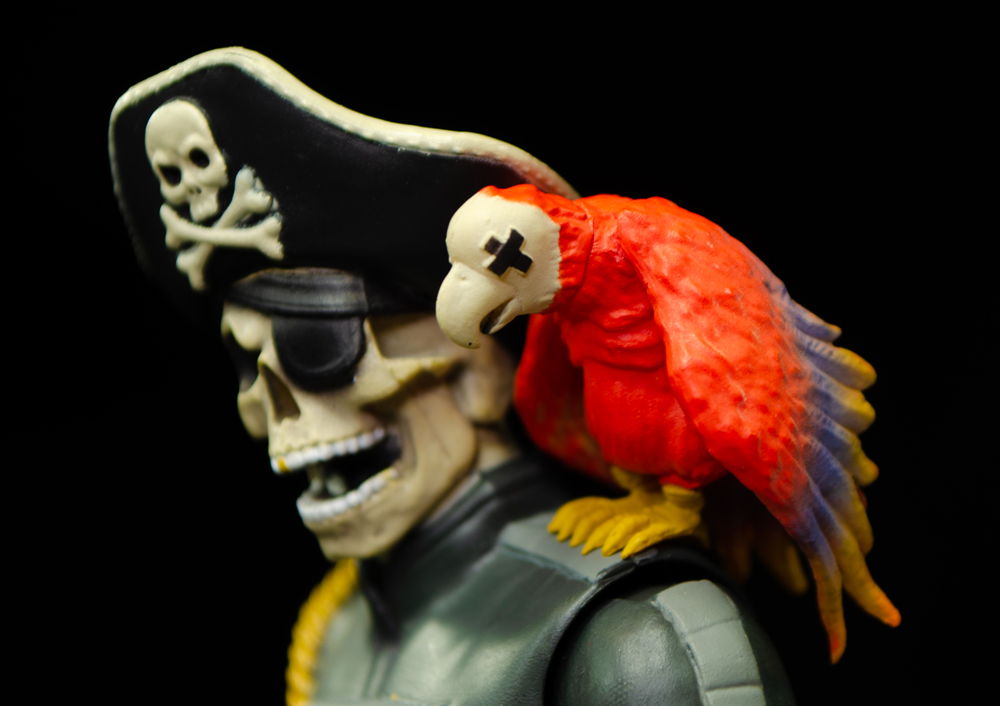 There are swappable hands that can hold the pistol, sword, turkey leg, and list, and wider grips for the bomb and booze, but I REALLY with there was a hand that could hold the quill and key in convincing manner. I would have been fine foregoing the fists to make that possible. That said, the display options are many, so it is a lot of fun to get the set-up you like the best.
BATULA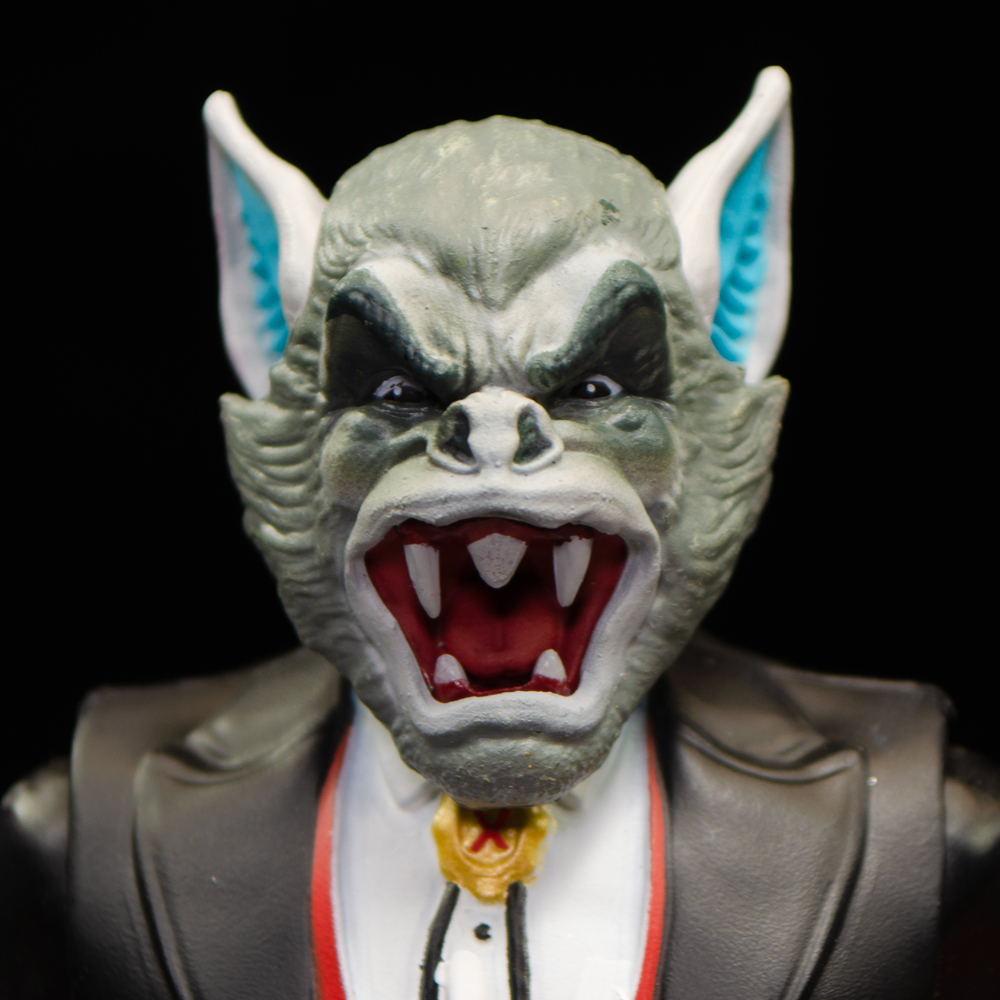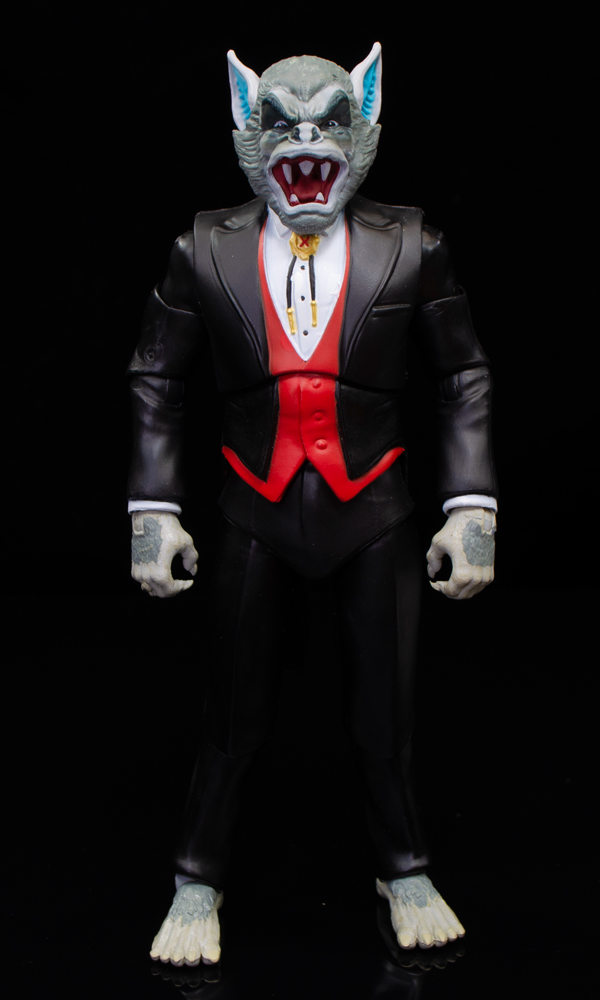 On the surface, Batula simply takes the two forms of a vampire and puts them together at the same time. He has the form of the "human" but is well, a bat man. The classic Transylvanian suit and cloak adorn the furry body of a bat that never really transformed fully into that suave human visage. So to me, Batula is likely a curmudgeon with a cranky (but funny) personality, and I love how the accessories support that. The final sculpt on this figure is a little softer than the original digital renders (and Captain Deadstar for that matter), but overall it is still nice.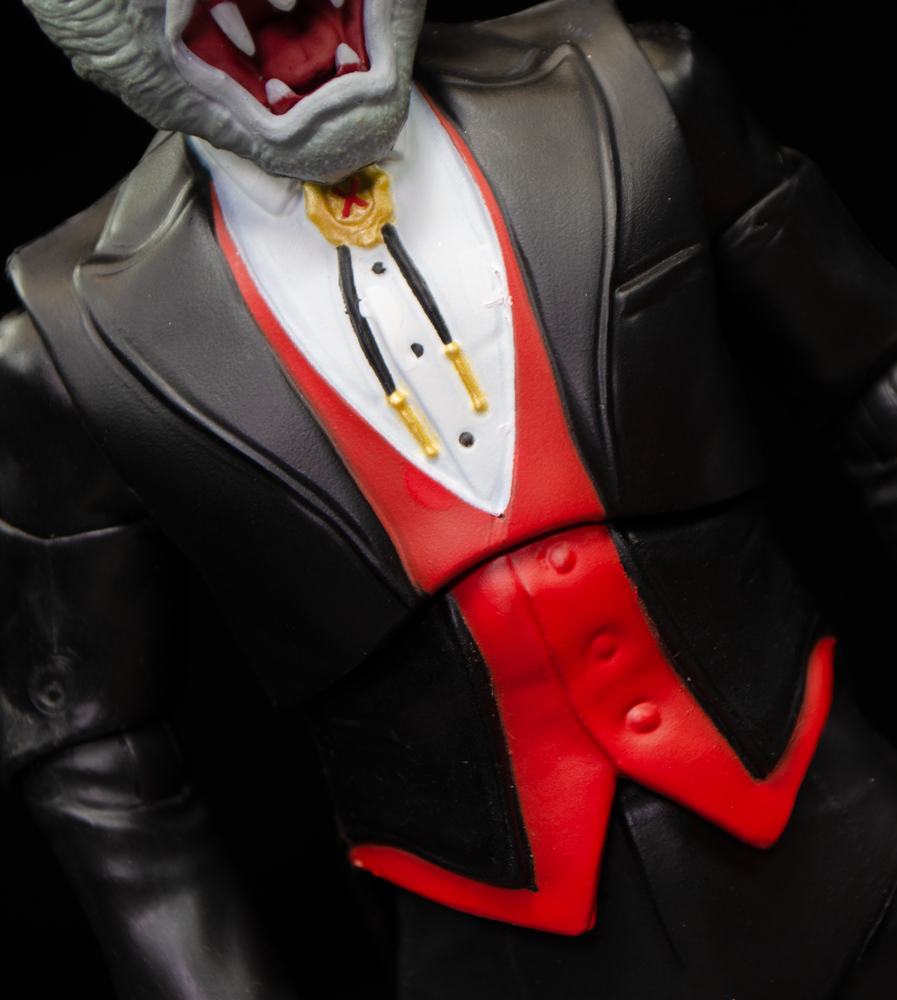 The three swappable heads have varying degrees of success for me. The one I call the standard (open mouth) is perfectly fine, but the one with the over the regular glasses sunglasses is really my favorite. This is the "I can't f&%$ing believe I have to go out in the sun" head, and it makes me cackle. The blood-stained face is fine, but the red paint application is a little generic, and the color could have been darker to be more convincing.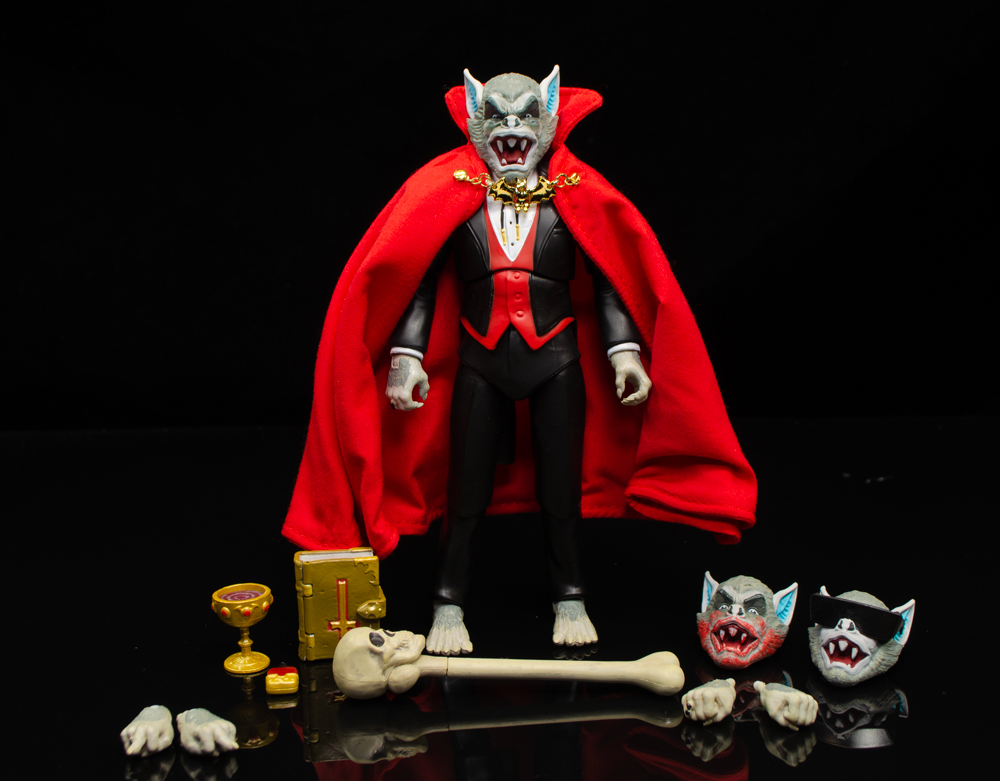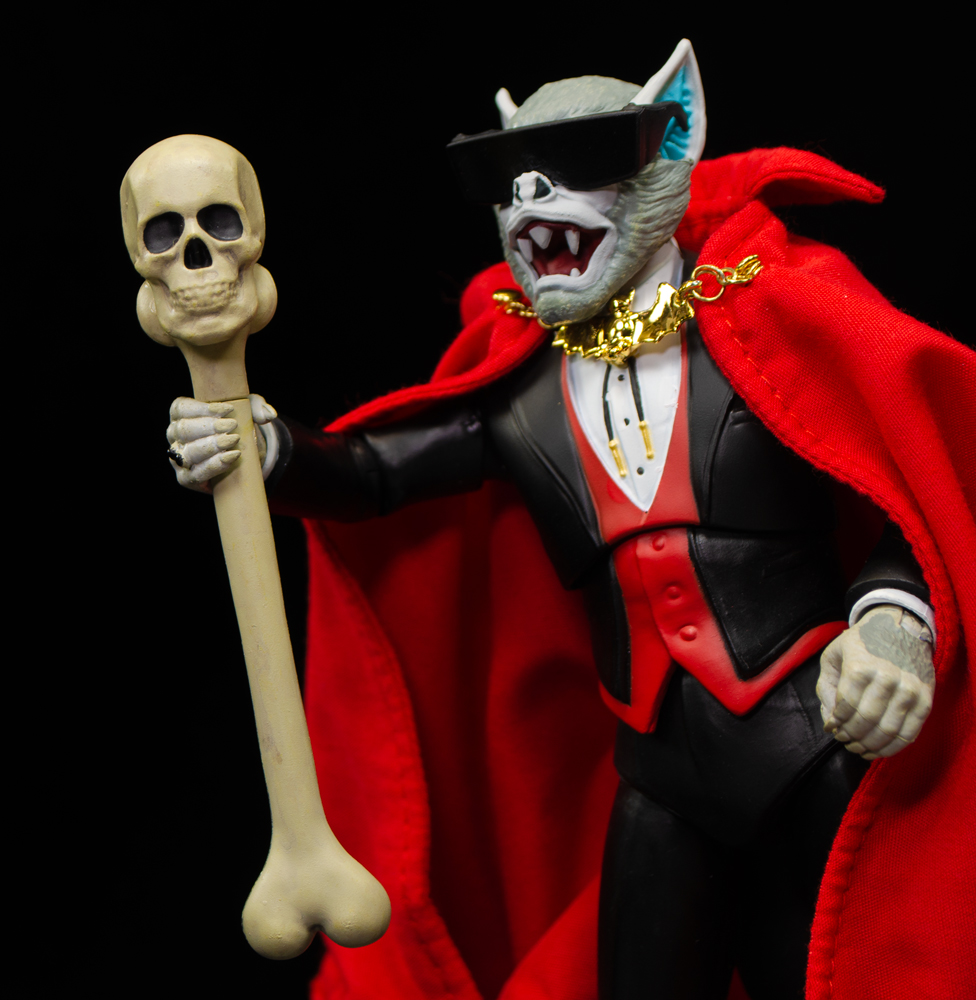 The softgoods cape (again, wired) is quite nice, and the gold bat chain clasp is swanky and self-indulgent, as it should be. He also has a bone cane with a skull topper that hides a sword, a bottle of blood, a book that opens to hide the bottle of blood, and a chalice (also filled with blood). Then there are the alternate hands. Now, some of them a strictly utilitarian in nature, a means to hold the accessories, however, he comes two double-bird hands so he can give the finger to one and all because it is kind of a pain to be a vampire and Batula isn't interested in any of your s#$%.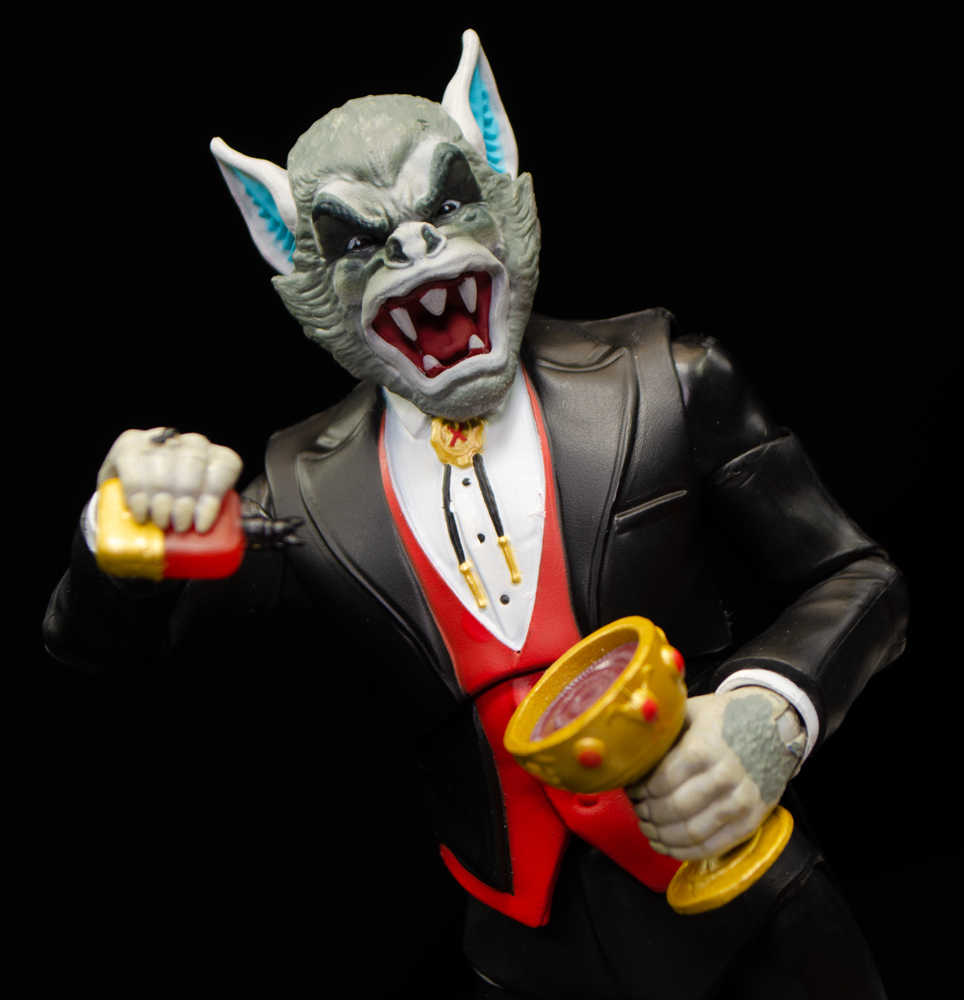 So, as you can see, there are a lot of positives. However, the are some issues here that affect both of these figures pretty much the same way, and that is joint stability and useful articulation. The ankles and wrists give me TMNT 5 vibes, and checking the legal line, yep – these were produced in Vietnam. The joint quality issues make it so Batula kind of has to stand in an awkward pose to get good balance (the ankles are at fault), and you REALLY have to make sure you have your balance going with Deadstar because the ankle on the right foot should be stronger to help support the peg leg. Additionally, the wrists on both figures turn too easily, so holding some of the heavier accessories can be frustrating. Both of these figures feel a bit stiffer than most ULTIMATES! figures as well, as in – the range of movement just isn't great.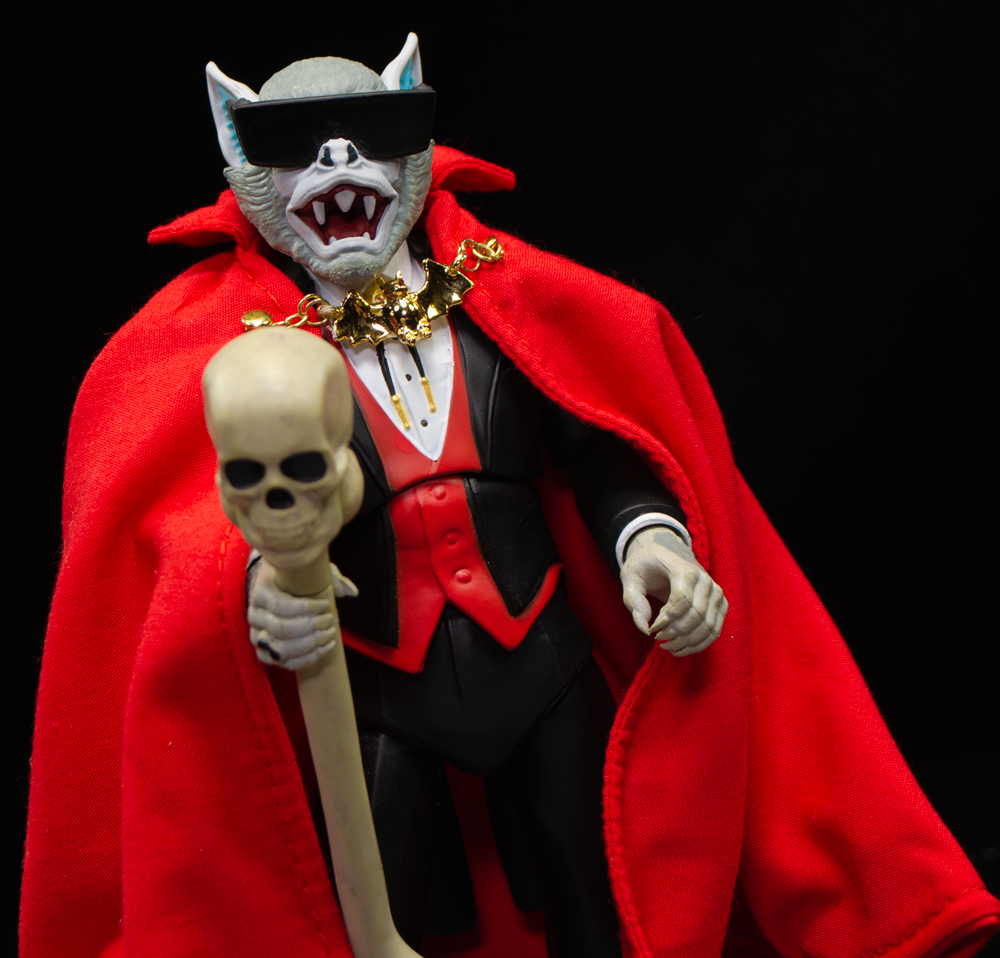 I have said it before: I REALLY hope that Super7 works tirelessly to get these joint quality issues in order. To be fair, it does not affect every figure, or even every series, but it pops up enough that it needs to be a focus going forward without question. If these issues can be put to rest, it would move a lot of figures from good/okay to great, and there are a lot of other strengths that those should be celebrated and not lost in the shadows of lingering issues.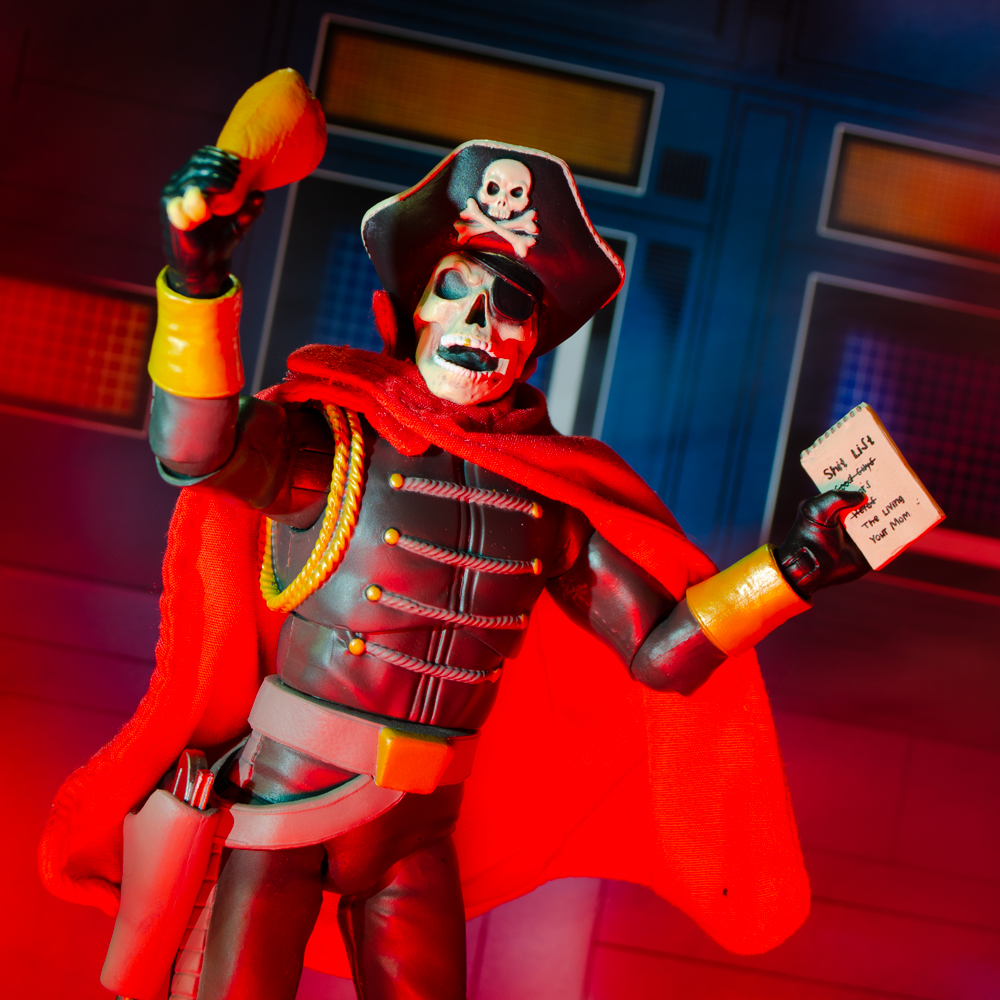 Despite some flaws, these are still fun figures, and I am looking forward to the concept continuing in ULTIMATES! There is already a second series in the works, and it feels like we might be due for another pre-order soon. If the articulation issues can be worked out, these will make for some really fun figures, and the other character designs are just waiting to be fleshed out in this format. You can still order Batula and Captain Deadstar from BBTS, so go get them – they will be shipping soon.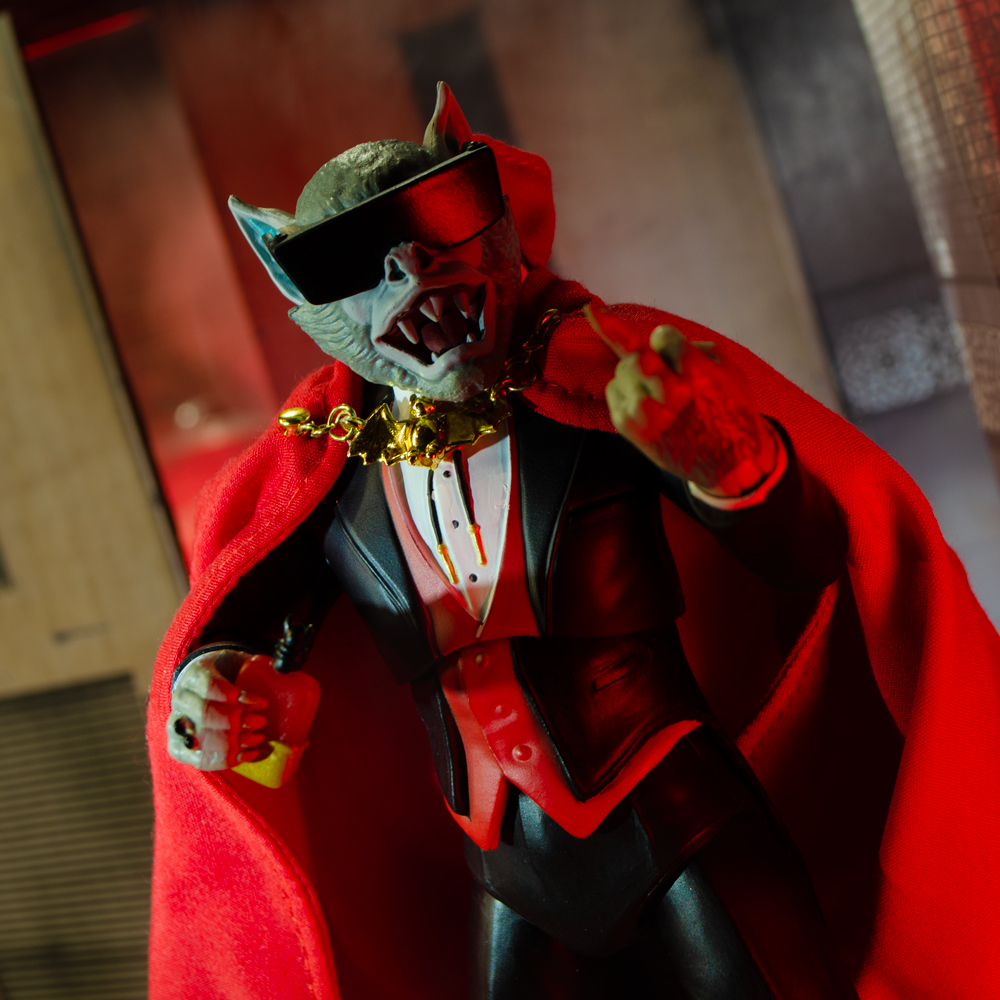 *Thanks to Super7 for sending these along for an early look.
About Post Author