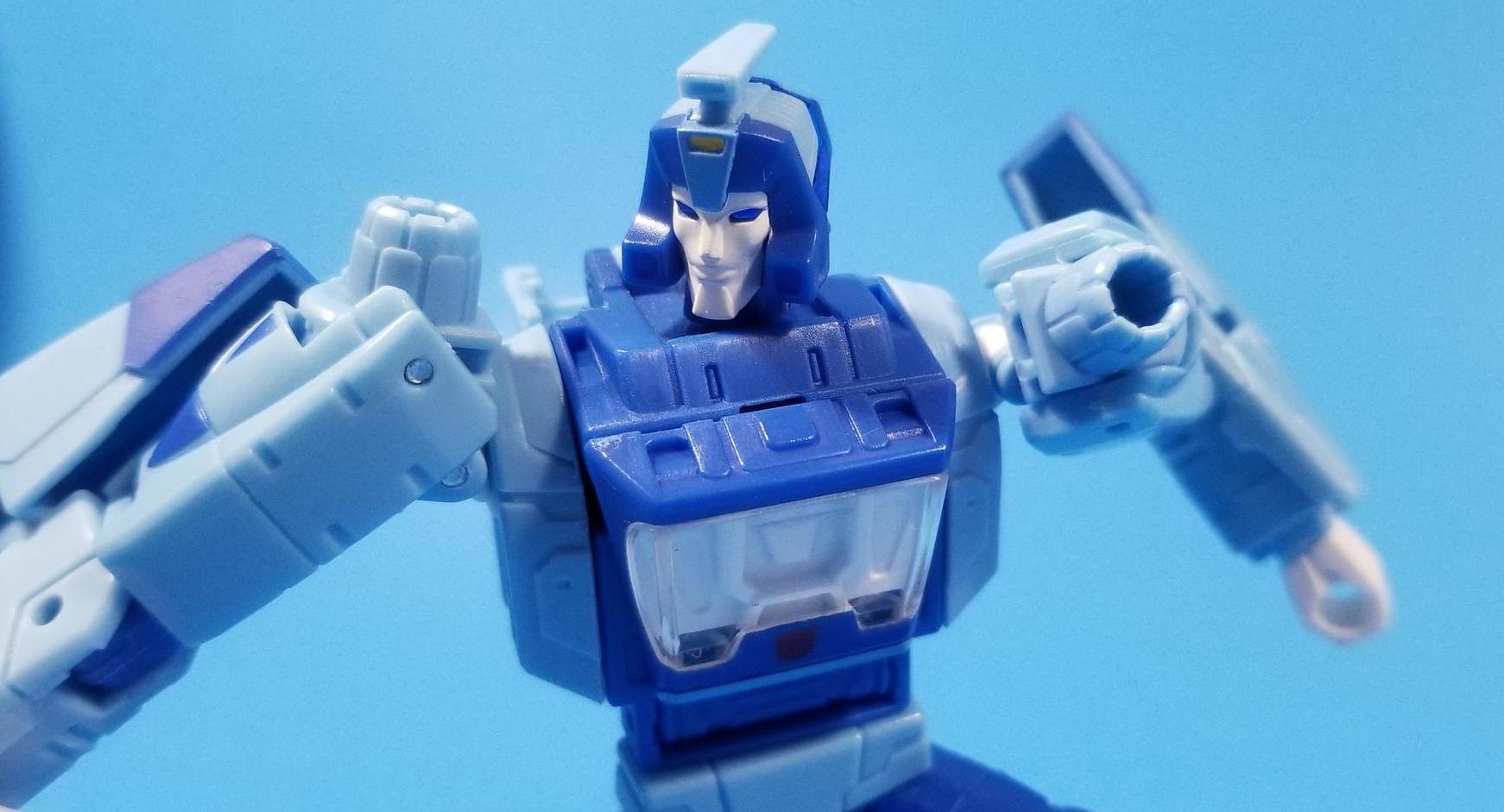 I've been super happy with the figures released so far from the Transformers Siege/Earthrise/Kingdom lines. In just a few short years, the lines have allowed me to put together a cohesive, well made generation one collection that looks great together. The Studio Series 86 line has also been full of some great figures, a couple of them have even moved to the top of my very favorite Transformers figures ever. Blurr while maybe not as great as that, is still a nice addition to my overall Transformers collection.
His packaging is the standard Series 86 look. Nice big opening to see what you're getting and some cool unique artwork of the character on each side along with the 86 logo. The Transformers The Movie logo is on the top of the package like on all the Series 86 releases. Also like the other Series 86 releases Blurr comes with a unique pull out background display. His is of Autobot city with the huge opening battle scene going on in the background. It's a cool little extra if you're into using them in your display.
The figure itself is spot on as Blurr and they did a really nice job of getting his look right from the film. His build is right and he has the body frame of what a runner would have. Slim, sleek, and very streamlined. He basically looks like the fastest Autobot would look like. His color pallet matches his movie look as well. The one knock I have on him are his big openings under his hands where the front of his car sides flip around behind his arms.
He comes with two accessories. His blaster and his welder attachment that he used to fix the ship in the movie. Both accessories have pegs that fit into the open holes in his hand snuggly. The gun also can be used in car mode and fits right under his hood.
Blurr is articulated well enough that he can get into some cool poses that a super fast Autobot messenger would attempt. His elbows and knees both get to a 90 degree bend to allow for a running pose. His upper legs rotate on a peg that acts as a hip swivel, and his elbows rotate the same way as well. His feet swivel to act as rocker ankles and his head can swivel and get a little up and down movement. It's not a true ball joint but it does have some tilting movement.
His alt mode is pretty perfect. It's no doubt his futuristic car look from the film, and is a very simple Transformation. It's possibly the easiest yet from the current lines. This is one where no instructions are needed. Everything snaps together nice and tight, and you really can't see much of his robot mode at all once he's transformed.
His head sculpt is one of the strong points of the figure as they nailed his smirk, as he just knows he's going to do everything you just did, but way faster. And better.
All in all Blurr is a solid pick up for the collection. He scales great with the other '86 figs, as well as the other trilogy lines too. The Studio Series line has been amazing and I hope they continue to pump a few more out. I could use some Junkions, the rest of the Dinobots, and as crazy as this sounds because I love the current one, but maybe even an even greater Springer?
If you're collecting the current trilogy lines, or are a fan of the 86 Transformers movie this is a must add to your collection. You can grab him at Dorkside Toys right now. But you better hurry. He moves fast.