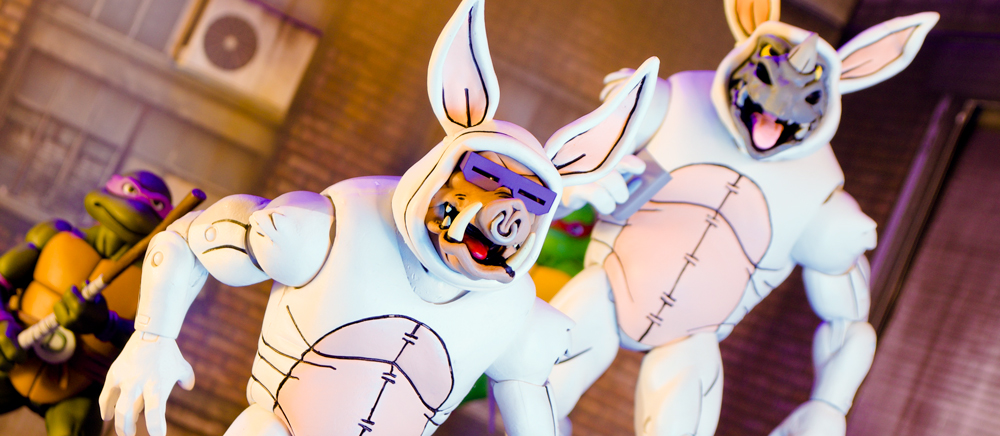 Rocksteady and Bebop in bunny suits. ROCKSTEADY AND BEBOP IN BUNNY SUITS!!!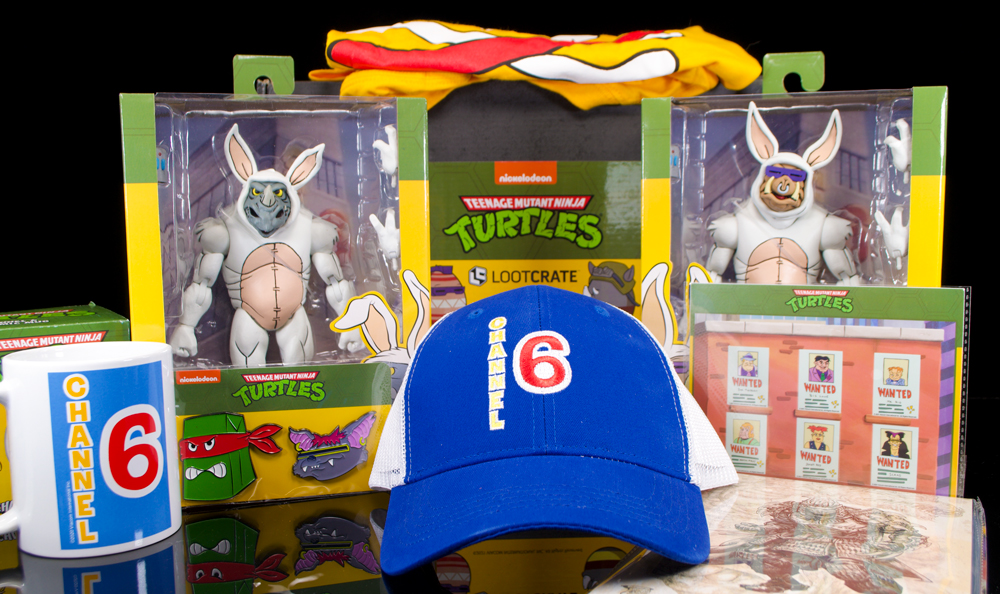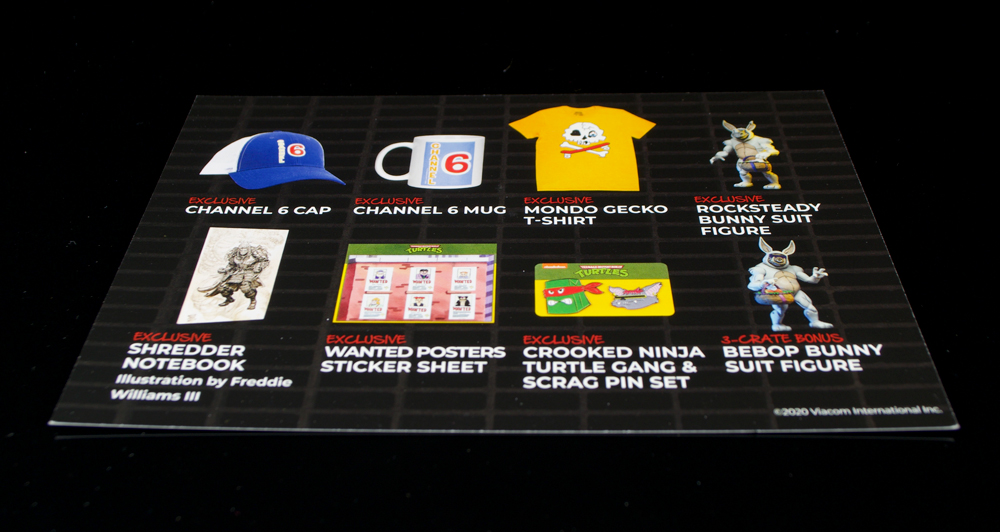 Unless you have not come out of your shell in past several months, you know that NECA is putting together a really impressive Teenage Mutant Ninja Turtles action figure collection. They are covering everything from comics to video games in impressive style, but their current crown jewel might just be the cartoon line. They are offering up new characters and releases at break-neck speed, and it is pretty amazing how much of this collection has grown over the past year or so. With staples like the Turtles, as well as fan-favorites like Zarax and Zork, everything seems to be on the table from the cartoon, so we have been conditioned to expect the unexpected.
However, I don't any of us were really prepared for the fact that we would have these two figures in our collections, especially this early on. The TMNT Loot Crate program has been a fun way to add new figures and various merch, and despite some delays, it has become an avenue for things that would likely never see the light of day at retail. Well, the final crate of the first subscription gives that design a "hold my beer" moment because we now have Bunny Suit Rocksteady and Bebop to make our displays even more delightfully zany. I get it, these are perfect for the crate because this variation is not essential, but man, the hilarity of this deep cut surpasses my original expectations for sure.
Based off of their appearance in the not-so-classic cartoon episode "The Turtles and the Hare," Bebop and Rocksteady use Krang's new docilizer to face the Turtles and their new ally Hokum Hare. If you are a hardcore TMNT cartoon fan, this is one for the books, but past that, I think it is safe to say that these two new figures are best things we are ever gonna get that is directly related to that 22-minute misadventure. Now, just to backtrack, remember that Rocksteady is actually the figure exclusive for this third crate and Bebop is only shipping to those who ordered all three crates at the beginning of last year as an added bonus. So, if you care about that kind of thing, Bebop likely stands to be the figure with the lowest production run of the line thus far.
I mean, I don't know how else to describe these figures other than saying the obvious, this is Rock and Bop in bunny suit. As far as I am concerned, that is action figure heaven for the sheer craziness of it, but nothing about these figures was dismissed or taken lightly in terms of their design and realization. Utilizing some parts from the previous B&R figures, these two are the same from one to the next in everything but their heads, and the color swap on their Easter baskets. That is okay though, it matches the designs from the show, and their looks have been wonderfully realized in relation to that source material.
Sure, parts of the legs and arms are reused, but the bodies are appropriately new, along with the feet, as could be expected, but they even have new shoulders to give you the little tufts of fur that accent them. I love their potbellies, and the tails are absolutely wonderful, too. The hands are carryovers, too, but no detail was left off as the open hands have the pink dots painted on the palms. I love the feet as well, and while they are source accurate, they are nice and wide to add more stability for posing than the previous B&R releases. My only gripe about the construction of these two is that they use older style hips and not the superior update from the Triceretons. This makes them feel a bit more limited for range of movement, but it is nothing terrible.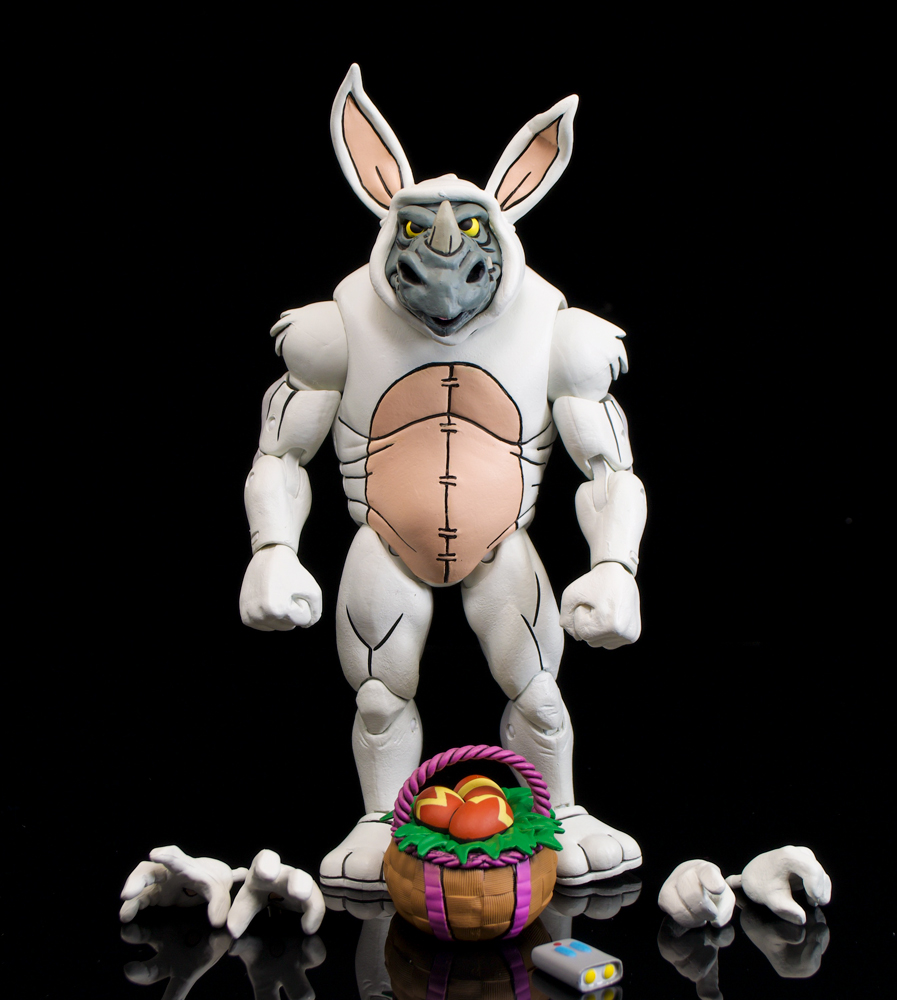 Now, the heads on these figure are obviously different, but they are actually MORE different than what I expected. Sure, you get wonderful likeness to Shredder's hideous henchmen, but I just assumed the bunny hoods and ears would be common between the two. They are not, however, and that slight variance may seem like a small thing, but it does add to the uniqueness between the two, so I really appreciate it. As mentioned above, both figures come with their requisite Easter baskets as well, and those have been given the appropriate color swaps to the source. I personally prefer Bebop's more diverse egg colors, but the sculpting and detail work on the baskets themselves is really nice all around.
I would be remiss in not mentioning the rest of the crate as well, as I am really enjoying the items. Frankly, this might be the best one yet, or at least tied with the comic crate. The Mondo Gecko t-shirt is absolute perfection, but the Channel 6 hat and mug are pretty amazing, too – and timely with Vernon's release in the mainline. Getting Scrag in any form is a win for me, and he gets double treatment with a new pin (along with a Crooked Ninja Turtle Gang member), and on the "Most Wanted" sticker sheet. You better believe I am saving those to plaster on my new TMNT Street Scene when it is released!
This is such a fun way to wrap what I hope was a successful first year of the TMNT x Loot Crate collab. Having a figure in each crate really sells the sizzle, but most of the extras have been a lot of fun, too. NECA has already confirmed that the partnership will continue this year, so I hope we see what is on-deck for 2021 soon. In the meantime, I am having a ball with Bunny Suit Bebop and Rocksteady. They are wacky and fun, and they REALLY have me thinking about how NECA can one-up themselves with their crate character selections this year. FUN!