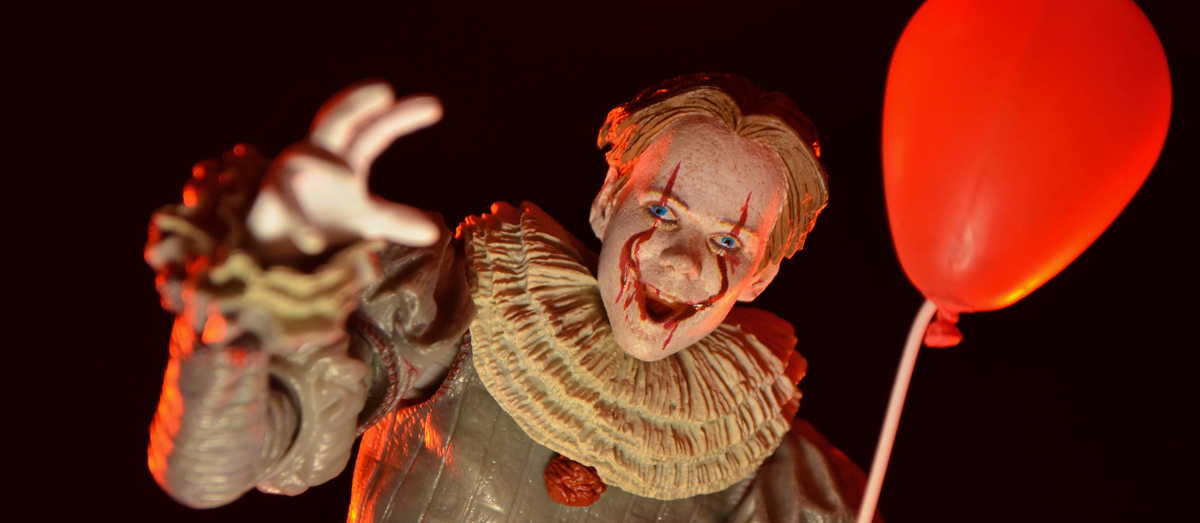 So, do we start this with a "beep, beep, Ritchie" or a "don'tcha want a balloon" or a "we all float down here" line from IT? I feel like I have probably overused all of them at this point, so instead of forcing myself to be more creative in this lead-in, I am just going to point out that I am lazy.
THANKFULLY, our friends at NECA are NOT lazy, and they have done some very wonderful action figure things for the IT property. Personally, I could not be more thrilled as I am a big fan of both the original TV mini-series and the two recent movies. Most of the figure representations have come from IT: Chapter 1, but NECA was not going to leave out the second part, and this new figure is starting to hit stores now. I was wondering what could be left to bring to figure form for old Pennywise after so many varied and awesome previous versions, but Chapter 2 delivered some fun/horrifying new twists, and NECA has capitalized on many of them with this set.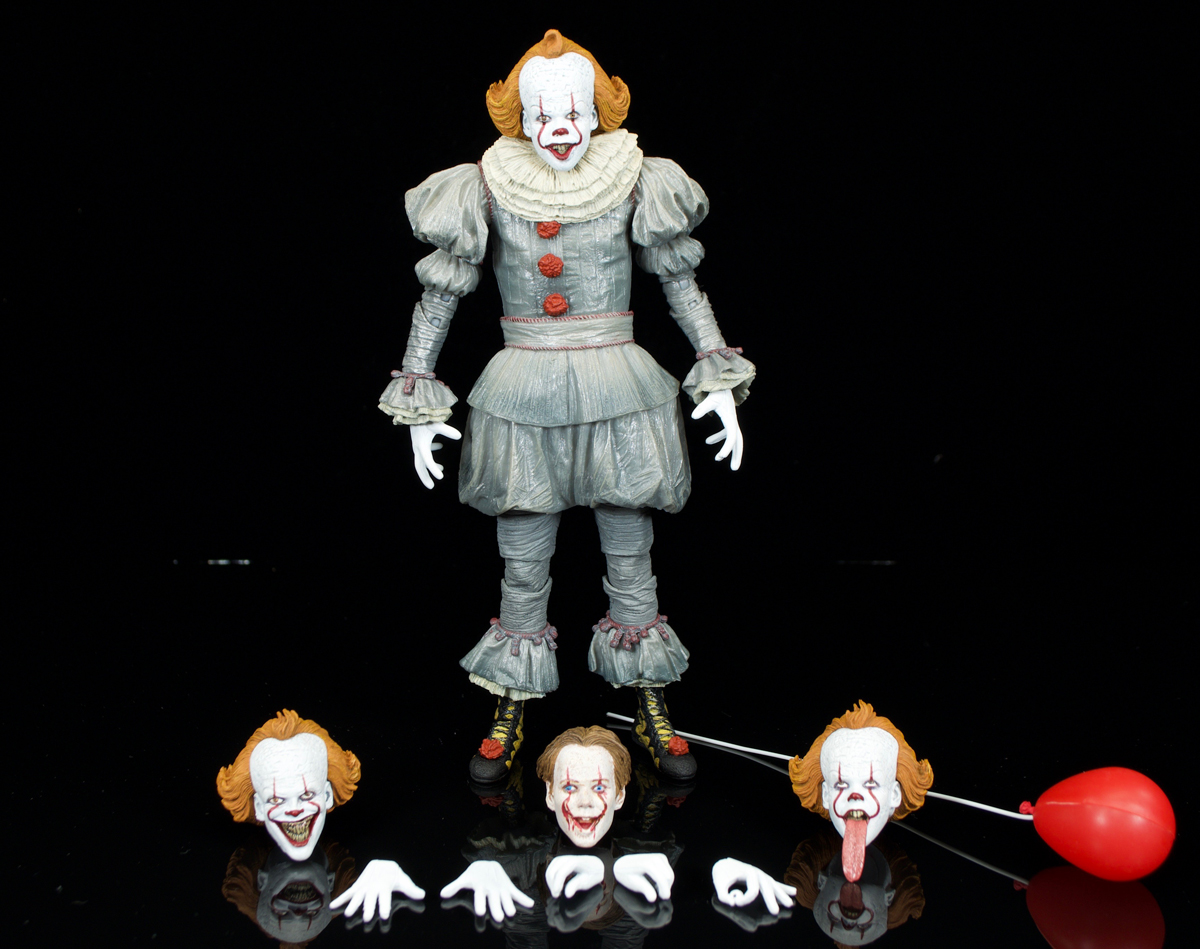 The good part about Pennywise's look in the second movie is that his "standard" look is not exactly what it was in the first movie. His hair is a lighter orange that before and styled ever so slightly different with a more rounded look to it. Plus, if you look at his face, there is a slightly more apparent to the actor Bill Skarsgard than what we saw before, and I don't just mean in the "make up" face included in this set. So, those subtle changes have been parlayed in the scary plastic accuracy with this release, and even if you are not into the alternate heads, your standard chapter two figure will still look noticeably different from the part one version.
So, not to take away from that "standard" portrait, because it really is lovely (in a terrifying clown kind of way" but the alternate heads are where it is at with this release, and they have really become the focal point of a lot of these figures. Aside from that regular head, you get a scary pissed off expression, a creepy-ass long tongue version, and a demented-looking Skarsgard head, which might just be my favorite of the lot. Sure, that tongue is gross and unnerving, and will probably be the most useful for ill-conceived toy photography (as seen herein), but that "human" head is so much different from any other look we have gotten before that it will likely become my default version for display on the shelf with this figure. Plus the face printing technology that NECA is now using for some releases really strengthen's the likenesses in this release, and especially on this particular head. At any rate, you cannot go wrong with any of them.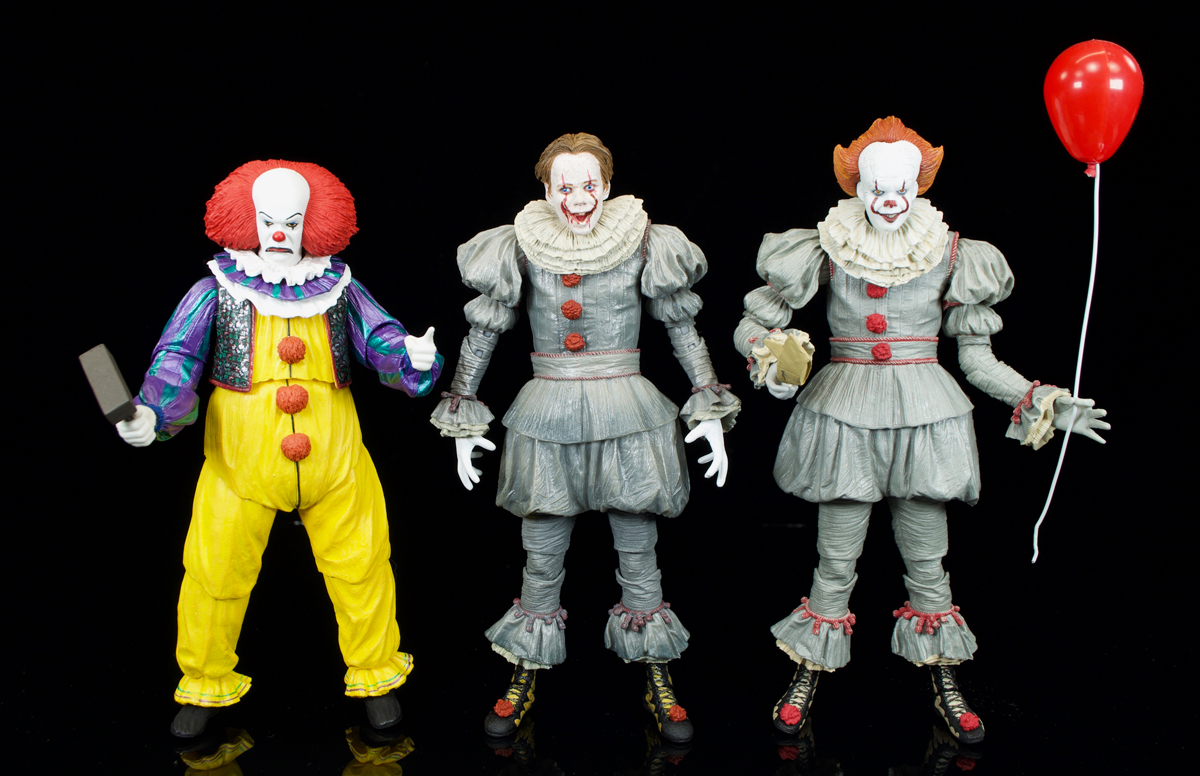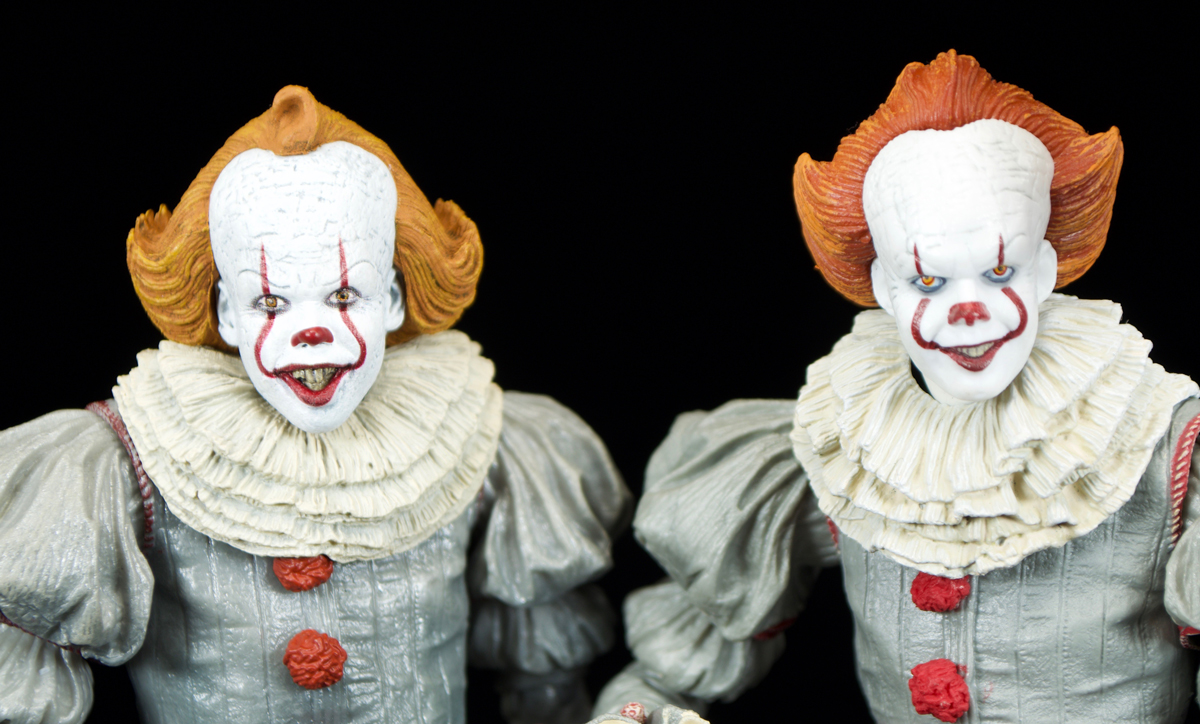 The base body seems to be mostly the same from the part one versions, and that is perfectly fine as the costume does not really stray at all from movie to movie, save for the collar and a few other subtle things. One thing I did notice is that the gloves for this figure are stark white, which is a difference from the very light grey used before. There are several swappable hands to choose from, and the balloon-holding hand is back to accommodate the, yep! you guessed!, included balloon accessory. I still love this piece and the effect is great, so that definitely carries forward with this one. The pompoms are also positioned a bit differently, and some of the red accents are more muted this time around.
It has been an embarrassment of riches for IT, one Pennywise at a time, and I am very happy to have this representation from Chapter 2 now on my shelf. The alternate heads are most definitely the draw for this figure, but since the overall Pennywise look varies slightly from the first movie, all of the heads are useful to give a new and unique presence in your collection. This guy is hitting now, so be sure to not miss out.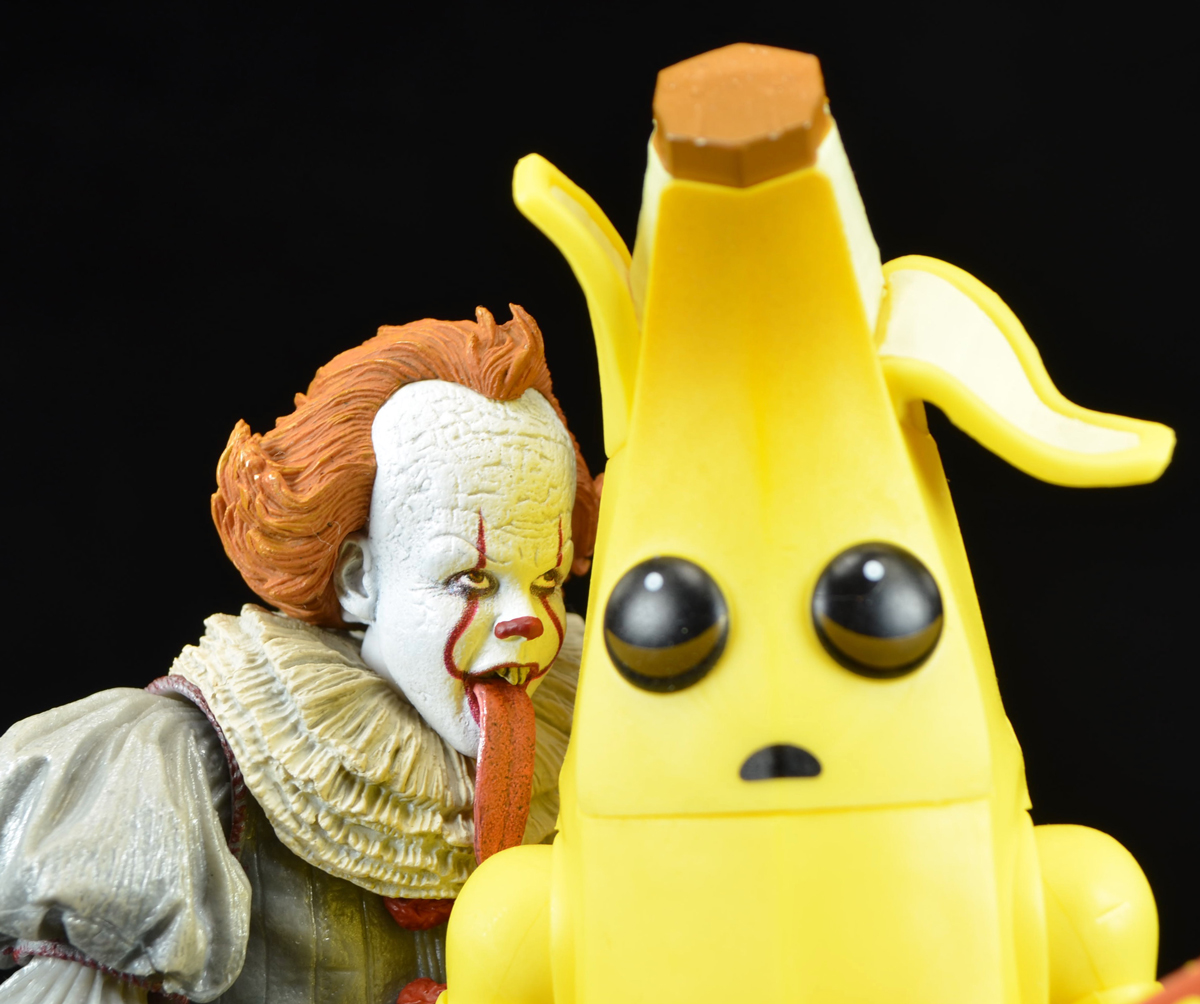 *Thanks again to the team at NECA for sending this piece along for a feature.