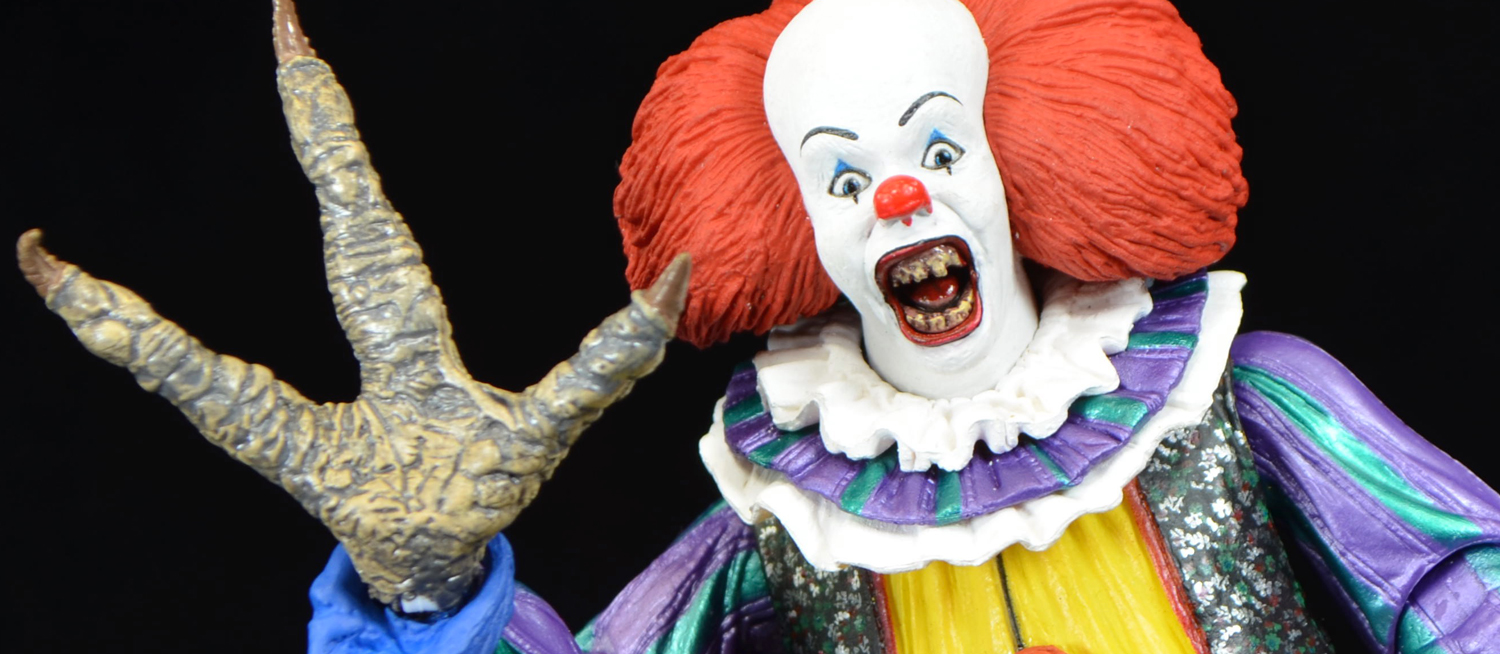 Oh boy, Richie! We are less than a month away from the release of IT: Chapter 2, and I cannot wait. Even though I was skeptical, I ended up really loving the first movie, and the stills and trailers for this chapter look like the perfect continuation and conclusion to it. That said, it is the original 1990 miniseries that made me love the IT property, and even though I was just a little kid, I was, and still am, blown away by Tim Curry's performance of Pennywise. So, as you can imagine, I am in for any and all figures NECA wants to give us.
I think that the movie(s) have eclipsed the miniseries in most aspects at this point, and even though the movies are lacking a lot of Harry Anderson, the first one made up for it in amazing performances from the young cast. This is one of those weird situations when the older and more experienced actors portraying the older versions of the characters have a LOT to live up to after the strong takes from Chapter 1. So, while I do prefer most qualities of the movie over the series, I am split right down the middle on Pennywise. Going in to the new movie, I had resigned myself to thinking that nothing could even come close to Tim Curry's tour de force performance, and it turned out, I was right. I don't mean that in a bad way, just that the takes from TV to movie are so starkly different that I really love BOTH of them. So, ultimately, it is win/win to get two Pennywises I enjoy.
I would call Bill Skarsgård's portrayal more traditionally scary, and the design sticks closer to what is described in Stephen King's novel. However, Tim Curry's take is so psychologically frightening that it has stuck with me my entire life. Sure, a nine year-old probably should not have watched the miniseries, but since I was already a fan of movies like Gremlins, I remember really wanting to watch it. It did not terrify me like you would expect a typical kid (my sister in-law remains damaged to this day, though), but like I said, it stuck with me and remains one of my favorite "watch" experiences ever. My oldest daughter is still FAR too young for IT, but she knows the Pennywise character enough to know that she DOES NOT LIKE HIM, so getting new toys is always a split experience in this house. My kid or not, nothing is keeping me from my new Pennywise figures.
It was a bit surprising, to me anyway, that a "version 2.0" figure of the 1990 Pennywise was in the cards for us from NECA. The first version was not just "Ultimate" in name, but also in reality – I thought I had everything I needed in a Tim Curry Pennywise action figure. However, as is typical, I was wrong, and this new version offers several things that the first edition did not, and I am really glad to have this one as well. I can attest that this is not just another release for NECA to get more bang for their buck out of the base/molds, and since we have gotten a LOT of the new version of Pennywise, it is nice seeing some balance here. Plus, one of the main drivers for getting this release is the fact that THREE new heads are included, and all of them are AWESOME.
I suppose that should probably be expected when dealing with a company that is constantly getting better. NECA has a long history of growing and improving their work all of the time, and they are very much on their "A game" right now. So, while I was (and still am) blown away by the Tim Curry likeness in the previous release's portraits, these three new ones might actually be even better, and this is kind of crazy. I will say that the original figure's "frowny" face is my default expression when I think of this version of Pennywise, but after that, I find I like these new faces more than the rest that came with the first figure. Not only has the likeness improved so they look more like Curry in general, but the expressions are damned new perfect when it comes to translation from screen to figure. I am really impressed.
My favorite of these is the maniacal grin (the one actually on the body in the package) because it is so perfect and terrifying. I mean, I am pretty much ready for this figure to start talking with Curry's growly yet squeaky voice, so while I love having this in my house, I kinda don't want it in my house. The facial details are much more Curry to me than the previous heads, and you can see a more subtle softness to the features and rounder cheeks that recall his likeness better than before. The other smiling head is what I would consider to be the most vanilla of the group, but it is a good "standard" head for Pennywise. Even the scary open-mouthed head, while a call back to one of the prior heads, but without the scarring is all-new and not just a repaint. The teeth are much more menacing, the paint work around the mouth is gross (in a good way) and the eyes, especially the color and the iris shape, are much more screen accurate. Also, these heads swap onto the body easier than the last set, and I did not need to use heat to do it.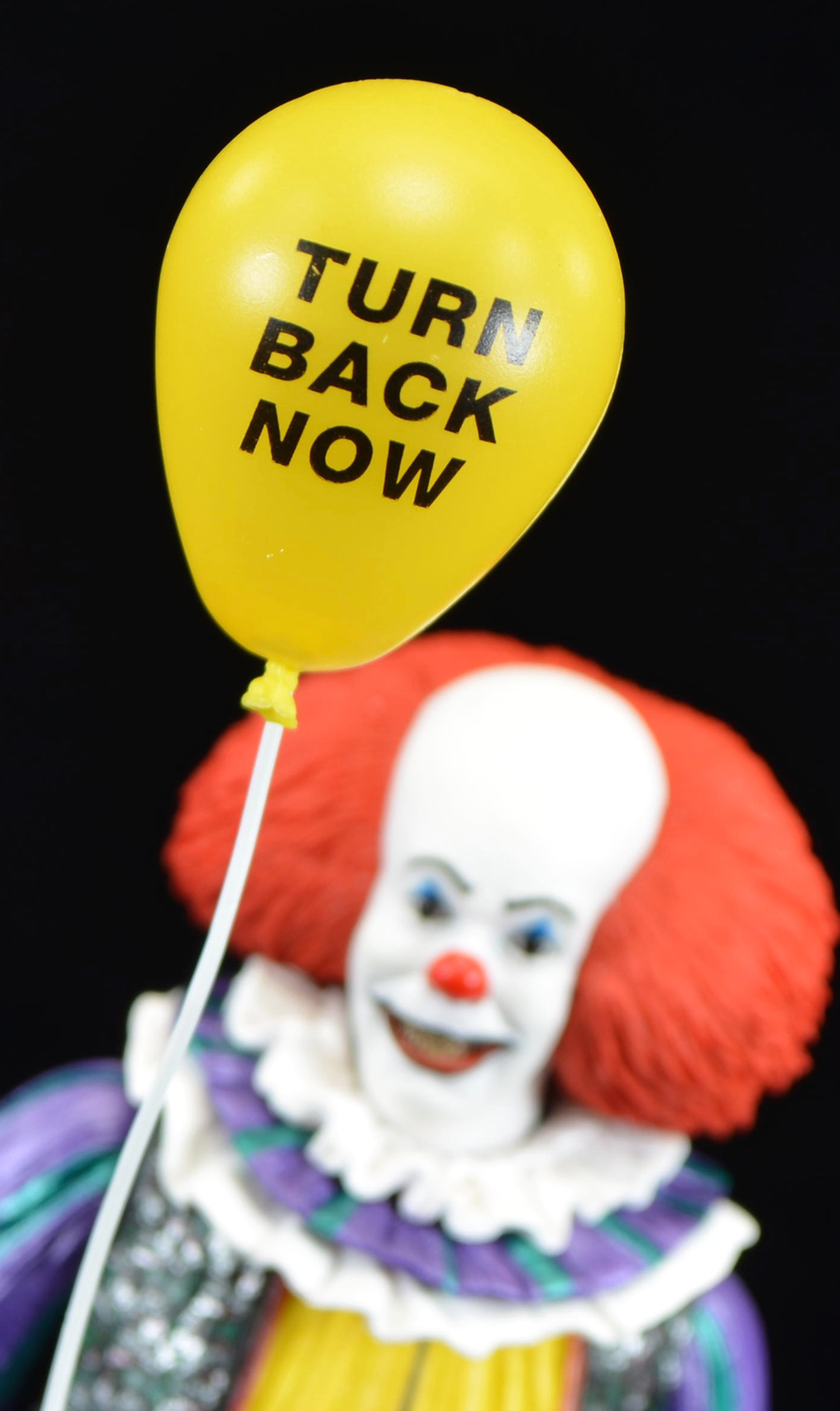 While heads are new, the base body is most definitely reuse from the prior release, even down to the paint deco (the applications on the vest are still INSANE), and that is perfectly fine and appropriate. The baggy pants and sleeves on this costume (as opposed to the modern version) make for a lot more material to wrestle with when it comes to functional articulation, but NECA has done a good job here again, especially with the elbows. The "standard" hands are reuse as well, as is the mold for the balloon. This time the ubiquitous red is abandoned for a yellow "TURN BACK NOW" version, and that is a nice touch from a memorable scene from the series. For me, the grinning head configuration with the figure holding the balloon is likely how this guy is going to be displayed but there are lots of options…
Options that are made possible with the new hands that are included, and that NECA has dubbed the "tentacle" and "monster" hands. Again, these are nice additions and are certainly different from the monstrous hands of the first figure. There is a new sleeve cuff that can be attached to help accommodate the tentacle hand as well, and at this point, between heads and hands included in both releases, if you are a fan of Pennywise's more demonic form, there are certainly lots of options now. I will say that my only real nit with this figure though, is with the balloon-holding hand as the hole is far too big for him to grip the wire string properly. It is a shame because the 2017 version does this perfectly, and it can be a hassle to get the balloon to sit correctly, and it finally came down to me wrapping the balloon wire once around the wrist and calling it done.
My favorite accessory is the picture book, though, and the 3-D hand effect is really convincing. I love how the picture print is fully enhanced by the newly sculpted hand piece, and again, it recreates the wonderfully. It is a thoughtful piece that I really appreciate it.
It seems that I just can't get enough of Pennywise, but even if I was reaching my fill, this figure would still be essential to my collection. If you have the previous figure, this one offers a lot of differences, especially with the new heads, and if you missed that first version, this is a great one to pick up as it offers a lot of variety for display. As of now, this is the last Reel Toys Pennywise (from either show or movie) that NECA has revealed. There are some soft good figures, Toony Terrors, and a quarter-scale figure coming, but with the release of the new movie, I hope we will still see more. I mean, my collection is already crazy (still waiting on my "Dancing Clown" version to ship), so I am content, but I am positive NECA could offer up more variations on Bill and Tim that I would jump at immediately. This figure is hitting GameStop locations now, but you can also get your pre-order locked in a Dorkside Toys and save yourself the hunt.