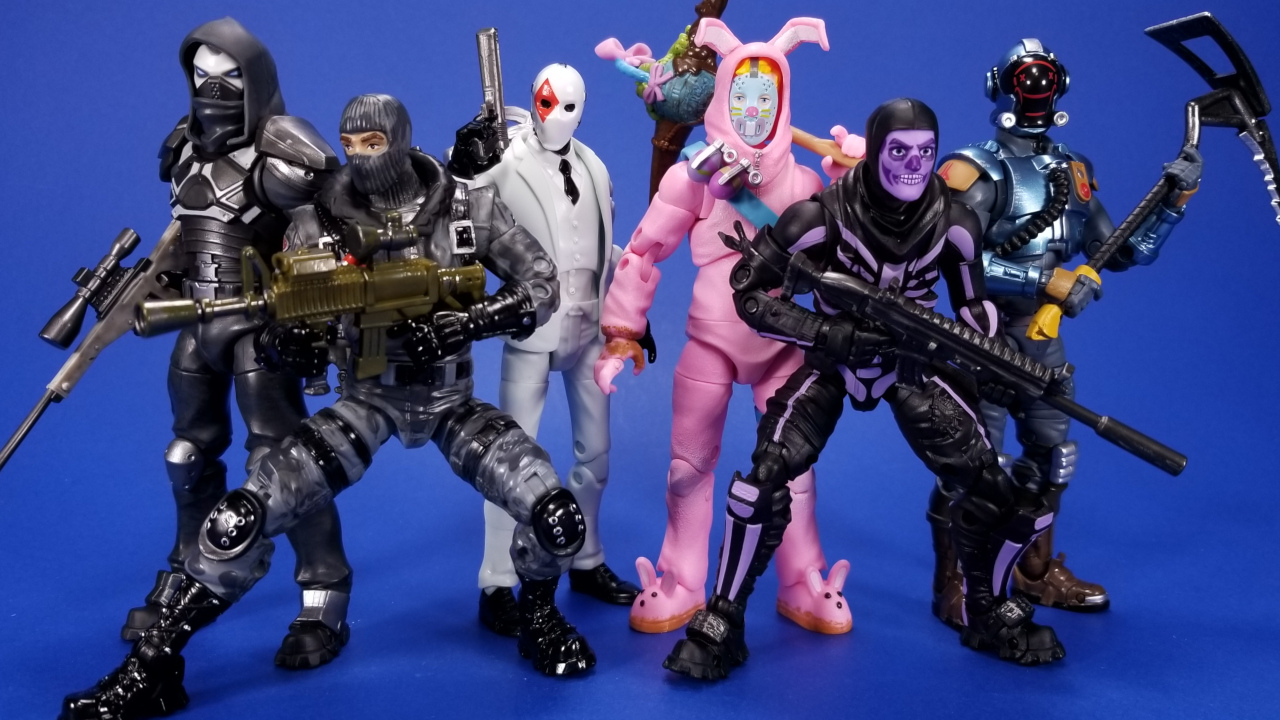 So you don't know Fortnite? Hey, neither do I! Wait, you dig excellent action figures? What a coincidence, same here! And that, my friends, is how we start our decent down the slippery slope of collecting a new series of toys…
I used to have more willpower. If I didn't know the license I just walked on by. Get out of my way, other stuff, you're in the way of MY stuff! But somewhere along the line I developed more love for the art of the action figure itself than the properties they are based upon. Don't get me wrong, Star Wars and Marvel are still the wind beneath my wings, but if I see super-articulation and decent sculpting, my eye wanders.
But baby, I still love you too! Don't be mad!
Fortnite first caught my eye with McFarlane. I'm a sucker for bright colors and interesting designs on top of the aforementioned joints and sculpts. Todd's stuff is beautiful, a huge leap forward in articulation for the company. They are beautiful. If I have one complaint, it's 7-inch scale. Which is not a bad thing at all, just a personal preference. I love the line and still buy it, but 6-inch will always have my heart and soul.
So of course Jazwares popped their head in my window and said "Hey, how you doin'?"
I had seen their 4-inch figures and while cool, again, 1/12 is the butter for my bread. At Toy Fair '19 we hadn't made an appointment with Jazwares because we thought there wouldn't be anything in our wheelhouse. That is, until I saw the pics of a 6-inch Rabbit Raider floating around. Then you know I was at that booth, pleading and grovelling to get a glimpse. They were more than happy to accommodate. I've been waiting for these ever since and they don't disappoint.
Right off the bat you'll wonder about scale. It's more of a true 6-inch, like Figuarts. Legends skews larger while staying within that realm. So if you're planning on some customs, be aware of that.
Next, there is a sense of nostalgia but it's hard to put a finger on it until, well, you mess with the fingers. And toes. Wait, Toy Biz? That's right, there some Toy Biz alumni working on the line. They've taken some of that old school flair and added even more articulation while killing it with proportions and overall feel. No high crotches or shoulders coming out of ribs here.
And yes. Yeeeeeesssss. Havoc will make a sweet Firefly. Maybe even a Beachhead with some swaps and paint.
That out of the way, these are just damn fun figures. Short and sweet. Damn. Fun. I may not be the biggest fan of articulated fingers, I wasn't even during the Toy Biz ML heyday, but that's such a little thing compared to how much of a ball it is to kick these into poses and battle scenes. Packed with accessories, alternate face plates that work perfectly, all for $20? YES PLEASE! I want more. And more. And then some more.
Package
Enforcer
Havoc
Rabbit Raider
Skull Trooper (purple glow)
The Visitor
Wild Card
Accessories
Comparisons
Gallery