Vehicles have a hard time gaining traction in scales outside of the 3 ¾- or 4-inch scale. Back in the '80s, when toys were rooted in either 3 ¾-inch like G.I. Joe or Star Wars, or 5 inches like Masters of the Universe, vehicles were commonplace and expected, and we, the toy collecting community, benefited from plastic slices of awesome that our figures could ride drive or fly. But as the scale grew, the vehicles began disappearing. Sure, we'd get a bike for Ghost Rider or Wolverine, but that was about all we could expect, and lately we can't even get that. You just have to look at how many references to the "Ghost Walker" have popped up after the release of the most recent Ghost Rider figure to see how happy people are about the lack of a flaming bike.
And yet, despite that, something seems to be shifting. It's a trickle and not a deluge, but the 6-inch scale has lately been getting a surprising amount of decent, size-appropriate vehicles. You can point to the Masters of the Universe Classics and the Wind Raider, Battle Ram, or Talon Fighter as prime examples of fully realized vehicles for larger scaled figures. We've also got the recent animated-style Batmobile from DCC, the '66 Batmobile from Mattel, the unbelievably huge Black Series Tie fighter, NECA's vintage-toy-inspired Predator Blade Fighter, and the upcoming (and insanely expensive) Lawmaster bike for Mezco's Judge Dredd.
Slowly, very slowly, we're getting some great rides for our favorite toys. The rules are being rewritten. The possibilities are opening. While there have been missed opportunities, like Mattel's doomed Ecto-1, the doors aren't completely closed.
Outside of popular franchises, though, there are a lot of opportunities for stellar vehicle/driver combos. While the pipe dream of 6-inch scale G.I. Joe vehicles is either a long way off or never going to happen, and a 6-inch scale M.A.S.K. Line may be a delusional fantasy, there are some properties that can be called complete if we got the main vehicle and the driver. These don't need a full line, or a franchise fulfillment, or anything other than that perfect symbiotic relationship of human and vehicle. This list is sure to differ from what many would like to see (that's an understatement), but If I had to guess, I'd say there's at least something on here that will make you nod your head approvingly and that you'd buy if it were available.
None of these are in particular order except for the last choice, which I'd take over any of these without question.
First up:
Mr. Bean and his British Leyland Mini 1000
I know you bunched up your forehead at this choice, but all that tells me is that you're not a Mr. Bean fan. But if you are a Mr. Bean fan, then you know that the opportunity to get both a 6-inch scale Mr. Bean figure along with his signature car would be almost perfect. While he's got a 12-inch figure now available (if you want to buy me this for Christmas, I'd love you long time), there's absolutely no chance he'll be getting a 1/6th car to go along with his figure. A fully articulated 6-inch version packed together with his long-suffering vehicle would be so awesome that new words would have to be made to describe just how awesome it would be.
Mad Max and his Interceptor
At this point it's looking like 6-inch Mad Max figures is just not going to happen. But if there was a way to get a single burst of post-apocalyptic cool out of this franchise, the one-two punch of Max and his ride would almost make up for the lack of any other character. While getting just Max and his car would feel bittersweet, it could almost be worth it, even if it doesn't seem like it will ever happen. They still deserve a slot on the list, though, just for what could have been if things were different.
Marty McFly and the time-traveling DeLorean.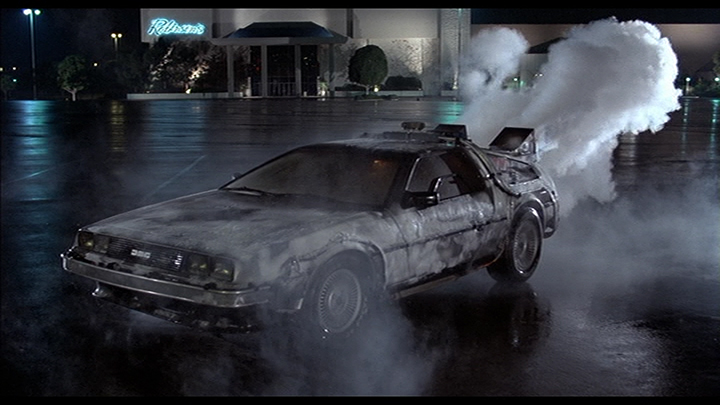 Marty has already made it out as a 12-inch Hot Toys figure, and the DeLorean is getting an unbelievably beautiful release in that scale as well. But these are piggy bank busters. A more manageable 6-inch-scaled version of these two would be the saner option for those of us who don't want to drop nearly a thousand dollars on what is no doubt going to be a gorgeous work of art. The DeLorean is a unique-looking vehicle that looks retro-futuristic as is, so adding on the time-machine trappings takes it into a completely new realm of iconic.
Green Hornet and Kato and the Black Beauty
Okay, for this one, a confession: I can't really say I'm a Green Hornet fan. That's not out of disinterest (although I have complete disinterest in the recent Seth Rogen movie), but complete ignorance. I've never seen the show, never heard the radio shows or read the comics or have been exposed to any media except one. My sole exposure to Green Hornet in any form is the TV crossover with the '66 Batman. However, despite all that, so strong is the iconography behind Green Hornet that I'd still buy a set Green Hornet, Kato, and their ride without question, and I'd play catch-up with any relevant media after the fact. A stylish car is a stylish car, and the Black Beauty is snazzy enough that source material knowledge goes out the window. Plus there's Bruce Lee, so . . . yeah. Worth it.
And the top choice, without question, is:
Michael Knight and KITT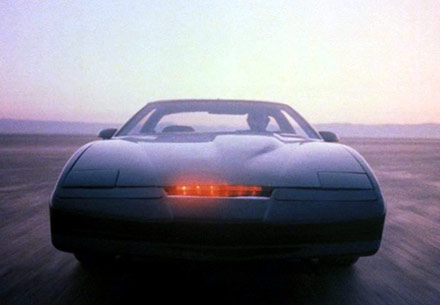 This is it. This is the dream. Pop culture has produced a lot of vehicles, but for me, the KITT is at the top of the list. As an avid viewer of Knight Rider when I was a kid, to have a fully decked-out KITT with actual moving lights and various sound effects from the "whoo whoo" to the whine it made as it cruised down the street would be worth whatever I had to pay. For a long time a black 1982 Pontiac Trans Am was my dream car. Until I learned that they didn't all actually talk and I wouldn't be able to go out and fight crime in it. Worst day ever. While I'd love a full line with KARR and the undoubtedly bank-busting big rig Goliath (along with a goatee-wearing Hasselhoff as Goliath's driver "Garth"), I'd make do with just a Michael and KITT.
There are too many honorable mentions to mention, so in place of that, I'll let you leave a comment if you've got a different random vehicle/driver combo you'd like to see in 1/12th scale. Even if it's Fred Flintstone and his prehistoric, foot-powered car.
Yeah, I'd buy that too.