Back in 1977 Doctor Who was massively popular in the UK and enjoyed a healthy cult following in the US. This was no doubt due to Tom Baker's remarkable run in the titular role. In an effort to capitalize on the show's popularity, Mego (by way of Denys Fisher) produced a series of figures based on characters from Doctor Who, including Tom Baker's 4th Doctor as well as one of the Doctor's greatest foes — the Dalek.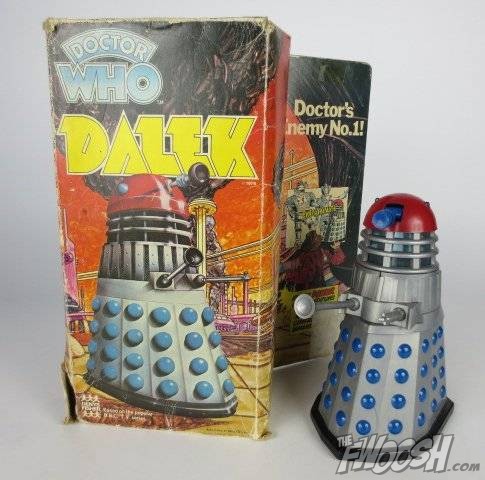 The Mego Dalek was a fantastic figure for its time because it was remarkably true to the source material. Due to the unceasing popularity of both Doctor Who and Mego toys, the Mego Dalek remains a highly sought-after figure that tends to go for buko bucks on the collector market, and it's not hard to see why; the sculpt is pretty spot-on, making it one of the better early Dalek toys.
Given the nostalgia-driven nature of many modern toy lines, the Mego action figure format has seen a resurgence in popularity in the last few years, and given the fact that Doctor Who is, once again, massively popular, toy-makers Bif Bang Pow! have brought the Doctor back to his Mego roots, and the result is pretty great.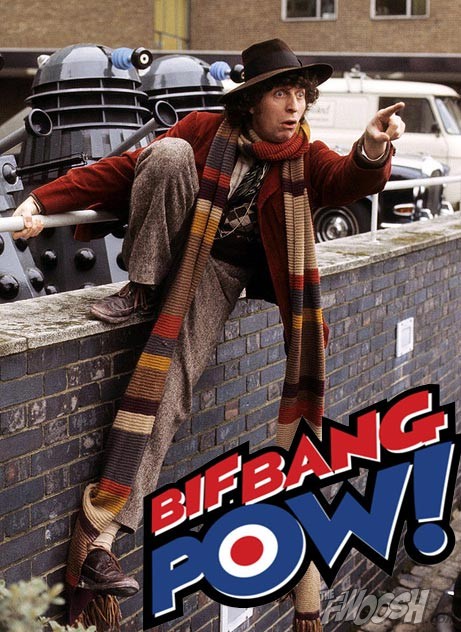 Now, Mego figures were some of my first toys when I was a little kid in the "pre-Star Wars" days of the mid-'70s. I had loads of them, so it strikes me as odd that the general Mego-style has absolutely no pull for me, nostalgic or otherwise. I loved my Megos at the time, but once Star Wars, GI Joe, and Transformers happened, I ditched the Mego figures and never looked back — until this past November, that is.
In celebration of Doctor Who's 50th anniversary, Entertainment Earth offered Bif Bang Pow's Mego-styled 4th Doctor and Styre the Sontaran as a set for $20. There was no way I could resist them for that price, so I placed an order with the quickness. Once they arrived, I found them charming, but I wasn't interested in building a collection beyond those two, but then I read there was a Dalek on the way, so all bets were off.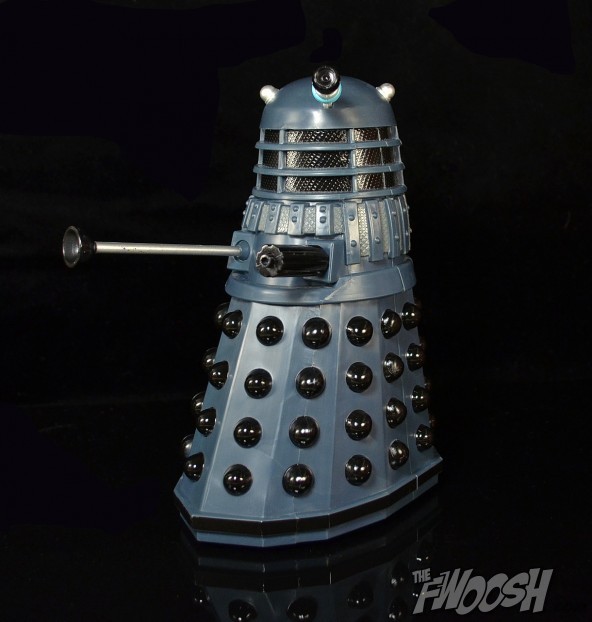 Bif Bang Pow's Dalek is based on the Daleks from the wonderful 4th Doctor serial "Genesis of the Daleks." It was released at a time with no shortage of Dalek figures to be had. Actually, it's been raining Daleks lately, figuratively speaking, with new waves of the Character Options' Doctor/Dalek 2-packs and a new wave of the s/fx Daleks released recently, but what sets this Dalek apart from the others is, well, its sheer size.
A blister card for an 8-inch figure seems like an odd choice for packaging, but it sort of makes sense here given the nature of the figure. The bummer here is that there's not a lot of clearance between the figure and the plastic bubble, so some of the black paint on the lower hemispheres rubbed off. it's an easy fix, but that's one very clear drawback to this packaging design. On the back of the card we see every release in Bif Bang Pow!'s Doctor Who line. it's interesting that aside from the 1st and 11th Doctors, all the figures hail from the 4th Doctor's run, which certainly builds on the nostalgia factor and ties the line in directly to its Mego roots. I am definitely OK with this, and I'd be lying if I said I haven't been considering tracking down a few of the others now that I have the Doctor and the Dalek.
The figure captures the look of the "Genesis" Daleks well, but compared to Character Options' 5-inch Daleks, this one feels rather, well, "cheap," but that may very well be intentional so as to maintain the "throwback" feel of this figure. It's hollow and very light in-hand, which adds to the feeling that there really isn't a whole lot to this figure. Maybe I've just been spoiled by the s/fx Daleks. I don't know. But despite how the figure feels when it's picked up, I can't deny that it does succeed in looking like it rolled right off my TV screen.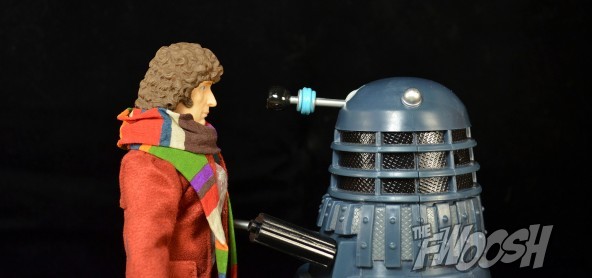 The Dalek scales nicely with the Doctor figure and they look great displayed together. This is why I'm glad I took the plunge and bought this guy. The 4th Doctor is my favorite of all the Doctors, and the Dalek is my preferred adversary, so having these two together on my shelf is something that was more or less inevitable.
It comes packing all the articulation you'd expect a Dalek to have. The head rotates 360 degrees, the eye stalk raises and lowers, the plunger and blaster can both be aimed in a variety of angles, and there are four small wheels on the bottom that allow the Dalek to glide around on any flat, smooth surface. Basically, it does everything you'd need a Dalek to be able to do. Well, except talk.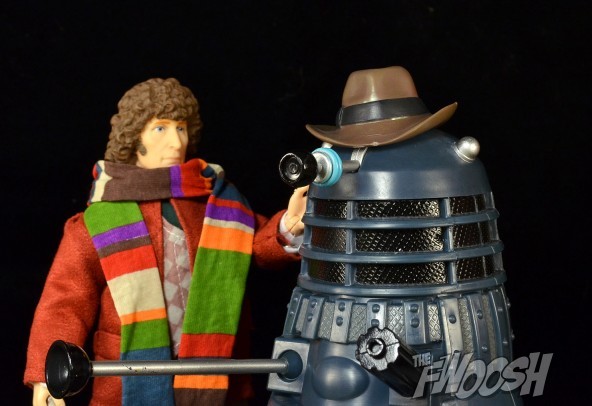 The one and only thing that could have used some more attention is the eye. It needs some white paint so it actually looks like an eye. Keeping it all black the way it is compromises an important aspect of the Dalek's personality and character, and your eye isn't as drawn to is as it should be. This is an easy fix and all that will require all of five minutes with a paint brush, but still. A fully painted eye shouldn't be too much to expect. It should look like what you see below: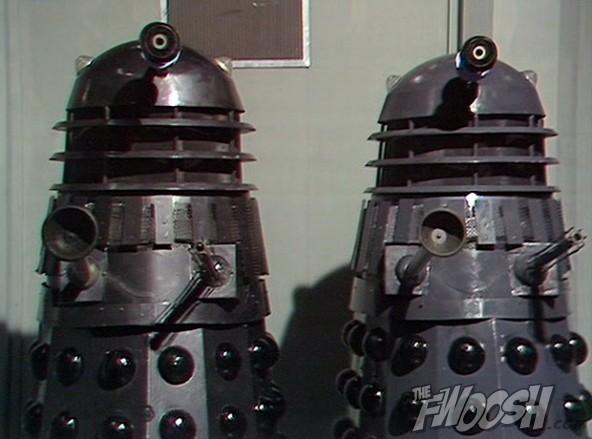 This figure isn't going to be for everybody, just as the Mego style in general isn't for everybody, but I'm happy I snagged one because it does serve as an excellent complement to my 4th Doctor figure. They're fun figures to have in the display with my myriad 5-inch Character Options Doctor Who figures. And since I figure I really should have a Mego figure of some sort in my collection since they were such a big part of my very early childhood, the Doctor Who figures seem like a perfect fit for me.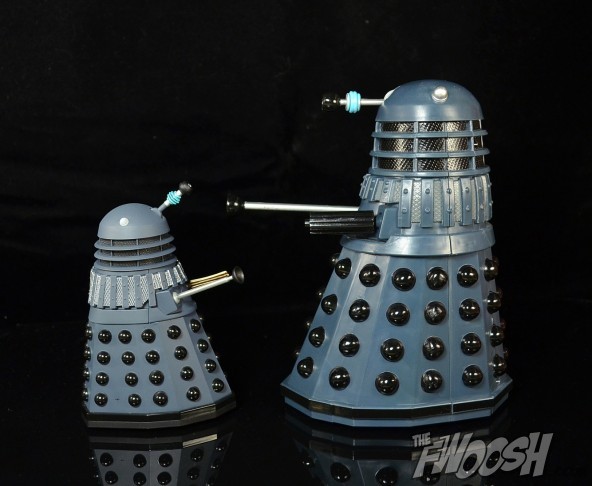 Big Bad Toy Store sold out of this guy quickly, but he can still be had from other fine Who retailers like WhoNA. If you're a Doctor Who fan and have any sort of inclination toward Mego-style figures, then this is a figure that deserves a place in your collection.