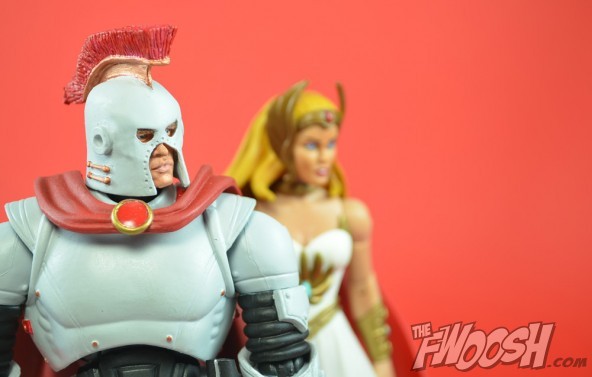 I don't think that it is a secret to anyone that I am a big fan of General Sunder. The defected Horde Commander is one of the most interesting Filmation-originating characters to ever be featured on either Princess of Power or Masters of the Universe, and unlike most of them, he has MULTIPLE episode appearances. Oh, and his two episodes, "An Unexpected Ally" and "Return of the General," are two of the best written and dramatic arcs of the entire Princess of Power run. Don't believe me? Go check them out. Go on, I will wait. See? He has more characterization in those two episodes than most of the regulars that appeared on the show. His look is pretty amazing as well, and the only thing that makes that Horde Trooper armor even better is adding a badass crested helmet to the mix. So I was certain that when Mattel got around to releasing the Troopers in the Classics line, the parts to build the good general would be included. Upon learning that they were not, disappointed does not even begin to describe how let down I was, even in the midst of SDCC.
Yeah, I know, not getting the announcement of one of your favorite characters in action figure form is beyond the very definition of "first world problems," but still, we all want those characters. So while I still hold out hope that Mattel will make an official General Sunder figure before the MOTUC train pulls into the station (he is certainly gaining online popularity), there was no way I was not going to have a contingency plan. I immediately started putting together a formula to create Sunder, and I enlisted the help of two of the best customizers on the Fwoosh – Ibentmyman-thing and Robokillah. The resulting custom has turned out to be better than I could even have imagined, and it is a great relief to have my most-wanted outstanding character on my MOTUC shelf.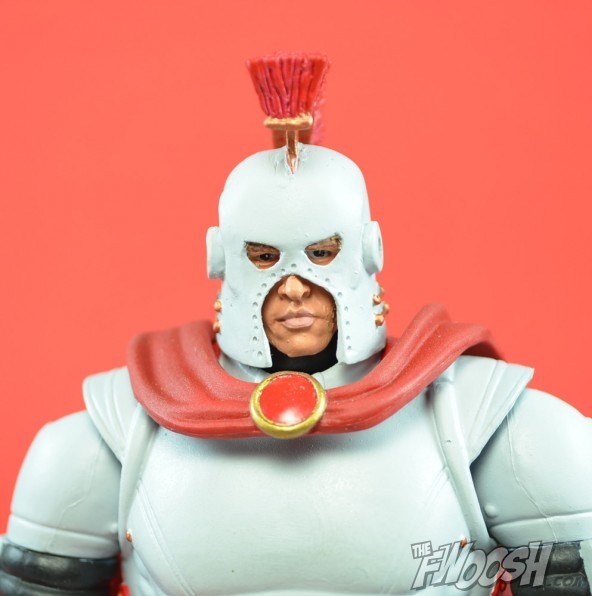 Formulating the build was something I had planned long before the Horde Troopers were revealed. A custom head would be required, but Chief Carnivus' cape as is would do nicely (if not 100 percent accurate), and the holster removed from Marlena Glenn's belt would do just fine as well for the Man-at-Arms pistol. Also, while the regular Horde Trooper armor would have been okay to use, Dawg-o-Tor's plain chest plate is much closer to Sunder's, so that was chosen as well. Overall, I think the pieces worked out really, really well, and it gives this figure the opportunity to be the "rebel" Sunder, while placing the head on an unaltered Trooper body would look much more like a Horde General.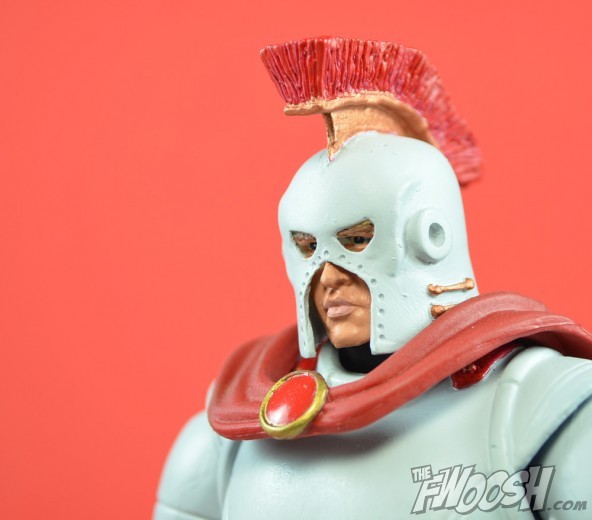 Benty had already made a custom Sunder head for me based on the Marvel Legends Steve Rogers figure. I thought that sculpt really captured the look of Sunder, and the base could be used for a great unmasked head. However, upon getting to play with the Trooper figure (I brought the head for comparison) it was clear it was going to be too small. So in a moment of selfishness, I asked Benty to take another crack at it, this time using the unmasked Icarius head as the base. What he was able to create turned out even better than his initial offering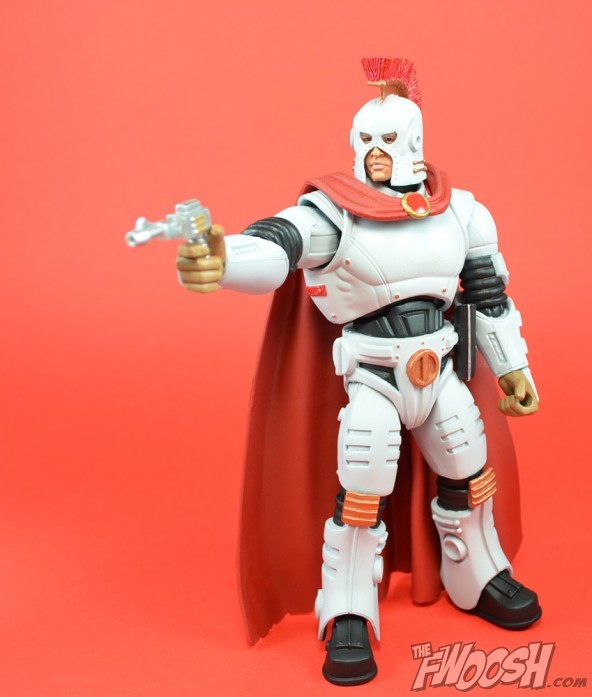 The detail lines up nicely with the Horsemen embellishments on the Trooper body. I think Icarius is also a good fit for Sunder as his expression is stern, but not evil. I am very particular about the aesthetic of Classics, so I think you have to be very careful when you introduce parts that come from outside the 4H design studios for fear that they will look out of place. That is why I wanted to target existing parts and not bother with breaking up the feel of Classics. I think the helmet sculpt accomplished this in true fashion.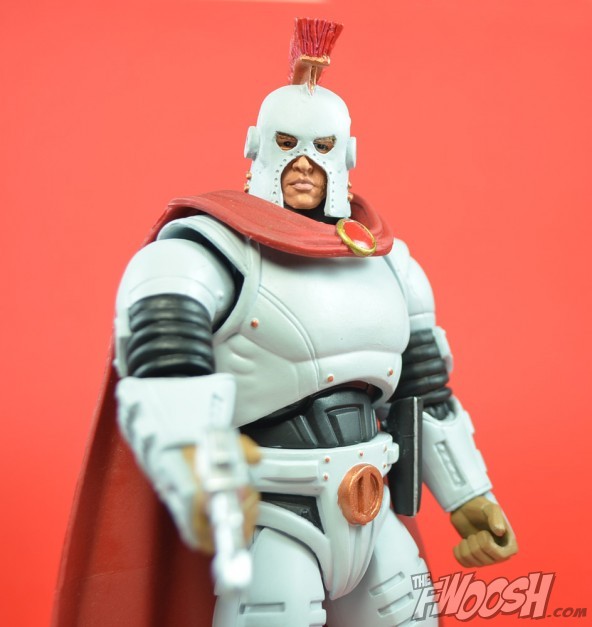 Robokillah handled the construction of the figure and paints, and Sunder actually turned out to be a bit more work than originally anticipated. While the borrowed feeling of the Trooper needed to remain, the uniqueness of Sunder's armor needed to be highlighted. To be honest, that is probably a choice I would have wanted to make anyway, but since the Horde emblem was left off in the show (probably to distinguish him as a good guy to young viewers), that made the choice easy. Furthermore, I did not want a straight Filmation translation into Classics as that would over-simplify the look. Robo had to run him through the homemade Classicizer Machine.
The hole in the middle of the Dawg armor had to be filled to complete the look from a construction point of view, but other than attaching the holster, that is all that needed to be done. Twin holsters would have been ideal, but since they would face opposite directions, they would look off, so it seemed better to go with one.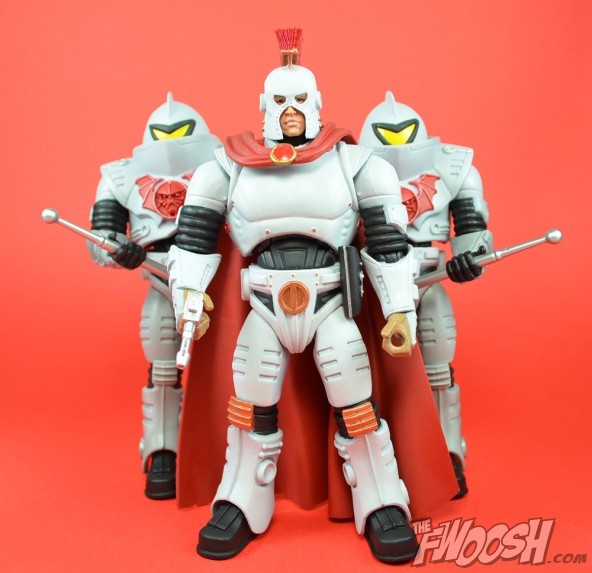 Paint is where the real animal took off, because due to the "dirty" overspray applied to the Troopers, it was not just a matter of painting the helmet and armor to match the arms and legs. In the end, since Sunder is/was a general, it seemed best to go with a "clean" look so all of the grey pieces were fully painted, but since the articulation disks were so close in color (or in a black area), none of the articulation was compromised. Embellishments followed to help bring out some of the other colors in the armor (like copper at the base of the crest, rivets and knee pads) and make the needed differentiations, like in the gloves and shoulder straps. Of course, the paint challenge always comes in the facial details, but Robo is a master of his craft and even the color of the lips has been made slightly different from the skin tone. I think Mattel does a pretty fantastic job with their paint applications, but there is just no substitution for a hand-painted piece.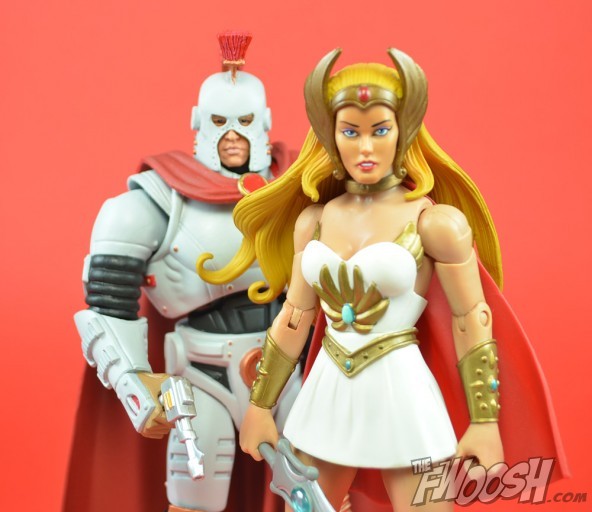 So yeah, color me ecstatic! I finally have a figure of my favorite Filmation character on my shelf and Benty and Robo did an amazing job. I am still hoping to get an official release of General Sunder from Mattel so everyone can have the chance to own him, but you can find Ibentmyman-thing's Sunder head cast on Ebay along with a lot of other great casts. So, thanks to Benty and Robo, and Mattel, you can see what an awesome figure Sunder would be — make it happen!
Additional Links