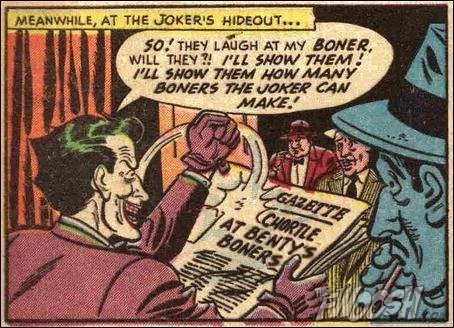 Big Bad Toy Store has released the case info for series 3 of the Star Wars Black Series.This is the wave that includes the much-anticipated easy money cash-grab that is Stormtroopers. Many have been wondering just what will make up the wave 3 cases based on the information we had available.
Let me pause here and let that sink in: 6-inch fully articulated Stormtroopers. Somewhere there's a Sudanese billionaire sitting on a gigantic throne made of scantily clad women and thousand dollar bills fanning himself and thinking, "I need about 2,000 of those."
In short, it's ready money. Seriously. This is literally like Hasbro just got control of the mint, and the nation is wiling to replace some dead president's face with a Stormtrooper helmet.
So, of course, when the case pack-out was revealed yesterday, in place of what should be a second Stormtrooper, there's Han from wave 2.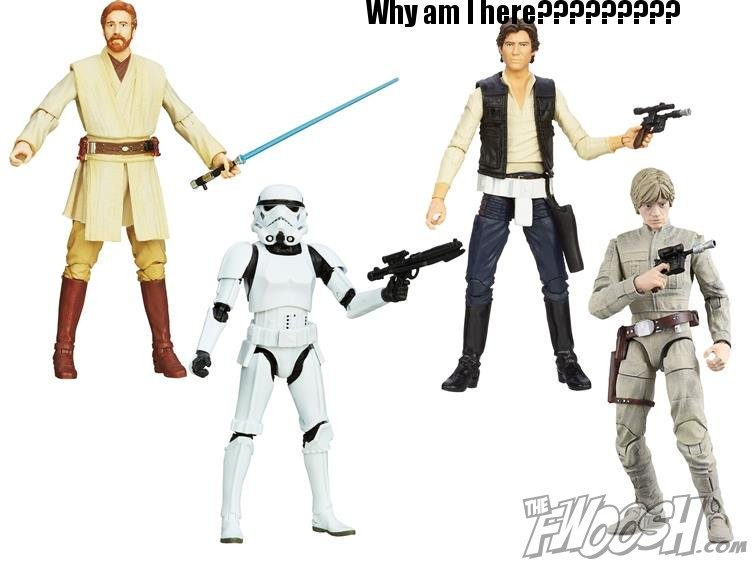 Hasbro … are you frickin' high?
There are few things that seem to unite Star Wars collectors. I've seen the debates rage endlessly, down to such microscopically minute things as tassels. Yes, I'm sure there's a tassel discussion raging just this very minute between two people on the Interwebs. Nerds be crazy.
But if there's one thing that can unite a disparate and varied populace of people obsessed with a nearly 40-year-old franchise, it's that if you have a Stormtrooper in a wave of only three new characters … you double pack that sumbitch. That is quantum logic.
Because we have Han.
He was wave 2.
Remember wave 2? Yeah. It's all around us. It surrounds us and binds us and all that other Star Wars quoting stuff.
Stormtroopers, though … they're brand new. And even if there's someone out there — some crazy person out there — who only wants one Stormtrooper, then you force that guy to buy two. Good things come in pairs. Abbot and Costello. Martin and Lewis.  Hall and Oates.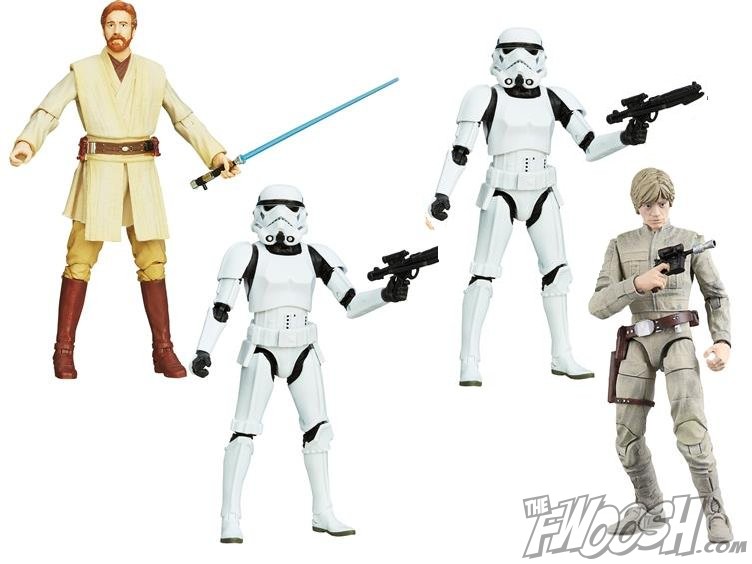 I mean, hell, Boba's hard to find out there also, so you guys could have packed an extra of him in the case if you were dead-set on not pumping out a pair of Stormtroopers just to be ornery.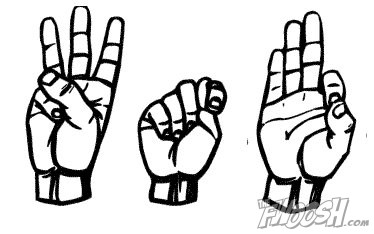 But putting Boba in the case instead of Han shouldn't have been "option B" because here's what the meeting should have been:
"Guys, we only have three figures for wave 3, but the cases are four figures, what should we do?"
"Who's in the wave?"
"Prequel-Wan Kenobi, Who's-your-daddy Luke, and a Stormtrooper."
"Are you kidding? Double pack Stormy! Done, son. Now let's go hit the strip clubs and make it rain on some trailer-park girl what got daddy issues."
But no. There will be no rain falling on Tiffani, Kandi, Cherise, or Sindee.
Because Han will be in that case of four instead of a second Stormtrooper.
Now don't get me wrong. Han is figure-of-the-year quality. But conveniently getting two Stormtroopers in one shot trumps getting a second scruffy-looking Nerf-herder every day.
Hasbro, congratulations. You didn't just win the Boner of the Year award. You didn't even win the Boner of the century award — and the century is pretty young.
This qualifies you for Boner of Unending Shame.
Now hop aboard that short BUS and think about what you did!