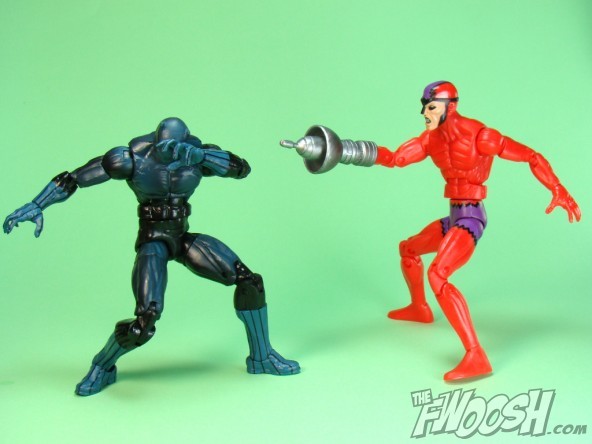 For many of you,  a scary movie recommendation or a scary action figure is what you will be expecting from me — something gross that makes your spine crawl. I'm happy to report that you will get none of that from me this year. Instead, you will perhaps get the best possible alternative out there: a review of Return of Marvel Legends Series 1 Klaw. All of you know this is figure is perhaps the scariest figure ever made in Marvel Legends.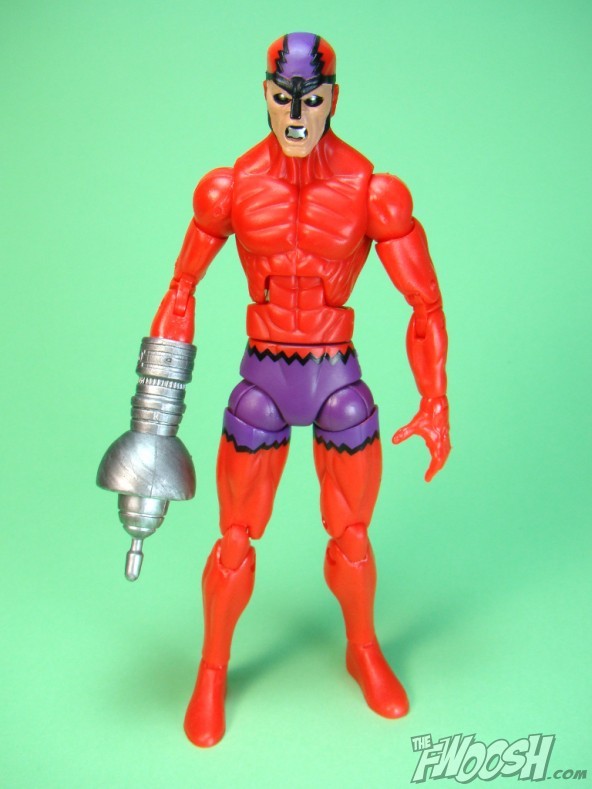 It's so scary because it is so bad, and not bad as in "cool," but bad as in "bad." This is a heaping pile of poo, and the stench is enough to strike fear into the bravest of souls. It's so bad that Doom even feels sorry for ol' Klaw. And, really, doesn't Klaw deserve more than this?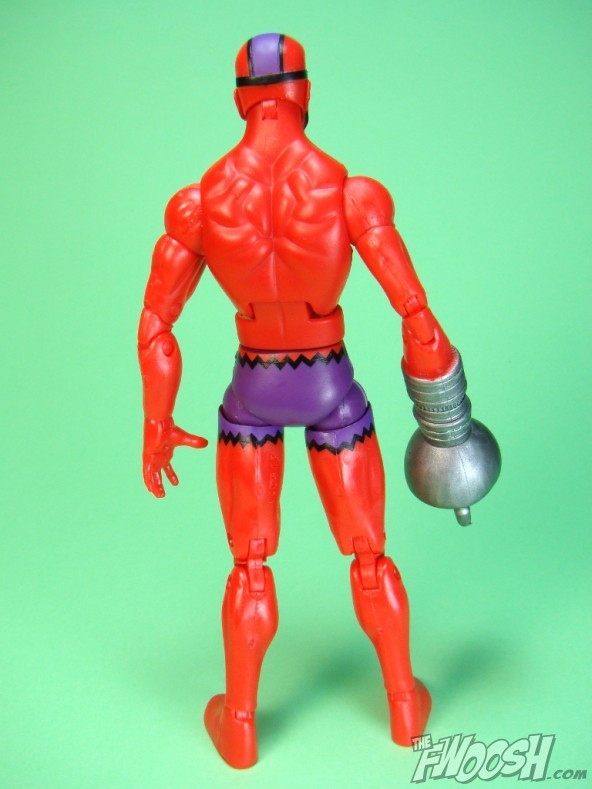 Klaw is one of those patsy villains that's had his ass handed to him more times than you can count, whether it was by the Fantastic Four, Black Panther, or just about anyone in the Marvel Universe. This poor chap is a sad villain. He's a victim of Kirby-ism; a new character with a gritty background and trippy powers that really only ever worked within the confines of the Jack Kirby mind. That's not to say that there weren't good attempts at doing something with Klaw, but they never went anywhere.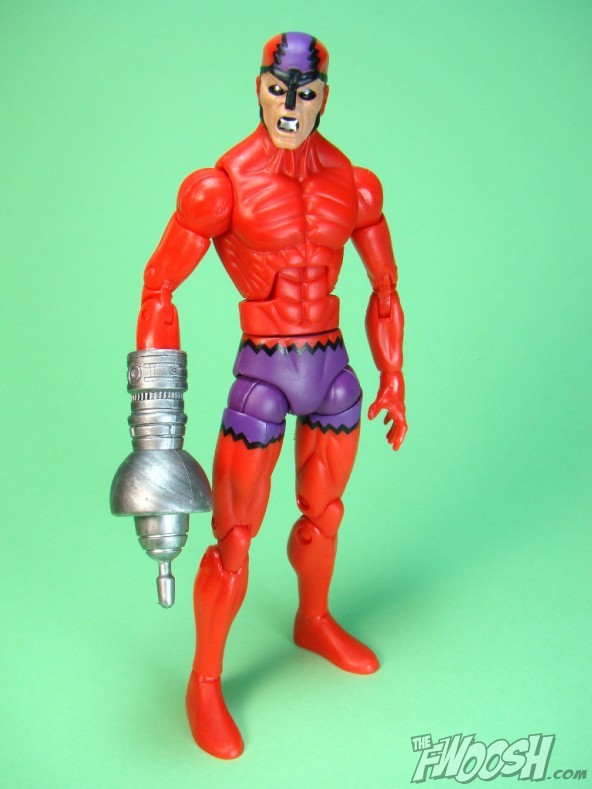 If I were to point people to some great arcs, I'd point them to Black Panther issues 14 and 15 from 1979, or the first Secret Wars. Those are fantastic uses of the character and really show off his evil potential. Klaw's Secret Wars appearance is one of the best-written pieces that I know of. It's brilliant and interesting and bolstered by Mike Zeck's pencils. Klaw takes on a new level of villainy. I don't know of many appearances since, but the ones that I've skimmed are never really … interesting.
And the figure matches, which is too bad because there are some good parts to this figure, and if they had chosen a better base, this figure would really pop and might look menacing.
Starting with the bad, the base figure is just awful, and I am personally happy that I haven't seen it on a figure since. It's a small base and really looks like it belongs on a teenager and not a full-blown villain, and if we refer to the comics he's been in, he is always big and muscly, not skinny and puny, although skinny and puny does fit his track record as a villain. I'd love to see this figure on the Black Panther base figure because I think that would really pop, red and purple and all.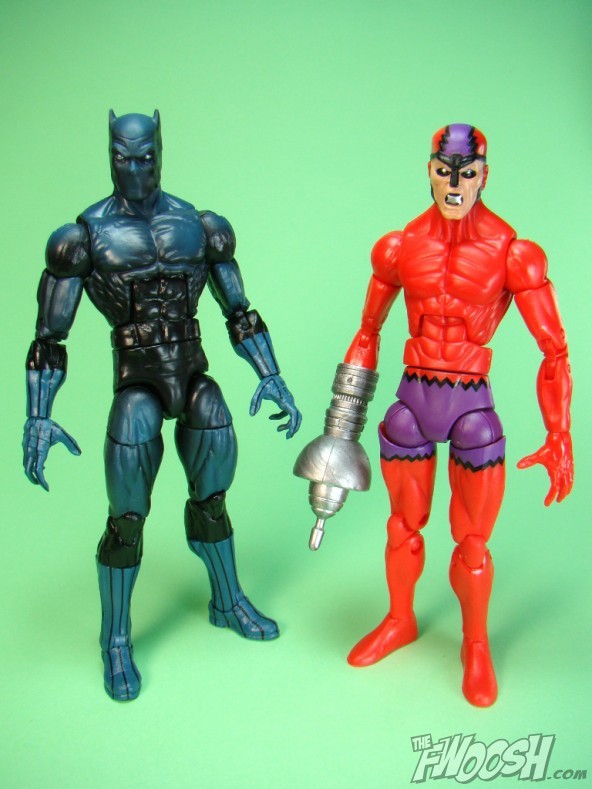 The good is that this figure has a fantastic head sculpt. I've been looking at it the past day and I really think this is an outstanding sculpt. And while the "claw" isn't canon, it is, in fact, a fun sculpt to look at it and compensates for the lack of menace in the base figure. I'll throw in a bit about the articulation here since it's pretty standard and is as follows:
Hinged ankles
Swivel ankles
Double knees
Swivel thighs
Ball hips
Swivel waist
Hinged abs
Ball shoulders
Swivel biceps
Double elbows
Swivel wrists
Hinged wrists
Hinged neck
Swivel head
And the colors! So simple: bright red, purple pants, black lines and the big silver hand. It's a classic and simple paint scheme that anyone can love.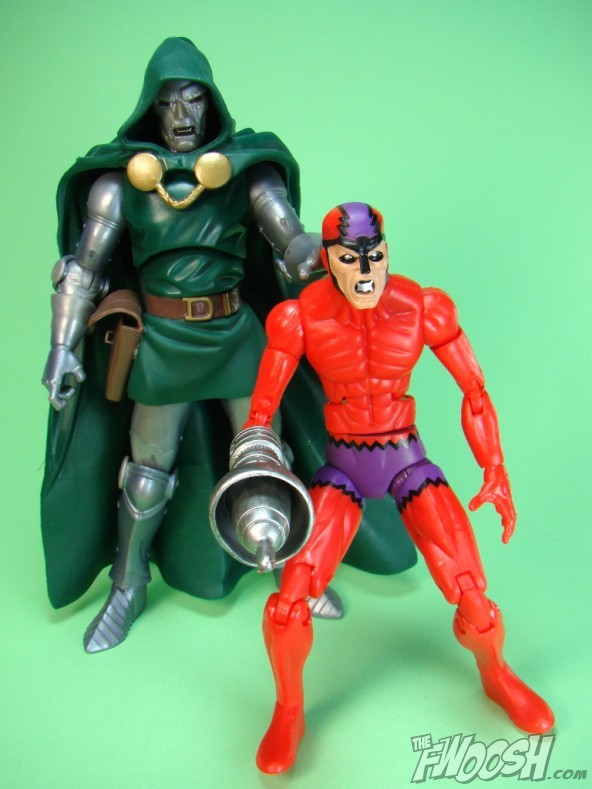 OK, I promised you scary-bad, and I really didn't deliver. Truth is, Klaw isn't a huge steaming pile of poo; it's a pretty well-executed figure, just on the wrong base. He's a decent vanilla-pose figure for your collection; he'll never be the big, huge, scary villain on your shelf. He rounds out the Masters of Evil and that's about it.
You can still pick this figure up at:
Discuss this figure further on The Fwoosh Forums!