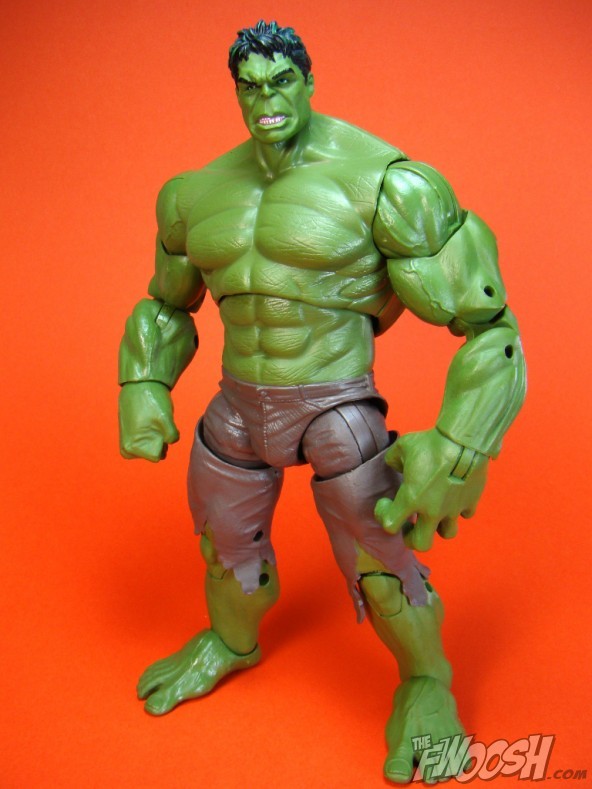 This is an old figure in our here-today-gone-tomorrow world. The Avengers movie, you might remember, came out in the summer of 2012, or in the beginning of it, and it completely decimated the box office world. The movie was a sweeping runaway success that changed the shawarma industry forever. Along with the shawarma, there were toys. Lots of little toys and not so many big toys. There were 6-inch toys, but I remember their being hard to find, and people complaining and the eBay prices being insane. They still are. After a year I finally broke down and ordered Hulk from the movie for a pretty penny.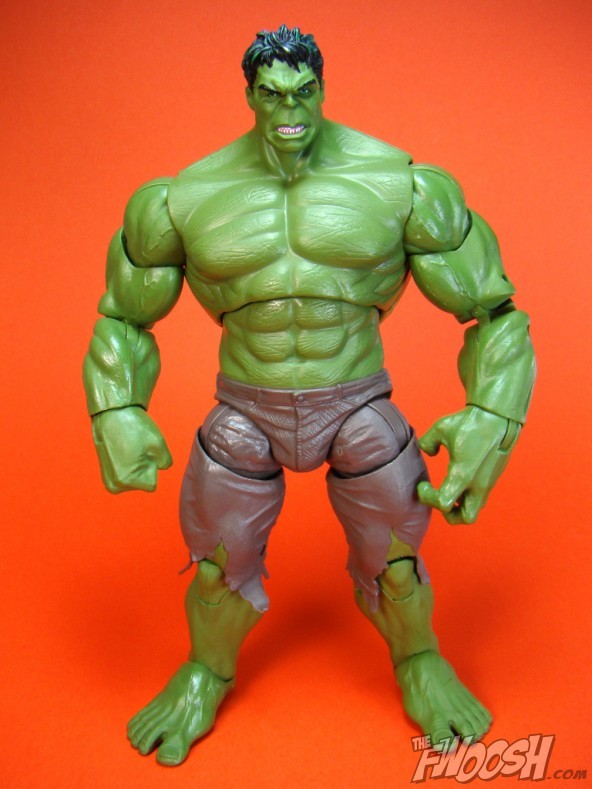 This is almost a great figure. There are somethings that I'd like to see done differently, but this is a fantastic figure overall. While it hasn't taken the place of Face-Off Hulk on my shelves, it has has dethroned the 2-Pack McGuiness Hulk from my modern Avengers shelf, and that's a tough apple right there. My goal isn't to have movie figures in my modern section, but I would like good-looking figures, and Hulk here is a damn good-looking figure. It's not great as a movie Hulk; it's too generic in it's big-sizing. The Marvel Select and Hot Toys Hulks are better representations, and even then they miss that "organic" look of the Hulk from the movie. Hasbro's 6-inch Hulk has the width and earns a lot of points for power and poise, but it lacks the thickness. From the side it is a very flat figure and that takes away some points.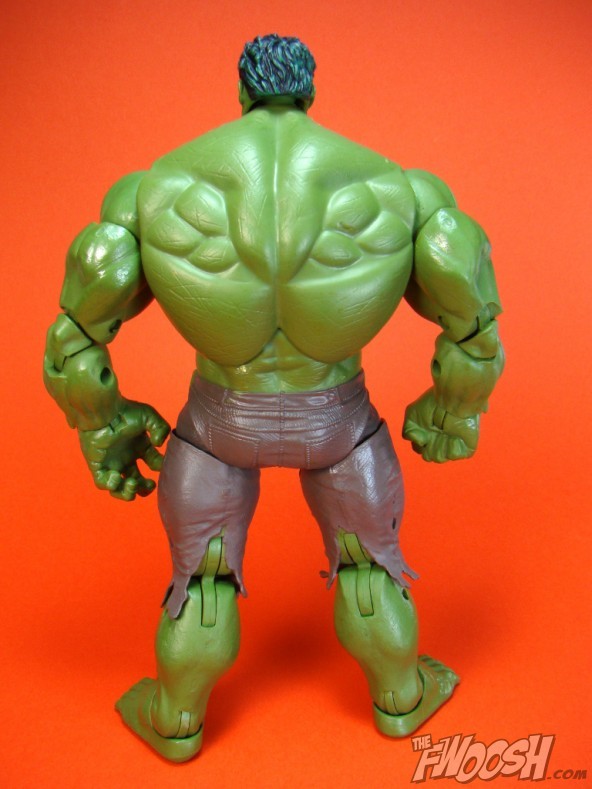 Kinda.
I like the width and poise so much that I am willing to overlook the thickness of the figure. There is so much power in the vanilla and the crunched "Hulk smash!" poses that I forget about the thickness of the sculpt. It's just amazing. And while he only has one fist, it's enough because the other hand is a great "claw" hand for ripping and shredding planes and Thor apart.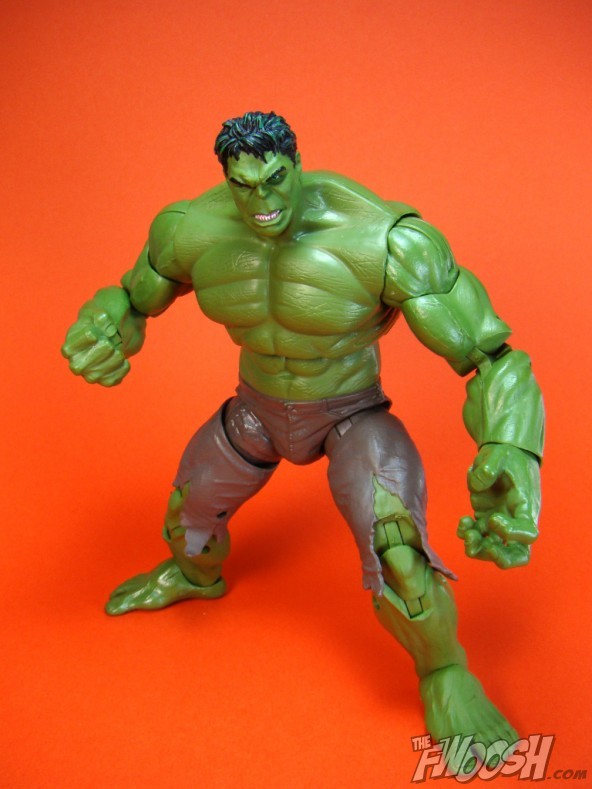 The articulation is perfect. Every joint that you need in a Hulk figure is there, and this is truly an engineering masterpiece. Almost. There are some improvements that need to be made. The lats on the back are very low, so arched backwards positions are limited, and, yes, I realize that I am the only one in the world that thinks this is important. The opposite of that comment is that the forward motion of the ab is fantastic, perfect. Another area of improvement is the width of the lats or triceps; something in this area could use some tweaking as the two muscle groups compete for the same space. And, finally, the hinged ankles don't go far forward enough. I don't need toe-to-shin, but a good 30 degree angle would be nice. It's so easy to nitpick minor things when you are dealing with a perfect figure. The breakdown is:
Rocker ankles
Hinged ankles
Shin swivels
Double knees
Swivel thighs
Ball hips
Ball ab
Ball shoulders
Swivel biceps
Double elbows
Swivel wrists
Hinged wrists
Ball head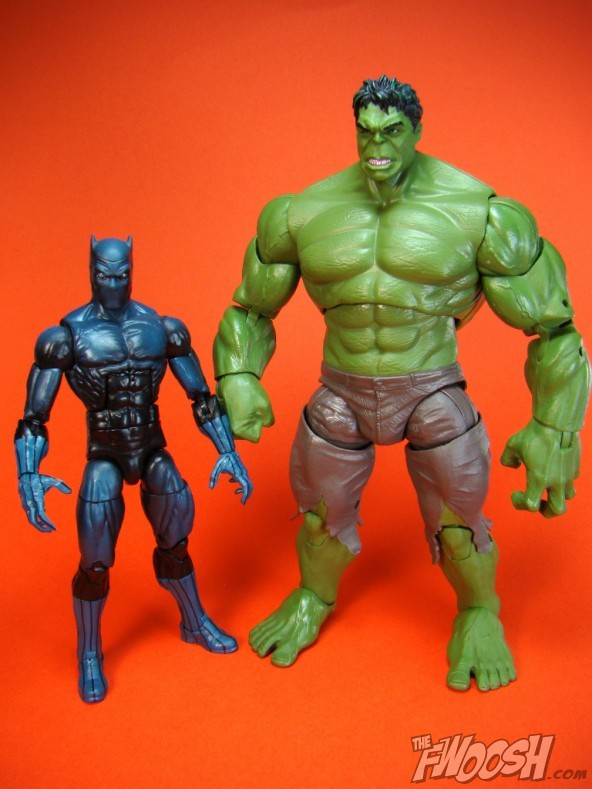 The paint and colors are solid, but nothing to write home to Mom and Dad about. I wish the green were a little closer to the comics; I think the MS Hulk is a shade darker and the Hot Toys Hulk looks to be greener as well. Keep in mind I own neither of the figures and am best guessing from online pictures. The pants could also use a deeper purple. Or maybe I'm just being picky. No idea. It's not important since I love this figure.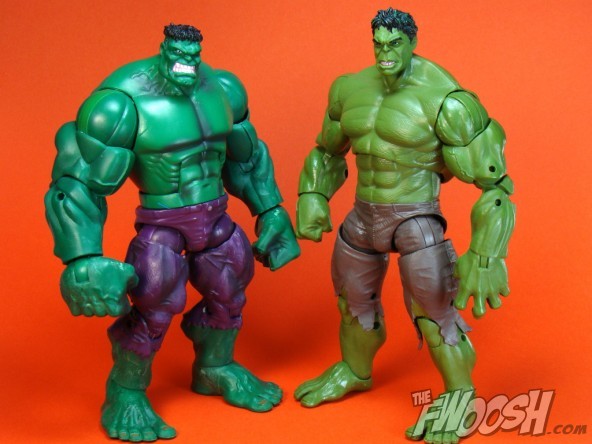 I did a search on Amazon, BigBadToystore, and DorksideToys, but I was not able to locate this figure on any of those sites. I think you'll have to deal with eBay or trade forums to get your hands on this lovely bad boy.
Hulk SMASH!
Discuss this topic further on the Fwoosh Forums!