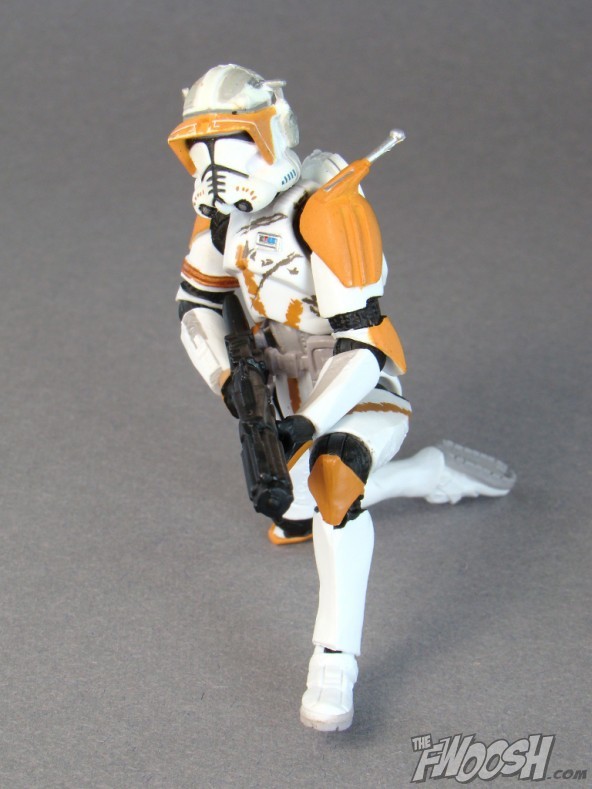 The Fwoosh is not known for being a Star Wars-collecting site. We have no history of it, and, until recently there was never a future for us in the Star Wars agenda. We are, primarily, a 6-inch action figure-collector site. Slowly, we've been getting into other scales, but really nothing draws out our love like a 6-inch action figure. That isn't to say that we don't love a Joe or Star Wars figure, but really? 6 inch. This is why we love the new Hasbro Star Wars Black Series; it's a 6-inch collector's dream come true — all our favorite characters from all the episodes being made in our favorite scale!
But there are occasions when we dabble. We've all done it; we've all picked up the occasional super cool 4-inch Star Wars action figure (proof positive: Obi Wan Clone Wars Armor Review). And here is another one for you: Commander Cody. I love Commander Cody and despite his being an eventual traitor to the Jedi scum, he is one of my favorite clone troopers. When I saw this figure, I had to have him. One, for the character, and two, for the articulation.
I'm a lover of the Clone Wars. I actually like the first three movies. Before nerd rage starts, allow me to explain. Since A New Hope and the mention of the Clone Wars, I always fantasized about what this historical event was. When Lucas tackled it, I was super excited to see the story unfold before my eyes. And even though, as movies, the prequels suck super monkey balls*, I still love the movies, and that does make me sad.
The figure represents Cody in his Phase-2 Clone Trooper armor, the armor that started to resemble Stormtroopers more. It's a later armor and it definitely looks menacing, but I'd rather have him with his Phase-1 helmet from, you know, when the clones were still good guys. The sculpt on this figure is top notch, and the battle scarring and the overall proportions are simple fantastic. I really love the overall look and feel of this figure.
The articulation is also top notch. This is one of the newer styles with ball joints all over the figure, especially the hips. Personally, I feel that we get so much more out of these figures when they have hip articulation. You get that extra stance/pose that really makes these figures pop. The breakdown is:
Ball ankles
Ball knees
Ball hips
Ball ab
Ball shoulders
Ball elbows
Ball wrists
Ball head
Using double hinged joints and the occasional swivel gives a lot of posing potential, as do the ball joints when they are done properly. Hasbro does a great job with these figures and you get bang for your buck.
The fun doesn't stop there. Cody is a perfectly painted figure. Seeing paint applications like these at this scale in a mass produced line is rare. But Hasbro went over the top and nailed the paint apps on this figure. They covered a solid base coat, weathering/dry brushing, and a little wash potentially. Cody looks and feels like the battle-hardened clone trooper that was displayed in the movies.
This is an excellent figure and tons of fun, if you are a 4-inch collector. But it's not enough for me, and I blame the new Hasbro Star Wars The Black Series 6-inch figures for that. Now I want Cody in the 6-inch format with Phase-1 and Phase-2 armors. I want him standing next to Obi Wan (announced and prototype pictures shown) kicking all kinds of droid ass. Yes, you heard me correctly. This is what I want.
You can still pick this figure up on
And talk about it on
* Ewan McGregor's performance was the only redeemable performance, the guy went all out and made Obi Wan happen. It's like he was the only guy that knew Lucas can't direct or write for shit, took the reigns by the horns and made it happen. It was pure awesome that makes it all the more sad that the rest of the crew couldn't tap into it the same way.