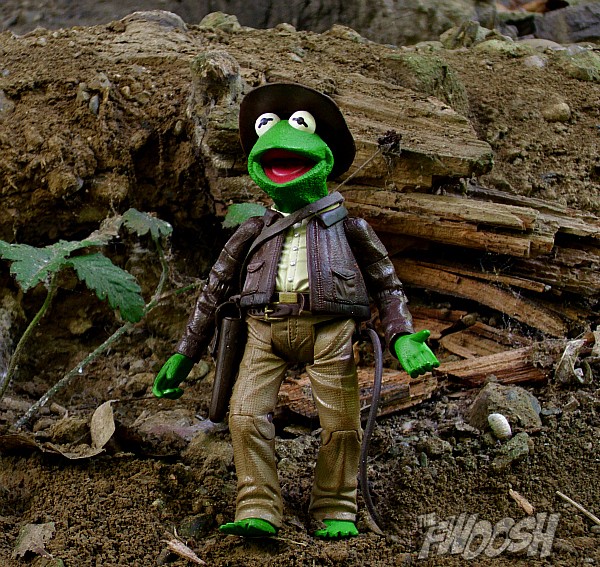 Priorities. You've gotta have 'em, especially when you're a toy collector. In 2003 I that I decided I would only collect action figures in the 6-inch scale. It was a practical decision: at the time I had hundreds of the 5-inch Toy Biz Marvel characters, near-complete sets of Kenner's Super Powers and Mattel's Secret Wars, as well as a decent selection of vintage Star Wars and Mego figures. While I loved the my collection, I hated the fact that the toys were so disparate — my favorite Superman was 3 3/4 inches tall, my Spidey was 5 inches, my Aquaman 8 inches — it made my displays an OCD-inducing nightmare. The advent of Marvel Legends made 6-inch figures a reality. While McFarlane Toys and DC Direct made convincing arguments, it was ToyBiz that convinced me that 6 inch was a viable scale. I sold everything, or gave it away, reducing my collection in the short term, but increasing its consistency and aesthetic value in the end. Eventually I had over 300 6-inch figures and it was great. At least, until I realized what I'd missed.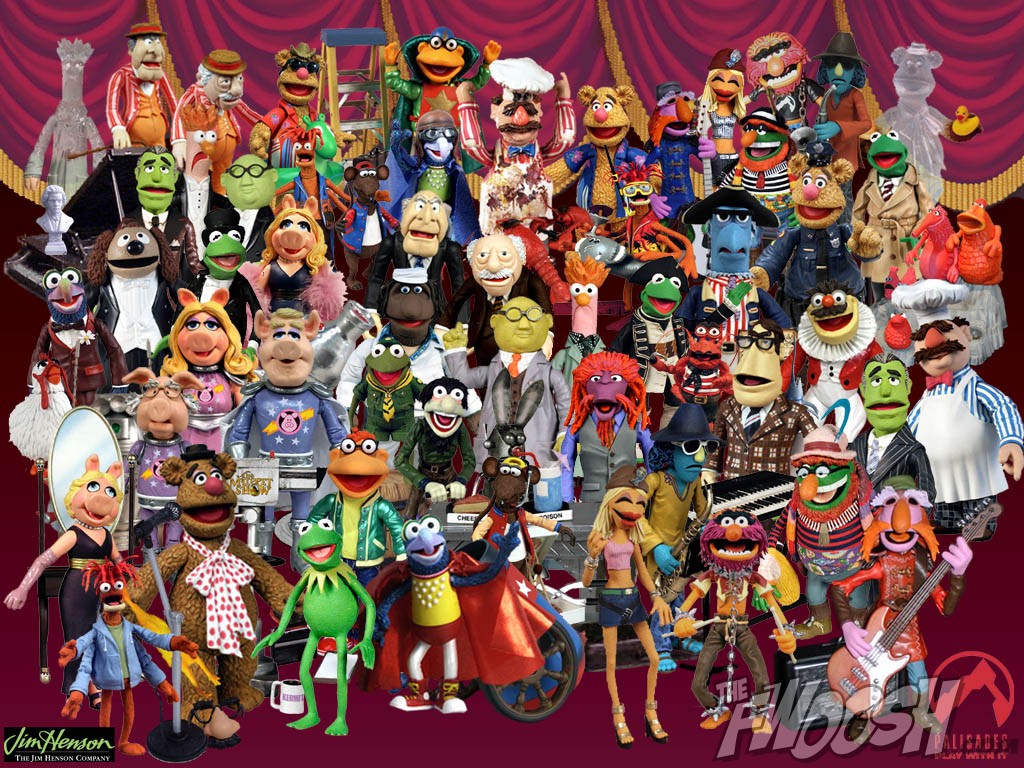 In 2001, Palisades secured the license to Jim Henson's Muppet Show. Over the span of four years, the company produced an astonishing 130 figures, including many convention and web exclusives. Palisade's commitment to producing every character, no matter how obscure, endeared them to Henson fans, but lack of retailer commitment and a general downturn in the collectibles market forced Palisades into bankruptcy in 2006. In spite of the line's premature end, it remains a favorite among collectors today.
This is not Kermit as Indiana Jones, lest your legal department be itching to make a case. "Adventure Kermit" was the Palisades Muppet Show exclusive available at 2004 conventions, then later through the Palisades Collectors Club. Kermit's appearance is based on his lead role in the Indiana Jones Epic Stunt Spectacular at the Disney-MGM Studios. Unofficial or not, with Indiana Jones and the Crystal Skull merchandise still four years away, collectors were just happy to get an Indy figure.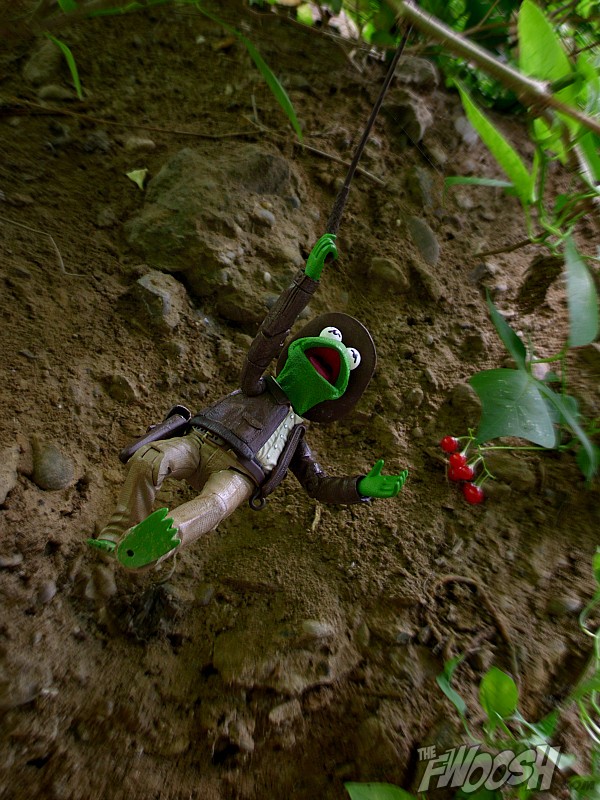 I could talk about the remarkable sculpt all day, but the pictures speak for themselves. From the leather jacket's rich natural grain to Kermit's unique "nubbled" Muppet skin, all of the details are there. And while every surface has a unique texture, it's never too much — a sense of economy and proportion informs the scale, making the 6-inch figure look as much like the "life-size" Kermit as possible. The slightly hunched pose and benevolent expression only add to the likeness, while the uniquely sculpted hands allow him to hold his character-specific accessories (something previous Kermits would have been unable to do).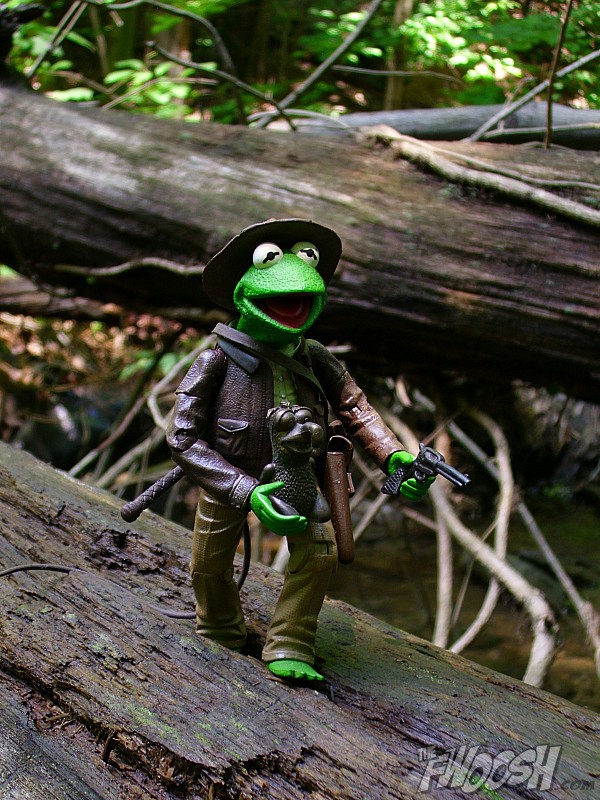 Speaking of accessories, Kermit comes with everything your standard-issue adventurer needs: his trusty whip and  pistol, a satchel, a golden idol, and, most importantly, his trademark hat. Said hat attaches via a magnet, which is swell in theory, but not so much in practice. (It falls off all the time.) Engineering issues aside, the hat looks great and brings all of the other costume details together. Palisades always batted 1000 when it came to pack-ins and Kermit is another home run: he even comes with some treasure, in the form of the "Golden Gonzo." It's a fertility idol, so display with care!
Click first picture to open slideshow!
Like other Muppets before him, Adventurer Kermit's articulation is minimal but well-hidden and functional. He has nice ball-jointed shoulders, hinged elbows, and knees as well as a pegged waist. Thanks to the additional volume of the jacket sleeve, Kermit receives a bicep twist, trumping previous versions that lacked it due to the bare limb's thinness. Unfortunately, the neck peg is too short, which causes the head to pop off constantly. Factor in the magnetic hat's tendency to slip, and you end up with a great-looking toy that's not much fun to play with.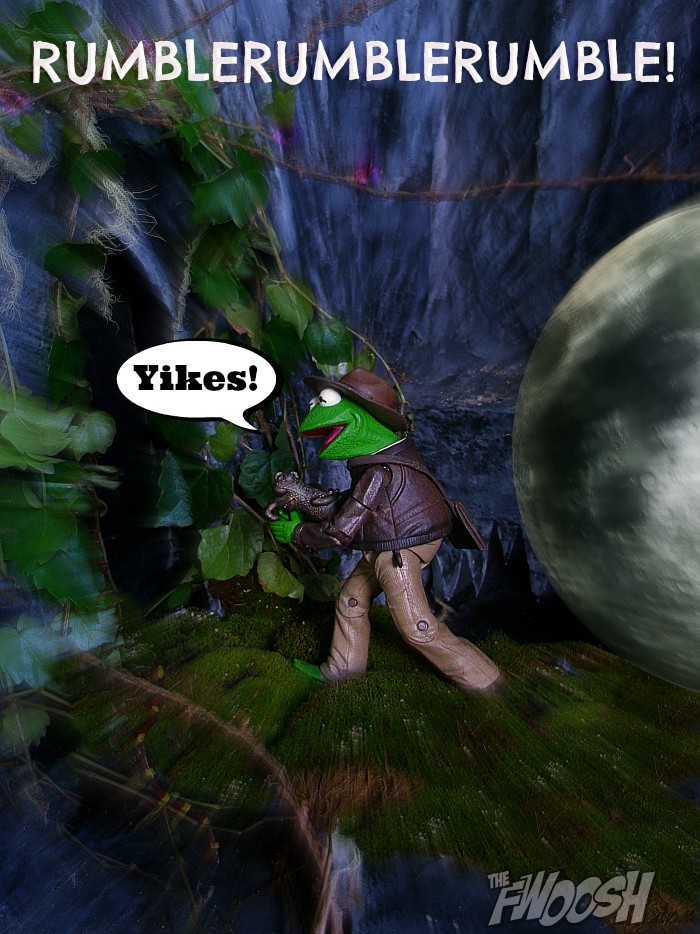 Kermit's paint is quite good and texture-specific. The leather jacket is a rich brown color, with a dark wash to bring out the detail. The hat gets the same treatment, further adding to the weathered realism. Little details like the belt-buckle and the tiny silver buttons are crisp with little slop. The only real issue are his eyes, which are a bit wonky. It's a small detail, but noticeable. Just pull the hat down and he's fine.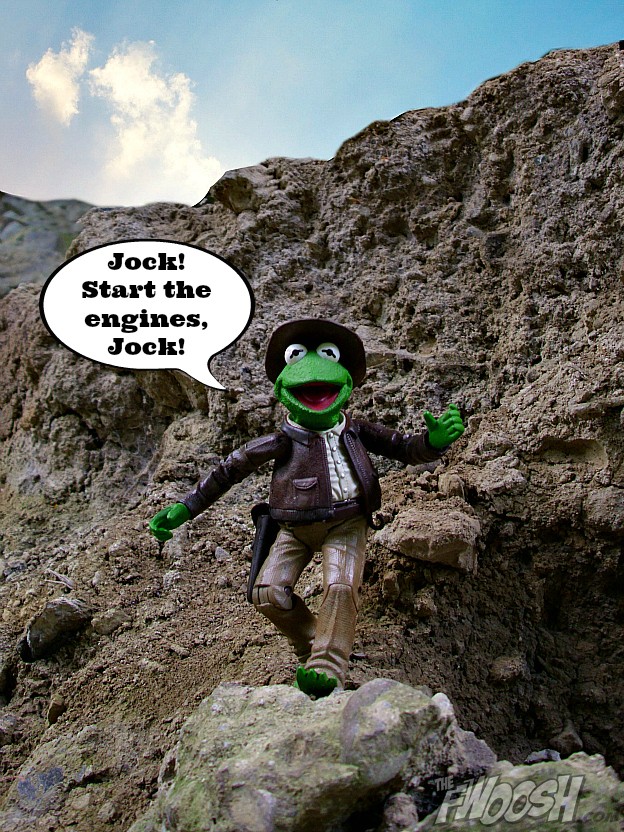 So how did I end up Adventure Kermit? A dealer at a local toy show had piles of them. For $10, I just had to snag one. I see now just what adventures I've been missing.
Jason R Mink is TheManintheAntHill