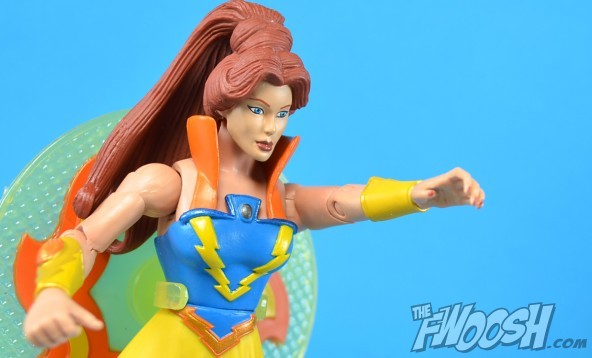 Castaspella. Even in a mythos of characters with names like "Two Bad," "Clawful," or even "He-Man," her name has to be the most on-the-nose handle of them all. But you know what? That is part of what makes her great. After some time away, we have returned to our Masters of the Universe previews and just in time for August, which I am calling "Ladies' Month" at Matty Collector. Yep, the Mistress of Mystacore leads off a series of looks at the women coming to bolster the female ranks in your collection, and she does so in fine style.
One of the things that makes the Great Rebellion so great is that it is populated by several powerful, strong-willed, and interesting female characters. Sure, this was originally a product of the Princess of Power toy line being aimed at girls, but the FilMation cartoon showed that if characters have depth and the storylines are engaging, a property can appeal to all walks. So while I did not watch the Princess of Power cartoon as a child on a regular basis (I did catch some episodes from time to time to see my beloved Evil Horde), I can confidently say that, compared to the Masters of the Universe show, She-Ra had/has the superior program.
Anytime I get a chance to add another Rebel to my collection, I welcome it. The chances have been a bit too far between up to this point in the Classics line, but with Netossa in January, Castaspella this month, and Glimmer announced for February of 2014, we are starting to make good progress. Personally, of all the ladies of the Rebellion, my personal favorites in terms of characters are Frosta from last year and the as-yet-announced Mermista. However, Castaspella might just be my new favorite Rebel figure, and that is thanks in most part to the fact that she has gotten a fantastic action figure. Is she the best female figure in the line thus far? She certainly has the case to make an argument. You, know, if action figures could argue? You get the point, though.
The nice consolation if you have not yet gotten your favorite female figure in Classics yet is that they seem to be constantly improving. I think most collectors would be hard-pressed to name a female figure that they did not have a little quibble or imperfection in their realization. Don't get me wrong, most of the female figures in the line have been very solid overall, but things like Teela's rigid outfit, Frosta's eye paint, and Catra's squishy hand have kept those respective figures from being possible home runs in terms of execution. Castaspella might be the first female figure since Shadow Weaver to be (mostly) lauded for her near-flawless execution and realization into a Classics figure.
It all starts with her looks too. All other components and executions in an action figure are rendered null and void if the figure doesn't look good, but, fortunately for us, Castaspella looks fantastic. I personally think she has the best likeness from her cartoon/style guide looks of any Princess of Power character yet, even beating out Catra. The sculpt and paint on her head, especially her face, are spot-on to the source material. She has a lot hair that is tied up and knotted in a very unique way and while it could have the potential to look ridiculous in translation, the Four Horsemen have brought it to plastic very well.
She also has distinguishable, but soft and feminine, features to her face, and her eye shape and expression are perfectly consistent with her character as well as the source material. Now, of all of the Rebels that had dolls in the vintage Princess of Power line, I think Castaspella had the biggest departure from doll to cartoon, and her face/make-up is a big part of that. The figure follows the cartoon, and I for one could not be more thrilled. Not just because the cartoon look is my preferred primary influence for these figures (I do like little toy details), but because, well, the Castaspella doll was pretty, um, made up. I mean, when it comes to the make-up, she looks more like Bozo the Clown than a magical queen, so taking the more conservative approach to beauty products was the way to go for this figure.
The most noticeable difference between vintage figure and cartoon looks for Castaspella, though, is certainly her costume. Being honest, they did not look anything alike. I mean, there were a few cues here and there, but while the doll wore a dress with thigh-high boots in yellow, orange, and gold, the cartoon version opted for short skirt, tights, and lots of blue in her costume.
I find the latter combination much more interesting if for nothing more that the blue breaks up the fairly monochromatic nature of the toy outfit. Now, we have a LOT of blue going on in our Classics Etheria shelves, and while this figure will certainly add to that, but the yellow and touches of orange do bring some variety to the Rebellion at large. At first I was afraid that the orange collar and bracers (a nice nod to the FilMation series) would clash with the other two primary colors of the figure, but, somehow, it works.
Ever since Bow, the PoP figures have been taking little vintage toy design cues to add some texture and surface variety to the primary style-guide looks. Mostly that has been an embellishment here or an inset design pattern there, but with Castaspella, it mostly comes in the form of her gigantic magic wheel that clips to her back. For the vintage doll, this was the action feature and means of expressing Castaspella's magical abilities. In the show, the wheel was moved to her bracer and it took on a much more manageable size. I was kind of afraid of this thing when I first found out it would be included with the Classics figure, but I am glad they included it because it actually works. Sure, the big clip that attaches to her waist could have been handled in a subtler way (and if I had any nits about this figure, it would be that), but overall, I like it and will be displaying her with it attached.
Finally, from a construction standpoint, Casta continues the trend of high-quality figures we have been getting all year. All of her joints are tight and while the plastic used in things like her arms, legs, and hands is strong, and the material used for her outfit is softer so things like her skirt don't impede much movement. The spell-casting hand is a nice touch and I am so pleased that we finally got a "magical effect" with a figure. It is cast in a translucent yellow plastic and looks really cool when you have her squaring off against her former ally, and a fellow Norwin apprentice, Shadow Weaver.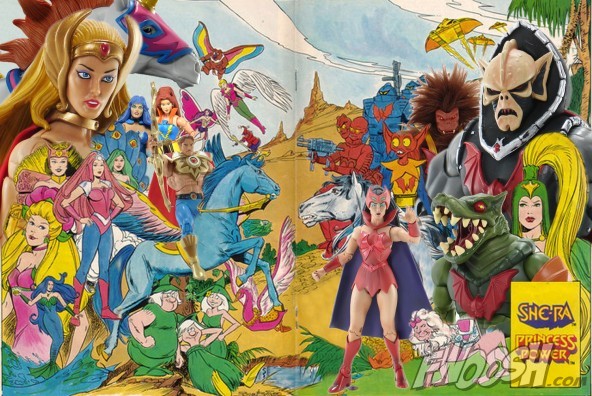 The Month of the Ladies on Matty Collector has begun in pretty fine form with Castaspella, and if you mark her as your favorite member of the Great Rebellion, I think you will be genuinely pleased. She might not be as exciting a figure when compared to guys like Modulok, but she is of high quality, and she is very aesthetically pleasing. I love it when a toy makes me like a character more and that is certainly the case here, especially since I can give her a different voice in my head — her old grandma voice from the cartoon really wasn't my thing. I am glad that the Rebellion continues to grow, but we are still far from completion. Glimmer is next, but hopefully 2014 will go through so we can add the likes of Mermista, Double Trouble, and Peekablue next year too.
*Thanks for reading and thanks to Toy Guru for getting this figure over to us after a little shipping confusion, we really appreciate it. More MOTUC coming soon!
Additional Links