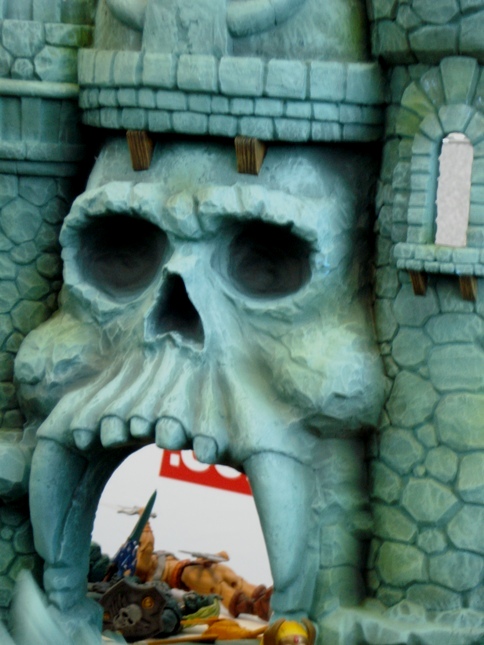 Today Mattel unveiled the prototype for what is possibly the most anticipated playset in the history of toys.
CASTLE GRAYSKULL
Here's what Grayskull will include:
Main Pieces:
2 wall facades (each with secret door)
3 base plates (snap together)
2 floor plates
2 dungeon walls
1 elevator platform
2 elevator walls
1 turret addition (point dread)
1 carrying handle (removeable)
Accessories:
Ladder
Flag
Dungeon door (opens)
Throne
Trap door (opens with candle stand)
Candel stand
Gun turret
Jaw bridge (opens)
Weapons rack (small)
Extra weapons:
Vikor axe
He-Man shield
Weapons pack rifle
Demo-Man mace
New assault rifle
Wrist cuffs (attach to figures and wall)
Door on top of Grayskull head (holds orb)
Combat trainer (2 pieces, and spins)
Armored figure (mostly resuse parts, b-sheet to follow)
Spirit of Castle Grayskull SLUGG (clear)
Pawn crown top (removeable)
Castle Grayskull will go back on presale starting tomorrow for $275. There is no guarantee that Grayskull will be offered day-of-sale, or if it is, that it won't be at least $300.  Translation: order yours now!!
And here's a million pics!
 As always, if you use our pictures, please link back to this article. Thanks!
TOY GURU SCOTT NEITLICH, DEMONSTRATES THE VARIOUS FEATURES
About Post Author