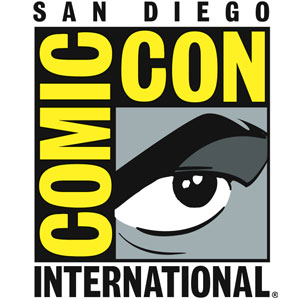 In what has become a small tradition, after given some time to process all of the new toy goodness from this year's SDCC, several members of the Fwoosh staff are ready to share their thoughts about the figures they consider to be "best in show". Read on after the jump to see some of the highlights. Damn but we could only pick one each!
Ibentmyman-thing choo-choo-chooses:
DC Universe Classics Legion of Superheroes Box Set
"Hello there, Superboy!"
These three words, spoken to Clark Kent when he was not dressed in his Blue red and yellow tights, kicked off decades of stories of 30th century heroes. The Legion's ranks have grown over the years, and when time came for them to be done in DCUC, they needed something big. 2 packs? 5 packs? No. Not big enough. Not big enough at all.
12 Legion members. All at once. All for us.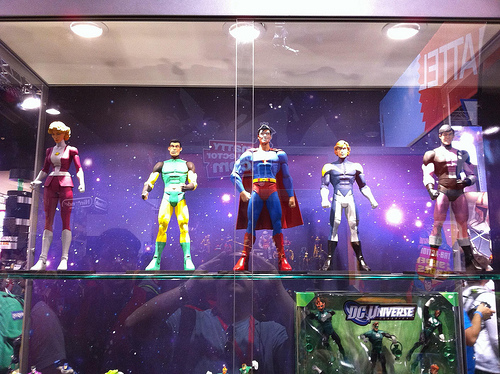 The unprecedented dedication and leap of faith to this corner of the DC Universe makes the Legion boxset announcement my best moment of SDCC, even with one as packed with MOTUC goodness. It was hard, but it had to be. As notable for who isn't in it as who is (12, and more are coming. We all know it. And for those of us who dig the Legion, it's great news), it also has the very first appearance of the original Superboy himself in DCUC. I've been clamoring for an original Superboy figure since the line began. I figured it was inevitable, but never figured he'd be wrapped in 11 other figures. May be a bit of a blow for those who only want Superboy, but I can't see them not releasing him on his own. Maybe with a variant, angry "Superboy Prime" head. The possibilities are exciting.
canonball fell in love with:
Masters of the Universe Classics Vikor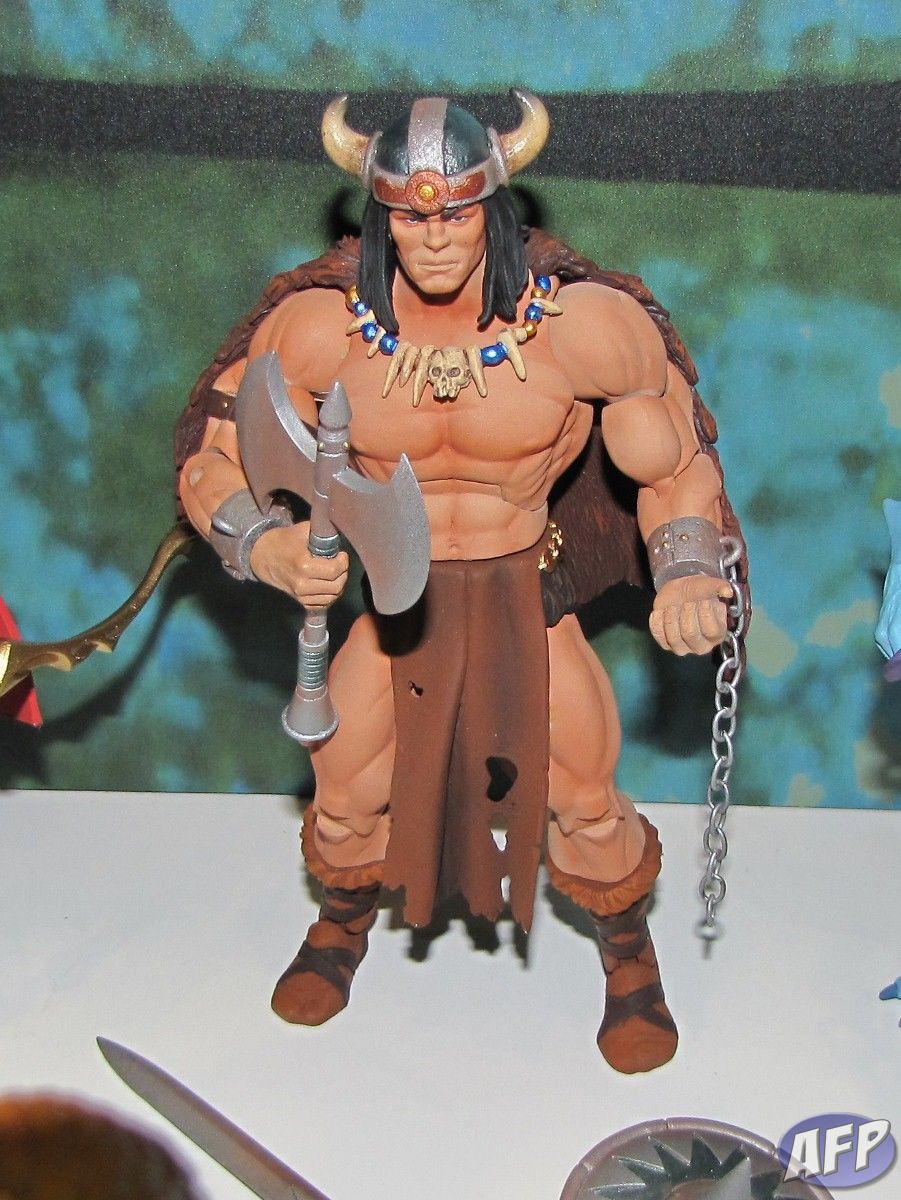 I learned a few things about the origins of the Masters of the Universe line during SDCC '10, all of which were very pleasant surprises – It was originally intended to be a Conan toy line, but because Mattel didn't approve of the Arnold film, the "Conan" concept morphed into a sort of Conan-Captain Marvel hybrid, the result of which was what we now know as "He-Man." During the MOTUC panel, Mattel unveiled plans in 2011 to release a figure based on the original concept for the hero in the line: a thinly veiled homage to Conan named "Vikor." Being a big fan of both MOTUC and Conan, my jaw hit the floor when I saw pics of the figure and I had to let out a giddy exclamation. YES! This was easily the unveiling that excited me the most throughout the duration of the con. As much as I cherish the LCBH Conan figure, THIS is the Conan figure I've always wanted. They can call it Vikor, hell, they can call it whatever they want, but it exactly nails the look and the overall paradigm created by both Howard and Frazetta. I can not wait to get this – it'll be the centerpiece in my MOTUC collection.
Prodigy only has eyes for:
G.I. Joe Snake Eyes
Snake Eyes. It's always Snake Eyes that gets me. Every time I swear off collecting Joes somehow, someway a great Snake Eyes figure gets me back in. Just when I had thought I was done collecting new Joe figures because they weren't doing the 25th anniversary stuff any longer I see this beauty and I'm back in collecting these 4 inch warriors: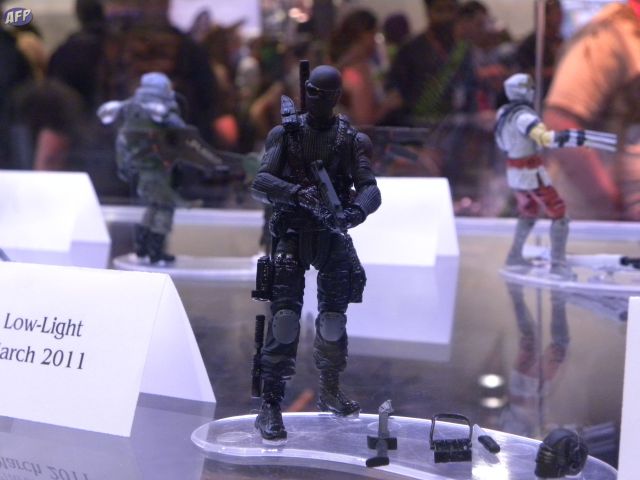 So pretty. He's just perfect to me. There have been a ton of Snake Eyes figures through the years and each one kind of gets better so you must buy them all(Genius Hasbro! Genius!) but this one may be the pinnacle for me. He has that perfect mix of army/ninja that I crave and comes with classic and modern swappable heads.
As if that isn't enough his silencer comes off his uzi and fits on his pistol too. That kind of great detail accessory added to the great sculpt along with the swappable heads had me going back to check him out over and over again at the con. There was a ton of great looking stuff but for me this Snake Eyes figure was the tops.
Robokillah has a plastic desire for:
Square Enix's Assassin's Creed 2 Ezio
I'm not much into the higher end toys. I like my toys like I like my women. Ordered cheap online or lying on the floor at Wal-Mart. But this guy really popped out at me at the Square Enix booth. Which I never would have visited if it hadn't been for carl going there to pick up his MGS Snake exclusive. And then his RE Chris figure. So while he was in line, I browsed the area and came across Ezio. Wow.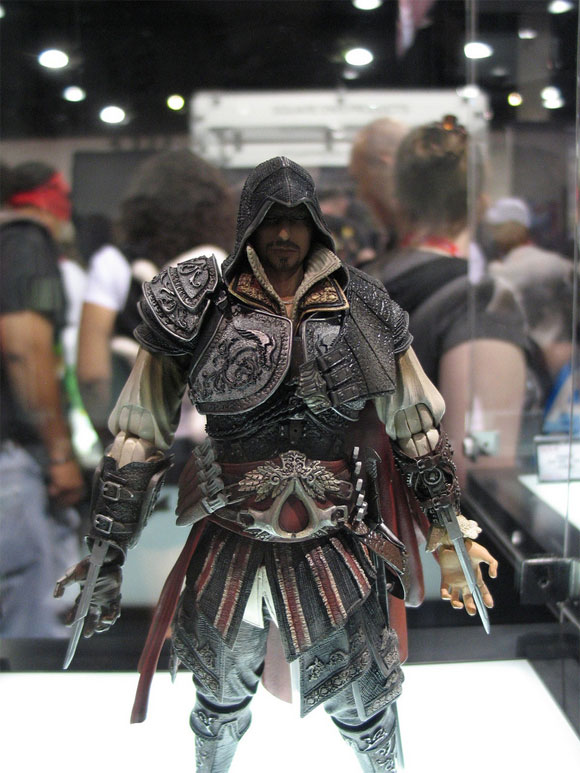 Big fan of the game. Big fan of the character. And after messing with carl's Snake and Chris, big fan of Square Enix. I doubt I buy many $50+ figures, but Ezio is definitely at the top of the list. The articulation, the detail, just everything scream badass toy. I was daydreaming about the Hot Toys Ezio, but this is more within my reach. He will be mine.
VeeBee wants to join the Great Rebellion and hang out with:
Masters of the Universe Classics Bow
My pick is the Masters of the Universe Classics Bow figure. Yeah, Bow. If you didn't know that I was a big PoP supporter for MOTUC, well, this has nothing to do with it. It doesn't matter where the character came from, what his origins are and what his past histroy might be – this is such a great figure on it's own merits and for lots of different reasons. His head sculpt is very heroic and his costume design is kept very interesting while not getting into the "over detail" realm that looks out of place in MOTUC. He also has a ton of great accessories from his horse head bow, car suit arrows (awesome!) to the interchangable chest plates for those that cannot display a man with a heart on his chest. Oh, and he has two heads, but the mustachioed version is much more my cup of tea for the Etherian bard.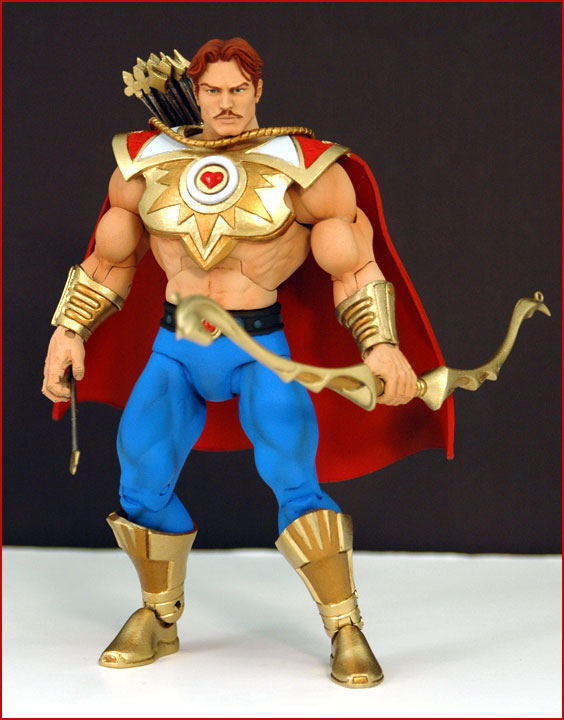 He also has a couple of first for the line, wrist hinges that are essential for a bowman and a new, non furry shorts crotch piece that does a great job of covering the hip articulation. I REALLY hope this is the style Mattel and the Horsemen will employ going forward and not the Adora skirt look. This is much more aesthetically pleasing and I think the same method will work great for a lot of the female characters too.
I was going to make this about Bow overcoming the odds of being a less than revered (by most) character that was interpreted a homerun and that how ANY MOTU character will look cool in this line, but I already thought that. Like I said, I love PoP so I am so glad that January will bring us She-Ra's dashing "Special Friend", it can't get here soon enough. Now, bring me my Catra, Frosta and Glimmer!
My honorable mentions must go to DCUC Mercury, Green Lantern Classics Low/Maash and Marvel Legends Black Widow. Meow.
DisThunder forgot to hide his telling 90s roots and picked:
DC Universe Classics Knightfall Batman
So, so, so close.
You get the feeling looking at Mattel's offerings lately that we've taken a turn very much off the beaten path. Gone this year are many of the expected anchors, with your helpings of A-listers now being doled out in shiny colors and multi-packs. In their place, we have things like the Metal Men. The Doom Patrol. The Super Powers? Depending on where you sit on that infamous fence, this is either the most exciting time to be collecting DC action figures, or one of the most confusing. That's not for me to tell you, though. Eye of the beholder and all that. What I am here to tell you is how ridiculously close we're getting to Mattel giving me the action figure I've been waiting decades for. Ever so close.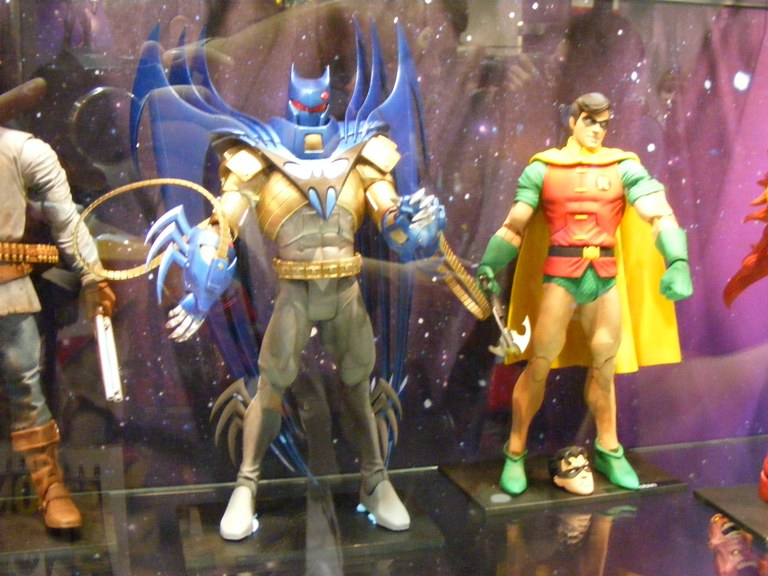 Let's get this out of the way- Yeah, his belt's backwards. His spikes are backward. No, I'm not the least bit worried. Watching a booth worker sweat bullets pulling these things out of shoeboxes literally in pieces has filled me with a newfound respect and tolerance when it comes to looking at two-ups. When you're supergluing very expensive sculptures back together with several thousand people looking over your shoulder, it's not hard to see how things get mixed up.
But no amount of mis-matched parts could hide the beauty of this beast. Not only is this essentially a brand new sculpt, with some fantastic and dead-accurate armor that matches the art from 'Tec 675 perfectly, this is a Batman with double joints.
As far as the figure on it own goes, this is a far greater tribute than the cautionary tale in '90s excess that is Jean-Paul Valley likely deserves, but it is undoubtedly one helluva next step on the road to that ultimate Batman figure. He joins the parthenon with the likes of Attack Armor, DCSH, and Classic Detective, which make for some damn fine company.
So, I'll gladly join Classics off the beaten path, especially if we're going where I think we're going.
MatthewK wants to techno-barbarian jet sled for his own. How convenient!
Masters of the Universe Classics Battle Ram (Four Horsemen concept)
I had thought I'd seen all the cool toy reveals I was going to by Saturday morning at the con. I had a few hours to kill prior to the Hasbro panel after failing to get into the Green Lantern Hall H mega-line, so I decided to walk the sales floor. When I hit the 4 Horsemen booth to take another look at the Symbiotech prototypes I saw this bad-boy: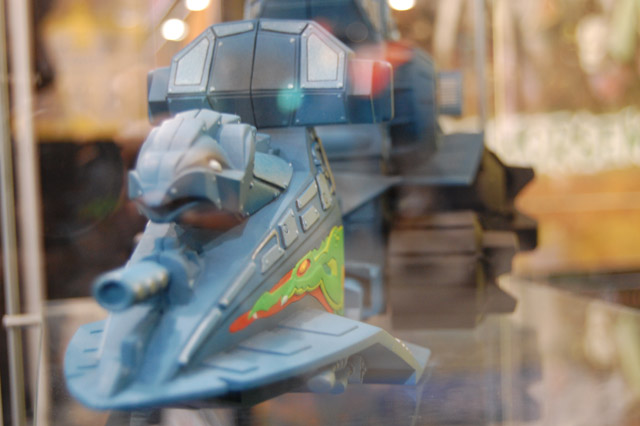 I was floored. Toyguru had mentioned a MOTU vehicle this year, but I wasn't expecting to see any sculpts. This is exactly what I wanted to see from a MOTU vehicle – the same design as the originals, but with enough added details to make it something more than just a larger version of the original. I love how they sculpted the crazy dragon stickers of the original Battle Ram into raised reliefs and sculpted all those tiny little 1980's style computer consoles.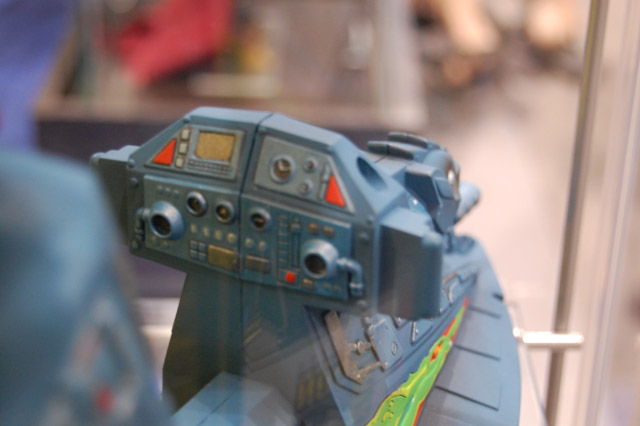 Beautiful stuff. Now, the only possible downside is that this a prototype the Horsemen did to show Mattel how they would do MOTUC vehicles, so it has not been confirmed or scheduled for release. I look at it as a pretty good sign that Mattel did have the 4H display the vehicle at the con, though. I know I'm ready to buy one, I don't care what the cost is. Hell, I'd buy a few of just the sky sled part if they decided to sell those separatel
Just to get Samuron to shut up, Chris Dahlberg brings us all a horrifically gorgeous:
DC Universe Classics Jonah Hex
Since VeeBee and I started doing interviews with Toy Guru at San Diego Comic-Con a few years ago, I've been asking for just one guy in DC Universe Classics – Jonah Hex. So when Warner Bros. announced the Jonah Hex movie last year, I thought I would finally get my most wanted figure. Then at Toy Fair, I was dismayed to see that Mattel (and even DC Direct) had let the movie figures go to NECA – I don't have anything against NECA, but my hopes for a DCUC Hex were fading.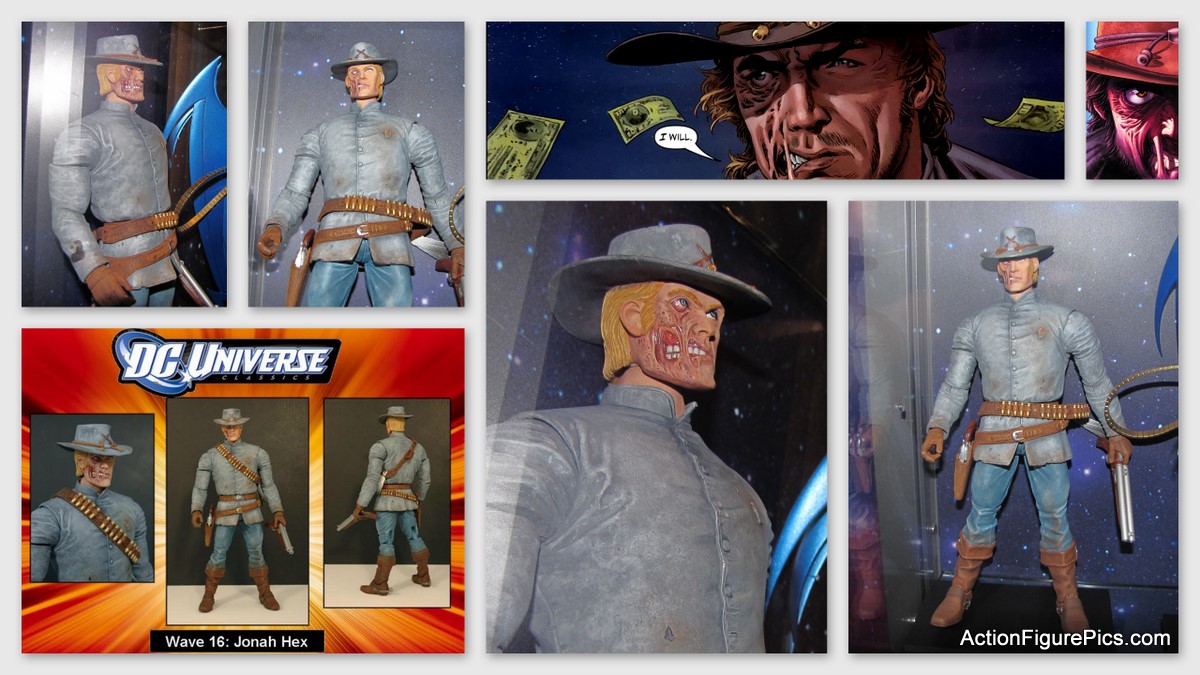 So I was totally psyched when Mattel announced in Toyfare magazine that they would be including a comics-based Jonah Hex in wave 16 of DC Universe Classics. And let me tell you, the picture in that article could really not do him justice. The two-up at SDCC has all sorts of crazy details that you have to see up close to appreciate – bullet holes, burn marks, scuffs, dirt – and that's just his Confederate uniform!
The facial detailing is sickening, just like I wanted it to be. Chris Dahlberg of the Four Horsemen sculpted Hex, and took extra pleasure in exposing the gory details below the surface. I can only hope the sculpt and paint details make it all the way through to the final production figure. I would have liked a second pistol to tuck into his gun belt, but the way it's constructed, that probably wouldn't have been possible – so the shotgun is a nice alternative.
I know I've still got some big hitters to get through in waves 14 and 15, but I can't wait for Jonah Hex. In the meantime, it's time to start campaigning for Sgt. Rock!
*Thanks for reading and start saving your action figure pennies now, 2010-11 is going to be an expensive time.
Additional Links
About Post Author