Who wants calamari? That is right, less than a month before he is set to make his debut (with a sure to be short stay) on www.mattycollector.com, Eternia's number one King of the Fish Sticks, Mer-Man, found his way to my doorstep thanks to Matty and Toy Guru. How does he stack up? Read on to get the full lowdown on everyone's favorite Ocean Warlord.
I will go aheand and come clean right now – Mer-Man is far and away my favorite Masters of the Universe character, and the 1980s figure went everywhere with me for about three or four years. Thus, I was extremely excited, yet a little anxious over the release of this figure; like Mattel's DCUC Blue Beetle less than a month before, I wanted this the figure to be perfect. Well, I am happy to say that he is pretty darned close and I really believe he is the best overall Masters of the Universe Classics figure we have gotten yet – even edging out the fantastic Skeletor. Now, I know you are probably here for the pictures more than anything else, so I will keep this from turning into a novel, but let's touch on some of the highlights.
First of all, finally having this figure in hand has been a long time coming for me (even thought it is technically early) since I first saw the Horsemen-created prototype at last year's San Diego Comic Con. While I was there I had the chance to talk with Eric Treadaway (Mer-Man's primary sculptor) about the figure and how we both recalled loving the original toy, but longed to have a Mer-Man that looked like the art that appeared on the back of the package cards. Well, I am happy to say that Mr. Treadaway's unreleanting attention to detail is to the gain of us all, as some of things he picked up on are so minute you might just miss them. The alternate head is obvious and is executed with the utmost care – I think it is the most proportionate head we have gotten yet in MOTUC. However, the most subtle sculpt enhancements might just come from armor. He has the extra "bump" on the right side of his neck armor and the shoulder guards are asymmetrical as well with one side lying flat and the other slightly curving down. These are two things that Eric mentioned specifically that he made sure to add and I am happy to say that they really came through in production. I think that is a very tell-tale fact that speaks volumes about the approach from all involved parties toward this line.
Just because of personal tastes I will be displaying my figure with the "card back head" but if you are more of a slave to keeping things strictly in-line with the original toy, you will really dig the "classic toy" head. I think that it is the most faithful translation for an update that we have gotten so far in MOTUC. Squidish Rex here (yes, that is correct, his biography boasts that his real name is in fact Squidish Rex. Apply that moniker at your own discretion…) looks so much like his original incarnation in the mug that when pulling out the old toy to make the comparison (as you can see below) it is quite apparent that very subtle nuance was considered in the update. My one *minor* quibble would be that the classic toy head seems a bit small on the body, but that might be because I have spent more time looking at him with the alternate head. At any rate, I am considering picking up a couple more of these babies on April 15th (Mer-Man AND Tax day!) so that Mermy will have a couple of Rakashian under-dwellers to back him up.
Past those personal highlights, I will let the pictures speak for themselves. His trident has a lot of subtle details to it (it looks like it was carved out of some serious fish bones) and the Sword of Rakash, which I always called the "corn sword" due to its classic appearence, is perfectly updated and fits snugly into the back of the armor. As a figure, he is mostly the Skeletor "buck" with obvious new heads, hands, and the neck "gills" piece that fits right on top of the body (it is glued on but you might be able to pry it off if you had will to do so). Finally, I have to note that Matty is continuing to make progress in the world of the furry undies – Mer-Man here has the most flexible pair to date and as you can see below, he can sit down rather convincingly.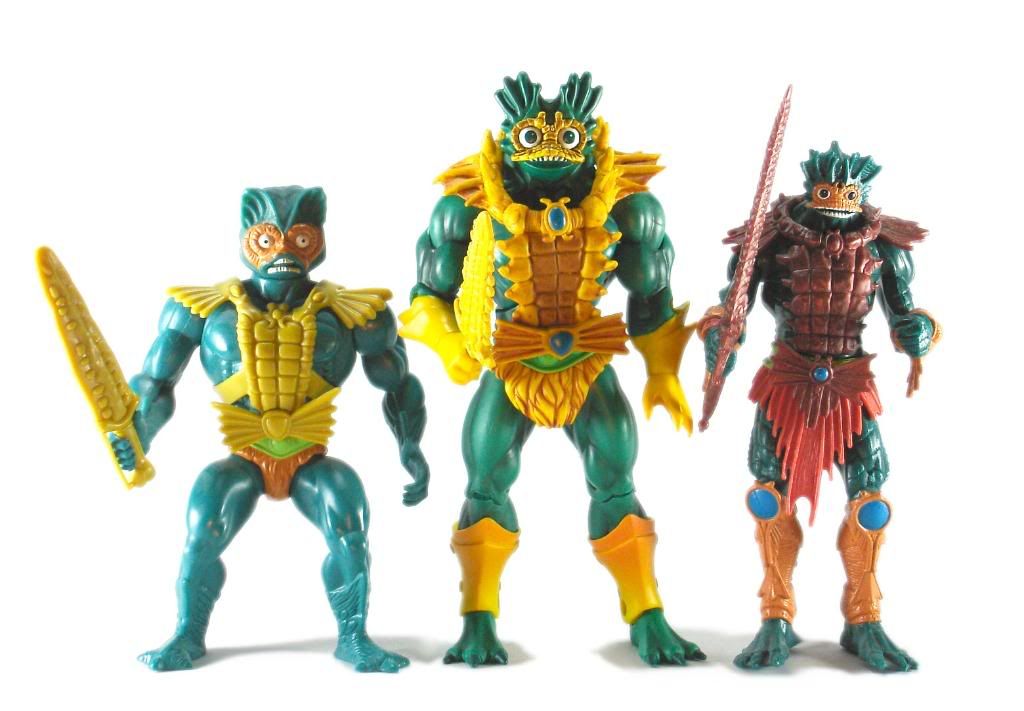 So there you have it – I hope you have enjoyed our First Look at the Masters of the Universe Classics' seventh (!) figure. Personal bias to the character aside, I really do find him to be the nicest figure in the line so far and I am confident that fans of the "toy" head and "card back" head alike will really dig this figure. I have had some issues with all of the past figures but I really cannot find anything to harp on with Squidish here, so forward progress is always appreciated. Remember, be sure to be at www.mattycollector.com right at noon eastern time to pick your figure up, these have been selling out at a furious pace. Until next time, pour a cold one and find a nice place to relax to enjoy the pictures!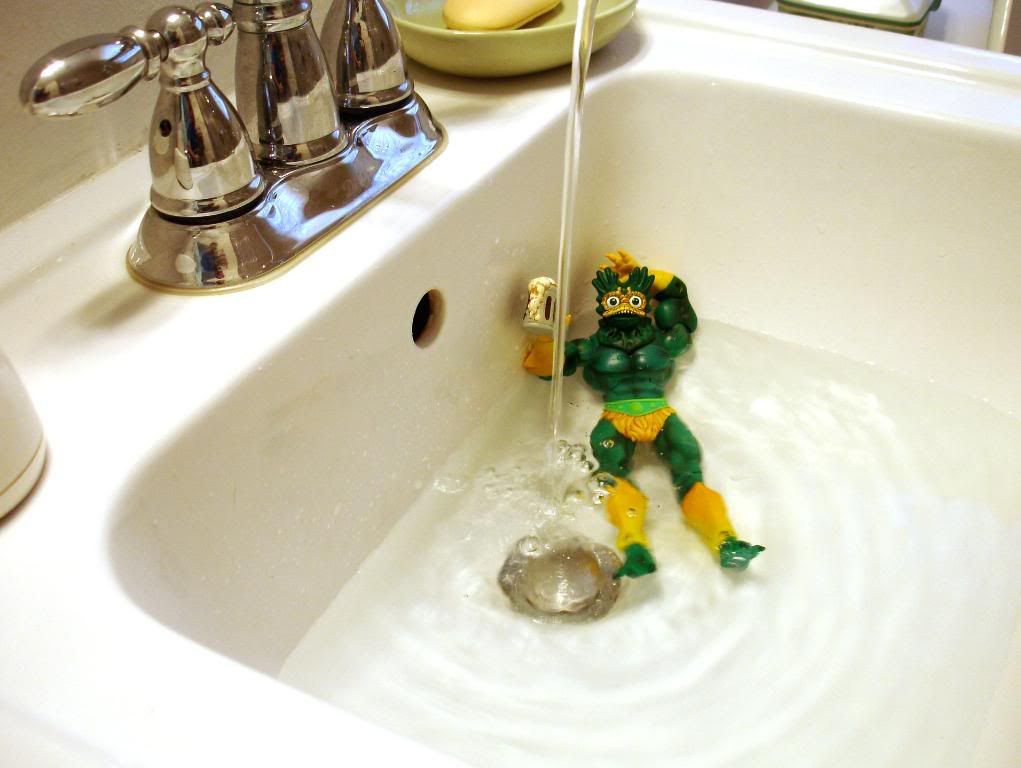 "Tiny bubbles…"
*As always, thanks so much to Toy Guru and Matty for making this First Look possible. Keep up the good work, fellas.
---
---
Additional links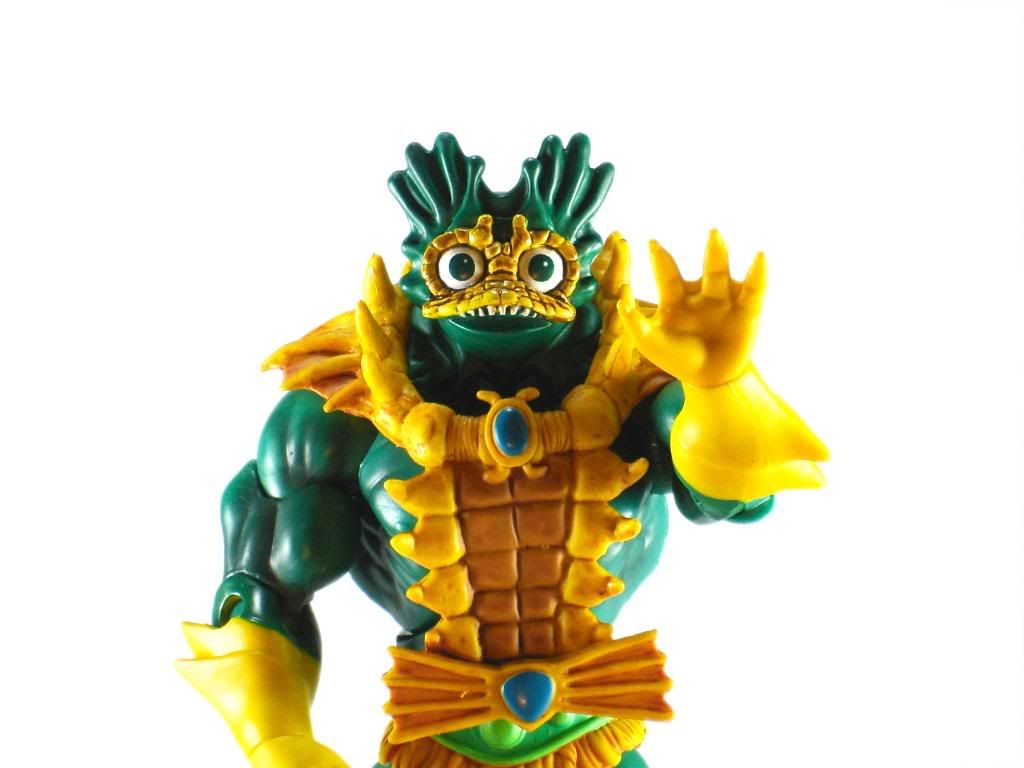 "Bye!"