JoshuaKat

wrote:

↑

Sat Aug 13, 2022 11:37 am

I really hope we get that moment where all the replaced Heroes step off the skrull ship all disheveled looking. Beards, dirt, messy hair. Does that happen in the comics? I feel like it does lol. But yea I can see Sharon getting that white suit after she's rescued from the skrulls. Honestly I wouldn't be surprised if she was the Skrull queen. If she is a Skrull she's the first (to my knowledge) that we've really seen getting into shady business. Unless maybe we count the Damage Control lady. I forget if it was Elektra or Spider Woman who was the Skrull queen but we don't have either of those so Sharon is kinda next bet. Laura Barton is on my radar too.
Elektra was the first one discovered and Spiderman was the queen.
I know they had a moment when a bunch of heroes stepped off a ship kinda like you said, but I think they were actually Skrulls meant to see distrust? I don't remember SI all that well.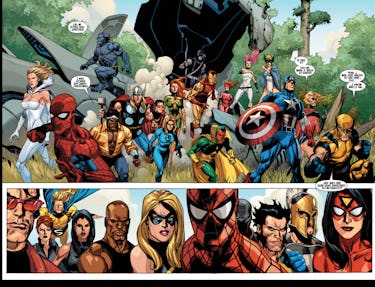 Also, with villains... Based on promos alone it feels like they could do an entire wave of bad guys just from She Hulk.