Hey everyone!
I'm making a George Perez-style Firestar out of the just-released Firestar. Everyone's holy grail is not close enough for me.
After so much painful boiling, twisting, pulling and X-acto'ing I FINALLY got her neck out. HOLY CRAP, HASBRO. Your safety standards are superb. And incredibly irritating.
This is what she looks like in pieces. I want to fill the gap.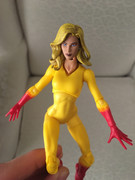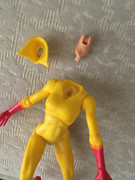 I thought about just cutting down the collar and putting it back, but that's gonna look janky and have jagged edges. I thought about using another figure's upper torso, but I will never get the yellows to match.
My proposed solution: fill in the gap with black paint, since that's what's going there anyway, place the neck and let it dry. I don't sculpt, even something as simple as this. I'm hoping the black will disguise most of the issues, since it will also cover most of the neck peg.
Anyone have any thoughts/suggestions?