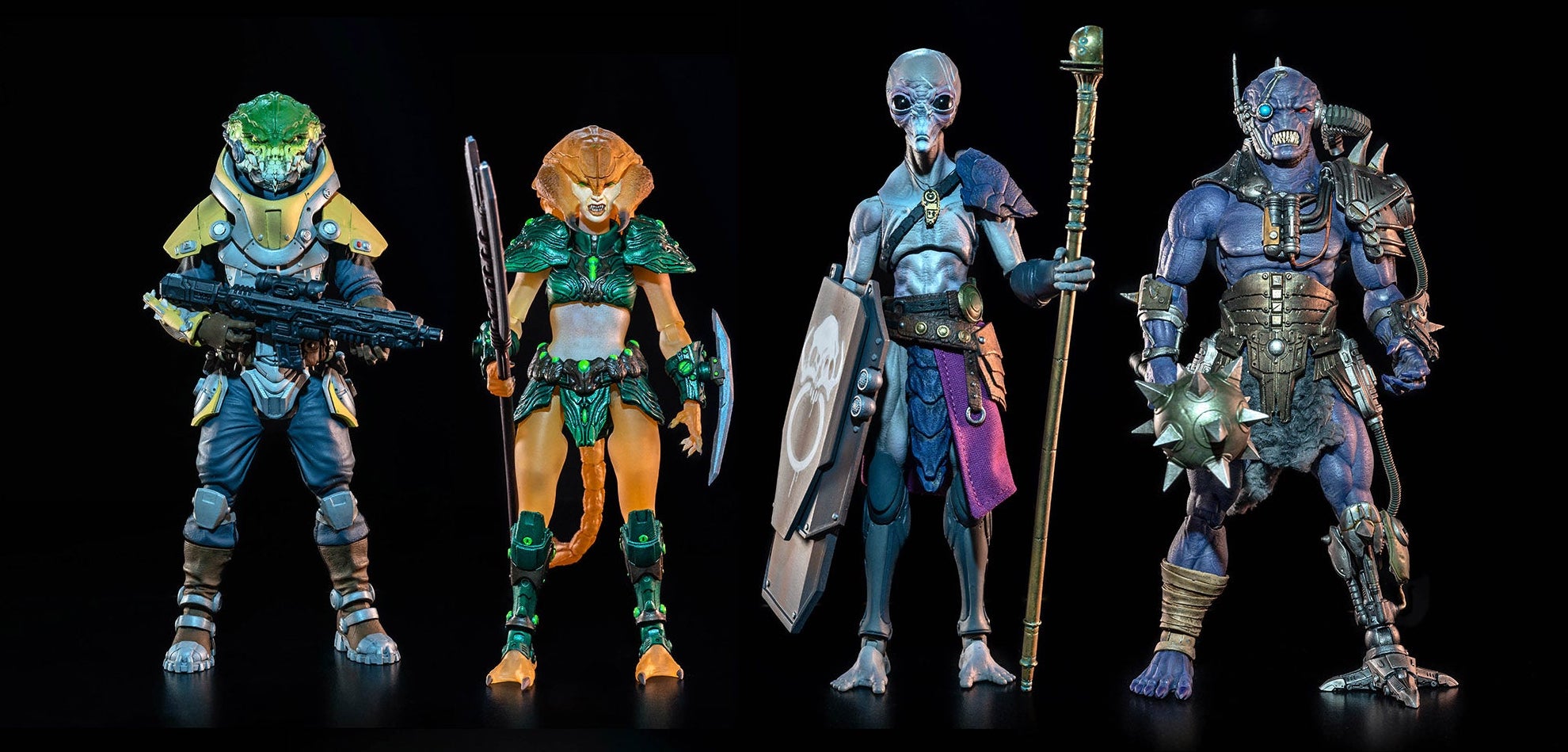 Four Horsemen Studios returns to the universe of Cosmerrium with the release of the "Cosmic Legions – Hvalkatar: Book Two, Gravenight" wave of new figures!
First introduced in 2021, the Cosmic Legions line began with the story of the Hvalkatar prison, including the dreaded Cell Block 5. This lowest level of cells in the prison is home to a fighting arena known as "The Grave", where inmates are pitted against each other for the amusement of the prison's management, guards, and invited guests. This new wave of Cosmic Legions figures focuses on this fighting arena by unveiling four of The Grave's combatants, as well as a deluxe figure set of the T.U.5.C.C. Block 5 Attendants, or "Gravekeepers", who keep those fighters in line!
Featuring the same highly detailed sculpting and paint applications that Four Horsemen Studios have become known for, as well as the modular figure design that has become a hallmark of the Legions brand, this new wave features the following:
Noveunn Leen – the reptilian thug and member of the feared Bleeder's Guild comes with multiple hands, weapons, and 2 unique heads.
Mbyra Jmgyra – another Bleeder's Guild member, this Scorrox terror comes with multiple weapons, hands, 2 face plate attachments, and a bendable tail attached to her head.
Aius Cyppiteon – the Greyborn character is sure to be a favorite with his iconic alien look. He comes with multiple hand options and character appropriate weapons.
Kannox Vull – this large "brute scale" figure is a cybernetic warrior from the Red Spiral! He comes with a crushing mace, multiple hands, and 2 different heads.
The deluxe Slygor / T.U.5.C.C. Gravekeeper set is loaded with extra heads, armor, and weapons options, allowing fans to configure this set in an amazing variety of ways as they build out their Gravekeeper army!
There is also a Gravenight Weapons Pack available in this offering.
All items are available individually, or one of each item can be purchased as part of a discounted "All In" package.The Cosmic Legions – Hvalkatar: Book Two, Gravenight wave is available for pre-order now from StoreHorsemen.com.
The pre-order period ends on Sunday, May 1st, 2022.
About Four Horsemen Studios:Established in September 1999, Four Horsemen Studios was founded by current co-owners H. Eric "Cornboy" Mayse, Eric Treadaway, and Jim Preziosi. Over the years, Four Horsemen Studios has successfully worked with some of the largest and most reputable toy companies in the industry, and on many of the most popular fan-favorite properties.
Beginning in early 2015, Four Horsemen Studios began selling their "Legions" lines by
unleashing Mythic Legions on the toy collecting world. This collector and customizer-friendly fantasy line quickly became a huge hit with toy fans worldwide. Each subsequent "wave" of Mythic Legions has seen explosive growth over the previous offering, and now with the follow-up Cosmic Legions line and the red-hot Figura Obscura releases, Four Horsemen Studios continues to create exciting and original new toy creations for fans worldwide.