Greetings customizers! Lesternessman here again and today I'm gonna show you how to complete the height mod to your SC Sinestro by adding the essential costume details. We last left off with Deadman's forearms, midsection and legs replacing the same parts on the wave 3 Sinestro. This provides Sinestro with proper proportions and height in comparison to Hal Jordan.
The next step in the process is replicating Sinestro's arm bracers. I should point out, all of the details I'm about to add could be sculpted, and if you're good at it-go for it. Personally, I'm not fond of sculpting and I'll try to avoid it at all costs. Its not that I suck at it, I have an art degree and have done plenty, large and small scale. I just prefer not to.
That said, if you have a spare BL Abin Sur, you could also use his forearms, since he has bracers but you'll have to modify Sinestro's hand pegs to fit in those tiny holes. There isn't much room to drill the holes bigger either. No thanks. I'll use styrene, but you could also use a rubber band of the same width and size. I will say, the rubber band will not look quite as nice as the styrene once painted though. I ended up going back to my original custom Sinestro and replaced the rubber bands with styrene strips.
Start at the wrist and work your way up. I use the production seam line on the underside of the forearm as a guide. The point where the ends meet will also be covered, so a little gap is not gonna hurt, but try to get them flush if possible. A little sanding may also be necessary to smooth the ends down. Keep just a bit of a gap between each strip as you work up the arm, but not too much. Once finished, do the same on the other arm.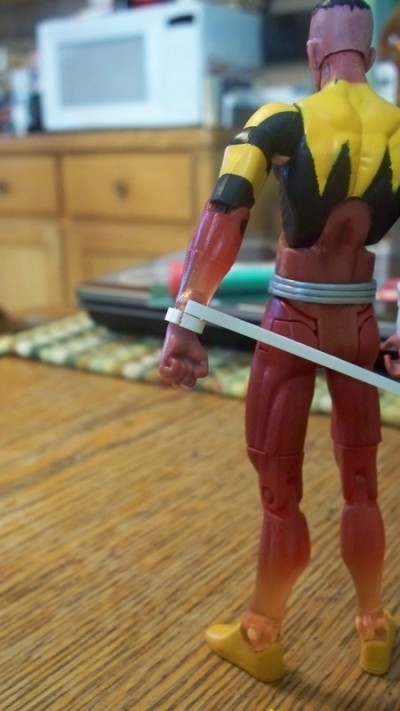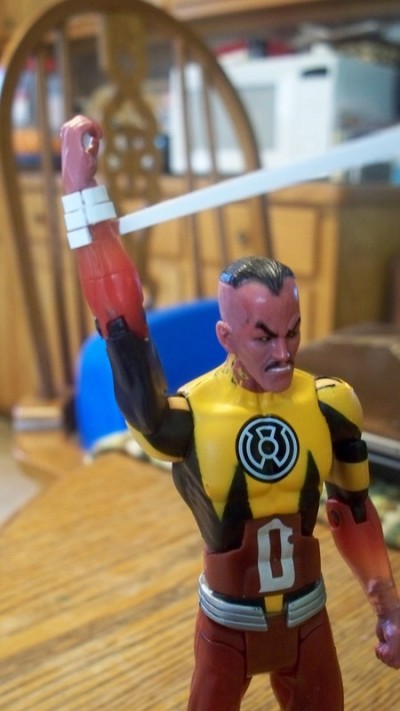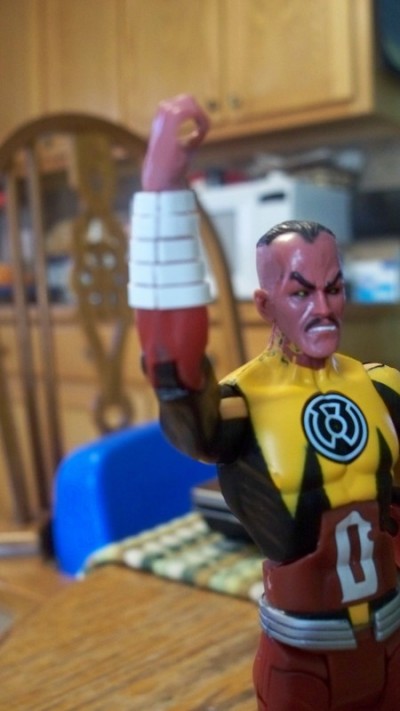 Once both arms are done, time to cap them off. The production Sinestro had these details painted on, but the other Sinestro Corp members have the little circles sculpted on. I used the tube from a Black Manta for this. I've also used the tube from an old Bane. Simply cut little slices off of the tube like this.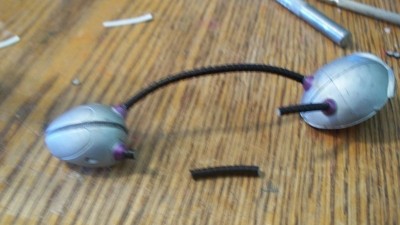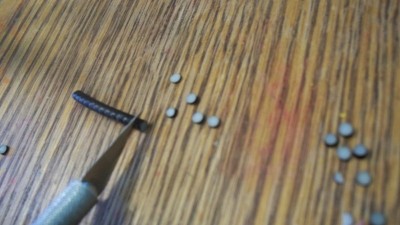 Pick your best ten and glue them on like this: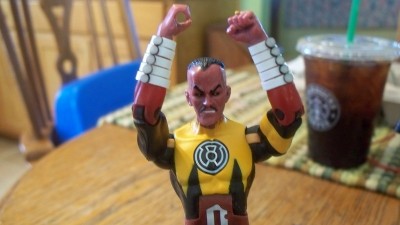 Also seen in most of the pics is his modern hair. While I didn't take a pic of that, all I did was take an exacto to the head.
Last part of detailing before the paint is to replicate the boots. I use rubber bands for the boot tops so that the texture is different than the arm bracers. These rubber bands are the same width and size as the bracers but I suppose you could use any size you want. Cut the band at an angle like this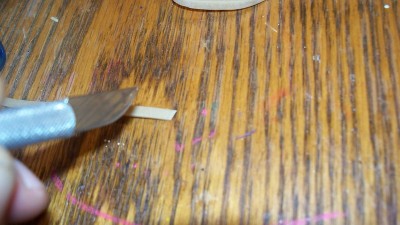 This will serve as the front of the boot top. Space it just right and glue it down, then wrap it around the leg at an angle and match up the ends. It will look like this when done. Repeat on the other leg.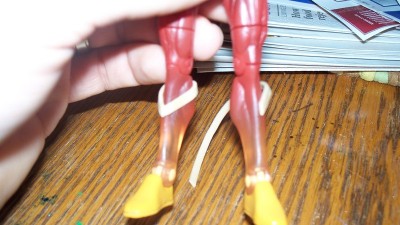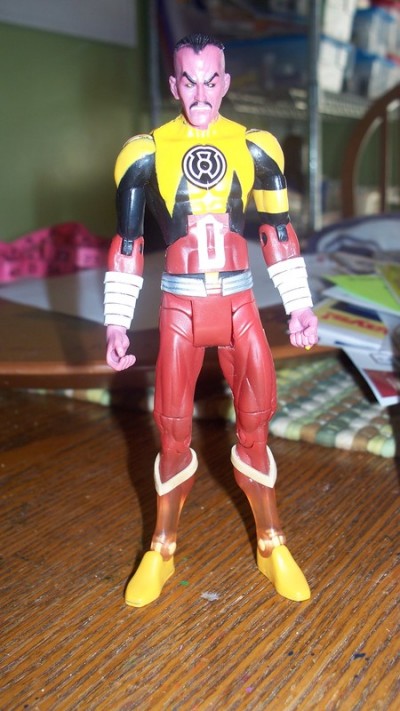 I also want my boots to have folds by the ankles. You could also leave as is and not worry about it, its up to you. I used folds from Robin cape. Again, these could be sculpted but you know how I feel about that.
Once I cut off some material, I glue it to the ankles.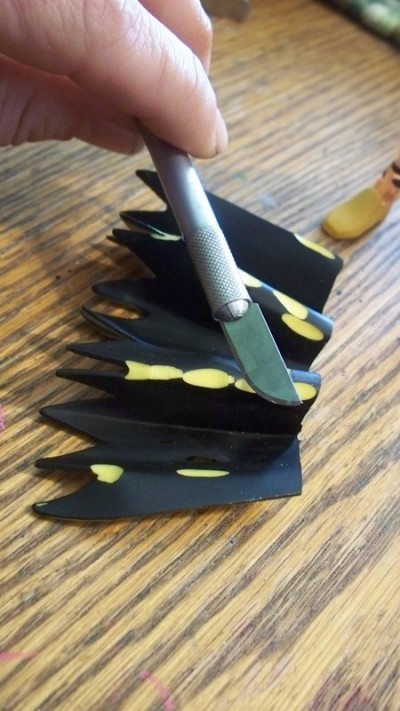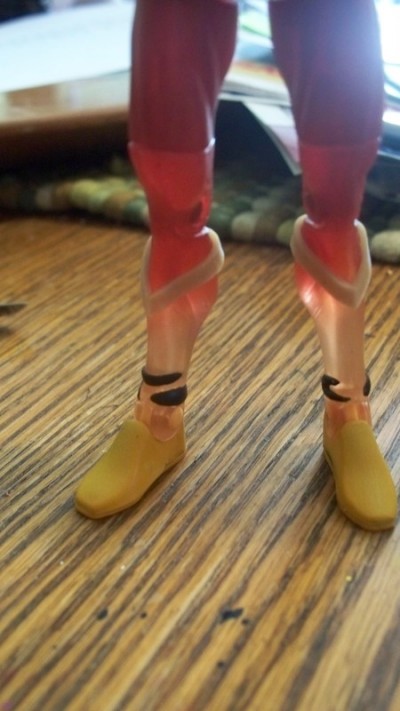 You might also want a raised collar to replace the one he came with. Or, you could paint it. One of my customers wanted a raised collar so here's what it looks like. I used a tiny rubber band for it.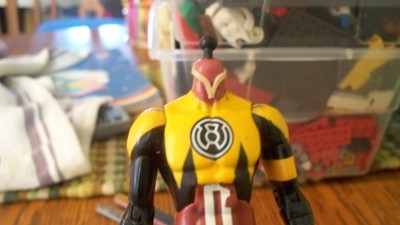 Now, for the paint. I use Model Masters Chrome Yellow, Insignia Yellow and a bit of Italian Red for the yellow sections, Gold for the bracers and boot tops and Flat Black for the rest. I never prime either, but you're more than welcome to. Just be careful and tape off his logo and arm band. After several coats of yellow and a few of black, you'll have this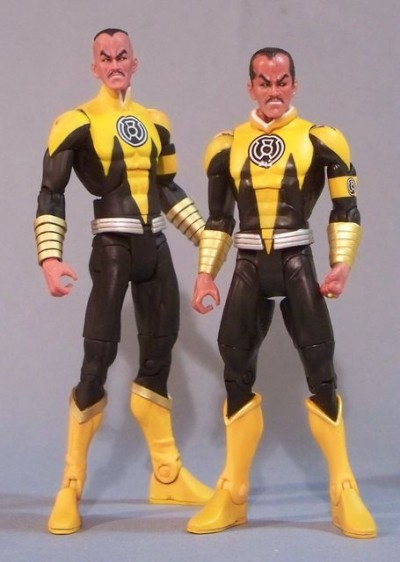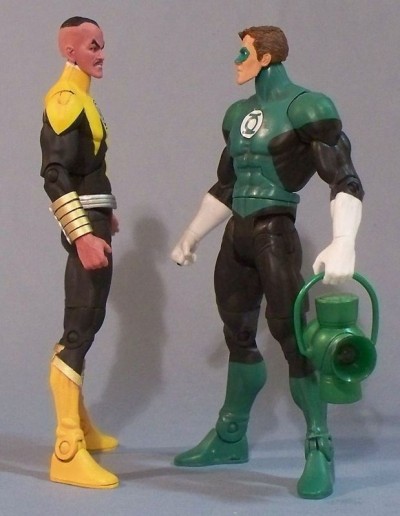 Well, now you have a Sinestro worthy of your shelf. You could always wait for Mattel to do him in this uniform, but he'll likely have T-rex arms like the TRU classic version. Here's how the two stack up.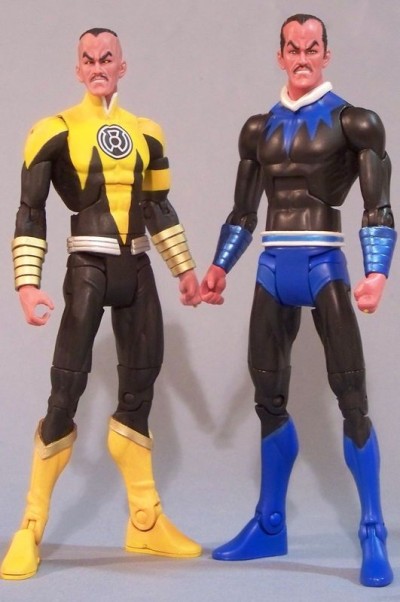 Hope you had a good time and until next time, see you on the boards!
Additional Links