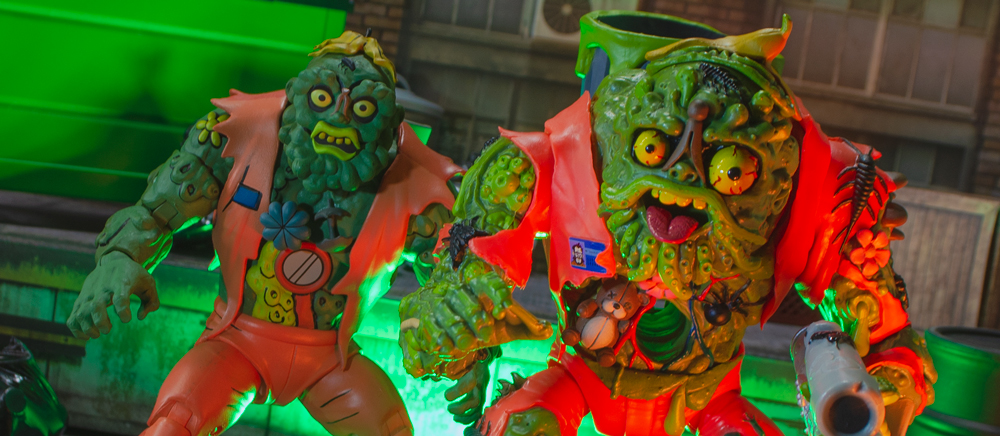 In Sinatra voice: When it was '21, it was a Mucking good year. It was a Mucking good year for some hideous garbage man fun, NECA and Super7 both hit home runs, we got two Muckmans, not one, when it was 2021.
You see what I did there? Well, it is not important to see what I did there, what is important is to see what NECA and Super7 did this past year. If you are a Muckman fan like me, I am positive you took note that 2021 might be the greatest year for the character EVER.
I say that because between January and December, these companies delivered two of the best action figures of the year, and they BOTH happen to be of Muckman. NECA has handed us a cartoon version of our favorite mutated garbage man – something that has never been done before, while Super7 has made a beautifully hideous modern update of the original vintage Muckman. In less than twelve months, the amount of Muckman figures offered to this meager planet has doubled. That is cause for celebration, so let's give it a, "Muck yeah!"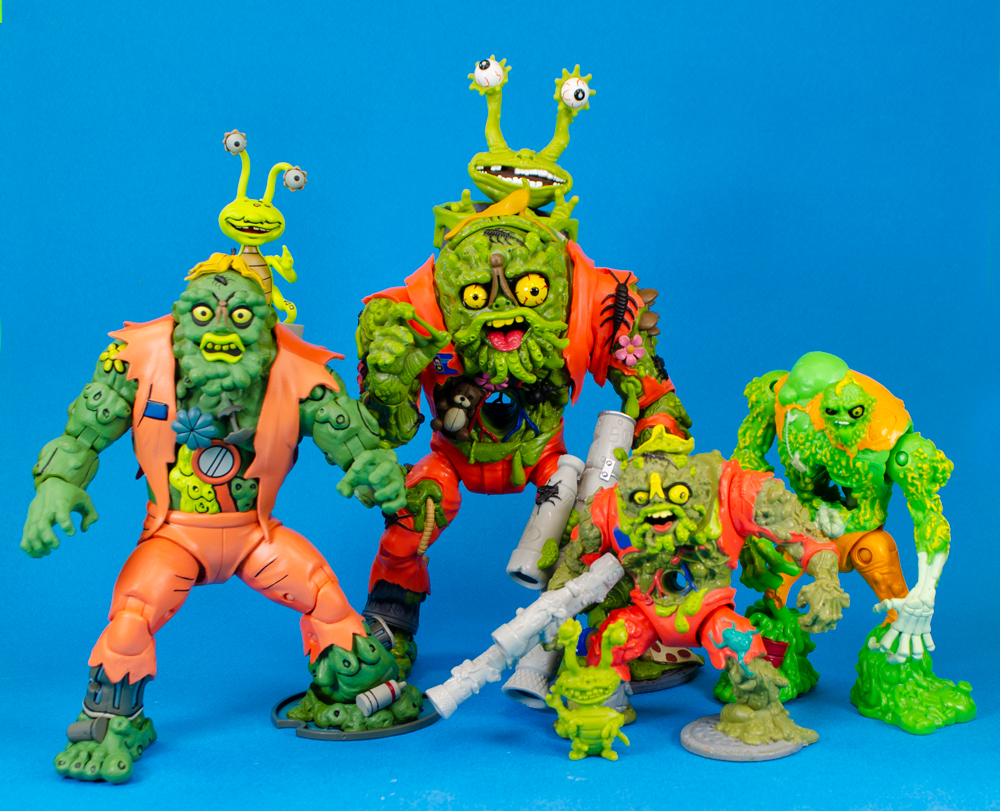 It is not any kind of spoiler alert that both of these figures have made my "Best of 2021" list. I am, admittedly, a Muckman mark, and he stands in my top three TMNT characters of all time list (along with Donatello and Ray Fillet), so yes, there is likely some character bias playing in here. However, just taking these two figures on their own merits as final products of the source material they mean to represent, they are both pretty undeniably awesome. Sure, I have a deep and nostalgic affection for my vintage Muckman figure, and it has stood the test of time very well, but in terms of modern action figures, these two just cannot be beat.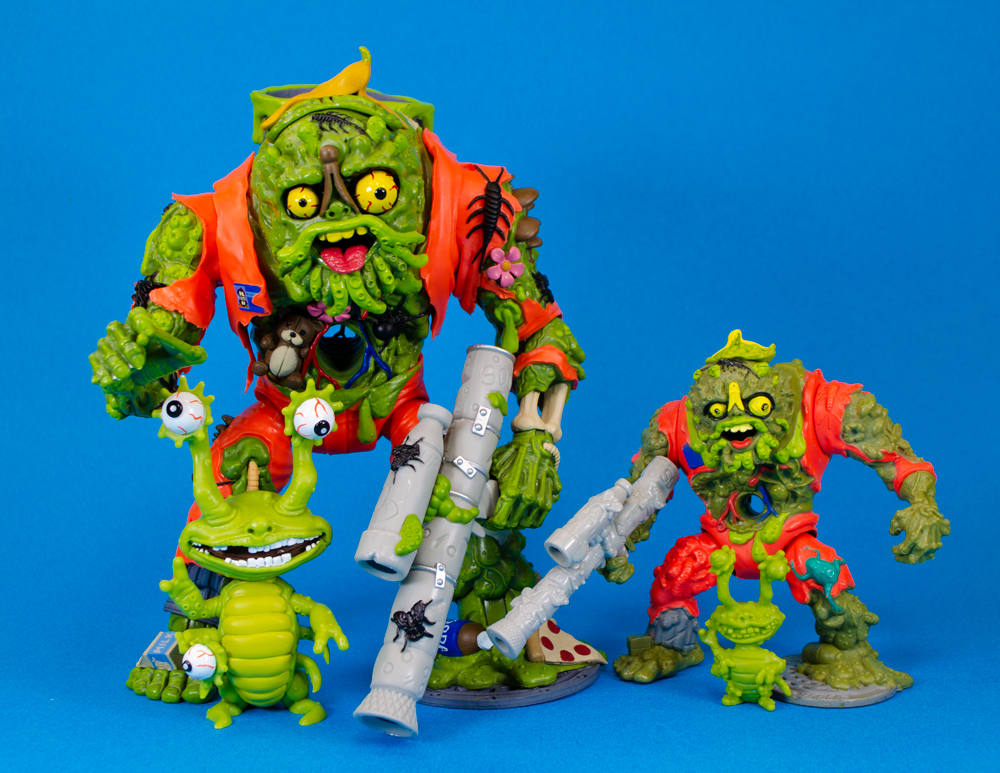 Muckman is one of my favorite Ninja Turtles characters due to his vintage figure. Even as a little kid, I was blown away by the details and weirdness of the character design that I just instantly gravitated to him. Plus, his pal Joe Eyeball (who I SWEAR was called Eyeball Joe on the original card back) is by far the best "sidekick" figure from the entire vintage line. The ooze gimmick as always just the icing on the cake, and cool and gross all at the same time. I am blown away by the sculpted details and overall size of the new Super7, and while I have only had him for a few days, I LOVE him so much.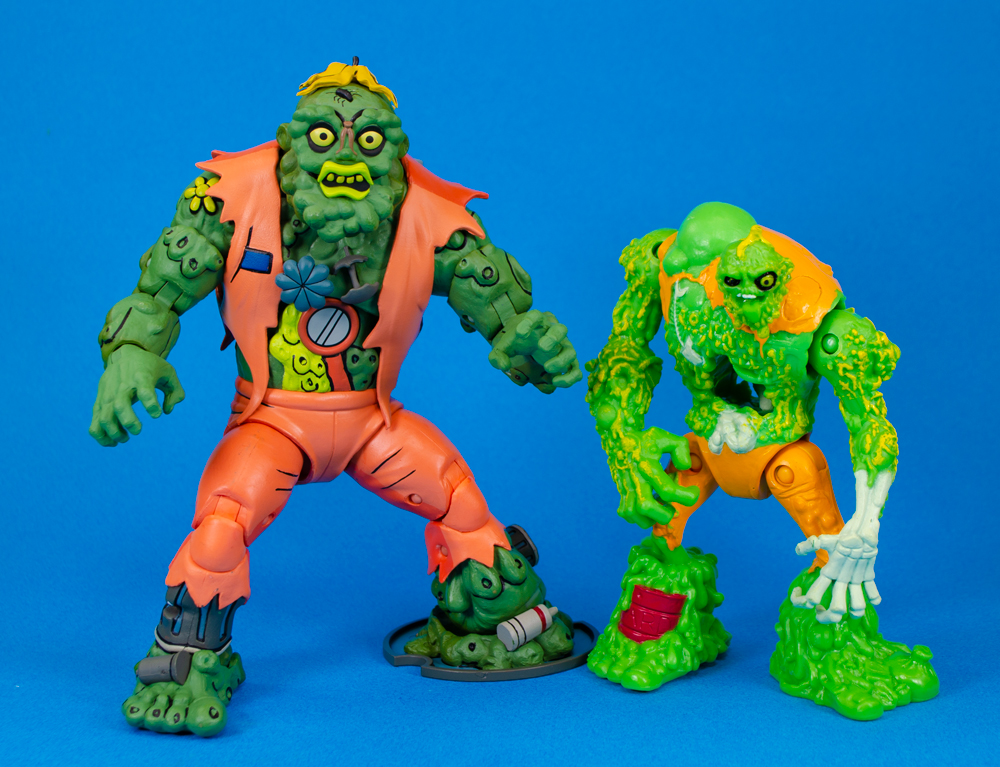 I mean, the ULTIMATES! line makes it like the vintage figures grew up with you, so seeing all of those details with enhanced paint applications is such a joy. Plus, Joe Eyeball is almost as big as the vintage figure and he has paint applications! I know that is silly to say, but those old slug figures were never painted like the card back prototypes. I love the TMNT U! line, and when you get a figure that stands out amongst the standouts, you know you are onto something good. Getting a new Muckman to close out the year is a great thing in and of itself, but when it is this good, it certainly makes for some Happy Holidays.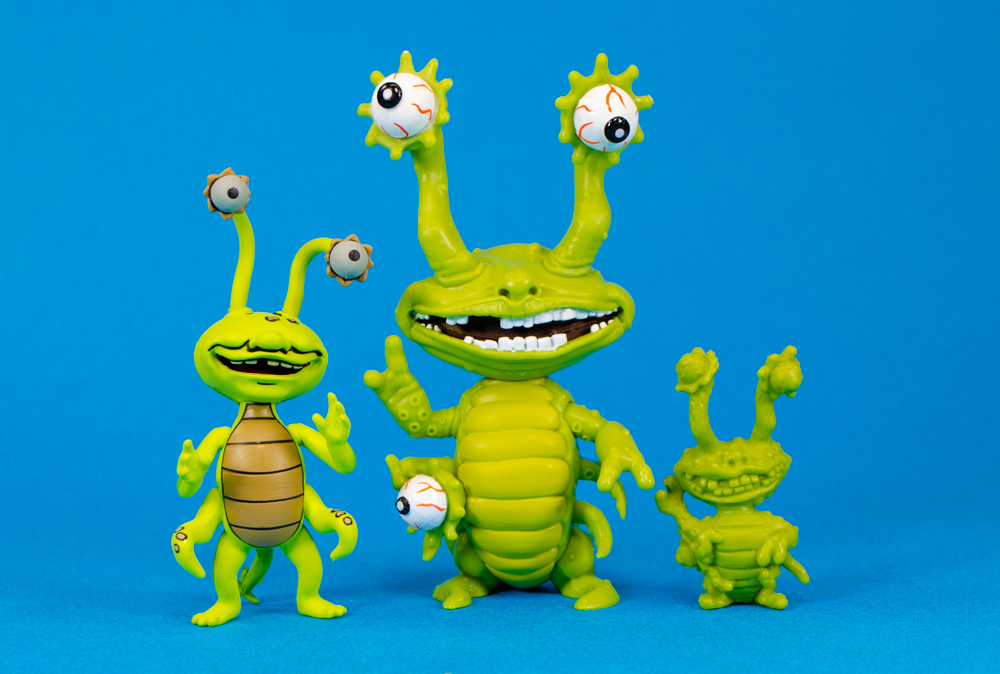 On the other side of the spectrum, for the first time EVER, we have a figure based on Muckman's 1987 cartoon appearance. It is nigh impossible for me to choose between the original cartoon and the original toy line when it comes to my favorite and most influential TMNT sources. Like, seeing a character who had an action figure show up on the cartoon was always an absolute THRILL (except for you, "Ray"), and getting figures of characters who only appeared on the show was amazing as well. I mean, Muckman and Joe Eyeball were send up of Jackie Gleason and Art Carney from, "The Honeymooners" and it somehow worked in that weirds show's weird way.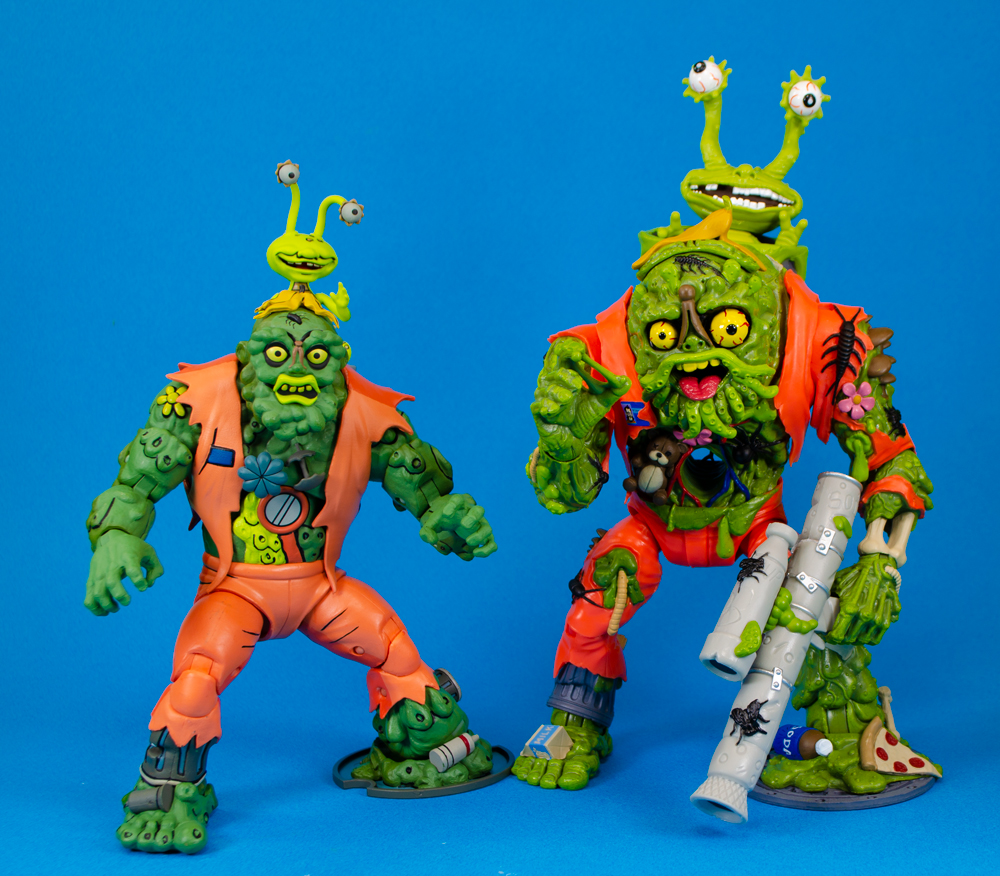 While so many characters had dramatically different looks on the show compared to their plastic counterparts, Muckman and Joe remained largely the same, but still different enough to be unique. I love that NECA's Muckman come with a barrel of ooze for that essential part of his design and characterization, and the figure has so much personality that can be changed via swappable mouths(!!!), so the creativity behind the toy design is certainly worthy of the character. It is also a fun dynamic that Muckman was a heroic character on the cartoon. I understand that was the intention of the figure as well, but Playmates always categorized him as a villain, so I have not been able to shake that. So, having two versions of Muckman that can sit on opposite sides of the aisle is a treat.
What a year for Muckman! I count myself lucky as being a fan of both NECA and Super7 EQUALLY (I will never understand the weird online beef some 'bros have over these two companies), so being able to delight in twice the Muckman fun makes 2021 very memorable. Seriously, what a time to be a TMNT fan and collector. Now, I just need a ReAction figure, and I will be in an even better place. Looking forward to 2022, Super7 already has TWO versions of another favorite of mine, Ray Fillet being released, so c'mon, NECA – let's see about possibly getting us a comic figure, we can leave the cartoon version to the dustbin of history.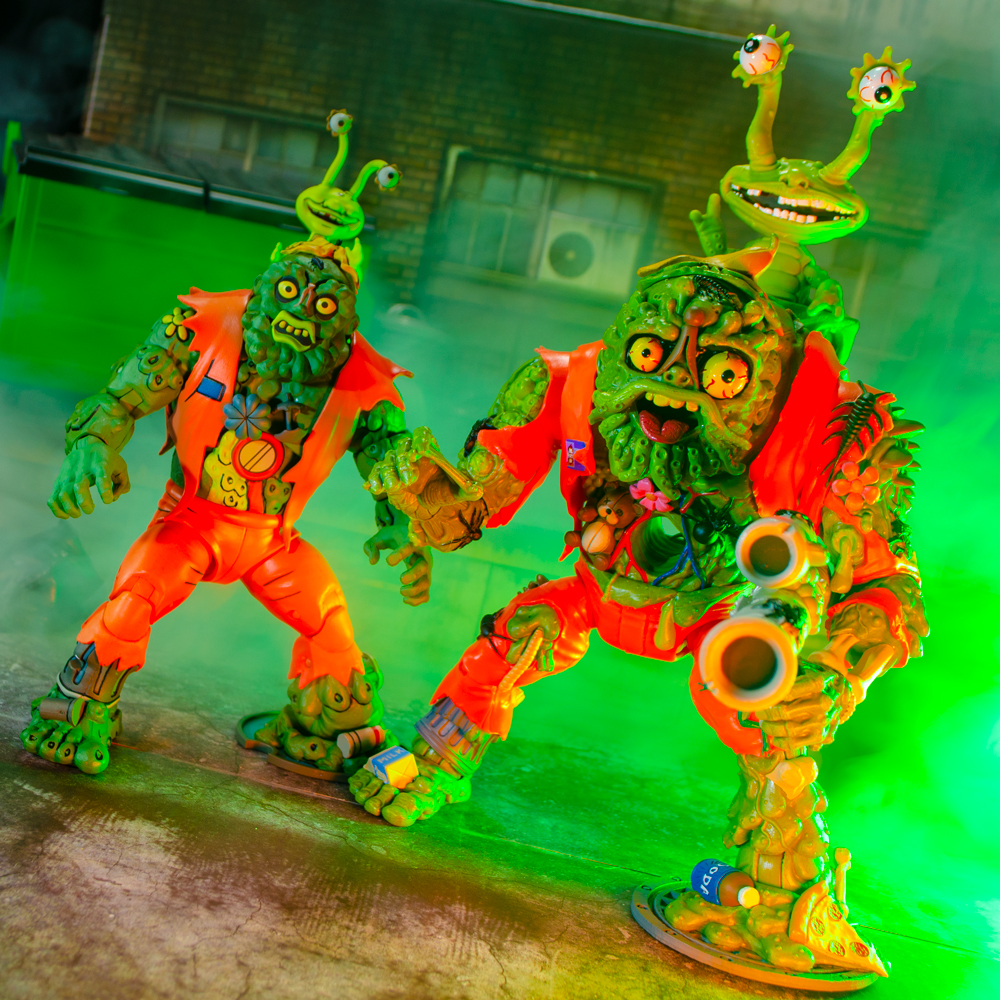 About Post Author