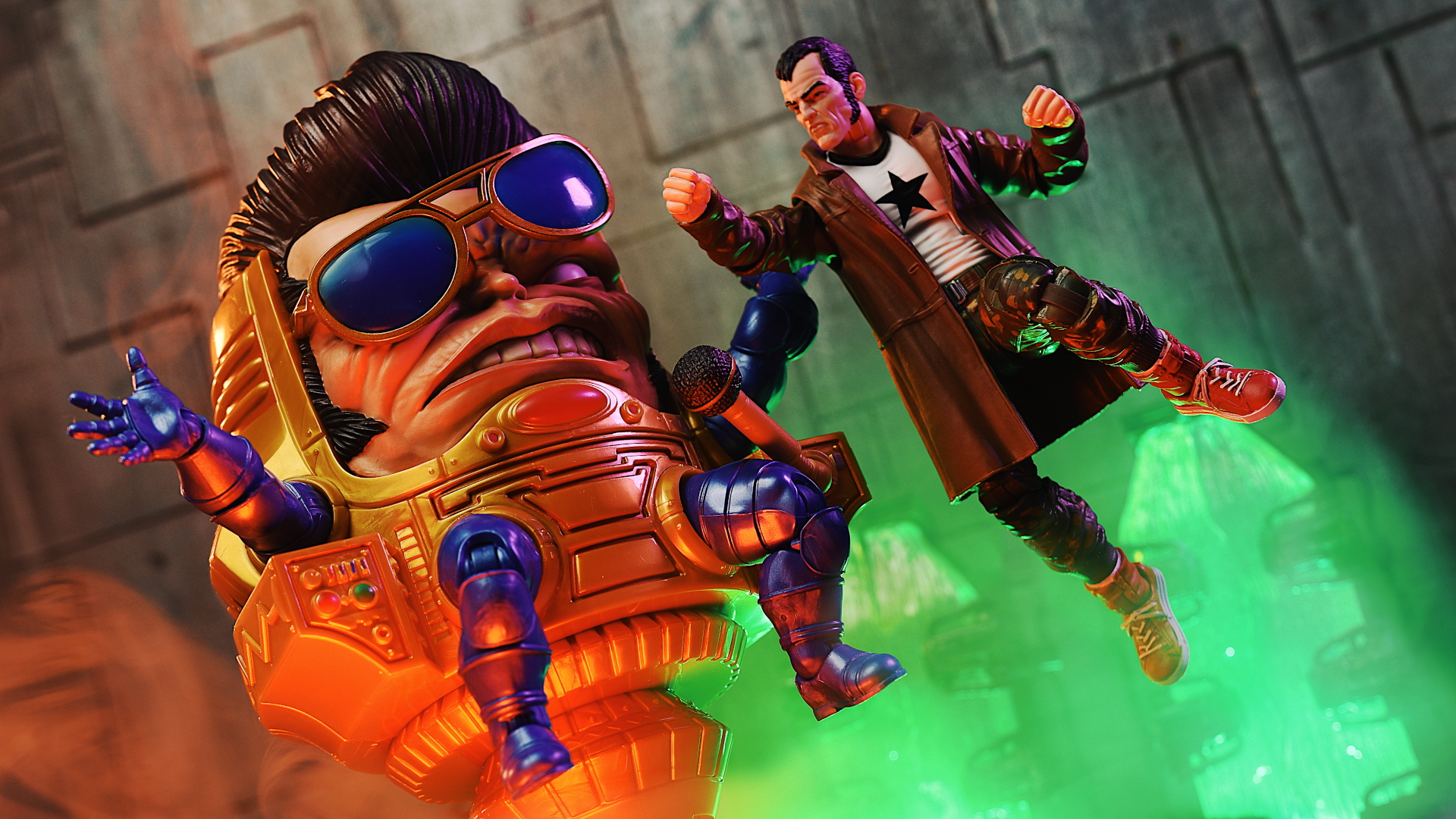 Nextwave: Agents of H.A.T.E. is a title that hasn't aged well in my esteem over the years, but the visual style from artist Stuart Immonen is undeniably great, so when I saw they made a figure of The Captain and the one panel joke Elvis M.O.D.O.K., I knew I needed it. Has there ever been a more obscure Marvel Legends figure than this? Let's take a look!
The box is beautifully designed to look like an equipment case for a touring band and the features a lot of realistic graphics depicting the metallic reinforcements, hastily sprayed-on logos, and tour damage. The interior also has some fun tour-themed graphics, but the figures aren't really packed in there in a way that they can be displayed in this lovely box. Their plastic insert kinda flops out once you open the "case".
The set includes Elvis M.O.D.O.K., The Captain, two alternate hands for M.O.D.O.K., an alternate head for The Captain, removeable glasses, a flight stand for M.O.D.O.K., a hamburger blast effect, and a stand for said effect.
The burger blast effect stand was a little bent in the box and it doesn't quite reach up to M.O.D.O.K.'s central blasting jewel area. The burgers look nice and it is a good approximation of the bizarre effect in the book. I like that I'm not sure if the red keeping the burgers together is meant to be evil energy or evil ketchup.
M.O.D.O.K.'s glasses are translucent though not wholly transparent, nicely painted with gold frames, and are removeable. M.O.D.O.K. has two open hands perfect for surrender or Elvis-like gesturing, a left grip for his mike, and a right fist for ranting. Bot the fists and the flight stand are easily removeable.
The portraits capture the Captain's modes (affable/angry doofus) perfectly, which could be tough to translate to a more realistic 3D figure because Immonen did render him in a bit of an exaggerated style. I like the face printing they used here, though there is a bit of a gap between his sideburns and the hair on his head.
M.O.D.O.K. is mostly re-use of the existing figure (reviewed here) so we won't go into this as much here again, but the Elvis hair, face plate, glasses, and mike additions work perfectly with the existing figure to create this bizarre version from that Nextwave splash page. The lip curl and pompadour are amazing. He does have a tendency to want to lean on his flight stand just like the original release
The Captain appears to mix parts from Old Man Hawkeye and Netflix Punisher with new shoes and head. It's mostly successful, but I don't love how the arms can't full rest at the figure's sides. Also the swivel/hinge elbow articulation feels like a bit of a kick in the nuts for a Marvel Legends figure. Everything else on the Captain on the articulation side is pretty typical Marvel Legends and moves well as the jacket is pretty soft and flexible. I didn't notice at first, but there is a bit of a boot swivel where the pants bunch up near the shoes.
Paint is also really clean on these guys. M.O.D.O.K is a slightly more yellow gold than the previous release and he has a slightly different paint scheme with different buttons highlighted. The wash makes the metallic plastic feel a bit more refined. The Captain has a simple camo pattern on his pants that is in line with his comic appearance. Overall I'm pleased with the set. Elvis M.O.D.O.K. amuses me just on his own without the Nextwave association and is getting a spot on my work desk for sure. The Captain is nice to get since I do have his teammates in Legends already, albeit in different costumes. The set is still available on Pulse, which is not surprising since it is pretty pricey for a fairly obscure joke character and an Elvis themed M.O.D.O.K..
About Post Author