Gotham has always been the most unpredictable of all the comic book based shows. Its frustratingly inconsistent tone makes it Nicholas Cage-like in its weekly execution. One week, it's insultingly awful and the next it's the best Batman-less Batman show possible.
This week's episode was Gotham at its absolute finest where nearly everything the writers threw up was a home run. The silliness that dooms so many episodes was mostly absent, cramming all the characters in actually didn't feel like a burden and some actual major changes occurred. All in all, this was a pretty great week and one I'm very interested in seeing how it's followed up in subsequent episodes.
Penguin is rallying his underlings to question how some other mover and shaker is messing up their business. Penguin as Gotham's Godfather is a fun development even if the writers skipped past a worthwhile Penguin subplot of him building his empire.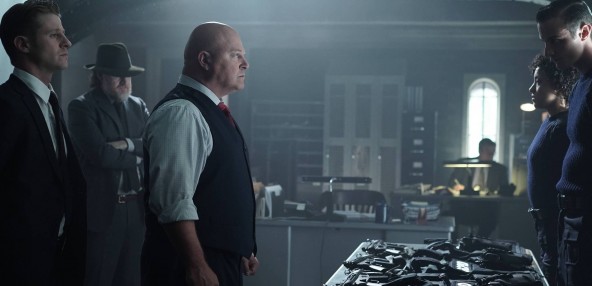 Penguin's crew has a unique look and I'm kinda intrigued about learning more on them, specifically the blond trio with the Smallville Black Canary eye makeup.
Tabitha arrives and invites Penguin to meet with Theo, who reveals his master plan. Theo wants to get rid of Gotham's riff raff and build up the city. As mayor, he can speed up the permits and so forth, but needs someone to kill the two announced mayoral candidates. Penguin scoffs at being asked to be the tool for someone else's rise to power so Theo reveals they've kidnapped his mother.
This was both a totally sensible and stupid villain plan from Theo. Penguin is all about power, but probably had no designs on being the mayor so offering him something would have likely been enough incentive for Penguin to team up. By kidnapping his mother, Theo made an enemy of the one guy in Gotham who will eventually get payback.
Meanwhile, Gordon is arguing with another officer when Capt. Nathaniel Barnes (Michael Chiklis, Fantastic 4: Rise of the Silver Surfer) arrives and promptly raises hell at the GCPD. In all fairness, any actor given this choice role of the guy who calls out the GCPD for their cowardice, fires a slew of corrupt officers and even arrests one was going to quickly emerge as a show favorite, but Chiklis gives the scene the extra oomph needed to make it a series standout.
Gordon seemed to be swooning as hard as most viewers tired of the GCPD being portrayed as inept cowards. Barnes respects Gordon's sense of honor and work ethic and names him his second in command.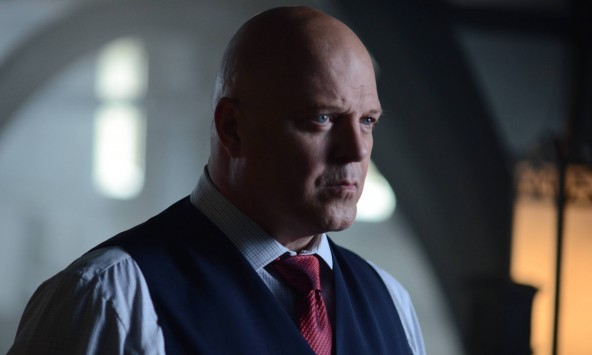 Ben McKenzie is going to benefit so much from Chiklis' presence as he doesn't have to be the show's resident bad a$$ anymore and can show the softer side of Gordon this show hasn't had the opportunity to present often enough.
Barnes calls Leslie late/early to tell her he's excited about working with her and has her put on Gordon. Barnes tells Gordon everyone knows he's banging the medical examiner and to meet him at the police academy. Yep, Barnes has just become my favorite character on the show.
With the deep rooted corruption in the GCPD, Barnes wants to get some new recruits who haven't been bought yet and appoints Gordon as the leader of Unit Alpha of the Gotham Strike Force. Barnes' arrival could signal the give "Gotham" a second look for viewers who've stopped watching as he's a sensible voice of reason and dynamic presence the show needed.
The one brief clash with all this great logical development is Theo's continued hammy performance whenever he's in front of Gotham's media. This time, Penguin stages an attack and Theo makes a goofy speech declaring his candidacy. Theo comes across so disingenuous that it sounds so phony.
Penguin kills the first candidate and thankfully, the gore is a bit more restrained this time. The show really needs to pull back on the crazy, gratuitous violence to make it more meaningful for bigger moments.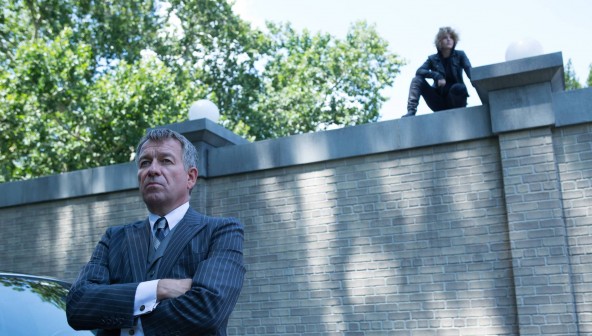 Selina was pulling her typical too kewl for school attitude when she spots Alfred waiting on Bruce and he responds by punching her! That one was for Reggie, he said, which seemed sorta suspect considering that a) Reggie stabbed Alfred and left him for dead and b) Selina was saving Bruce by killing him.
For once, Selina is speechless as Alfred warns her not to come around Bruce anymore. I liked Selina getting shut down, but Alfred hauling off on her really seemed out of character.
Bruce has lunch with Theo, who seems to stage an introduction with his ward, Silver St. Cloud (Natalie Alyn Lind), no doubt looking to use her to influence Bruce to sign off some Wayne property to increase his control of the city.
Turning to Nygma, he finally listens to his more aggressive voice in his head and asks Ms. Kringle out. At dinner, Nygma lets it slip that he's glad her ex Flask is dead — not out of town like his letter said — and that momentarily kills the mood, until he fesses up to listening to his voice and she finds it charming. This subplot has been largely frustrating to watch play out, but seeing them actually kiss was an admittedly nice moment.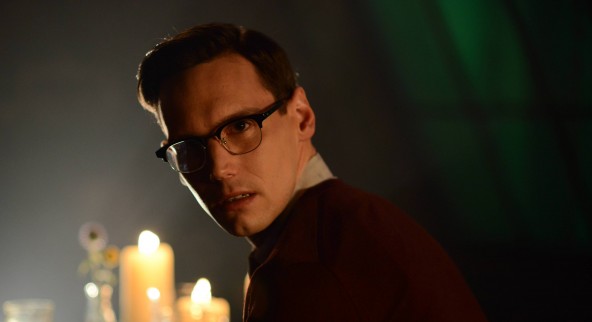 Gordon and Bullock investigate the murder of the mayoral candidate and a witness identifies Penguin, who's already sicced Zsasz on the second candidate as he tells Butch the Galavans have his mother. Zsasz has always been one of the more Batman-ready villains on the show, but is ordinary enough he can be a threat that Gordon can stop as well. The Strike Force arrive in time to prevent Zsasz's assassination attempt.
Gordon confronts Penguin about the assassination attempts. In the episode's most frustrating moment, Penguin doesn't share with his good friend Jim Gordon about Theo's plan instead hinting he'll squeal about Gordon killing a crook to get Loeb removed from office. Gordon's willing to face the punishment for his actions. Perhaps he wanted his own revenge, but getting people to take care of his problems is a staple in Penguin's playbook.
Regardless, the latest actions have focused Barnes' aim. The Strike Force's next move is to take down Penguin, who Butch presumably tells that his mother has been killed.
Rating: 9 out of 10
Theo's hammy antics continue to undermine his subplot as it's hard to see how anyone could take him seriously. The arrival of Barnes and a genuine effort to eliminate Gotham crime offers a far stronger narrative than we've seen from the show thus far potentially leading to an overall more improved and sensible series.