It is intensely gratifying to finally get something you've wanted for a long, long time. No matter how much you try to take care of things, time takes its toll. With the release of a complete collection of the Masters of the Universe mini-comics, I can finally retire my originals, no longer sweating that one more page-turn of the hundreds over the years might finally cause the aged paper to give up the ghost.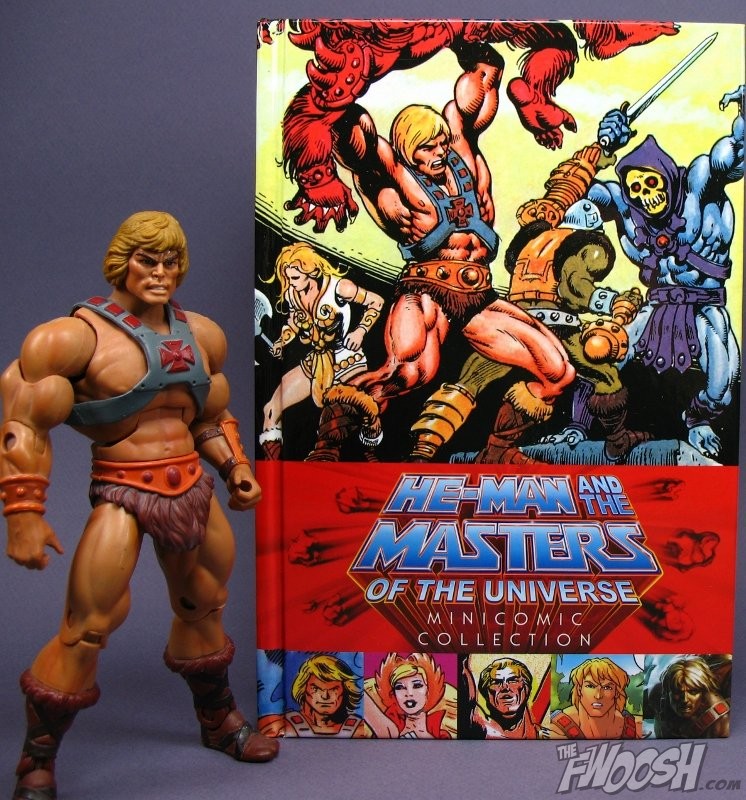 Depending on age, proclivities, inclinations, and perspective, the Masters of the Universe mini-comics might have been your first peek into Eternia and the world of these colorful and strange heroes and villains. While many of my generation can doubtless point to the cartoon as their primary entrance into this landscape, I was first and foremost a mini-comic guy. It was those first painted images of Man-At-Arms that made me pine for his figure. It was Ram Man's belligerent anger and steadfast stubbornness that made me slightly disappointed in his actual action figure for over nearly three decades until Masters of the Universe Classics finally delivered a Ram Man full of the play value I always wanted. Tri-Klops will always be the ruthless bounty hunter presented in his mini. Along with my own imagination, I saw the world of Masters of the Universe not through the screen of FILMation (although there is validity in that if that's your path), but through the gauze of Alcala, Texeira, Cohn, Glut and others of those early mini-comics. Eventually the aesthetics of the cartoon seeped into the mini-comics, but it was still a place to see figures that would never get a cartoon spot in action.
I've always felt that the inclusion of a mini-comic with a toy was one of the most brilliant marketing gimmicks of the '80s, to the point where I've become a broken record extolling their virtues. Other toy lines quickly followed suit, so we ended up with a host of minis from such properties as MASK, Starriors, Sectaurs, and Super Powers. But none managed the breadth and scope of Masters of the Universe.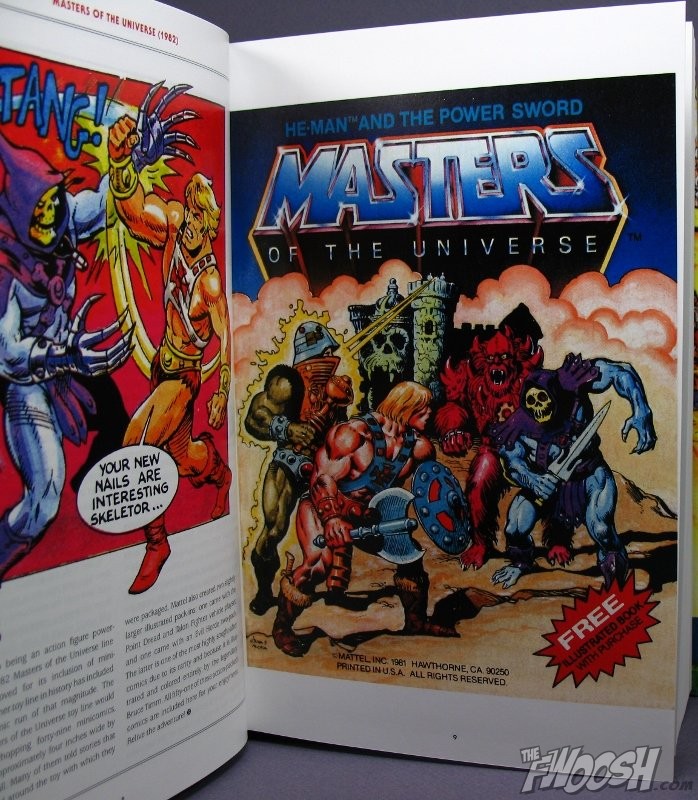 Dark Horse has delivered a top-quality book here, completely stuffed with content but not burdened by that fact. There are plenty of ways that a book like this can go wrong: a lesser attempt could have seen poor reproductions at the same scale as the originals, maybe packing four to a page to lower page count. Or we could have been made to suffer through multiple slow-released volumes. In fact, I always assumed that would be the only way something like this could be achieved.
Instead, we definitely get a limousine presentation here. This is a heavy book, clocking in at a thick 1,232 pages. Ever page of mini-comic gets its own page in the book, allowing that art to breath. Each mini is preceded by the cover, and along the way there are little trivia footnotes sprinkled in where needed, either to give a little background on what's happening on the page or provide a little extra random info.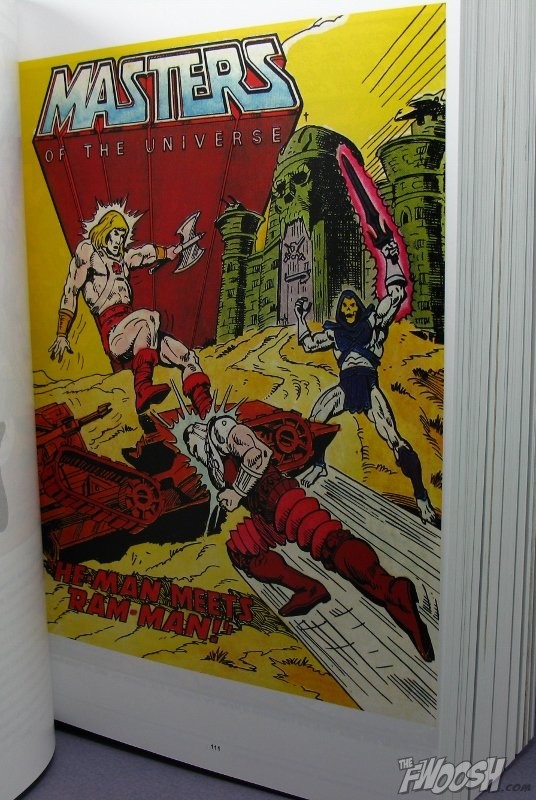 These are high-quality scans, exactly as you remember them with no blurring, just larger. While many of us have no doubt flipped through the high-quality scans available online, it's a pleasure to be able to hold them and flip through them at leisure.
As a quick side-note — this book smells great. If you're a new book-sniffer like me (don't be ashamed), then you'll know when I'm talking about when I say this book smells like a crisp autumn day. When you unwrap the plastic and give the book a quick flip the full-bodied richness of that fresh smell with slap your nose with new book goodness.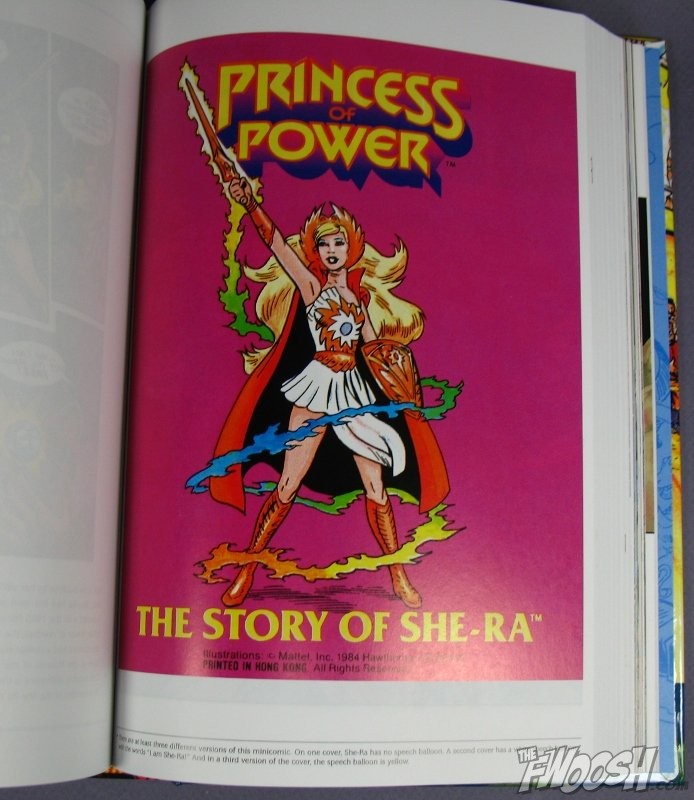 The minis are divided up into chunks. The original Masters of the Universe minis come first, followed by all of the original Princess of Power minis, then the New Adventures, then the 200x, then a pair of the new Masters of the Universe Classics minis. I've never read any of the Princess of Power or New Adventures minis before, so I'm especially looking forward to reading them. I can already see with a quick perusal a lot of different presentations of some of the Princess of Power characters than I'm used to. Bow in action on Etheria without a mustache blows my mind. Blows. My. Mind.
We get interviews with some of the talent that made this happen, including Mark Texeira, Gary Cohn, Christy Marx and many others. A nice surprise is the inclusion of the stories from some of the read-along adventures that came with albums. I never had any of those, so that will be nice to finally get a chance to read through. Albums not included.
This was obviously a huge endeavor, and I'm looking forward to reading some old favorites and new-to-me stories. Just a casual perusal tells me that is highly, highly recommended for any Masters of the Universe fan, even if your view of the mythology isn't as rooted in the mini-comics as mine is. This is a fantastic companion piece to the previous Art of He-man book and fulfills a long-standing wish. I'd be ecstatic with a similar Super Powers mini-comic collection.
You can preorder yours at Amazon, or it's already available at Big Bad Toy Store