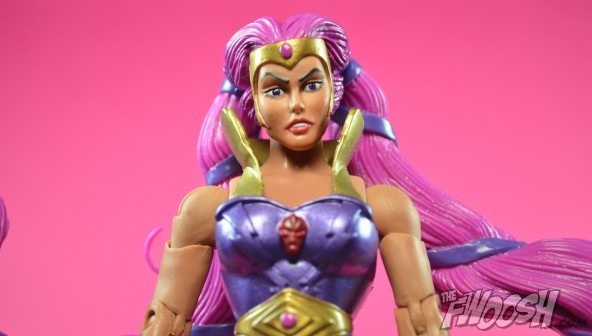 Gimme head with HAIR! Long beautiful hair! Shining, gleaming,streaming, flaxen, waxen. Give me down to there! HAIR! Shoulder length or longer. Here baby, there mama, everywhere daddy!
HAIR! HAIR! HAIR! HAIR! HAIR! HAIR! HAIR!
In the off chance that you could not tell by that first (and only) Cowsill's intro, ENTRAPTA, the Tricky Golden Beauty, has arrived in Masters of the Universe Classics, and she has brought all of her long, beautiful hair with her.
Entrapta is the third entrant into the Club Etheria subscription, so she will be making her way from Etheria to your doorstep in September, alongside Club Eternia's Rio Blast (previewed HERE). Now, at the time of this writing, I have not gotten August's Madame Razz and Broom in hand yet, so while I cannot make a direct comparison to those figures, I can say that Entrapta has vaulted to the top of the pecking order in terms of my favorite Club Etheria figures. I know it is early in the sub, but even if that was not the case, she turned out really great in my opinion.
There is just something about those Horde ladies, isn't there? I am not sure if it is the strength of their design, special attention and effort, or just plain dumb luck, but Entrapta continues the tradition set by Catra, Shadow Weaver, Octavia, and Scorpia of being a fantastic figure. In fact, I can't think of any other subset of another subset that has turned out so well. I really take a shine Filmation-originated Evil Warriors, but I think the women of the Horde trump them in terms of overall success in execution. So when I say that I find Entrapta to be one of the standouts of that illustrious group, you will know for sure that I really dig her.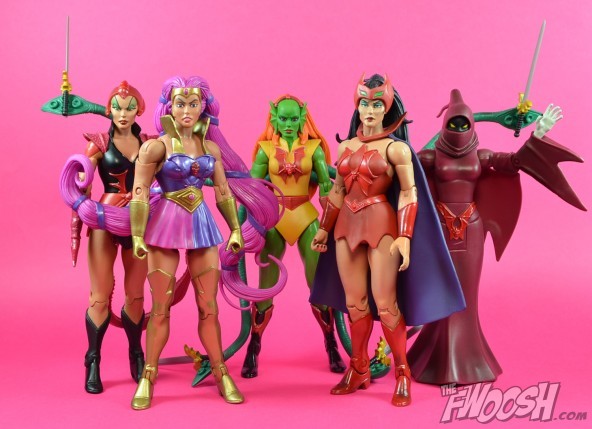 Maybe it is the translation of her design into the Classics aesthetic, her unique "feature," or something as remedial as her color scheme that puts her over the edge for me, but with the exception of a couple of personal preferences, I do not have anything to crow about when it comes to this figure. I realize that some of the more recent releases have all had their quibbles and nits, but as we head into autumn, I think Entrapta is pretty much a home run.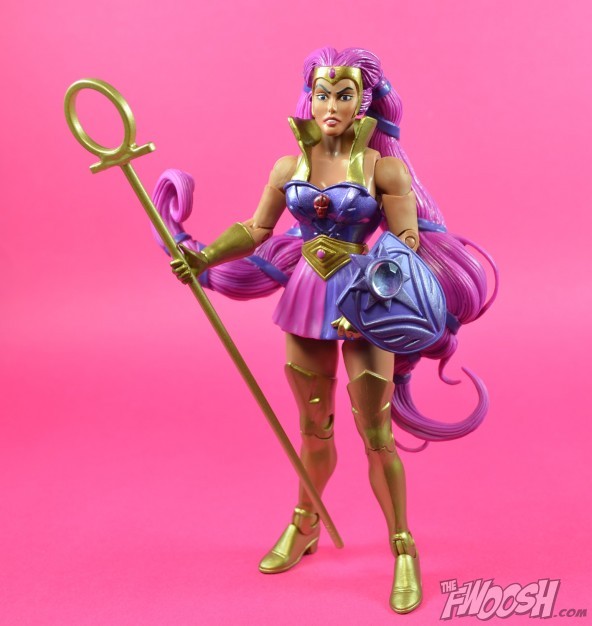 When we first started hearing rumors about a potential Club Etheria prior to its announcement earlier this year at Toy Fair, Entrapta was the LAST vintage Princess of Power character I would have expected to land in the line. Since she is Horde, her popularity automatically goes up because even people that don't like PoP usually have to have their Horde ranks complete. But as it stands, as a character, she was brought in to be one of the line's anchors, and even after traveling all way through production, her figure has turned out extremely strong as well. Dragstor and Multi-Bot are the final vintage Horde characters to come into the line, so Entrapta just gets us one step closer to having one of the most amazing MOTU factions complete and, for the first time, in the same style.
The PoP women have a strong history of being brought into the Classics style by adhering primarily to their style guide designs. That source is what the Horsemen and Mattel decided would be the inspiration for the Classics PoP figures, and, with some added vintage toy embellishments, this style jells the best with the 1980s MOTU feel. Now, for a lot of the PoP ladies, it just so happens that the style guide designs match right up with their Filmation counterparts, but as you probably know, aside from the face, this figure does not follow the departure of Filmation in the costume cues. The thing is, though, in terms of the costume colors, it seems to me that the old card-back Entrapta art was used more for this figure's inspiration than the style guide, so that makes her a bit of an anomaly, even though that reference was not even followed to the letter. Her hair and skirt shapes certainly keep to the style guide, though, so we are working with a lot of different references for this figure. Let's break it all down because somehow the hodge-podge method smiled upon this Golden Beauty.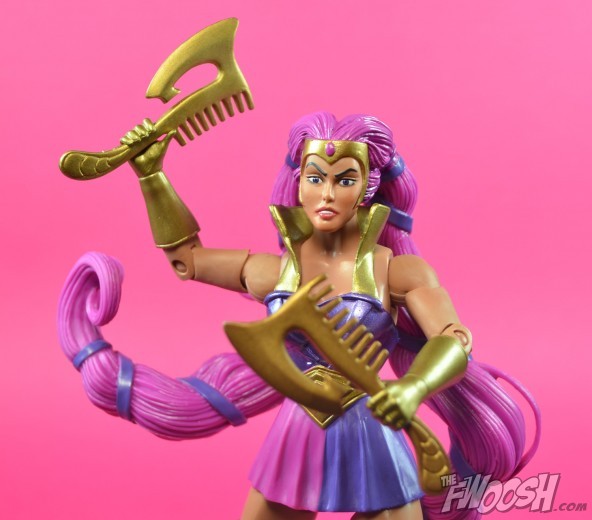 While I get nervous when plastic color is used in lieu of paint applications on the face, I have to say that Entrapta pulls it off pretty well. To be honest, that is really the only thing I would start to wince about with her in terms of her head because everything else is really nice. The paint that is there for her lips, eyes, and eyebrows is all really well done and I really, really like the shape and expressiveness of the latter. Her expression is not one of overt evil per se, it is more cocky and slightly shifty than anything else. While her bio plays up the idea that she is Horde's equivalent of Clamp Champ with her mastery of capture, she is still tag lined as "tricky" and her expression says just that.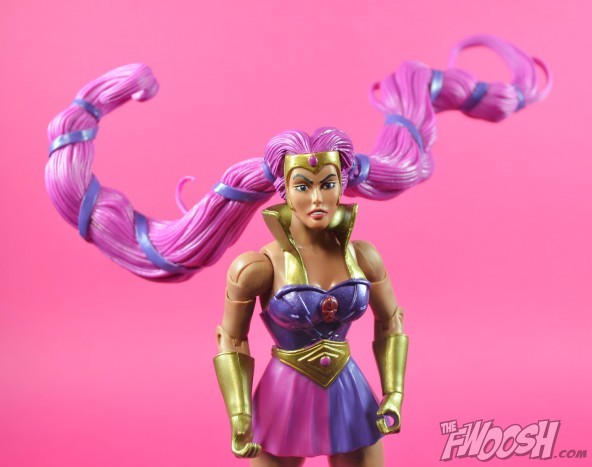 Her hair is obviously her "gimmick," and she can use her long locks to provide the Horde with plenty of Medusa-inspired chicanery. When I saw the prototype of this figure at NYTF in February, my first thought was that I thought that the hair looked awesome. My second thought was that there was going to be no way in Despondos that she would be able to stand on her own with all of those plastic follicles. I am happy to say that, in the end, my first thought remains true and my second thought does not. So she has her signature feature in a marvelous sculpt and the body to be able to support it. Really, I have zero issues with getting her to stand in just about any position.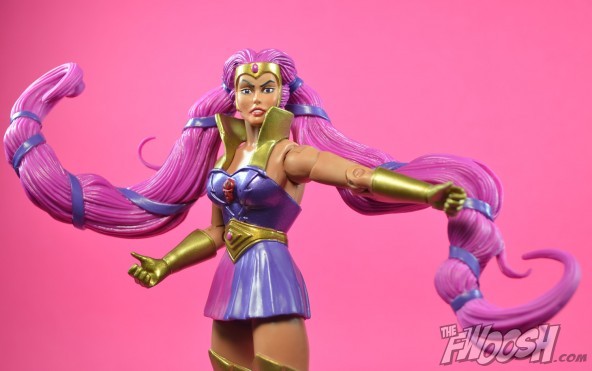 The detail work and the design by the Four Horsemen are really strong when it comes to her hairdo as well. Of course it is well sculpted, but I really like just how spot-on they translated that style guide shape to plastic. It is dynamic without being out of control, and it is big and crazy without being extreme or out of whack with the rest of the line. Her hair is actually articulated with a ball joint for each big "strand" at its base where it meets her head. Now, I am sure that there will be some out there that will have wanted even more articulation for the hair, but as it stands, you can find a lot of great poses and "attack positions" with it. I also love the pink and purple color scheme used here (and carried over to the outfit) and I think the colors play off each other really well. The bold colors are most certainly carryovers from the old figure as no other references have such striking tones. There is something about that hot pink hair!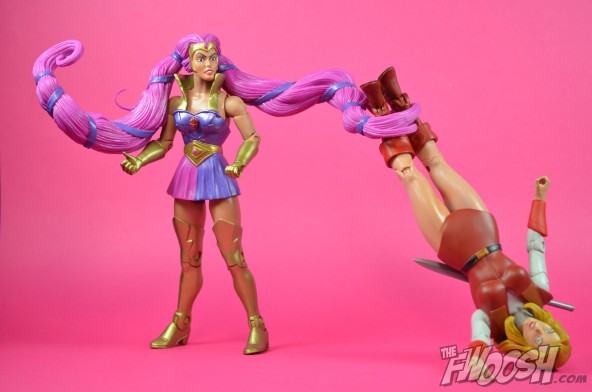 Speaking of her outfit, this is where the figure becomes a real mishmash of references, but I think that it works, for the most part. Let's see, she has the thigh-high boots a la the style guide, and while the gold is common to both the guide and vintage figure, she has the "lightning bolt" details of the old toy up the front of them. Her bodice retains that theme (and recalls a bit of Castaspella), is fairly low cut (again, like both of those sources), but it is decked-out in solid purple, which, I suppose, is a close translation of the Filmation color scheme, but more vibrant. This is one instance where I wish they would have kept the gold from the old toy or continued the split, like in the skirt, but I guess the purple was used to offset the wall of pink hair she has. Her golden collar (and lack of shoulder pad thingees) recalls the style guide, and Filmation as well, while she has a toy-influenced belt. Also, and for the first time ever, Entrapta has a Horde symbol on her costume in the form of the Hordak head. She doesn't have the full "bat" that most of them have, but I am very glad she finally has the mark of assimilation into the most powerful organization in the galaxy.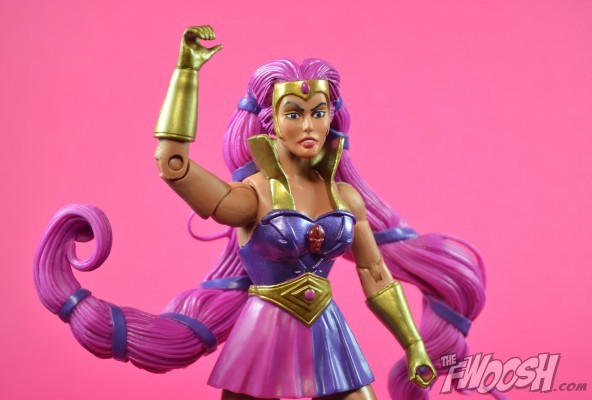 Whew! So while figure itself has a lot to point out, she is a little more scant when it comes to translating vintage accessories. The Princess of Power line doll included a purple version of the (mostly) standard-issue shield, and it works well here. To supplement that, Mattel has also included the Shaping Staff from Filmation. Now, on the show, Evil-Lyn's alter ego Magestra used the staff, so there is not really any rhyme or reason as to why Entrapta got it, save for being light on the accessories. While I do like having it and it is a faithful rendition of the simple design, I cannot help but feel a tinge of disappointment in not getting a newly-designed Horde crossbow for her. Double Trouble got one, and while it is awesome, she is actually a Rebel and since she changes her appearance, the Shaping Staff would have been a nice wink to that if it was included with her. Live and learn, I suppose, but I hope we get a chance get crossbows for Entrapta and Catra at some point. Or, even barring that, how perfect would it have been for a reuse of She-Ra's axe comb for this figure? Hmm…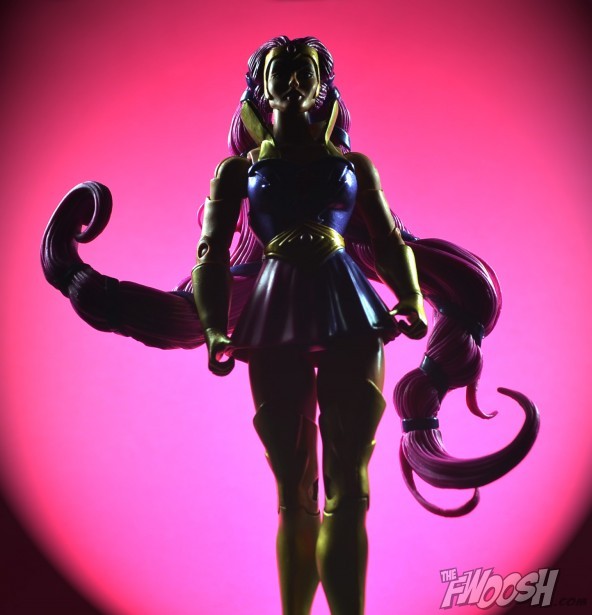 Club Etheria is in full swing, and, if Entrapta is any indication, the rest of the year is going to be great for those of us who count ourselves as PoP fans. Entrapta might split some people with her face, hair, and costume choices, but all of them came together really well for me, so I really dig this figure a lot. The Fright Zone is getting so crowded! Like I said, Entrapta will ship in September and then Sweet Bee and Light Hope will be up next in October. You only have to wait less than a week to find out where Club Etheria will take us after that!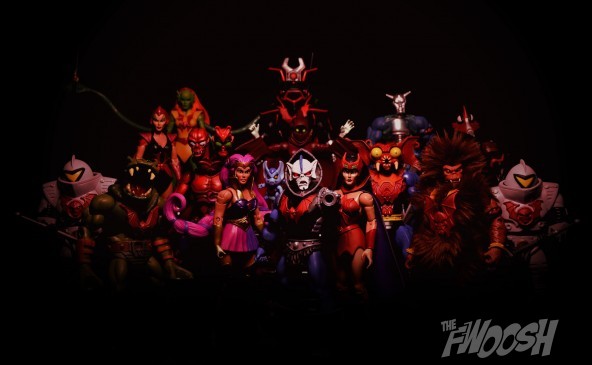 EDIT: Sorry, I somehow forgot to take a picture of this, but Entrapta also comes with a full sheet of Great Rebellion stickers: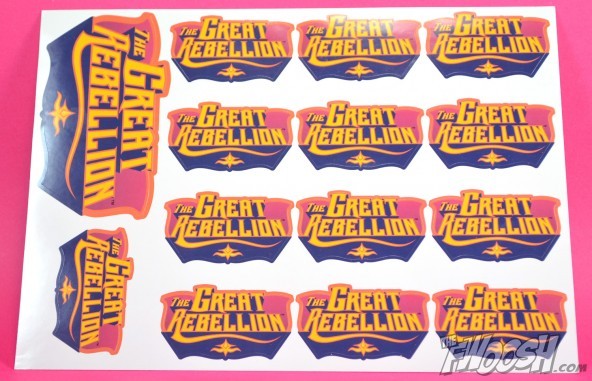 *Thanks for checking this out and thanks to the team at Mattel for sending this sample along for a First Look. We are going to try to squeeze in more before SDCC starts, but let's see if we can pull it off!
Additional Links
About Post Author