Let's start the new year off with a Marvel Legends, or Legends Infinite, top 5 list. And with the birth of Captain America Legends Infinite hitting stores in late 2013, it's appropriate to have a top 5 dedicated to Cap. As with all new Top 5s, these are subjective to the writer and based on the writer's personal preference. Next time we run a top 5, we'll put it to a vote and see if this list still holds!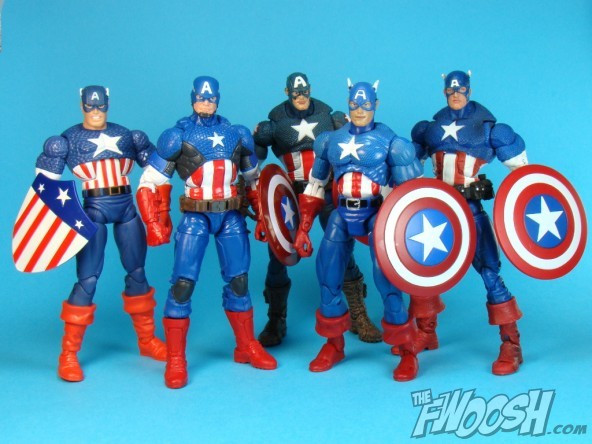 Captain America is one of the longer-running comic book characters with "star" presence today. He's part of Marvel's movie Avengers, has his own movie and sequel, has his own comic book, and is part of animated adaptations of the Avengers, Hulk, and Ultimate Spidey. He even has some video game appearances. Not bad for a dude who first appeared in 1941 beating up Nazis and punching Hitler's lights out. Over the years he's had some decent toy treatment, but it wasn't until 2002 that Cap took center stage in the toy world with the launch of Marvel Legends from ToyBiz. And now he's got an update look and new version to celebrate. What perfect timing for a top 5!
5. Hasbro Marvel Legends Brood Wave (2007) Golden Age Captain America
I like this figure and, for the most part, it is a great figure. It captures the Golden Age art of Jack Kirby and has pretty good articulation. I don't know how many people care for a Golden Age figure or where it fits in their collections, but it is difficult to argue that this is one of the top 5 Captain America figures. There is a place to argue the Hasbro 2-pack WW2 Cap or the Movie WW2 Cap, but they really don't compare to this lovely beast from the past. Check out the Brood Series review here!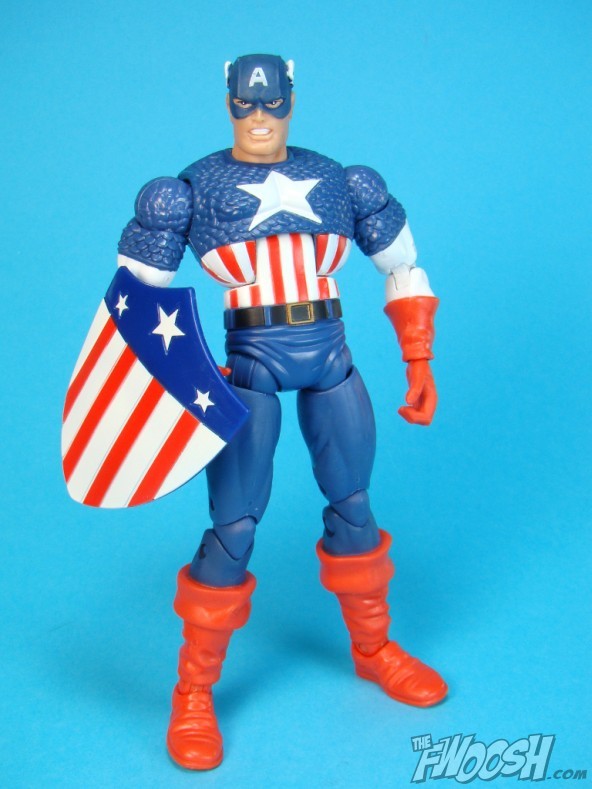 4. ToyBiz Marvel Legends (2005) Ultimate Captain America
I thought about putting this figure at the top spot, but then held back. While this is without any doubt a revolutionary figure, it is a depiction of Cap in his Ultimate Comics look and not his classic iconic look. Even the "classic version" released as a chase/variant lacked the classic red swashbuckler gloves and boots. Eventually this sculpt was released with an updated head, gloves, boots, and shoulders. But this was a great update to the original Cap released in Series 1 and had every collector going nuts.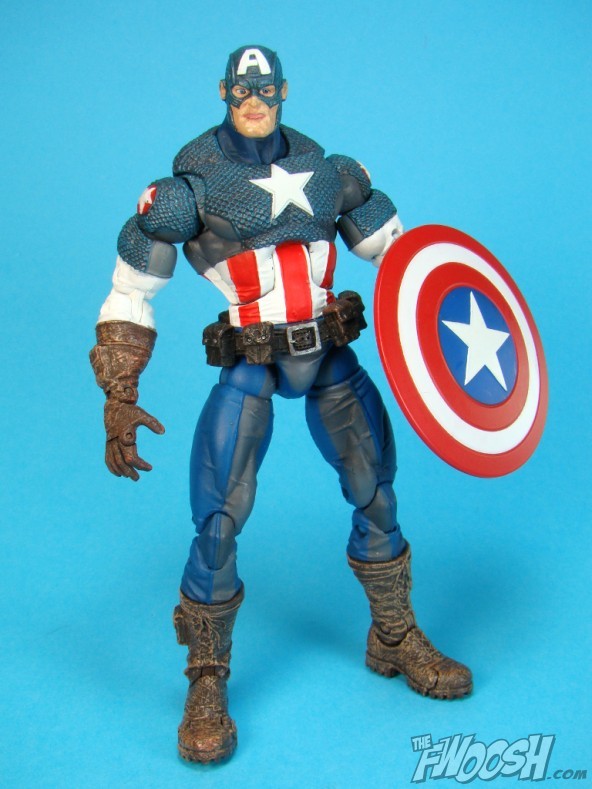 3. ToyBiz Marvel Legends Face Off Series 1 (2006) Captain America (vs. Red Skull or Baron Strucker)
I left this guy out of the top spot, which was a tough choice to make. This is one of the best Captain America figures ever released, but there is one thing that kept him from the top spot: small head syndrome. As with many of the later ToyBiz figures, the heads took a huge hit in the shrinkage department and made them funky looking, which is really too bad as this Cap figure is just about perfect for a modern representation of Cap, even the unmasked Steve Rogers head variant is spot-on. If only someone could size those heads up just a smidge.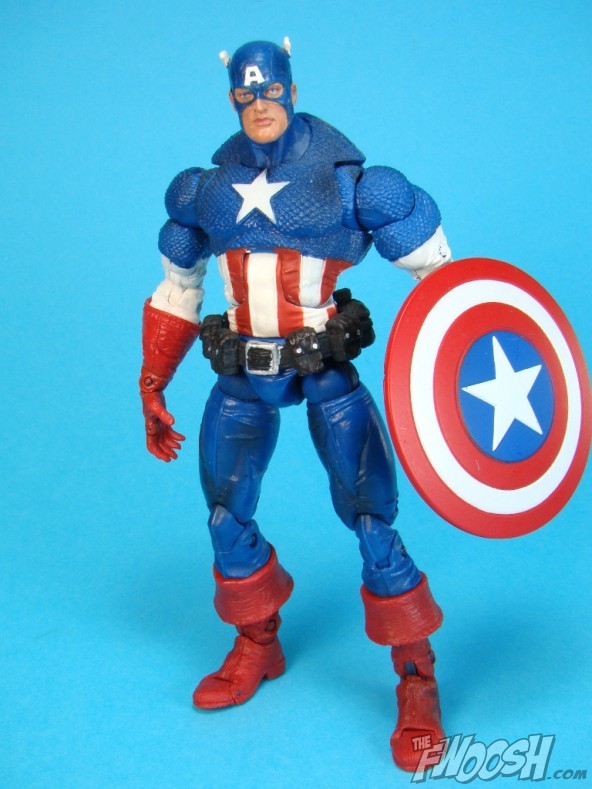 2. Hasbro Captain America Legends Infinite Series 1 (2014) NOW Captain America
Wow. And I mean wow. This is an awesome figure. Robokillah has covered a First Look, and I have the figure in hand. He's definitely worthy of the top spot, but is being dropped back to number 2 as this is not "classic" Cap — the superhero look that we've all come to love and enjoy since 1941. Just like with Ultimate Cap, NOW Cap is a great update to Captain America that captures all the traditional comic qualities while building in some modern tech into the suit. The figure, as a toy, is simply incredible and one that can only be described as plastic crack for the fingers.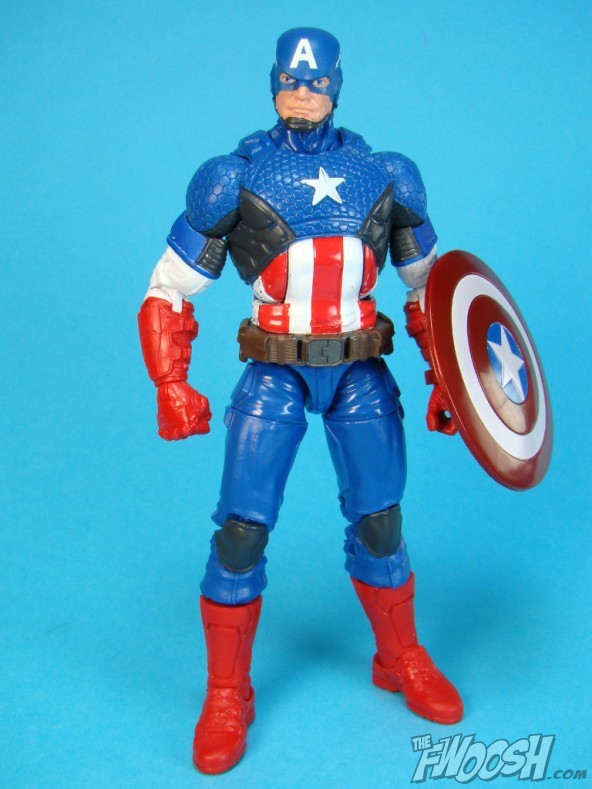 1. ToyBiz Marvel Legends Series 1 (2002) Captain America
This was a tough call, but in the end it was a no-brainer. This is Cap, continues to be Cap, and, until someone can make a better sculpt, this will be Cap. I've swapped this Cap and the Face Off Cap in an out of my '70s/'80s Avengers display, and I always come back to this Cap and his Iron Man Series 1 buddy. The head sculpt is perfect, the size is perfect and the overall sculpt of the figure is spot-on. There are some things that could use some work, like the ab-joint, but with some of the modern Figma or Revoltech joints that is an easy fix. The ankles have always been an issue, and if there is one part that must be fixed on this figure it is the ankles; they are weak and loose and would require a bit more work to fix. But none of that takes away from what an amazing figure this Cap is. All the joints, all the sculpting, and all the fun is packed into this figure. And he's got nostalgia; he is one of the first Marvel Legends to hit the shelves. I remember seeing him for the first time in Aix-en-Provence in 2002. I'd already gotten these from … who was it? Jason_n_NC or Sir Real, but I couldn't pass them up in Toys R Us in Avignon. What an amazing find. What an amazing time, what an amazing figure.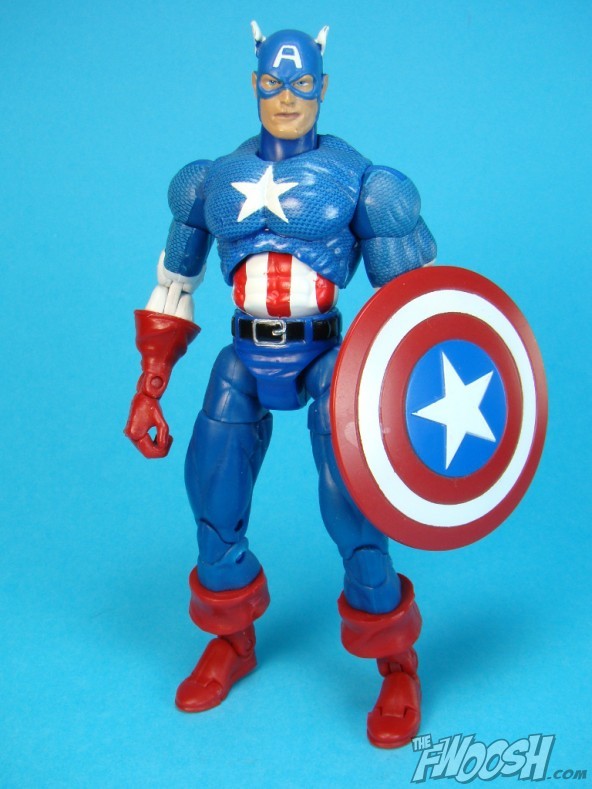 And there you have it — the Top 5 Marvel Legends / Legends Infinite Captain America figures for 2014.
You can still buy these at Amazon.com:
Hasbro Marvel Legends Brood Wave (2007) Golden Age Captain America
Toy Biz Marvel Legends (2005) Ultimate Captain America
Toy Biz Marvel Legends (2005) Modern Captain America
Toy Biz Marvel Legends Face Off Series 1 (2006) Captain America (vs Red Skull)
Toy Biz Marvel Legends Face Off Series 1 (2006) Captain America (vs Baron Strucker)
Captain America Legends Infinite Series 1 (2014) NOW Captain America
Toy Biz Marvel Legends Series 1 (2002) Captain America
Discuss this further on