Okay, playing a little fast and loose with the "Throwback Thursday" theme, 3A Toys finally released the approved pictures of their upcoming Microman toys. Based on Takara's 1974 figures these will be 6 inch in scale and feature cloth outfits and the usual assortment of belts and pouches. Tipping their hat to the original Microman M10X Type there will be four figures in White/Grey, Red, Yellow and Tourquise; a direct nod to the original Clear Plastic colors of Clear, Blue, Yellow and Orange that were originally released in 1974 and re-released in 1975. Each figure comes with a chest piece, but unlike their predecessors they are currently advertised with one chest piece and not the 4 different ones that were found on the original Microman figure.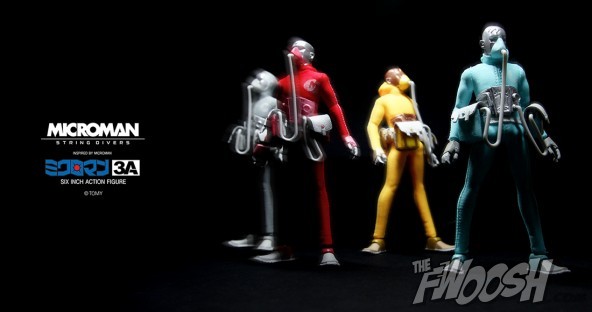 One interesting bit about the figures is that they are called divers and their outfits clearly look to be wet suits. I don't recall Takara releasing a diver, the closest they come is the 1978 Hoodman. I like it nonetheless and it adds an interesting look to the figures. More than likely I'll strip off the belt and the hoses as I'm not interested in the look (assuming they can be removed), keeping the rest streamlined and simple like the original Microman figures of old.
Microman will always have a huge significance on the action figure world as it was the first "fully" articulation action figure that reached popularity outside of the GI Joe and Barbie twelve inch figures that dominated the market. They were also 3 3/4 " tall, that's right under 4 inch articulated figures that predate Hasbro's GI Joe in the '80s. Their articulation included everything you find on most toys these days minus thigh swivels and bicep swivels. And there were playsets and vehicles galore. It was an amazing concept. When Microman became Micronauts in the U.S., kids went bananas for these goodies. And incredible line with a huge impact on young children everywhere.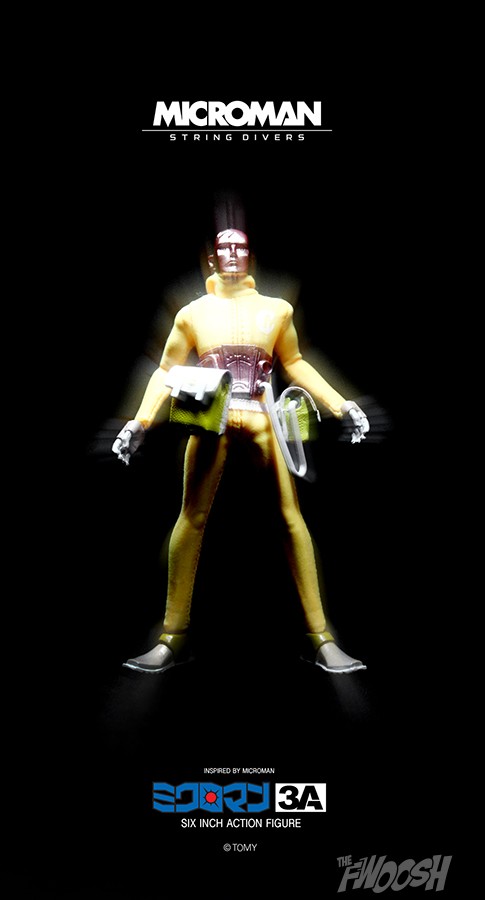 3A Toys is releasing these as six inch action figures and will look fantastic as, well Microman or as addition to your growing 6 inch figure 3A collection. I can see them being a part of the universe fighting with Tomorrow Kings or Zombs or some World War Robots.
For some good reading on old Microman head here!