Our New Year's festivities will continue into the first couple of weeks of 2014, but I wanted to take just a moment to celebrate the  year that was for my current favorite action figure line, Masters of the Universe Classics. We finally completed our "Class of 2012" feature a year later and I promise, we have a new way we are going to present 2013 and beyond so the wait won't be quite as long. I personally think they are worth the wait because the amazing effort that goes into those features by Ibentmyman-thing and Matthew K is nothing short of phenomenal, but we want to make an effort to be more timely going forward.
That being said, I did not want January 1st to pass without some kind of celebration of the year that was, so I am going to share a few pictures to show just what has come to be on Classics thus far. Seeing all of the figures together is nothing short of amazing and we finally get to celebrate the coming of Castle Grayskull, something I thought we would never see. 2014 and 2015 promise to be the years to finish off the vintage MOTU and PoP line-ups while adding essential New Adventures and Cartoon characters as well. From what we have seen of 2014 thus far, Toy Guru and Horsemen are keeping their words and I think that 2014 will end up being the strongest year yet. I cannot wait to go through the next couple of years, but I am even more excited about what the years beyond will bring. Don't get me wrong, finishing up those vintage rosters is absolutely essential, but I just as (if not more) excited to get to those characters that we have only been dreaming of in plastic for over thirty years.
So, there is a lot to be excited about and we have some really cool things planned for the coming year to help celebrate the line. First Looks and Matthew K MOTUC Features will continue to be big parts of what you can expect, and our revamped "Class Of" features will be fun along the way as well. We will have some new features to bring you as well that I am really excited for and our testament to all things MOTU will become even more tangible, so please stay tuned all year long!
So, in due fashion, he is what 2013 has brought us, the Masters of the Universe Classics Class of 2013: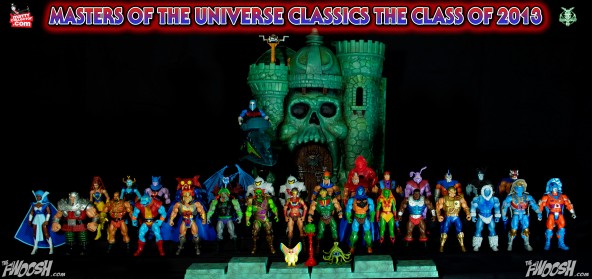 It's a pretty eclectic and cool line-up, isn't it? We started the year with Ram-Man and Netossa, two very different figures, got ourselves the long-awaited Jet (Sky) Sled, Mantenna, Castaspella, The Comet Warrior, and entire mini sub dedicated to my beloved Filmation characters (PLUNDOR!) and to cap it all off, the amazing Castle Grayskull. I think that is mighty cool and 2013 was a testament to the purpose of the line: to give us characters from all over the Masters Map.
The 2013 characters added to the impressive scope of the overall line, so here is every unique character released in the line thus far, Masters of the Universe Classics, 2008-2013: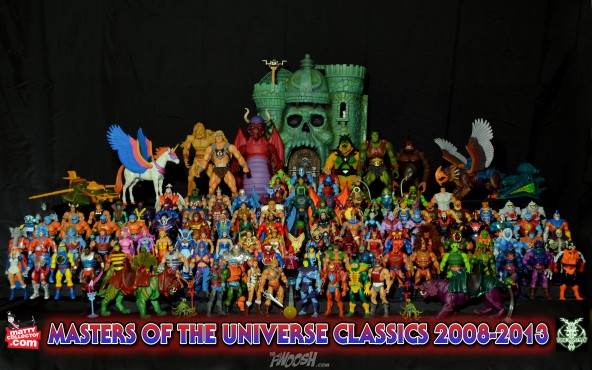 One of these days I am going to get a picture of EVERY figure released thus far, but still, that is something to behold. Can you imagine what that shot will look like after 2014? We have only a year to wait!
Finally, we have been updating the awesome classics William George posters with the figures as they have been released, so here is the summation of all of the figures in the Grayskull, Horde, Eternia and Preterina posters:
Can you spot who we already know will be added next year? Yeah, I have Two Bad in there already, but Modulok will finish the Horde Poster, Blade is coming and Extendar, too. I bet a couple more additions are still be revealed as well.
Oh, and we would not want to forget the Princess of Power poster either!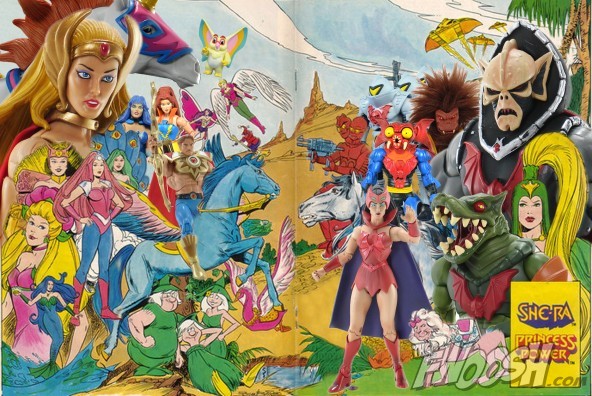 We know that Glimmer, Flutterina, Modulok and Broom (and thereby, Madame Razz) will join the fray in the coming year, but I am willing to bet that this poster will see the most movement in 2014 and will begin to fill out nicely. Which is a great thing for a PoP fan like myself, we have been waiting a long time for these fantastic characters!
I know we are always looking for the "next reveal" but it is fun to take a moment to enjoy what we have, too.
So, here's to you, Masters of the Universe Classics! I have had a ball up to this point and I cannot wait to see where we go in 2014, 2015 and beyond!
Thanks to the Four Horsemen, Mattel, everyone involved in making this line so much fun and especially, thanks to the fans for coming together to support such a fun line – I absolutely LOVE it!
CHEERS!